Struggling to find the perfect paint colors for your home's exterior? You are not alone! Many homeowners have a difficult time landing on the right hue(s) for their home. We have some paint color ideas and color combinations that can help! Fine Paints of Europe and Benjamin Moore are two paint companies that we love and use in our painting projects. Here are some of the best exterior paint colors and color combinations from these companies, as well as general things to consider when choosing colors.
What to Consider When Choosing Exterior Paint Colors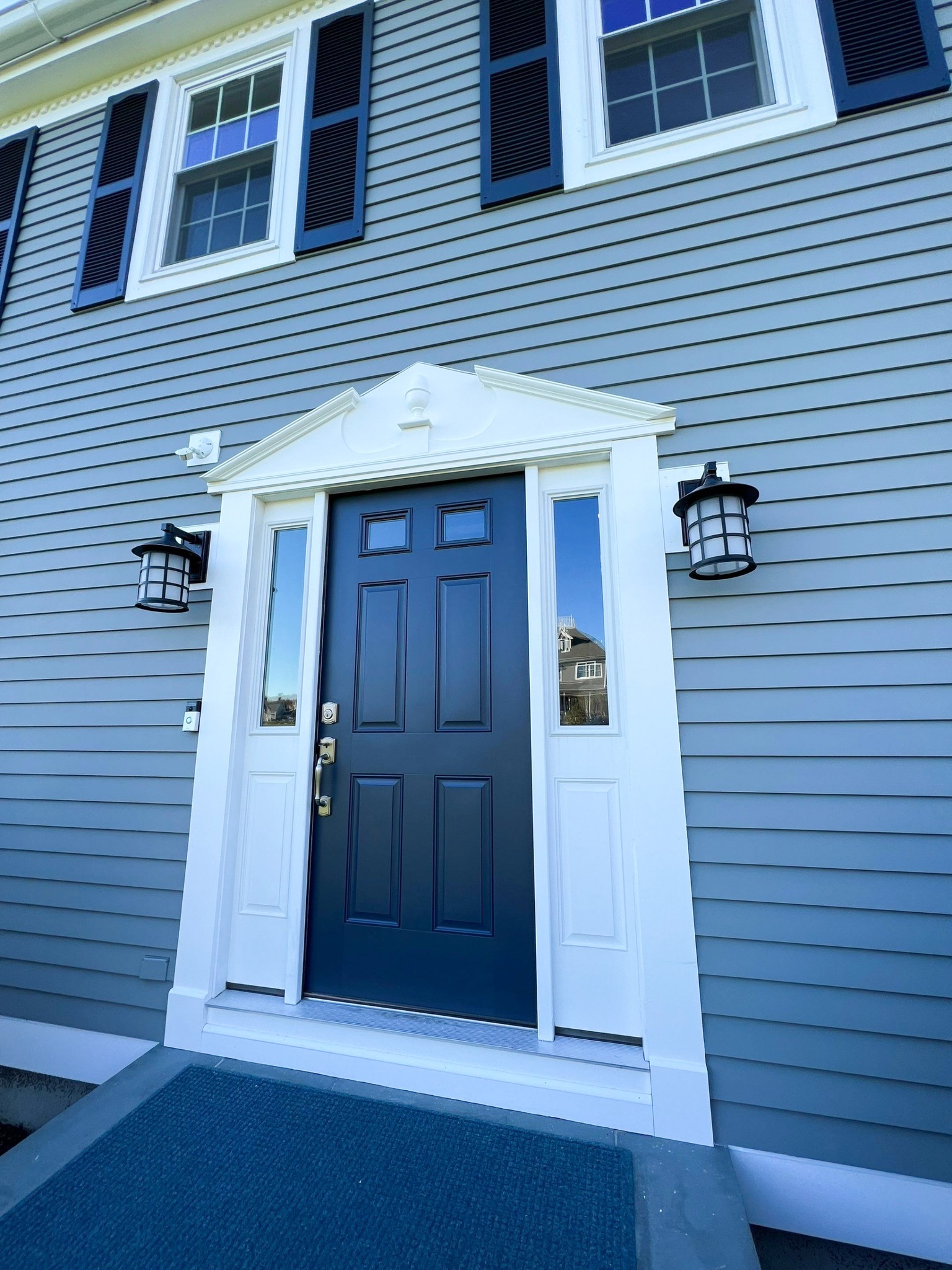 Professional color consultants typically use three to four paint colors when creating an exterior color scheme. These are usually for siding, doors, trim, and accents. When planning your exterior paint color palette, consider trim, windows, garage doors, shutters, and other exterior elements for the full picture. 
Start building your palette using color direction from unchanging exterior elements like roofing, stone, brick, and landscaping. Since these elements are unlikely to change, you'll want to make sure any colors you choose will go well with the colors of the unchanging aspects. If these exterior accents lean warmer, consider hues like browns, reds, oranges or yellows. If they lean cooler, look to grays, blues, greens and violets.
Paint Companies We Recommend
Fine Paints of Europe
Fine Paints of Europe has been in operation since 1987. These paints are formulated with superior pigments, binders, and solvents; however, they never have fillers that stretch coverage at the cost of color and longevity.
Fine Paints of Europe are made to last. They require fewer coats to produce a beautiful and rich color, retain an even finish and are crafted with everyday living in mind. The true value of this paint comes from its longevity. Fine Paints of Europe can protect your home for up to 15 years when properly applied.
Benjamin Moore Paints
Benjamin Moore Paints has been in business since 1883 and has always striven to produce the highest quality paints in the industry. When it comes to premium paints and stains for your home, Benjamin Moore has set a high standard for excellence.
They manufacture their own resins and proprietary Gennex® colorants, which deliver superior performance and application properties in every product. Paired with their incomparable selection of authentic colors, their products are formulated to help you achieve beautiful, lasting results every time you paint. The exterior of your home is so important, and a great choice to ensure a high-quality finish is Benjamin Moore Exterior paints. 
Exterior Paint Color Ideas and Combinations
Two-Tone Olive
Dark olive-green house exteriors are rare, but they tend to be very memorable. This is because of their unique style and captivating character! With homeowners looking for more modern ways to make their home stand out, dark olive green, with white or light trim, is now becoming a go-to.
Colors
Fine Paints of Europe
Siding (Olive Green) – Mooreland Green
Accent (White) - White Café or Royal White
Benjamin Moore Paints
Siding (Olive Green) – Trailing Vines
Accent (White) – Swiss Coffee or Cloud White
Blue and Gray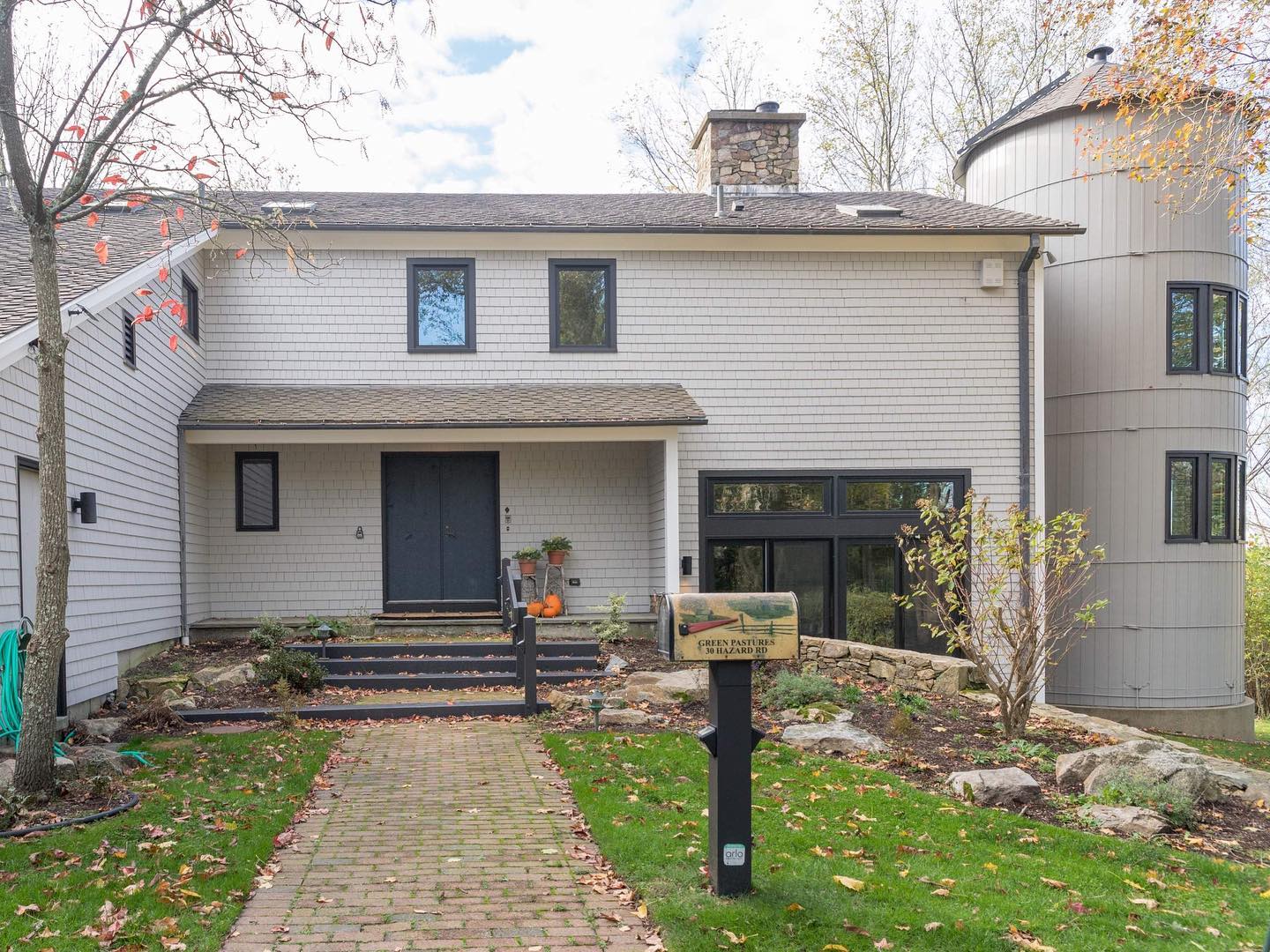 Gray is a great neutral that can match just about any style of home and is a beautiful complement to brick. The shutters and doors done in a more saturated color, like blue, provides a sophisticated accent. The question is... do you prefer light blue or dark blue?
Colors
Fine Paints of Europe
Siding (Gray) – Winter Sky or Grey Mist
Accent (Blue) – Blue Horizon or North Sea Blue
Benjamin Moore Paints
Siding (Gray) – Horizon or Slate or Thunder
Accent (Blue) – Polar Sky or Smoke or Hale Navy
Black and White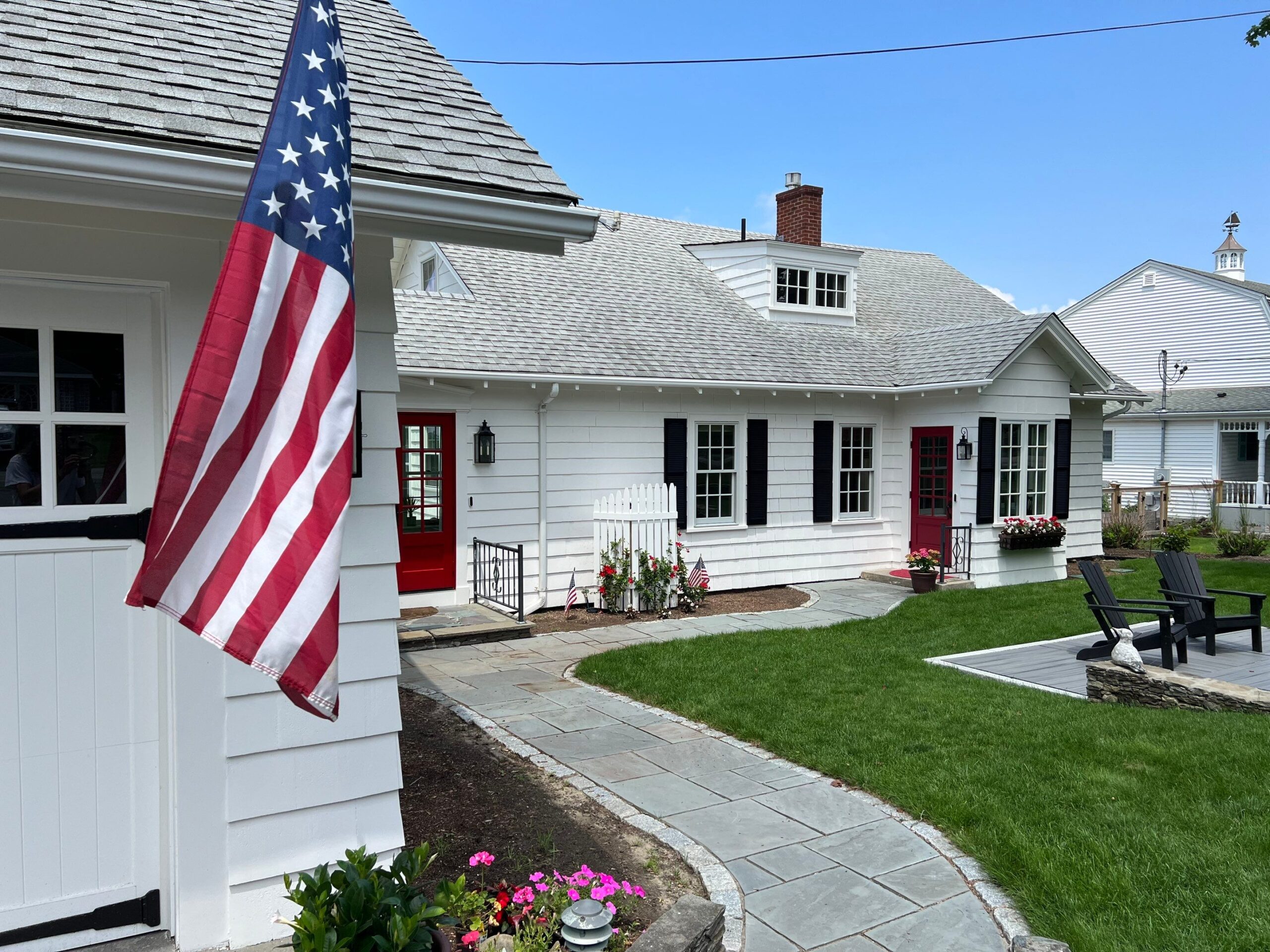 Black and white never goes out of style. The more common way to use this combo is white siding and black accents. However, if you want to go the less tradition route, black siding with white accents can make a great look! Whether you have an old home or a new build, this classic combo looks fresh forever. And it really pops against a lot of greenery! 
Colors
Fine Paints of Europe
Siding (White) – Spinnaker White or Royal White
Siding (Black) - G21850
Accent (White) – White Café 
Accent (Black) – Black or G21850
Benjamin Moore Paints
Siding (White) – White Heron or Cloud Cover
Siding (Black) – Onyx or Soot
Accent (White) – Atrium White or White Dove
Accent (Black) – Flint or Black Tar
Gray, Red, and Black
Especially on smaller or more traditional-style homes, simplicity works best for exterior color combinations. Neutral siding colors, like warm gray, create a solid foundation. Then introduce color in small doses, such as a glossy red front door, to create a focal point that doesn't overwhelm the exterior color scheme.
Colors
Fine Paints of Europe
Siding (Gray) – Storm Cloud or Silverblade
Trim and Accent (Black) – Black or G21850
Door (Red) – Rembrandt Red or Tulip Red
Benjamin Moore Paints
Siding (Gray) – Gray Owl or Storm
Trim and Accent (Black) – Flint or Soot
Door (Red) – Caliente or Smoldering Red
When considering exterior paint colors for your home, there are practical elements to consider, as well as stylistic choices to make. At Bruno Painting, we provide color assistance to our clients so their exteriors look exactly how they want! If your exterior could use a fresh coat of paint, call us for a free estimate – 401-662-0057. 
There are so many aspects of home maintenance to keep track of when you are a homeowner. Exterior home maintenance can seem obvious: cleaning out gutters, power washing siding, or replacing roofing. Interior maintenance, we often think of just needing a fresh coat of paint or maybe fixing a leaky pipe now and then. However, there are other common home interior issues worth keeping an eye out for as a homeowner! Here are a few of the most common interior issues we are asked to fix and how to spot them in your own home.
Wood Rot
One of the most common issues we see in Rhode Island homes is wood rot. Wood rot is decay caused by fungal growth in damp wood. When timber becomes damp enough to have 20% or more moisture content and isn't able to dry out quickly or is repeatedly dampened, it creates the ideal conditions for wood-eating fungi.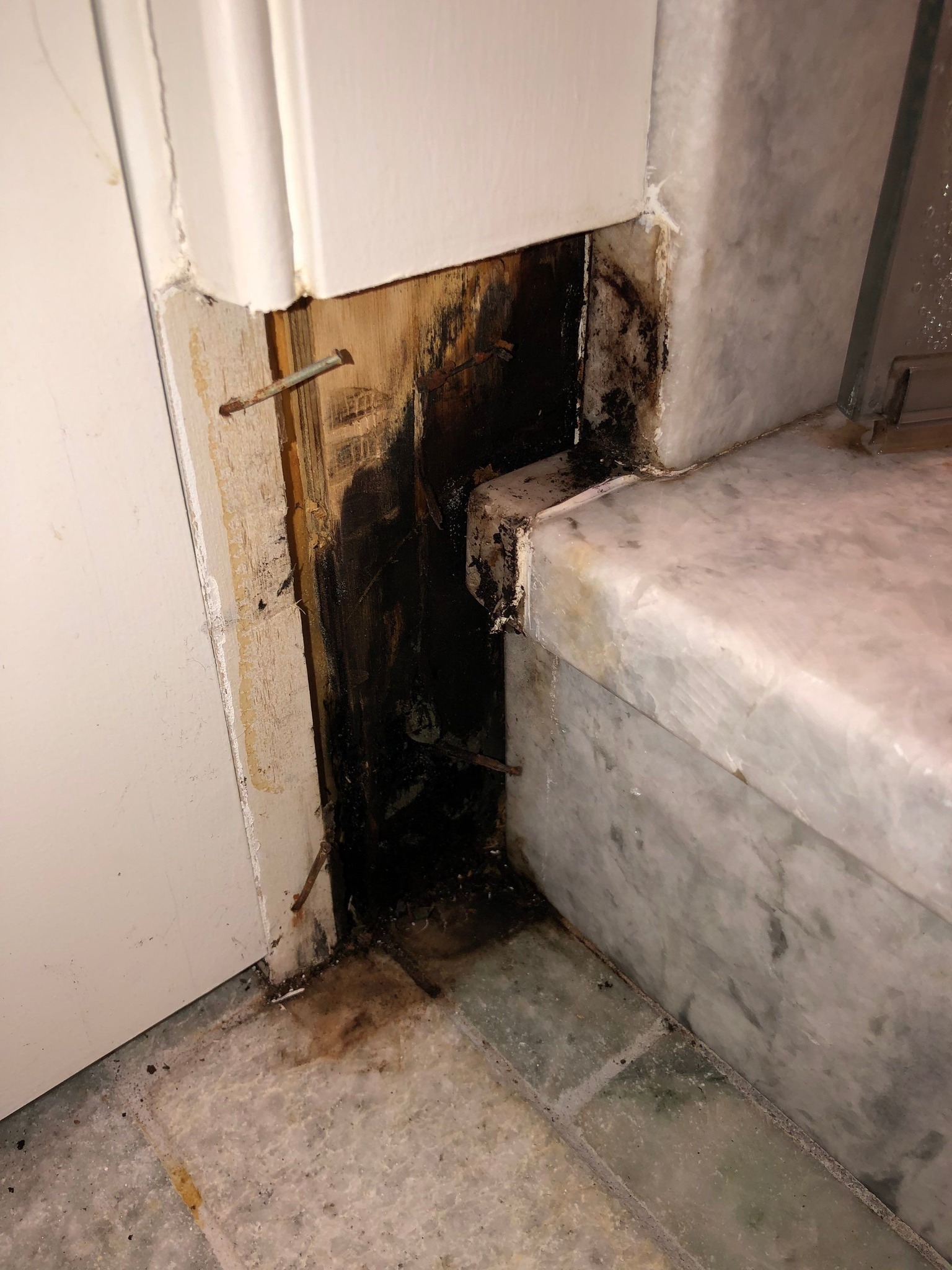 Wood rot is most commonly found in bathrooms, kitchens, and attics or basements. Anywhere moisture levels are higher in your home is at higher risk for wood rot.
To see if you have wood rot, take a good look at the visible wood in your home. Look for:
Areas of discoloration
Places where chunks are falling out.
Texture changes where timber appears sponge-like, stringy, or has cracks.
Timber that is breaking up into cube-shaped chunks.
You may also see fungal growth.
If you're still unsure, the easiest way to test for wood rot is to take a screwdriver and press it against an area you are testing. If it sinks in easily, you likely have wood rot.
How do you solve a problem of wood rot? Contact a professional carpenter or contractor and consult them! Our common course for repair is either removing the rotted wood entirely and replacing it with new lumber or replacing sections that have rotted and filling gaps with epoxy or a similar material.
Old Wood
Old wood can be an eye-sore, as well as dangerous if left alone. Some wood can be noticeably outdated and make your home feel old. On the other hand, old wood may not be as visually noticeable, but can be as structurally insecure.
Old wood can be a structural risk depending on the wood piece's location and purpose. While wood can last a very long time, sometimes up to 150 years, older homes (like the ones we have in the Northeast) can have wood items that have come close to the end of their sturdiness.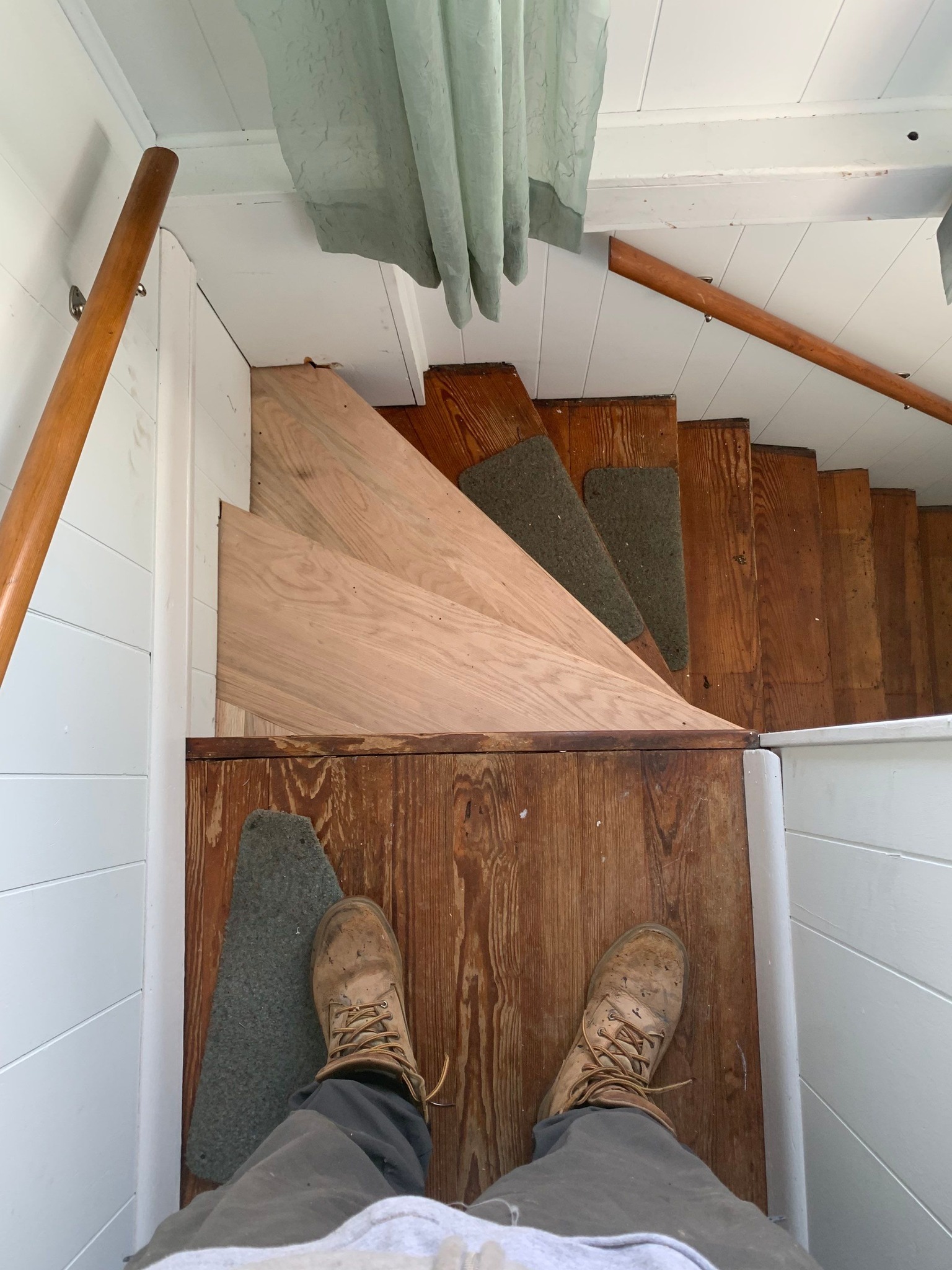 Places to look for older wood are stairs, overhead beams, and other wood surfaces that are not as visible, like cabinet interiors. If wood is splitting or cracked, that can be a tell-tale sign of age. Creaky stairs can be sign of structural issues underneath and might be something to investigate further if you begin to hear that noise.
Plaster Cracks
Another issue we see in homes are plaster cracks. Plaster cracks are an incredibly normal occurrence in homes. Plaster walls respond to inevitable foundation shifts and climate changes, and they can begin to crack. Everyday life, with its bumps and bangs, also takes its toll on plaster walls.
Certain areas, such as above and beside doorways and windows, are classic areas where cracking occurs. Nearly all homes with plaster walls will eventually develop window and door cracks. Repairing these cracks is essential, as leaving these areas unfixed can result in severe structural issues. An early sign can be that a door becomes unable to close because of the shift in the doorframe. Though the repair is a relatively simple and common process, you'll want a professional to handle it since any mistake can give way to further damage.
Awkward Spaces
If you have awkward spaces in your home, such as gaps underneath stairs, carpentry projects can fill those spaces! We have done projects that utilize that free space with carpentry work, including under-the-stairs cabinets, breakfast nooks, mudroom built-ins, and kitchen islands. If spaces in your home feel like they are lacking or empty, an addition of any of the above can make the area feel complete.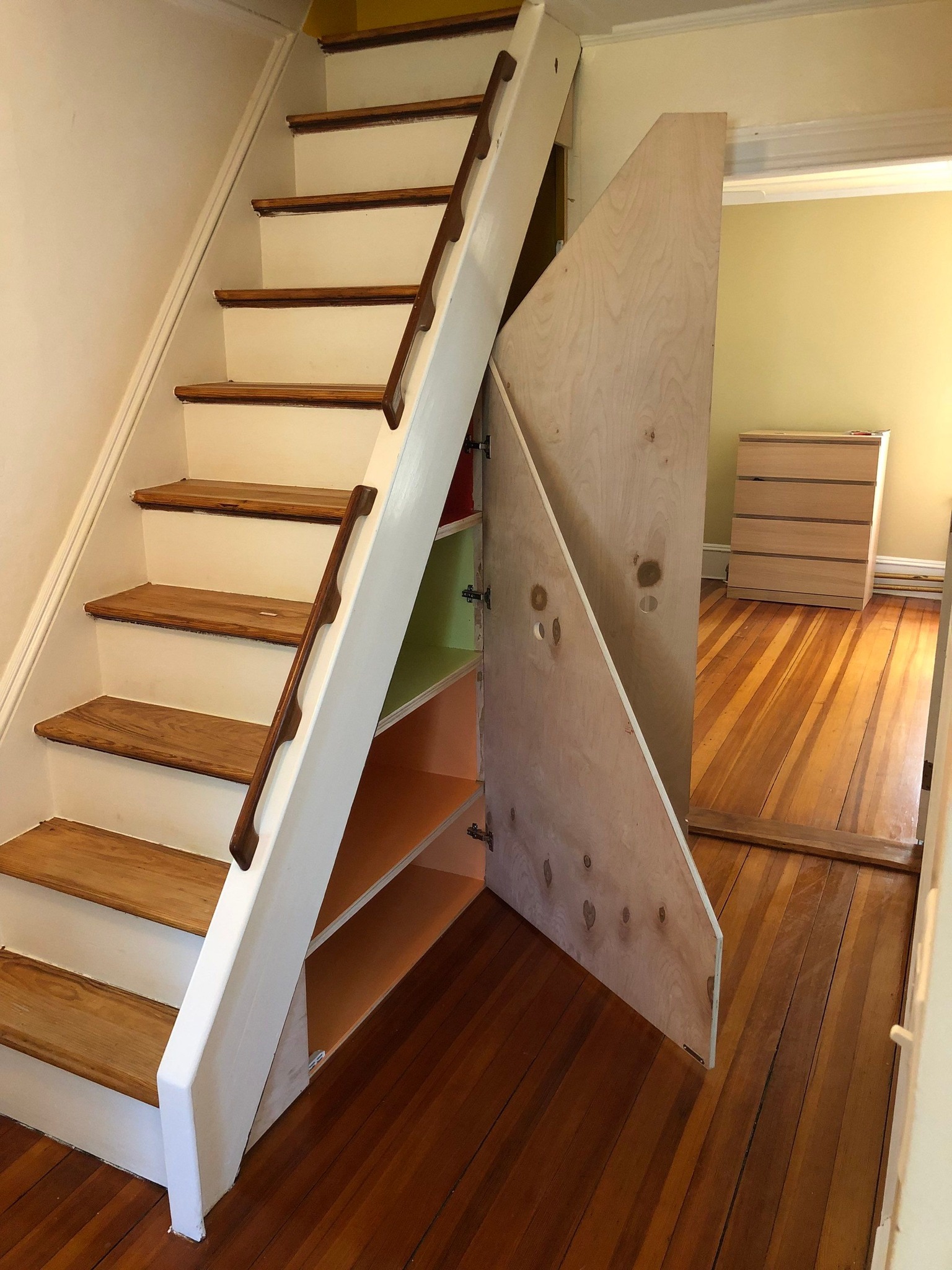 If you notice that some areas in your home feel off or empty, but you don't have any idea how to fix it, consult with a professional contractor! They can help you come up with some creative ideas to utilize those spaces that need a little something more.
Your home is so important since it acts as the barrier between you and the outdoors. Our goal is to help you maintain it and keep it in top shape. Tackling any of these issues as they appear in your house will increase the longevity of the home, as well as make sure everything is structurally sound. If you think that your home might have one (or more) of these issues, contact us! As professional painters and carpenters in Rhode Island, we are here to help with any common (or uncommon) interior home issues you may have.
As the cooler months approach, thoughts turn towards holiday preparations, envisioning gatherings with friends and family. With Covid's impact diminishing, many are eager to once again open their doors to visitors and celebrate the upcoming seasons. Amidst these plans, a common query arises: When to repaint house interior?
Questions you may be asking yourself include … Is my home ready to entertain for the holidays? What can I do to get my home ready for the holidays? Whether you're getting your home ready to entertain, simply want to refresh it for your own enjoyment, or if selling your home is in your plans, an interior paint job is a relatively inexpensive way to update your home. Understanding when you should repaint your home's interior will help you get past whether you should or shouldn't and onto the color and sheen selection, arguably the most enjoyable part of the process.
The Current Paint is Outdated or Drab
The simplest way to know when your home's interior should be repainted is when you look at a space in your home and it no longer makes you happy to be in it. The color may be drab, out of style, or just doesn't please you.
Large, often-used spaces, such as your kitchen, should feel pleasing to you and to your guests. Having just the right color, shade, and sheen in these spaces makes a big difference in the enjoyment you get when spending lots of time in them. Don't overlook powder rooms, laundry areas, and foyers, as those spaces either introduce your home to visitors or are used by you more than you think. Having your home fully color planned so there is a great flow from one area to another can further help you enjoy the overall look and feel of your home.

There are Surface Imperfections You Can't Clean
Another way to know when your home's interior should be repainted is to inspect the paint finish to look for any imperfections, such as marks or scrapes you cannot clean off, peeling, or fading. You see the interior of your home almost every day, and sometimes those imperfections seem normal, but they're not.
A More Serious Condition is Affecting the Finish
When your existing paint finish begins to fail, it is time to call your trusted, local paint contractor to come over and inspect the interior of your home. Interior paint imperfections may be a sign of unwanted water, mold, or other even less welcome issues.
Your professional painter will be able to diagnose the cause of the imperfections, but they'll also be able to resolve the problems correctly so your home's integrity is intact. If mold is present, your professional painter will likely call in a mold remediation specialist to take care of the problem.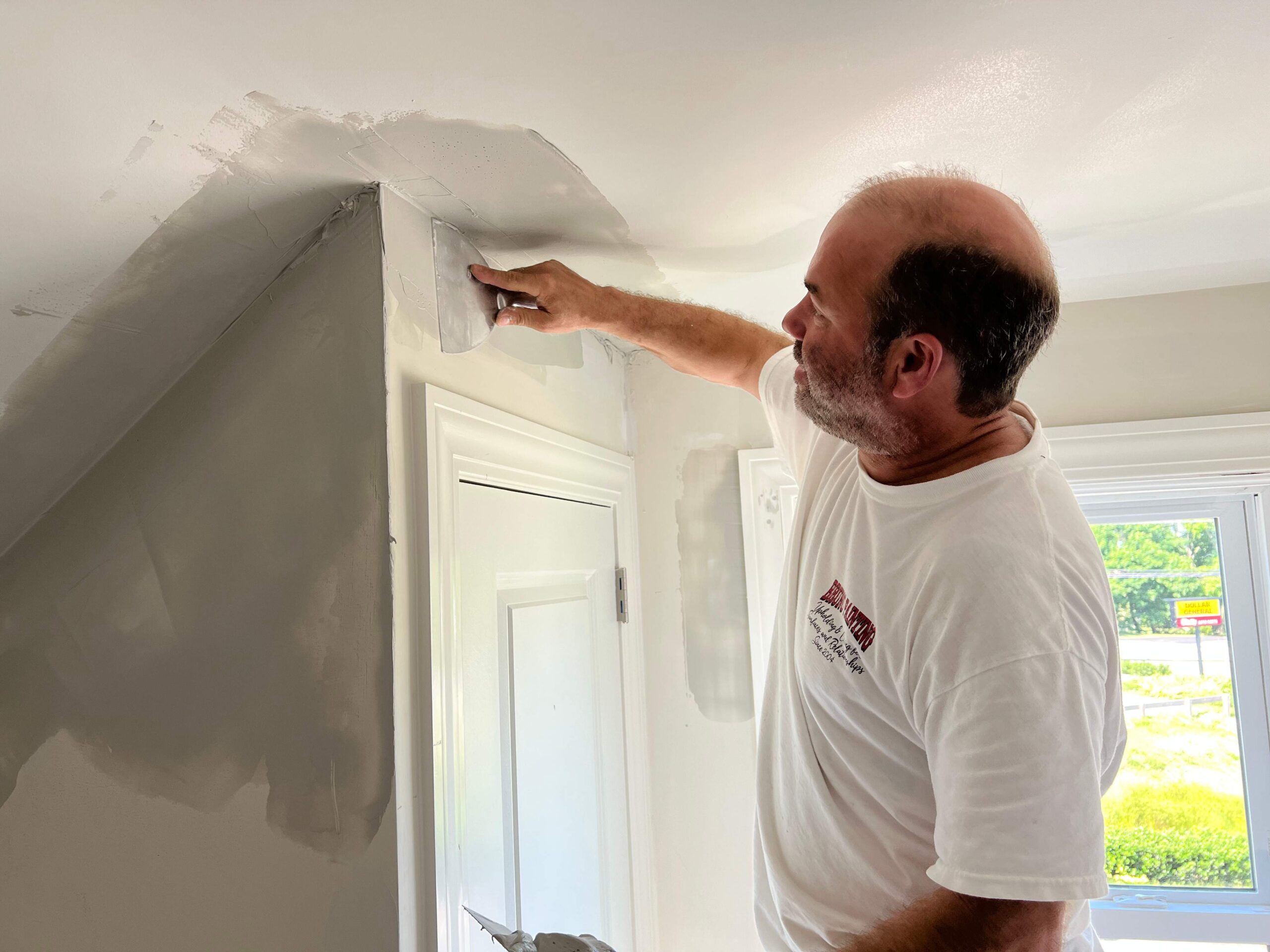 The work necessary to take care of a paint imperfection may be extensive and can include scraping, spackling, filling, priming, and other steps you may or may not be able to handle on your own. Either way, we recommend letting our painting and carpentry experts take a look to be sure you have nothing serious going on behind your walls.
Aside from the aesthetic importance of beautifully finished wall and trim surfaces, it is a health hazard if water seeps and creates damage. Because we're close to water and have our share of wet weather, having an annual or biannual inspection of your home's interior and exterior is a good idea.
You Want a New Color
Finally, even if you've recently painted a room, an area, or the entire house, if you simply want another color or set of colors to adorn your walls, that is a perfectly good reason to do so. Whereas some people prefer to see the same colors (and ask us to repaint their walls in the exact same colors, which is perfectly okay), you may be the type of person who thrives on change or loves to have the latest trending colors surrounding them at home.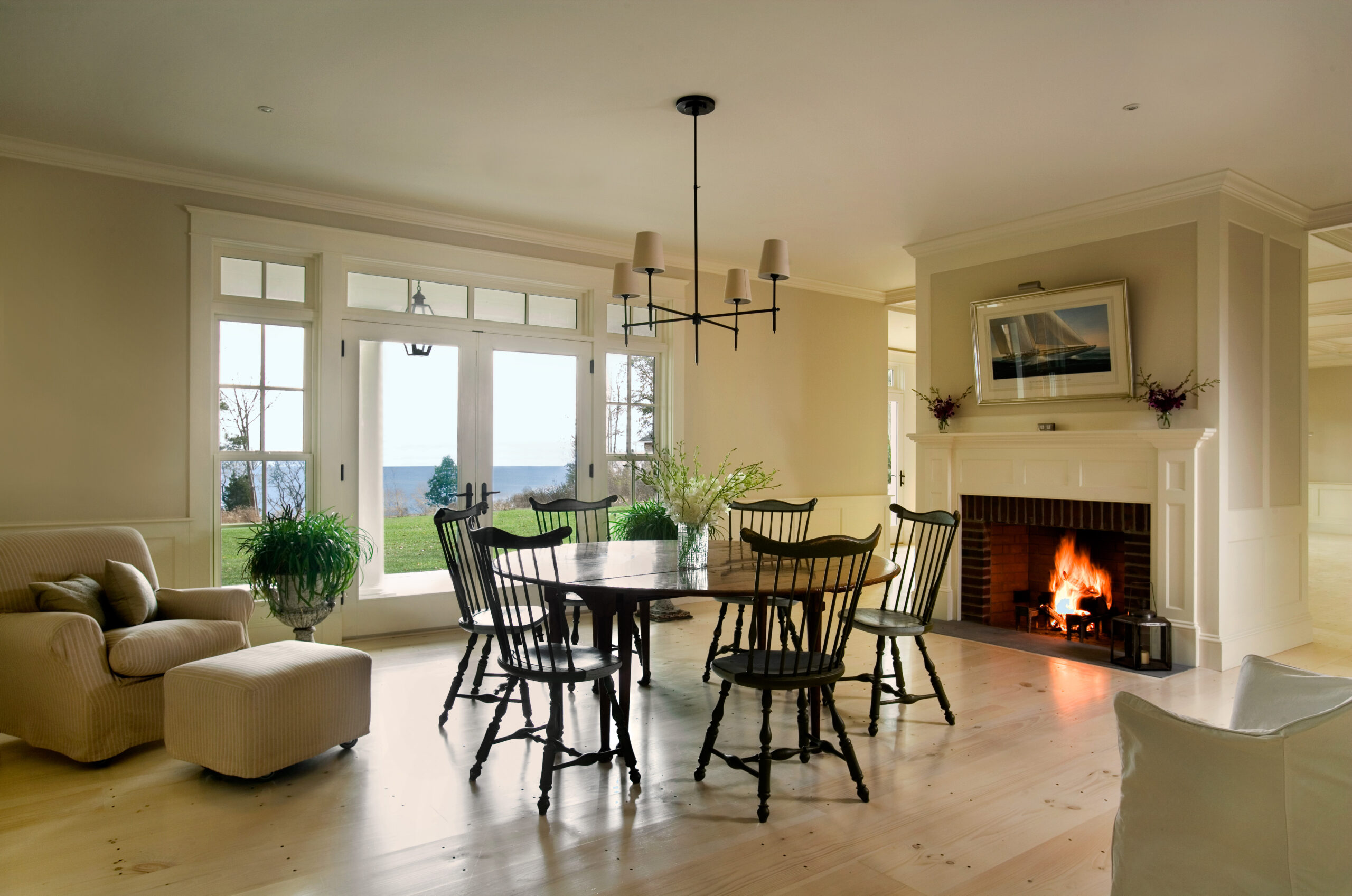 We're happy to oblige and help you repaint your home's interior regardless of your reasons for wanting it to be done. Our team of experienced carpenters can help fix most imperfections you may have in your walls or trim, and our experienced painters will give your home's interior the smooth and beautiful paint finish in the colors you carefully and lovingly select.
Getting ready for the holidays is an act of love. It's about preparing to welcome others into your home to spend precious moments that last a lifetime. We're here to help you with all of your carpentry and painting needs. Reach out if you're in the Rhode Island area. We look forward to serving you!
The first thing you may think of when it comes time to repaint your home's exterior is the color you'll choose this time around. Since a well-done exterior paint job lasts between 5 – 7 years, considering our often-harsh Rhode Island weather conditions, you'll be looking at the color you choose for some time. Selecting the exterior paint color you'll love for many years is a topic for another blog. Suffice it to say, paint color selection is not the only thing that goes into painting your home's exterior.
You may or may not know that an excellent paint prep and application can actually protect your home's exterior surfaces, and provide protection from unwanted water, from snow, rain, condensation, or other sources, from entering your home. If unwanted water gets inside and is not somehow dried, you may get mold which can cause rot and harm your health.
Before your house can benefit from the protection afforded by a well-executed paint job, it's essential to be sure your professional painter does all it takes to properly prepare and then paint your home's exterior.
What Paint to Use
One of our favorite paint brands to use for our clients is called Fine Paints of Europe (FPE). Their tagline is "Luxurious Lasting Color, Imported from Holland." They're not inexpensive, but what FPE supports is following proper painting protocols for best results.
In fact, on their website, FPE says, "Please do not consider the use of our house paints unless you are committed to doing a proper job and are aware of the factors which will determine the appearance and durability of the application."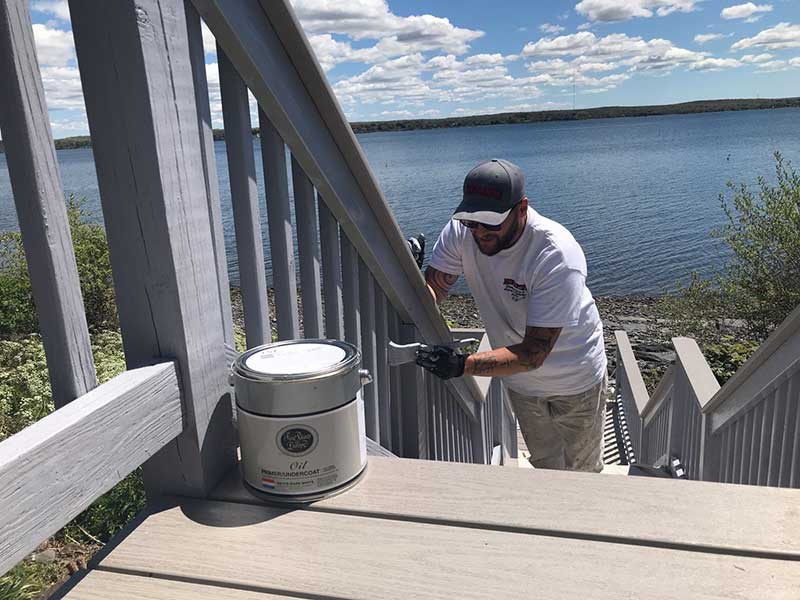 Steps to Properly Paint Your Home's Exterior
At Bruno Painting, we are 100% committed to doing a proper job and exceeding expectations for best painting results. How do we do that? We follow a step-by-step process cultivated over many years of painting our clients' homes. Our formula is proprietary, but we'll share the basic steps for how to properly paint your home's exterior for the best results.
Step 1
 Select your painting professional. Of course, we're biased and believe we're one of the best painters in Rhode Island. (Anyone who takes their work seriously should believe they're the best!) At Bruno Painting, we not only offer elite painting services, we also have a team of experienced carpenters who can remodel your home, fix any fixable problems with your home, and basically re-work or rebuild your home to your liking. Then our team of experienced, highly trained painters come in and add the coats of paint needed to make your home aesthetically amazing!
What we've cultivated at Bruno Painting is a teamwork environment so our carpenters and our painters work seamlessly to do the work the right way, no cutting corners, the best way, the correct way. You're assured a structurally sound, well-painted home when your project is completed!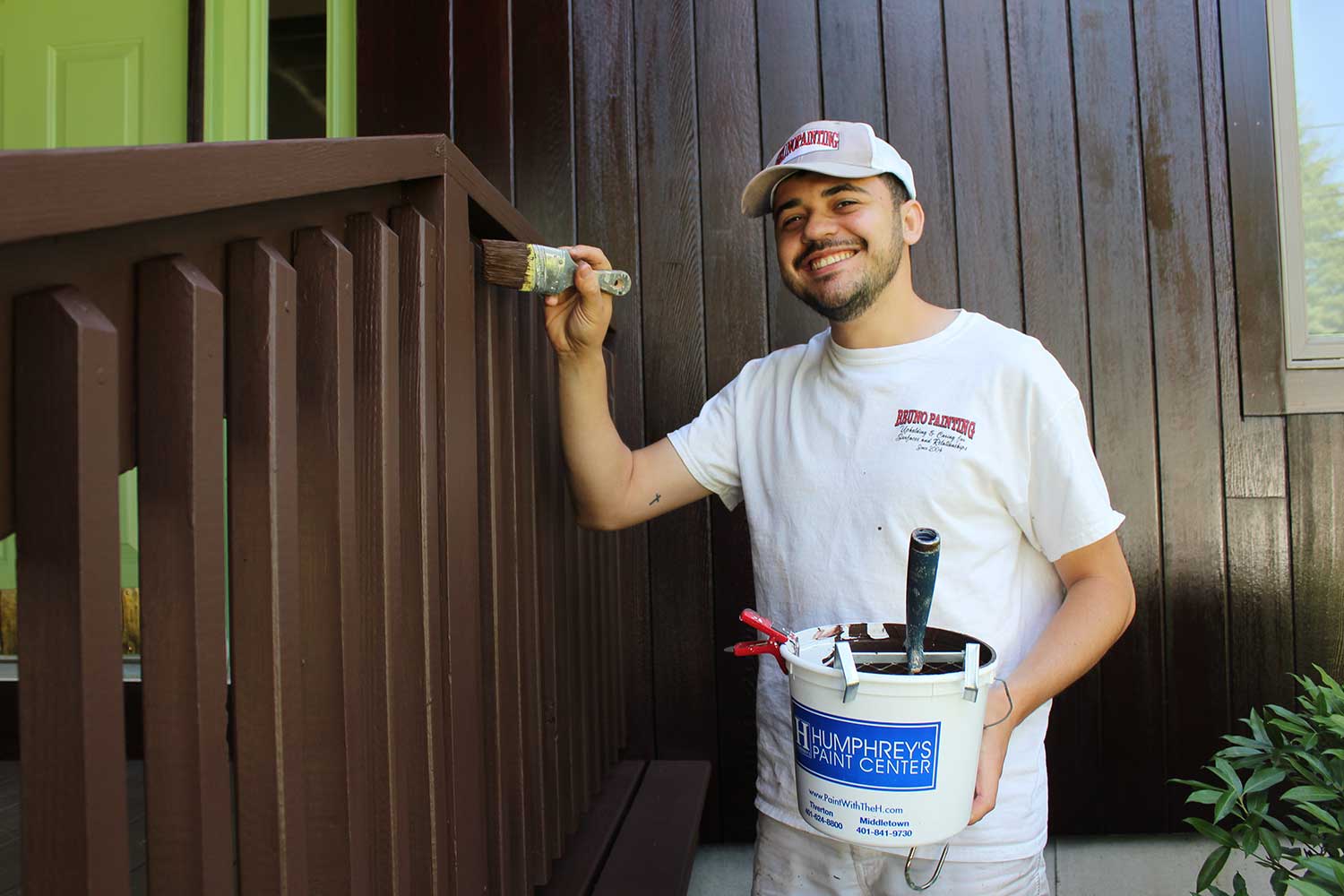 Step 2
Plan which parts of your exterior will be painted and agree on the paint brand and the color palettes that will be used. If there are any structural updates or fixes to be made to your home, we'll discuss those with you in detail so you can decide all the work that needs to be done prior to paint prep.
Decide on exactly what color and finish goes on which surfaces. Even exterior paints come in different sheens and selecting the sheen for each area to be painted, such as the siding or the trim, is an important step not to be overlooked. To note, exterior paints with a more matted sheen tend to be less durable. Conversely, exterior paints with a more glossy sheen tend to tolerate wear and tear better.
Another consideration when choosing the sheen for your exterior paint is to realize that an exterior paint with a more matted sheen is not as easy to wash. If you anticipate needing to have your home power washed because it is near an ocean or trees, you'll want to select a finish that is not completely a matte finish.
During your professional painting consultation, paint brand, color, and sheen selection will all be addressed.

Step 3
Decide on a schedule for the painting your home based on your best estimates and weather forecasts. Another one of our favorite paint brands is Benjamin Moore. According to the experts at Benjamin Moore, "Plan based on weather – rain can easily ruin a fresh coat of paint … so weather Is truly a critical component of a successful exterior paint project."
Benjamin Moore's tip for exterior painting in the "right" weather:  "Low temperatures and high humidity are a bad combination. Generally speaking, the higher the humidity, the slower a product dries."
Realize, of course, that the weather can change. But it's important to be aware of upcoming weather to give your paint project the best chance of success!
Step 4
Prepare your home for painting. This stage is often referred to as "prep" and many experts prep a home for painting in different order. The important thing to note is that a house exterior is cleaned, dried, caulked, and sanded for optimal paint adherence before a primer or paint brush is used.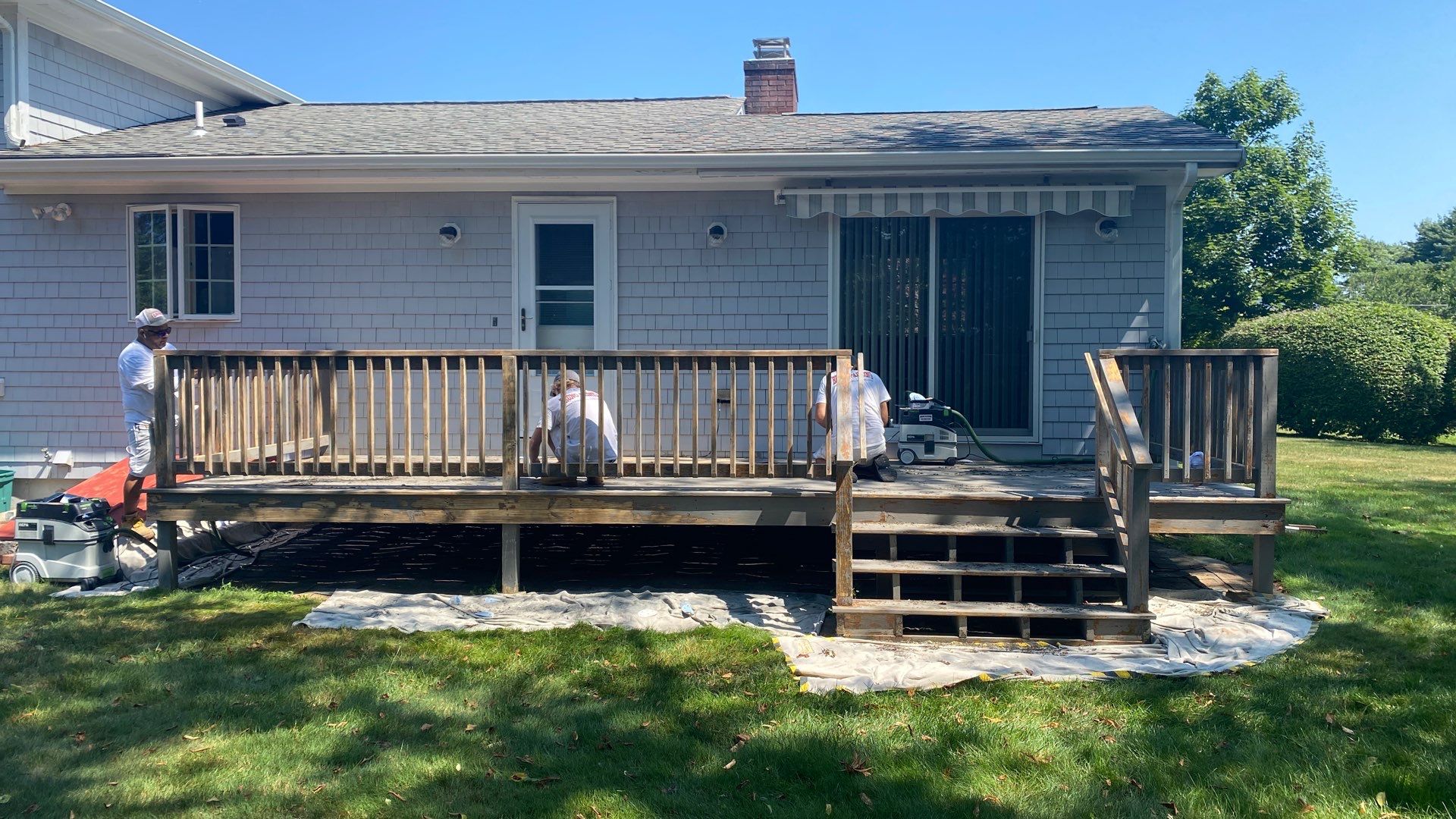 Step 5
Prime the exterior surfaces to be painted, including brick surfaces. Note that some experts recommend caulking after priming. You may even choose to caulk some areas before priming and caulking other spots after priming. The key point is to make the caulked surface as smooth as possible so the paint covering it will look as smooth.
Step 6
Have your carefully chosen paint color and sheen applied to your home's exterior. This is the most rewarding step, of course, especially if you're changing to a new color that you're excited to see on your home.
While painting professionals may differ in their process of painting your home, the best exterior painting results will be achieved when the approach is systematic and well-planned. It is a big endeavor to have your home's exterior painted. There's a lot that goes into properly painting your home's exterior.
At Bruno Painting, we're focused on doing all the right things and on Upholding and Caring for Surfaces and Relationships since 2004. We invite you to become a completely happy Bruno Painting client. Reach out today for your complimentary remodeling and painting estimate.
With the close of another year approaching, many of us look forward to new beginnings and the excitement of change. Keeping your home up to date when it comes to paint color trends is a fun, budget-friendly way to embrace a new season as well as the new year. Since 2022 holds promising possibilities of life returning to normal, many homeowners are taking advantage of these winter months on the classic coast to make some home improvements.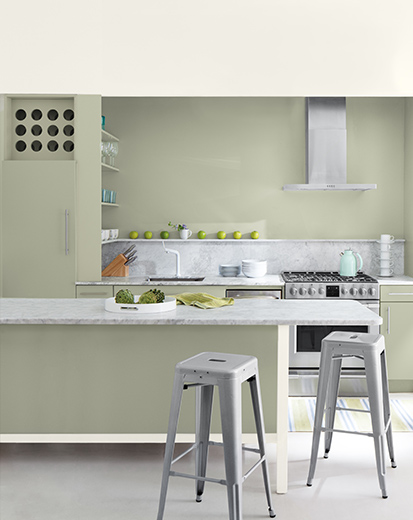 Keep your home looking updated by incorporating the new color of the year into your decor. Many professional paint brands, companies like Benjamin Moore, and Fine Paints of Europe call out their new colors for the season and crown one new color the Paint Color of the Year.
Fun fact … Pantone has been designating a Color of the Year since 2000. Pantone is a company that pioneers color thought, theory, and application and has done so since 1963 when they "revolutionized the printing industry with the colorful PANTONE MATCHING SYSTEM®, an innovative tool allowing for the faithful selection, articulation and reproduction of consistent, accurate color anywhere in the world."
What is the 2022 paint color of the year?
At the end of every year, popular paint brands like Benjamin Moore release their color of the year. This year, Benjamin Moore selected October Mist, a shade inspired by the silver-green stem of a flower.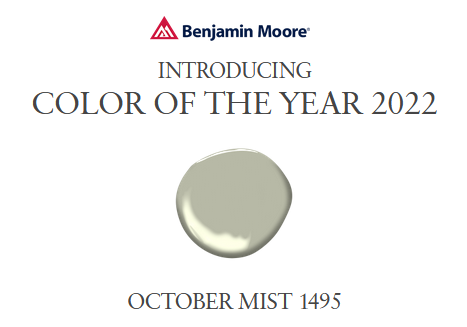 For 2022, Benjamin Moore's focus is on creativity and providing a way to add color that will gently anchor a space. By encouraging individual expression through color, the 2022 color of the year by Benjamin Moore brings balance to harmony and the eclectic no matter what your personal decor style
Should you care about the 2022 paint color of the year?
Inviting creativity into our homes in a way that is both calming and energizing can be a challenge. Thanks to the efforts to create a whimsical yet grounded feeling to the home, many are choosing to incorporate this 2022 palette into their everyday spaces.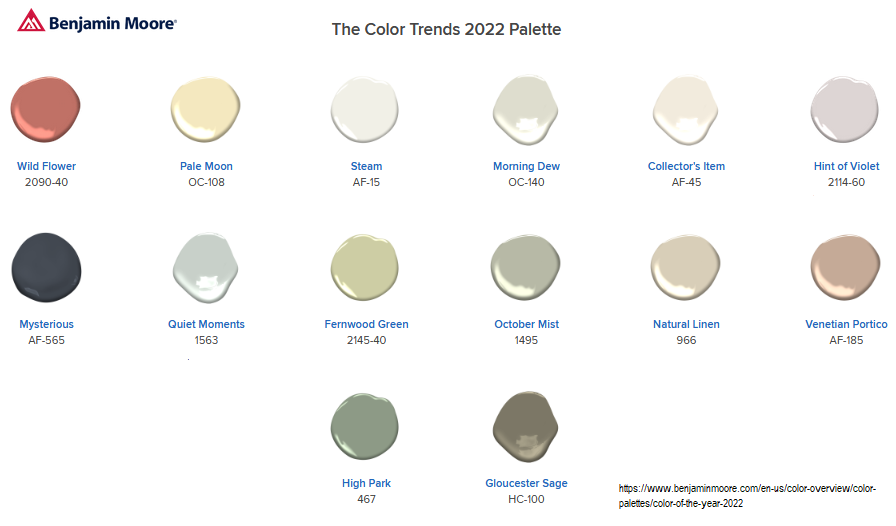 Paint colors included in their selected 2022 palette are a range of shades you may find in nature, with a few rich colors along with many neutrals. These pale shades and hues are energizing in a way that can evoke creativity and inspire change.
By updating your home colors, you communicate to your guests that you take great care of your home. As an important part of your investment, regular updates to your interior paint can actually increase the value of your home.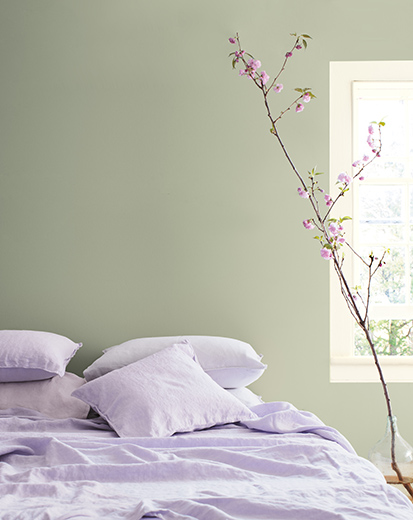 The best way to incorporate these colors in a room inside your house 
Green hues typically evoke a sense of calm and tranquility. It is no wonder that, as we look forward to the coming year, many are choosing a way to make their homes a space where stress is reduced in favor of peacefulness. From home offices to living rooms, homeowners are using these colors to incorporate the shades of nature inside by means of paint, accents, and decor to increase home comfort and creativity.
Explore different options of incorporating these new paint color shades into your home. A monochromatic look is perfect for cottage core decor. This can be done by incorporating green with a head-to-toe application with specialized ceiling paint. Alternatively, you can create a spa-like oasis in your bathroom using the high-humidity matte finish line from Benjamin Moore to transform your bathroom into an everyday escape.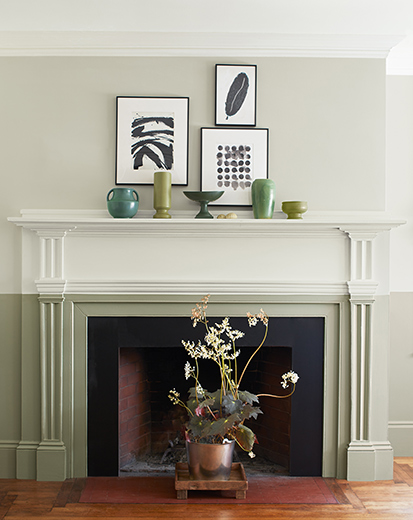 Making home updates like interior painting requires precision and finesse. Understanding both the quality of paint as well as the application process is a task that is best left to the professionals, especially when it comes to an update that will last for years to come. If you are excited about the new 2022 color of the year by Benjamin Moore or other paint brands, reach out to a local professional painting contractor who can meet your personal needs.
Winter in Rhode Island is one of the best times to schedule an interior painting project. With the holiday season almost upon us, now is the perfect time to paint. Updating your home before company calls is a great way to impress even the most discerning guest.
Many homeowners have trusted their home interior painting, carpentry, and remodeling projects to Bruno Painting. That is because Bruno Painting has been upholding & caring for surfaces and relationships since 2004. The quality service and peace of mind knowing you have a reliable painting contractor working on your home are why so many have chosen Bruno Painting for their home projects. If you want to have a painting project completed this winter, reach out to our licensed professionals and let us help update your home this year!
Choosing a paint color can be a complicated process. It's easy to get overwhelmed by all the different options and colors available at your local home improvement store. It seems as if every brand has shades and hues that are just slightly different than the next. Here to help make the color choice a little easier are these simple steps from the experts at Bruno Painting. 
We'll show you how paint color can change your mood as well as providing some tips on how to choose the right one for your home. Plus, find out how to use paint colors effectively throughout your house so that every room is not just aesthetically pleasing but also filled with the energy you want.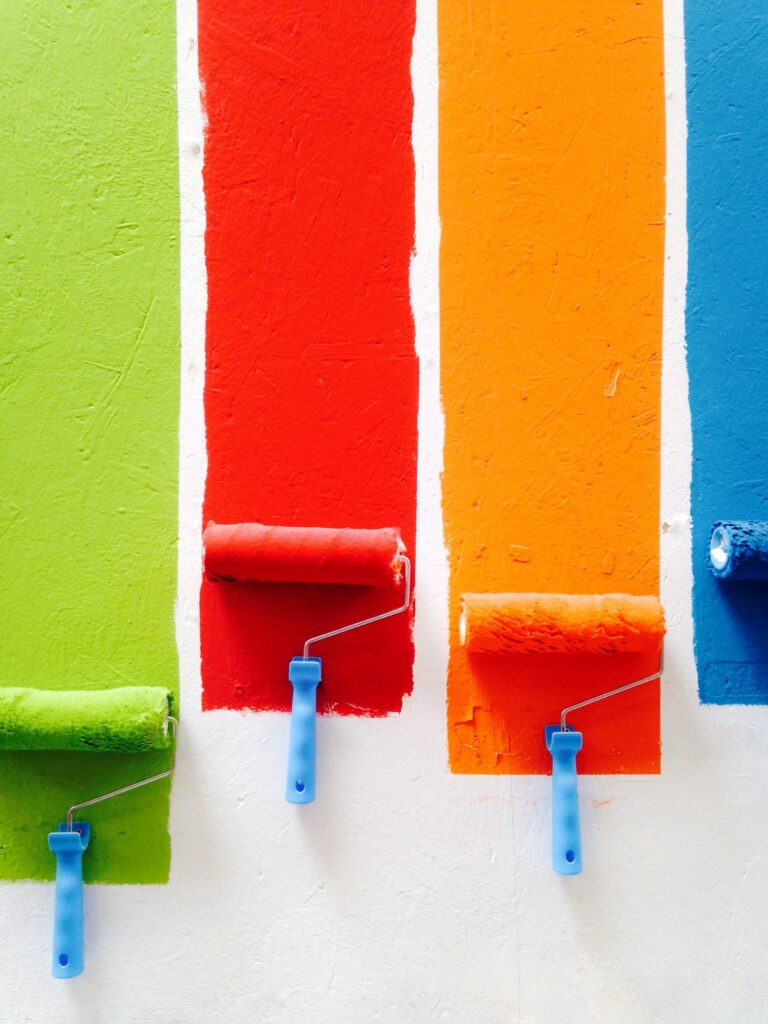 Science behind color
It is no secret that many Rhode Islanders have been spending more time at home creating the perfect spaces that emote feelings of calm, happiness, or whatever it is you want to feel in your home. From decor to lighting to wall paint, how a room is colored and designed will have an impact on how you feel.
Psychologists have confirmed this theory that color affects not just your mood, but how your mind and body will respond to its surroundings. Choosing different colors for the different rooms of your home can boost creativity and productivity, encourage calm and tranquility, and even energize and uplift your mood. There is no wrong choice when it comes to color choice because it all depends on how you want yourself and others to feel when you are in your home. The question you need to ask yourself is 'how do you want to feel in your space?' 
To Feel Vibrant and Bold
For homes that feel full of life and excitement choosing red tones can be the perfect match. Red is a bold, vibrant color that excites and stimulates the body, which is why it is typically found in the kitchen and even in workout rooms.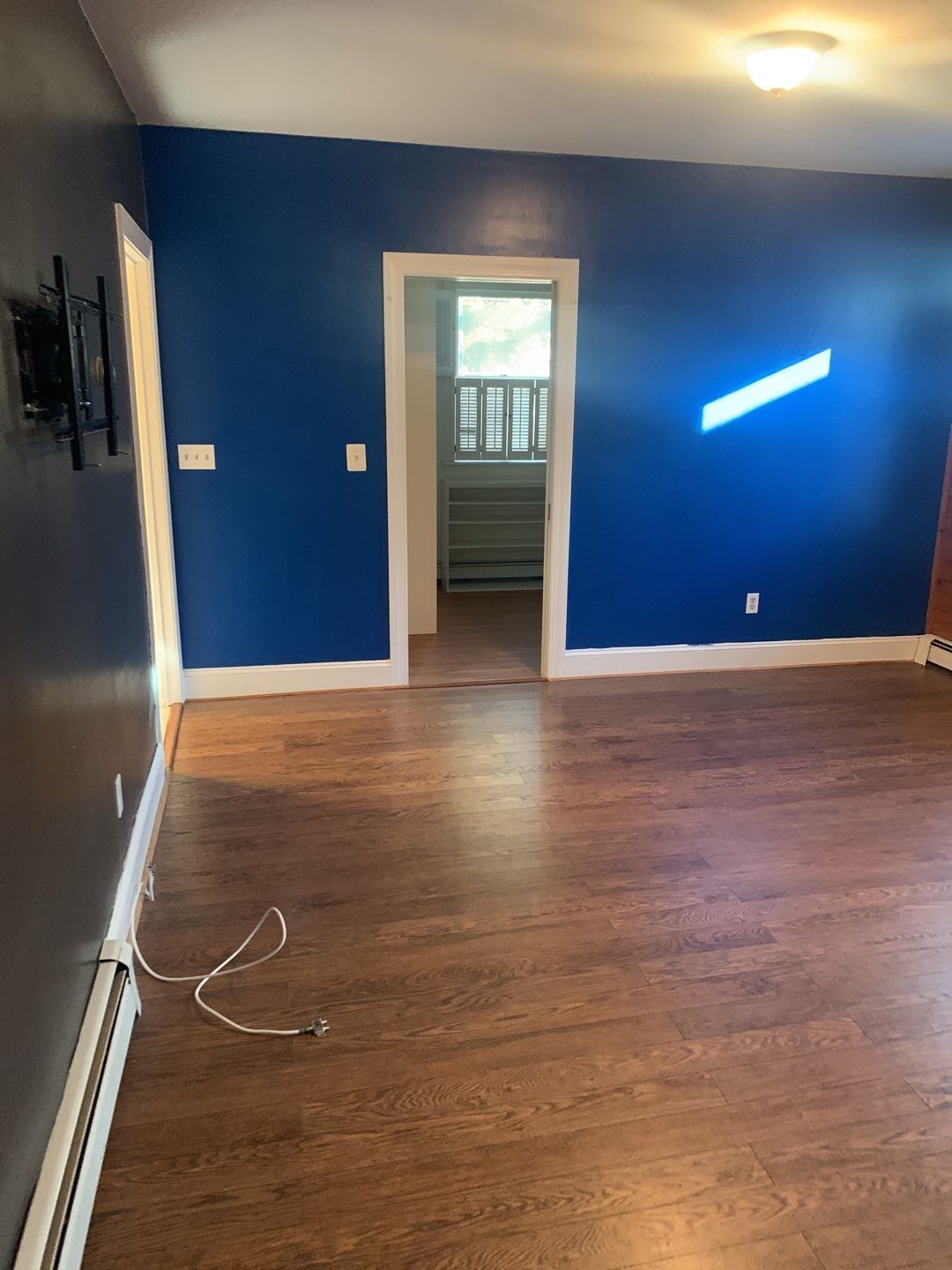 To Feel Soothed or Calm
Evoking a soothing, calming feel in certain spaces can help make your home a welcoming retreat. Since some spaces work well when they feel safe and welcoming, like a bedroom or a reading nook, use colors in those spots that help create that sense of peace. 
Green, blue, and certain pink tones can help create this balance of tranquility and a soothing feel. These colors can be incorporated into bedrooms, bathrooms, or any space you'd like to have a peaceful, Zen-like feeling.
To Feel Creative, Energized, and Productive
For a burst of creativity and to feel inspired, orange may be a great option. Representing feelings of happiness and innovation, orange is a striking color that can wake up your senses and help you tackle any task. 
Similarly, yellows can stimulate the mind and even improve metabolism. A bright yellow can excite the senses, making us feel awake and ready to seize the day. These colors do best in home offices and children's playrooms.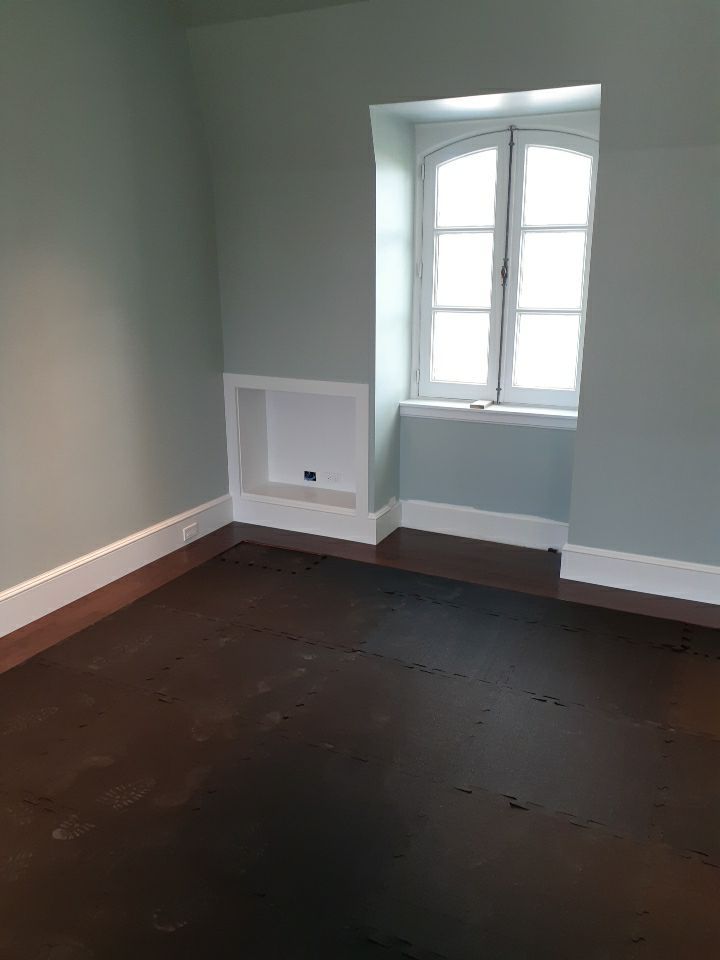 To Feel Emotion
Some spaces need a little drama. For areas that you want to evoke a deeper emotion or a sea of relaxation, blues and purples may be a good choice. Blue is a versatile color that is found in almost every home in the U.S. It has proven to help with concentration and even lower heart rates because of its calming effects. Purples can also encourage a relaxed atmosphere, but also lends to a more dramatic flair which can be an impressive and unique approach. Use these colors in family rooms, home theaters, or dining rooms to add flair and intensity.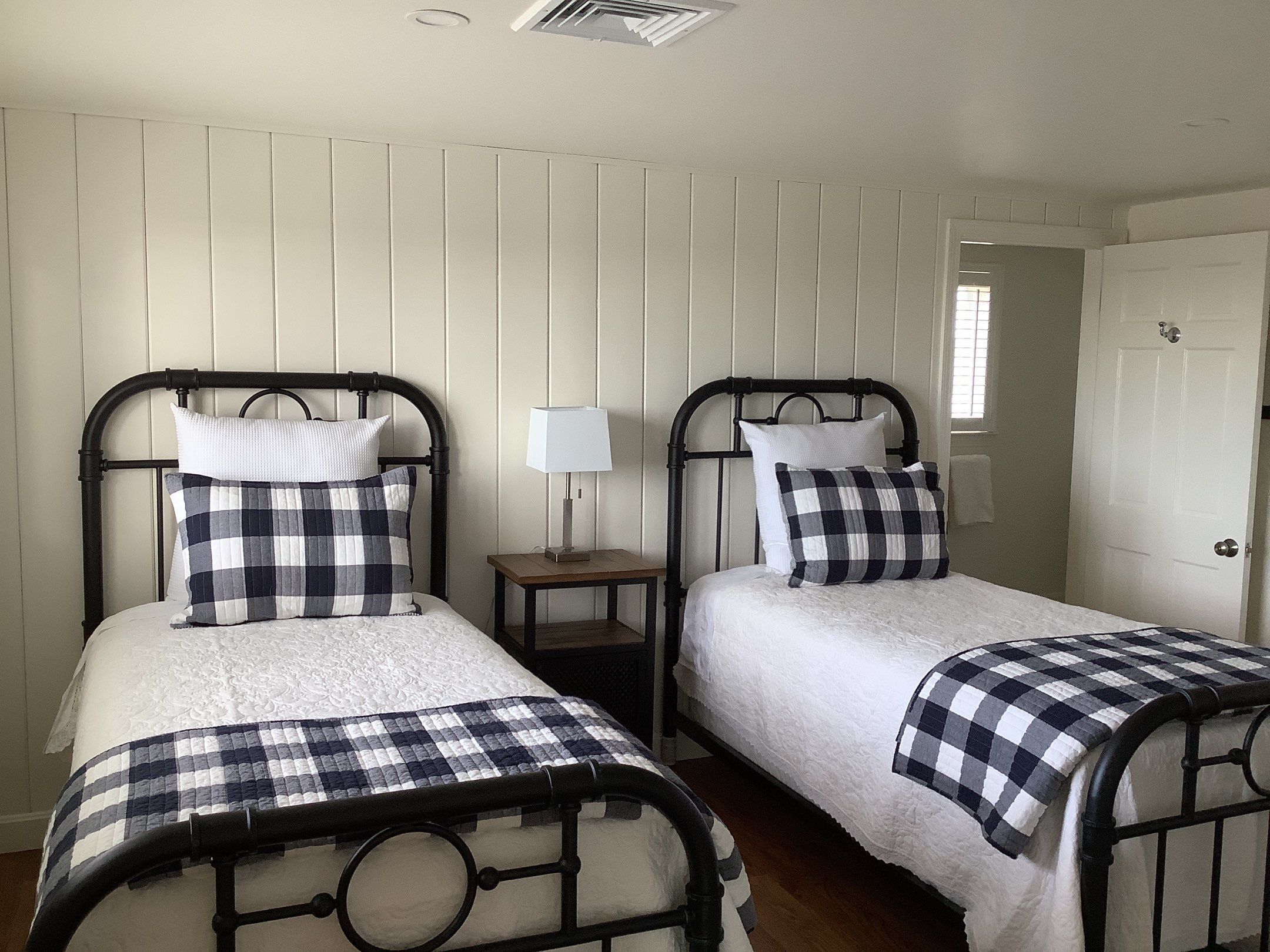 To Feel Grounded or Sophisticated
For a more modern, elegant feel in your home, neutrals are the perfect touch. If you desire to feel more down-to-earth, non-muddy browns and taupes are a good choice. Taupe brings about a sense of stability that can be both comforting and calming. 
For a hint of elegance or sophistication, greys and blacks can achieve this feeling. The colors create a sleek and edgy feel to a space and can promote a sense of power and strength, in a slightly stronger way than taupe hues. Using these colors in living rooms, kitchens, bathrooms, and even bedrooms to evoke a depth of emotion.
If you are looking for a way to update brighten your home, paint color could be the answer. While everyone responds to colors differently, paint can change the mood of any room and increase its energy levels. As personal preferences go, color choice can be just as unique as you are. Individualize your home in a way that you will enjoy it the most.
Since 2004, Bruno Painting's mission has been and remains the same … to uphold and care for surfaces and relationships. We follow this mission every day in working and serving the communities of Rhode Island. To schedule a free estimate and talk about color choice, contact us today!
Interior painting is one of the easiest, least expensive ways to improve and revitalize your home. Finding the right color combinations will, not only tie a room together, but most importantly will make your entire house tell a visual story as you and your house guests move from one room to the next.
Starting this colorful storyline can be a challenge but thankfully the masterful color experts at Benjamin Moore and Sherwin-Williams have recommended color palettes for each room of your home. The question is, "Are certain interior paint colors better for specific rooms?"
Our answer to that question is, yes, "Specific colors in different rooms serve different purposes and can even alter your mood and how you feel while in the room." There's that, but of course, there's a lot more to color theory and how different colors impact the way you feel in each room in your house. Here are a few tips as well as suggestions to consider when selecting the best interior paint colors for each room in your house, as you plan out your interior paint project.
Bedroom
Most people desire their bedroom to be a relaxing, calming space. As a sanctuary of sorts, your bedroom should feel like a safe haven where your cares and stress melt away. To create this harmonious and calming effect, muted blues and muted greens both work well. Rosemary Green - SW 6187 from Sherwin-Williams, for example, elevates any space while bringing a tranquil feeling.
Kitchen
The kitchen is the lifeline in every home. The kitchen is the heartbeat that brings life to every other aspect of your home. Choosing an interior paint color that expresses your family's heart is an incredible way to bring an emotional connection from you to your home to your family and guests. A pure and crisp look to a kitchen with a subtle addition of color like Hawthorne Yellow from Benjamin Moore can radiate that feeling of life and warmth to the rest of your home.
Living Room
There is a great amount of flexibility in color choice for your living room because it can and should be an expression of what you want it to be. For the idealist or optimist, bringing light and hope to a room can easily be accomplished through color. This Cloud White and Pale Oak, both from Benjamin Moore, bring a sense of optimism into your home.
If a bolder, more grounded feeling is what you desire for your living room, consider a deep green. Cape Verde - SW 6482 from Sherwin-Williams promotes a peaceful and harmonious balance to any space.

Children's rooms
Children also need a space to feel safe and their bedrooms are the place for them to unwind after a busy day. For a calming yet bright approach, try Oxford Gray from Benjamin Moore which actually gives the room a cool, blue feel. If your child's space is small, consider an accent wall matched with a light neutral or white.
Foyer
As the first place you and your guests see upon entering your home, it is important to set the tone with just the right foyer color. Many of our clients ask, "What's the best color for the foyer? A dark, dramatic color or a light and bright color?" Our answer … "The color choice for your foyer depends somewhat on the size of your foyer area, how open it is, how much natural light it gets, and how it's connected to other walls without a room break." Your foyer color choice can be difficult if all your space is open. Even if there's a corner break, you must consider the nearby colors and hues to be sure the flow of the foyer is harmonious with the nearby spaces.
Cyberspace - SW 7076 by Sherwin-Williams can boldly make a statement to your guests unlike any other.
Bathrooms
Smaller spaces such as bathrooms can be overlooked when it comes to interior painting updates. Instead of a remodel with a new vanity or tiling which can become expensive, an update to your bathroom's paint can do the trick in transforming the space. A green hue like Prescott Green from Benjamin Moore is great in this space, where the serene feeling from the color can make you feel like you're at the spa.
Powder Room
The best part of having a powder room is that you can express yourself in ways that you may not be able to in other rooms in your home. Maximizing these small spaces as a statement piece with a bold color can pack a punch and bring that wow factor.
Alexandrite - SW 0060 from Sherwin Williams is just one of many interior paint colors that shows how to pull off this beautiful bold approach.
Bruno Painting has been serving homeowners in Rhode Island, in the Newport area and beyond, since 2004. Our mission has always been Upholding and Caring for Surfaces and Relationships. We take great pride in the work we do for homeowners and area excited to help you with the process of choosing the right colors for your home. Reach out to schedule your interior painting estimate!
When you take on a home painting project yourself, you'll find an almost excessive number of paint types within each paint brand from which to choose. Though there are many choices, it can be difficult to know which paint is best for your specific painting project.
When you hire a painting professional to paint your home, on the other hand, you'll have a wide variety of professional paint brands at your disposal, plus a painting team with the knowledge and information needed to select the best paint for your particular home and its unique characteristics.
We've put together a list of some of the best interior and exterior paint brands for your home. You can use this information to better understand all the different paint technologies available and be better able to have a conversation with your painting contractor about the best paints for your home.
Interior Recommendations
For interior paint, some paint characteristics we believe are important are paint thickness, paint coverage or spread, fumes or paint odor, "green" considerations, color variety, sheen selection, specific chemical and preservative ingredients, and ease of application.
When we consider if a paint is "green," we look at the presence or absence of volatile organic compounds (VOCs). VOCs release gasses into the air that cause a strong paint odor, and which can be harmful to people and animals, possibly causing respiratory problems as well as harm the air quality.
Along with these factors, we look at customer satisfaction and overall performance for the price. Here are our top recommendations for interior paints:
Fine Paints of Europe created the Eurolux™ Interior Acrylic Paint line to serve as an odorless acrylic paint option, which has been perfected over the last two decades. The coating quality is unmatched by this remarkable paint. Many have compared the durability and scrubbable strength tile, with the same washability! It is both quick drying and Low VOC,  making this a wonderful option for lasting beauty in any home. We recommend this in both kitchens and bathrooms due to its impeccable ability to be cleaned.
As an alternative, Eco™ Waterborne Paints by Fine Paints of Europe offer the benefits of both alkyd and acrylic formulated paints. With easy clean-up and application, this self-leveling paint dries to a beautiful finish while also being Low VOC paint, making it an eco-friendly choice. We recommend this paint for dining rooms, family rooms, and even bedrooms.
Aura by Benjamin Moore is another paint we recommend for homeowners specifically looking for a paint that goes on effortlessly. The Gennex color-technology in this paint has maximum performance for long-lasting results. As a paint and primer in one, this paint dries quickly and adapts well to different surfaces. We recommend Aura in bedrooms for its low VOCs and minimal-odor qualities. Additionally, Aura Bath and Spa is designed specifically for high-humidity areas like your bathroom.
Last, but not least, for interior paint Regal Select by Benjamin Moore has performed well for more than 50 years. With its unique formula, a wide variety of beautiful colors, and an easy-to-clean finish for all sheens, this paint is one of our favorites.
As a paint and primer in one, Regal Select performs consistently on many different surfaces. The greatest advantage is that it has zero VOC and low odor making this a versatile choice for any room in your home.

Exterior Recommendations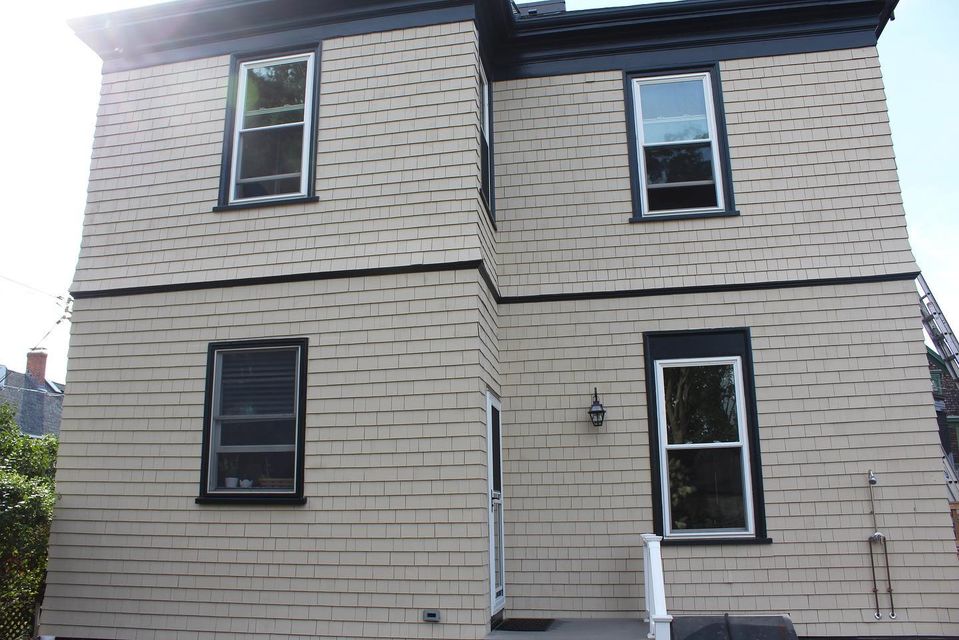 Exterior surfaces require paints that match the needs caused by local conditions. For homes that are near a body of water, for example, mildew-resistant paint will protect best; a stain- and dirt-resistant paint performs well in urban areas. Our exterior paint recommendations are based on specific attributes that may apply to your home's unique needs.
Benjamin Moore's Regal Select Exterior Paints offer optimum coverage with protection and durability. This paint holds up its appearance to weathering very nicely. This is due in part to the alkyd technology, which provides ultimate adherence to all surfaces. Its resistance to cracking, dirt, mildew, and color change make this a good overall choice for homes whose exterior requires extra protection from moisture and other elements.
EUROLUXⓇ Housepaint by Fine Paints of Europe provides the advantages of both traditional oil formulas and modern acrylic features with a state-of-the-art formulation. Thanks to the advanced, durable coating this paint application is known for easy use. Weather resistance and environmental conscientiousness are associated with this paint which boasts superior adhesion to surfaces with flexibility making it a great choice for exterior paint as it stands up to numerous cycles of contraction and expansion that we see on the classic coast.
We use a number of different paint lines from these companies outside of these and always prioritize the highest quality paints. These are a simple selection of some of the best options as a starting point for you to consider. There are many paints on the market, with professional-grade paints offering the most technologically advanced qualities. Choosing one or more of these paints that are manufactured using the latest in paint-performance technologies will give your home greater protection and a better paint finish in the long run.
We know paint selection can be difficult, even confusing. Our mission at Bruno Painting is Upholding and Caring for Surfaces and Relationships. We take great pride in the carpentry and painting projects we do for Rhode Island homeowners and are excited to help you with the process of choosing the right paint for your home's interior and exterior. Contact us for a fresh coat of paint for your home!