With the close of another year approaching, many of us look forward to new beginnings and the excitement of change. Keeping your home up to date when it comes to paint color trends is a fun, budget-friendly way to embrace a new season as well as the new year. Since 2022 holds promising possibilities of life returning to normal, many homeowners are taking advantage of these winter months on the classic coast to make some home improvements.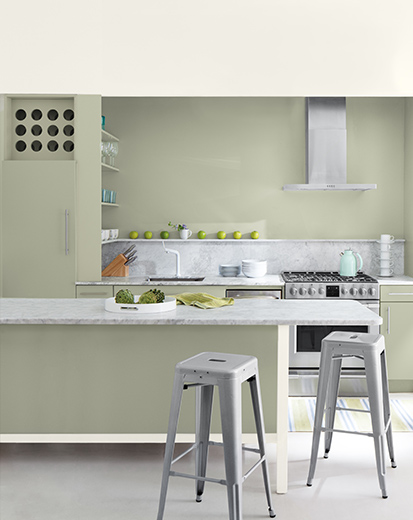 Keep your home looking updated by incorporating the new color of the year into your decor. Many professional paint brands, companies like Benjamin Moore, and Fine Paints of Europe call out their new colors for the season and crown one new color the Paint Color of the Year.
Fun fact … Pantone has been designating a Color of the Year since 2000. Pantone is a company that pioneers color thought, theory, and application and has done so since 1963 when they "revolutionized the printing industry with the colorful PANTONE MATCHING SYSTEM®, an innovative tool allowing for the faithful selection, articulation and reproduction of consistent, accurate color anywhere in the world."
What is the 2022 paint color of the year?
At the end of every year, popular paint brands like Benjamin Moore release their color of the year. This year, Benjamin Moore selected October Mist, a shade inspired by the silver-green stem of a flower.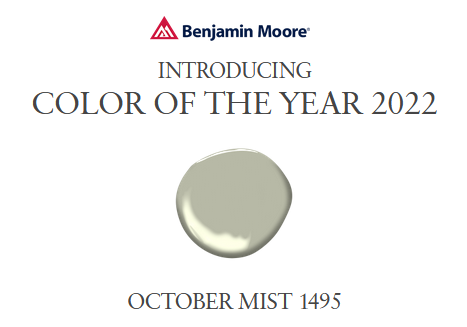 For 2022, Benjamin Moore's focus is on creativity and providing a way to add color that will gently anchor a space. By encouraging individual expression through color, the 2022 color of the year by Benjamin Moore brings balance to harmony and the eclectic no matter what your personal decor style
Should you care about the 2022 paint color of the year?
Inviting creativity into our homes in a way that is both calming and energizing can be a challenge. Thanks to the efforts to create a whimsical yet grounded feeling to the home, many are choosing to incorporate this 2022 palette into their everyday spaces.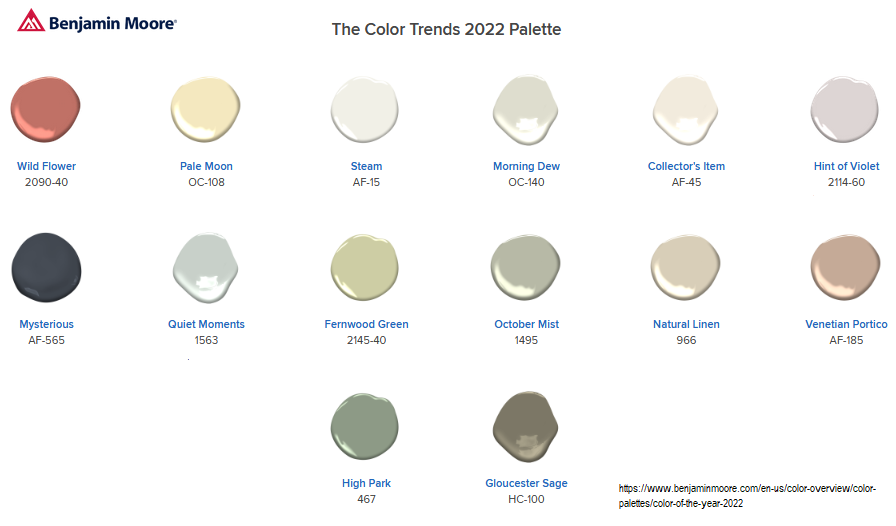 Paint colors included in their selected 2022 palette are a range of shades you may find in nature, with a few rich colors along with many neutrals. These pale shades and hues are energizing in a way that can evoke creativity and inspire change.
By updating your home colors, you communicate to your guests that you take great care of your home. As an important part of your investment, regular updates to your interior paint can actually increase the value of your home.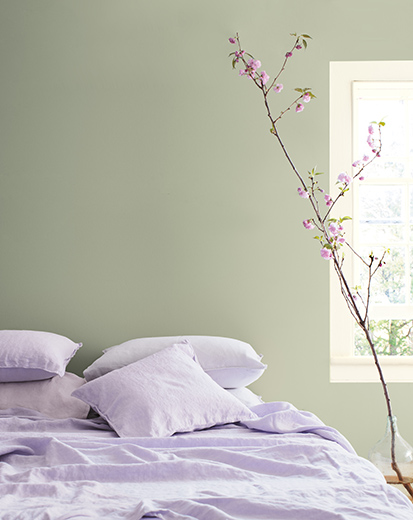 The best way to incorporate these colors in a room inside your house 
Green hues typically evoke a sense of calm and tranquility. It is no wonder that, as we look forward to the coming year, many are choosing a way to make their homes a space where stress is reduced in favor of peacefulness. From home offices to living rooms, homeowners are using these colors to incorporate the shades of nature inside by means of paint, accents, and decor to increase home comfort and creativity.
Explore different options of incorporating these new paint color shades into your home. A monochromatic look is perfect for cottage core decor. This can be done by incorporating green with a head-to-toe application with specialized ceiling paint. Alternatively, you can create a spa-like oasis in your bathroom using the high-humidity matte finish line from Benjamin Moore to transform your bathroom into an everyday escape.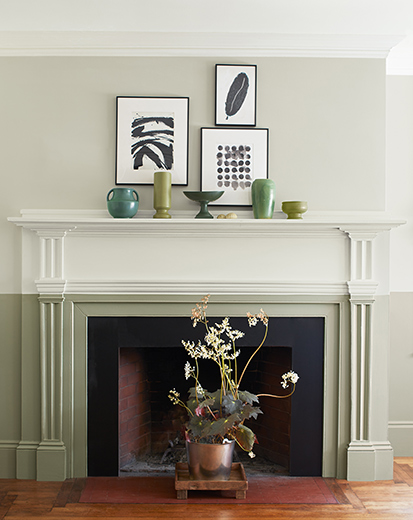 Making home updates like interior painting requires precision and finesse. Understanding both the quality of paint as well as the application process is a task that is best left to the professionals, especially when it comes to an update that will last for years to come. If you are excited about the new 2022 color of the year by Benjamin Moore or other paint brands, reach out to a local professional painting contractor who can meet your personal needs.
Winter in Rhode Island is one of the best times to schedule an interior painting project. With the holiday season almost upon us, now is the perfect time to paint. Updating your home before company calls is a great way to impress even the most discerning guest.
Many homeowners have trusted their home interior painting, carpentry, and remodeling projects to Bruno Painting. That is because Bruno Painting has been upholding & caring for surfaces and relationships since 2004. The quality service and peace of mind knowing you have a reliable painting contractor working on your home are why so many have chosen Bruno Painting for their home projects. If you want to have a painting project completed this winter, reach out to our licensed professionals and let us help update your home this year!
Choosing a paint color can be a complicated process. It's easy to get overwhelmed by all the different options and colors available at your local home improvement store. It seems as if every brand has shades and hues that are just slightly different than the next. Here to help make the color choice a little easier are these simple steps from the experts at Bruno Painting. 
We'll show you how paint color can change your mood as well as providing some tips on how to choose the right one for your home. Plus, find out how to use paint colors effectively throughout your house so that every room is not just aesthetically pleasing but also filled with the energy you want.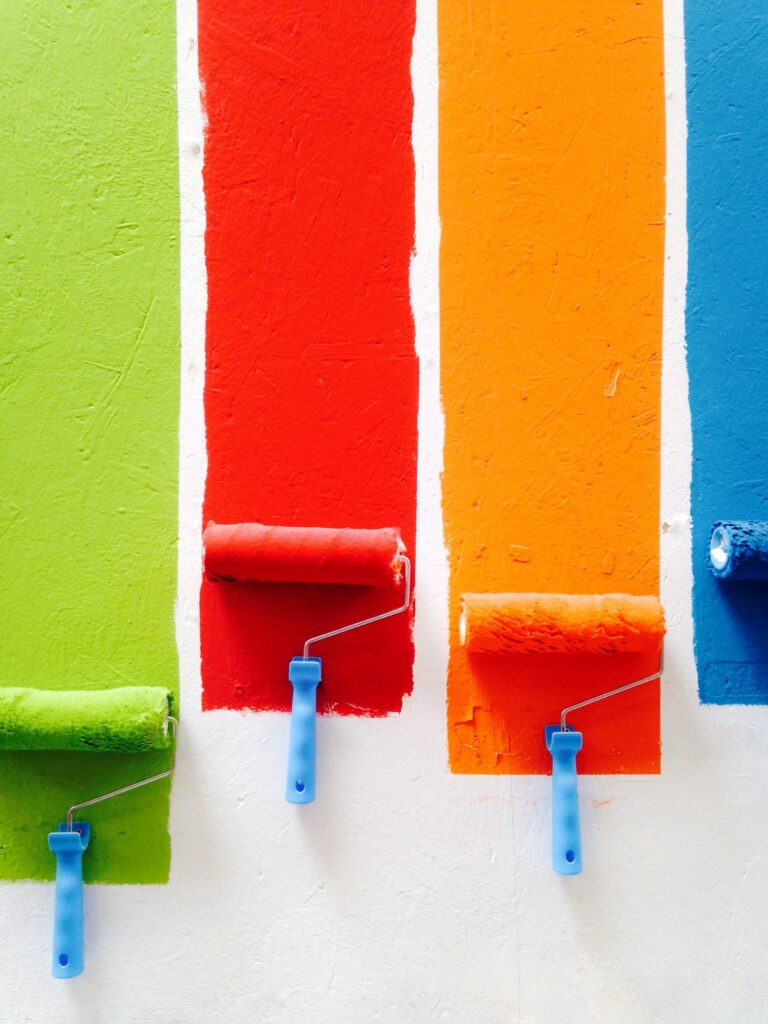 Science behind color
It is no secret that many Rhode Islanders have been spending more time at home creating the perfect spaces that emote feelings of calm, happiness, or whatever it is you want to feel in your home. From decor to lighting to wall paint, how a room is colored and designed will have an impact on how you feel.
Psychologists have confirmed this theory that color affects not just your mood, but how your mind and body will respond to its surroundings. Choosing different colors for the different rooms of your home can boost creativity and productivity, encourage calm and tranquility, and even energize and uplift your mood. There is no wrong choice when it comes to color choice because it all depends on how you want yourself and others to feel when you are in your home. The question you need to ask yourself is 'how do you want to feel in your space?' 
To Feel Vibrant and Bold
For homes that feel full of life and excitement choosing red tones can be the perfect match. Red is a bold, vibrant color that excites and stimulates the body, which is why it is typically found in the kitchen and even in workout rooms.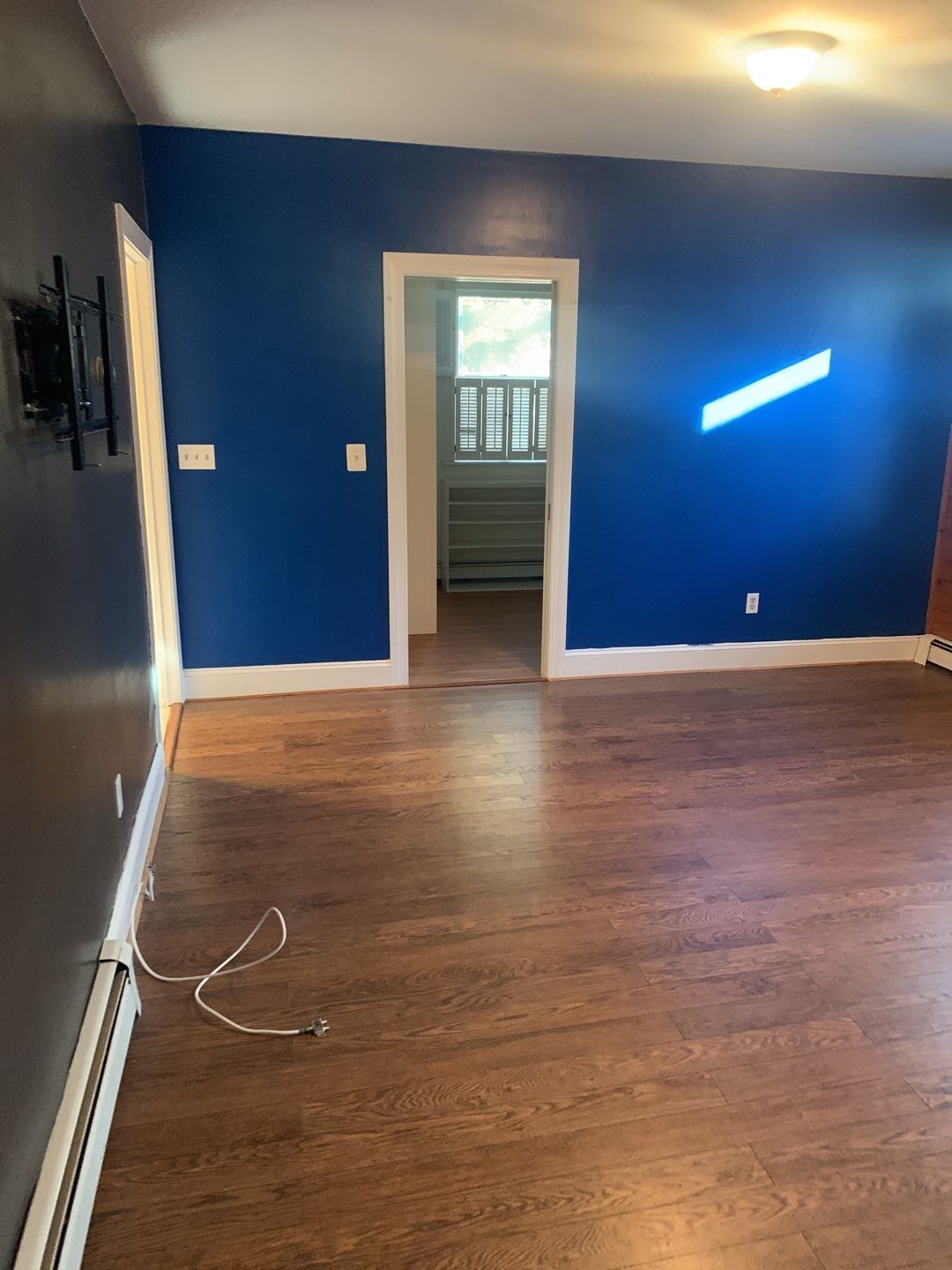 To Feel Soothed or Calm
Evoking a soothing, calming feel in certain spaces can help make your home a welcoming retreat. Since some spaces work well when they feel safe and welcoming, like a bedroom or a reading nook, use colors in those spots that help create that sense of peace. 
Green, blue, and certain pink tones can help create this balance of tranquility and a soothing feel. These colors can be incorporated into bedrooms, bathrooms, or any space you'd like to have a peaceful, Zen-like feeling.
To Feel Creative, Energized, and Productive
For a burst of creativity and to feel inspired, orange may be a great option. Representing feelings of happiness and innovation, orange is a striking color that can wake up your senses and help you tackle any task. 
Similarly, yellows can stimulate the mind and even improve metabolism. A bright yellow can excite the senses, making us feel awake and ready to seize the day. These colors do best in home offices and children's playrooms.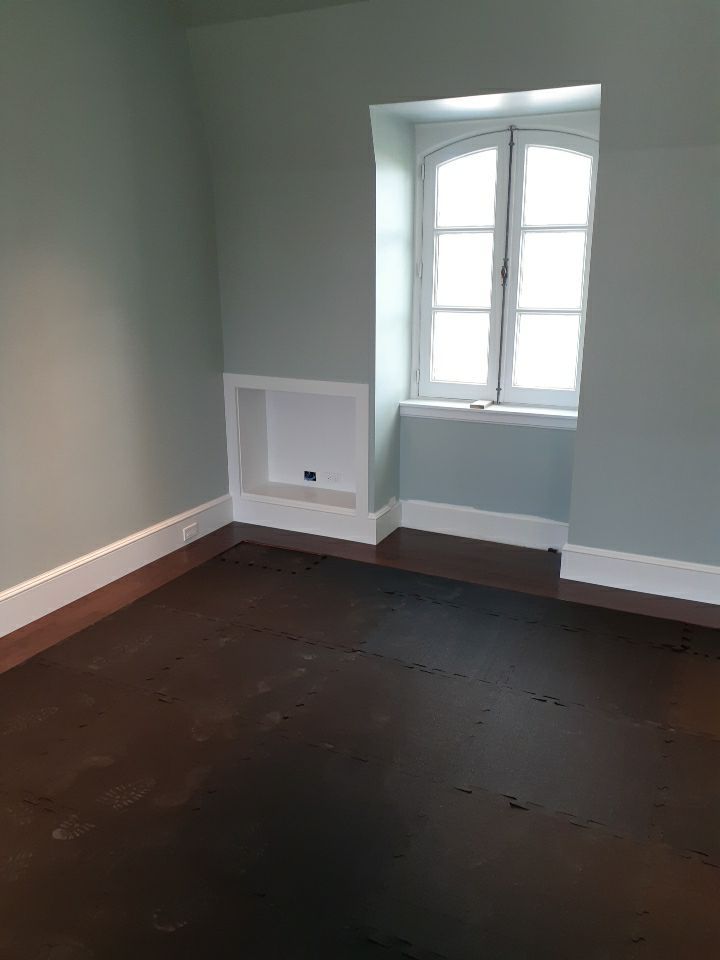 To Feel Emotion
Some spaces need a little drama. For areas that you want to evoke a deeper emotion or a sea of relaxation, blues and purples may be a good choice. Blue is a versatile color that is found in almost every home in the U.S. It has proven to help with concentration and even lower heart rates because of its calming effects. Purples can also encourage a relaxed atmosphere, but also lends to a more dramatic flair which can be an impressive and unique approach. Use these colors in family rooms, home theaters, or dining rooms to add flair and intensity.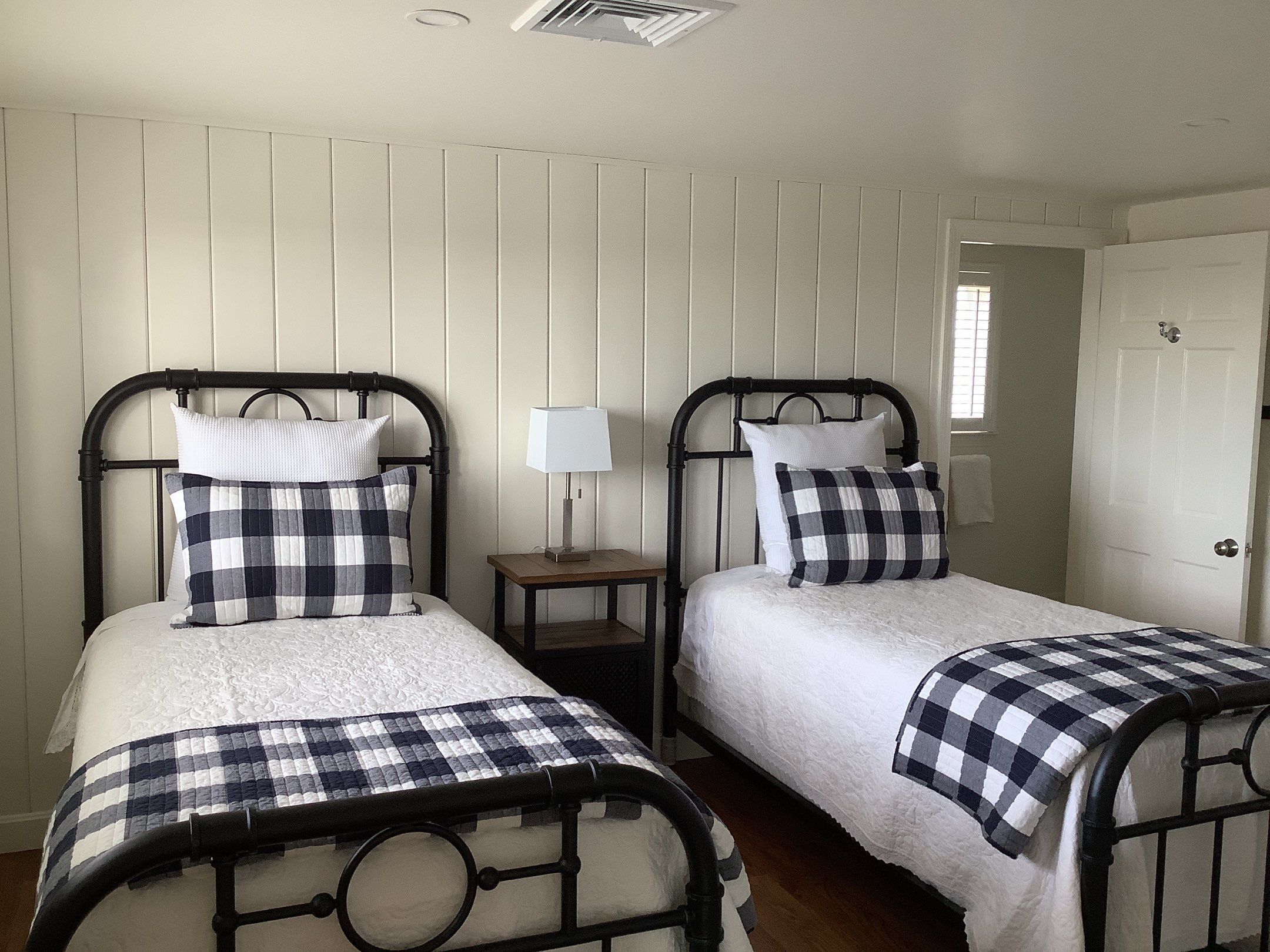 To Feel Grounded or Sophisticated
For a more modern, elegant feel in your home, neutrals are the perfect touch. If you desire to feel more down-to-earth, non-muddy browns and taupes are a good choice. Taupe brings about a sense of stability that can be both comforting and calming. 
For a hint of elegance or sophistication, greys and blacks can achieve this feeling. The colors create a sleek and edgy feel to a space and can promote a sense of power and strength, in a slightly stronger way than taupe hues. Using these colors in living rooms, kitchens, bathrooms, and even bedrooms to evoke a depth of emotion.
If you are looking for a way to update brighten your home, paint color could be the answer. While everyone responds to colors differently, paint can change the mood of any room and increase its energy levels. As personal preferences go, color choice can be just as unique as you are. Individualize your home in a way that you will enjoy it the most.
Since 2004, Bruno Painting's mission has been and remains the same … to uphold and care for surfaces and relationships. We follow this mission every day in working and serving the communities of Rhode Island. To schedule a free estimate and talk about color choice, contact us today!
Interior painting is one of the easiest, least expensive ways to improve and revitalize your home. Finding the right color combinations will, not only tie a room together, but most importantly will make your entire house tell a visual story as you and your house guests move from one room to the next.
Starting this colorful storyline can be a challenge but thankfully the masterful color experts at Benjamin Moore and Sherwin-Williams have recommended color palettes for each room of your home. The question is, "Are certain paint colors better for specific rooms?"
Our answer to that question is, yes, "Specific colors in different rooms serve different purposes and can even alter your mood and how you feel while in the room." There's that, but of course, there's a lot more to color theory and how different colors impact the way you feel in each room in your house. Here are a few tips as well as suggestions to consider when selecting the best colors for each room in your house, as you plan out your interior paint project.
Bedroom
Most people desire their bedroom to be a relaxing, calming space. As a sanctuary of sorts, your bedroom should feel like a safe haven where your cares and stress melt away. To create this harmonious and calming effect, muted blues and muted greens both work well. Rosemary Green - SW 6187 from Sherwin-Williams, for example, elevates any space while bringing a tranquil feeling.
Kitchen
The kitchen is the lifeline in every home. The kitchen is the heartbeat that brings life to every other aspect of your home. Choosing a color that expresses your family's heart is an incredible way to bring an emotional connection from you to your home to your family and guests. A pure and crisp look to a kitchen with a subtle addition of color like Hawthorne Yellow from Benjamin Moore can radiate that feeling of life and warmth to the rest of your home.
Living Room
There is a great amount of flexibility in color choice for your living room because it can and should be an expression of what you want it to be. For the idealist or optimist, bringing light and hope to a room can easily be accomplished through color. This Cloud White and Pale Oak, both from Benjamin Moore, bring a sense of optimism into your home.
If a bolder, more grounded feeling is what you desire for your living room, consider a deep green. Cape Verde - SW 6482 from Sherwin-Williams promotes a peaceful and harmonious balance to any space.
Children's rooms
Children also need a space to feel safe and their bedrooms are the place for them to unwind after a busy day. For a calming yet bright approach, try Oxford Gray from Benjamin Moore which actually gives the room a cool, blue feel. If your child's space is small, consider an accent wall matched with a light neutral or white.
Foyer
As the first place you and your guests see upon entering your home, it is important to set the tone with just the right foyer color. Many of our clients ask, "What's the best color for the foyer? A dark, dramatic color or a light and bright color?" Our answer … "The color choice for your foyer depends somewhat on the size of your foyer area, how open it is, how much natural light it gets, and how it's connected to other walls without a room break." Your foyer color choice can be difficult if all your space is open. Even if there's a corner break, you must consider the nearby colors and hues to be sure the flow of the foyer is harmonious with the nearby spaces.
Cyberspace - SW 7076 by Sherwin-Williams can boldly make a statement to your guests unlike any other.
Bathrooms
Smaller spaces such as bathrooms can be overlooked when it comes to interior painting updates. Instead of a remodel with a new vanity or tiling which can become expensive, an update to your bathroom's paint can do the trick in transforming the space. A green hue like Prescott Green from Benjamin Moore is great in this space, where the serene feeling from the color can make you feel like you're at the spa.
Powder Room
The best part of having a powder room is that you can express yourself in ways that you may not be able to in other rooms in your home. Maximizing these small spaces as a statement piece with a bold color can pack a punch and bring that wow factor.
Alexandrite - SW 0060 from Sherwin Williams is just one of many examples of how to pull off this beautiful bold approach.
Bruno Painting has been serving homeowners in Rhode Island, in the Newport area and beyond, since 2004. Our mission has always been Upholding and Caring for Surfaces and Relationships. We take great pride in the work we do for homeowners and area excited to help you with the process of choosing the right colors for your home. Reach out to schedule your interior painting estimate!
When you take on a home painting project yourself, you'll find an almost excessive number of paint types within each paint brand from which to choose. Though there are many choices, it can be difficult to know which paint is best for your specific painting project.
When you hire a painting professional to paint your home, on the other hand, you'll have a wide variety of professional paint brands at your disposal, plus a painting team with the knowledge and information needed to select the best paint for your particular home and its unique characteristics.
We've put together a list of some of the best interior and exterior paint brands for your home. You can use this information to better understand all the different paint technologies available and be better able to have a conversation with your painting contractor about the best paints for your home.
Interior Recommendations
For interior paint, some paint characteristics we believe are important are paint thickness, paint coverage or spread, fumes or paint odor, "green" considerations, color variety, sheen selection, specific chemical and preservative ingredients, and ease of application.
When we consider if a paint is "green," we look at the presence or absence of volatile organic compounds (VOCs). VOCs release gasses into the air that cause a strong paint odor, and which can be harmful to people and animals, possibly causing respiratory problems as well as harm the air quality.
Along with these factors, we look at customer satisfaction and overall performance for the price. Here are our top recommendations for interior paints:
Fine Paints of Europe created the Eurolux™ Interior Acrylic Paint line to serve as an odorless acrylic paint option, which has been perfected over the last two decades. The coating quality is unmatched by this remarkable paint. Many have compared the durability and scrubbable strength tile, with the same washability! It is both quick drying and Low VOC,  making this a wonderful option for lasting beauty in any home. We recommend this in both kitchens and bathrooms due to its impeccable ability to be cleaned.
As an alternative, Eco™ Waterborne Paints by Fine Paints of Europe offer the benefits of both alkyd and acrylic formulated paints. With easy clean-up and application, this self-leveling paint dries to a beautiful finish while also being Low VOC paint, making it an eco-friendly choice. We recommend this paint for dining rooms, family rooms, and even bedrooms.
Aura by Benjamin Moore is another paint we recommend for homeowners specifically looking for a paint that goes on effortlessly. The Gennex color-technology in this paint has maximum performance for long-lasting results. As a paint and primer in one, this paint dries quickly and adapts well to different surfaces. We recommend Aura in bedrooms for its low VOCs and minimal-odor qualities. Additionally, Aura Bath and Spa is designed specifically for high-humidity areas like your bathroom.
Last, but not least, for interior paint Regal Select by Benjamin Moore has performed well for more than 50 years. With its unique formula, a wide variety of beautiful colors, and an easy-to-clean finish for all sheens, this paint is one of our favorites.
As a paint and primer in one, Regal Select performs consistently on many different surfaces. The greatest advantage is that it has zero VOC and low odor making this a versatile choice for any room in your home.
Exterior Recommendations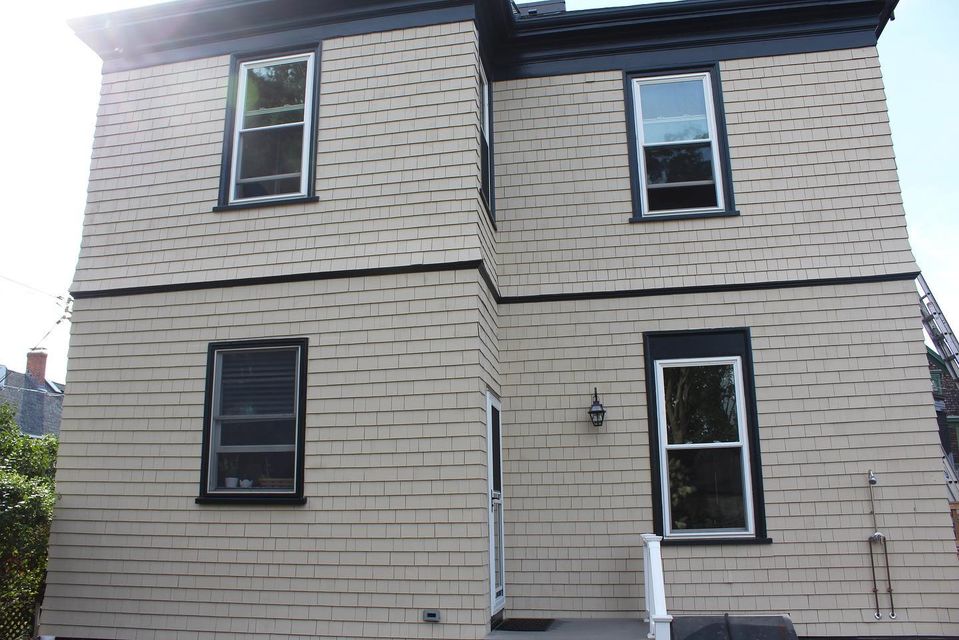 Exterior surfaces require paints that match the needs caused by local conditions. For homes that are near a body of water, for example, mildew-resistant paint will protect best; a stain- and dirt-resistant paint performs well in urban areas. Our exterior paint recommendations are based on specific attributes that may apply to your home's unique needs.
Benjamin Moore's Regal Select Exterior Paints offer optimum coverage with protection and durability. This paint holds up its appearance to weathering very nicely. This is due in part to the alkyd technology, which provides ultimate adherence to all surfaces. Its resistance to cracking, dirt, mildew, and color change make this a good overall choice for homes whose exterior requires extra protection from moisture and other elements.
EUROLUXⓇ Housepaint by Fine Paints of Europe provides the advantages of both traditional oil formulas and modern acrylic features with a state-of-the-art formulation. Thanks to the advanced, durable coating this paint application is known for easy use. Weather resistance and environmental conscientiousness are associated with this paint which boasts superior adhesion to surfaces with flexibility making it a great choice for exterior paint as it stands up to numerous cycles of contraction and expansion that we see on the classic coast.
We use a number of different paint lines from these companies outside of these and always prioritize the highest quality paints. These are a simple selection of some of the best options as a starting point for you to consider. There are many paints on the market, with professional-grade paints offering the most technologically advanced qualities. Choosing one or more of these paints that are manufactured using the latest in paint-performance technologies will give your home greater protection and a better paint finish in the long run.
We know paint selection can be difficult, even confusing. Our mission at Bruno Painting is Upholding and Caring for Surfaces and Relationships. We take great pride in the carpentry and painting projects we do for Rhode Island homeowners and are excited to help you with the process of choosing the right paint for your home's interior and exterior. Contact us for a fresh coat of paint for your home!