When Rhode Island residents aren't out exploring the beautiful attractions and taking in the sites of the coast, we are entertaining family, friends, and others at our home. It's no wonder why so many have been taking time to focus on home improvement projects during this break from normalcy. If you've also thought about hiring someone to do home improvement projects, take a look at these six carpentry projects that are worth the time and monetary investment for your home.
Decking
It has been said that 'wasting time on the deck is time well spent.' If this is true, then deck updates will be put to good use. From just repairing or staining to a complete overhaul of your deck, you can create an outdoor space that will bring years of enjoyment.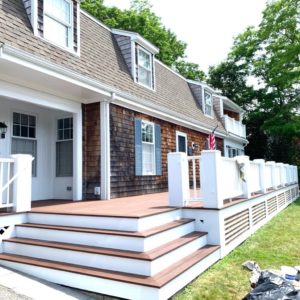 If your deck is already in great shape and you are looking for a more sophisticated look, you may want to consider having a carpenter build a pergola. The shade and design of a professionally built pergola can take your backyard space to the next level.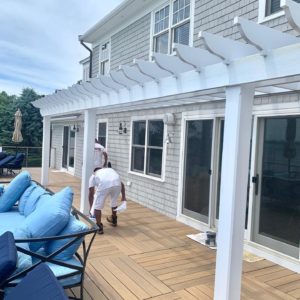 Kitchen Cabinets
Your kitchen is an integral part of your home, so it needs to function well and facilitate traffic flow. Kitchen remodels are not only one of the most satisfying home projects, they also are one of the most sought after by homebuyers when homes are on the market. The importance of a well-crafted kitchen project cannot be overstated. Master carpenters know how to make the most of any space and create storage that maximizes a kitchen's potential.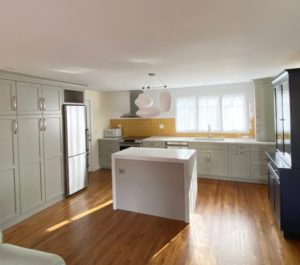 Mudroom
Having all four seasons is just one of the many reasons why we love living in Rhode Island. With the weather, however, comes all the different gear you and your family need to be ready for whatever mother nature decides to bring us. Cue the mudroom. If your entryway or landing space has any room, consider having a contractor construct a mudroom. The added storage alone makes it an easy decision. Not only will you be able to store all those winter gloves and hats in a way that would make Marie Kondo happy, but you'll also be able to keep the rest of your home clean and tidy.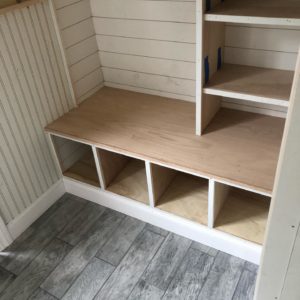 Home Additions
If your family is growing, you may have been considering adding onto your home. Or maybe you have been waiting for the perfect time to turn your porch into a three- or four-season room. Whatever the addition may be, the added square footage to your home brings benefits to your comfort and will likely add value to your home. Having a contractor who can make your addition fit seamlessly with the rest of your home is vital for continuity. Look for the right contractor who can produce a quality build and make it aesthetically pleasing as well.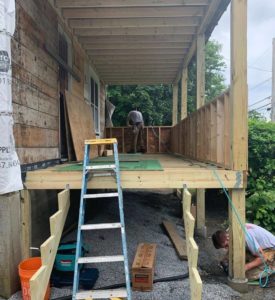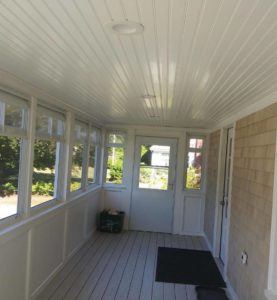 Reshingling - Replacing Exterior Siding
Siding is one of the most important layers of protection for your home. Reshingling or replacing siding that has signs of wear and tear can prevent larger issues, such as wood rot or mold. Additionally, if you already have wood rot or mold, we recommend calling a contractor as soon as possible to take care of the problem. Preventing these common issues is important and finding a contractor who can replace your siding, as well as make any further adjustments to your exterior, is an essential step to prevent any future damage.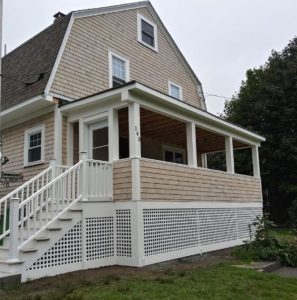 Bathroom Remodeling
A bathroom remodel is often at the top of many homeowners' wish lists for home improvements. As with kitchen remodels, updated bathrooms also top the list for homebuyers. Making this space adapt to your needs and desires can make all the difference in your home. If your bathroom has an outdated feel, a skilled carpenter can lay tile, put up or take down a new tub and shower area, add new cabinetry, and replace old vanities and sinks.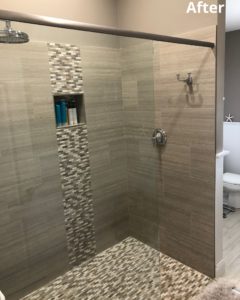 Any home updates that require woodwork require a skilled carpenter. Skilled carpenters have experience and expertise with different types of wood and materials to create cabinets, tables, shelving, and other room furnishings. With the right knowledge, a master carpenter can custom make any of these furnishings to your specifications. 
At Bruno Painting, we are proud of our carpentry and remodeling division of skilled and master carpenters who have refined their skills and produce incredible results. Our carpenters work ahead of our painting division to ensure that your home gets the quality work it deserves.
Email Bruno Painting the details of your next wish list project. Or call us for a free interior or exterior painting and carpentry estimate.