Benefits of Pressure Washing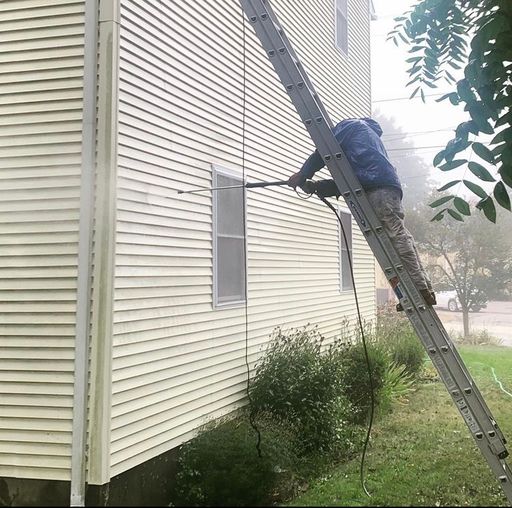 Powerwashing is an essential part of maintaining your home, not only in ensuring it stays looking great but also in protecting it from future damage and guaranteeing proper application of paints and stains. Here are just a few reasons why you might need to pressure wash your home.
Remove Dirt & Grime
Nearby cars, your lawnmower, wind and more can kick up dust and grime that sticks to the side of your home. This build-up can quickly dull the color of your home's exterior and even cause damage to your paint job. To keep your home looking fresh for your own pleasure and to attract potential buyers in Rhode Island, you should powerwash your exteriors every 1-2 years.
Prevent Damage
Mold and mildew feed off of your paint and can actually trap moisture, leaving your home vulnerable to rotten siding and trim. Routine pressure washing can prevent the need to replace and repair your home's exterior down the line.
Prepare to Refinish
Properly priming surfaces is a vital step in any painting, staining, sealing or refinishing project. By preceding these projects with professional powerwashing, you are guaranteeing better looking and longer lasting improvements.
Protect Your Health
Just as grime is dangerous to your home's building materials, they can also be hazardous for you and your family. Mold, mildew and even pollen that has collected on your home's exteriors can irritate your lungs and worsen the effects of allergies or asthma. For the safety of your loved ones, regular powerwashing is recommended to remove these irritants.
Increase Curb Appeal
Sometimes, all your siding or patio needs to look brand new is a thorough cleaning. Pressure washing any faded or dirtied surfaces is a cost effective way to boot the value of your home and improve its selling potential in the Rhode Island real estate market.
Our Professional Powerwash Process
As experienced painters, powerwashing has always been an important part of our process. We treat your home like it was our own and accommodate the needs of your specific property. Here's how.
Protecting and Preparing
Before pressure washing your home, we will inspect your it's exterior, decking, patio or other surface to check for damage that might need immediate attention. This ensures that the pressure washing process doesn't cause any further harm to unstable or rotted pieces. We will also cover any delicate light fixtures and lay down drop clothes to protect your lawn. We never use plastic coverings on your plants as they are known to kill grass.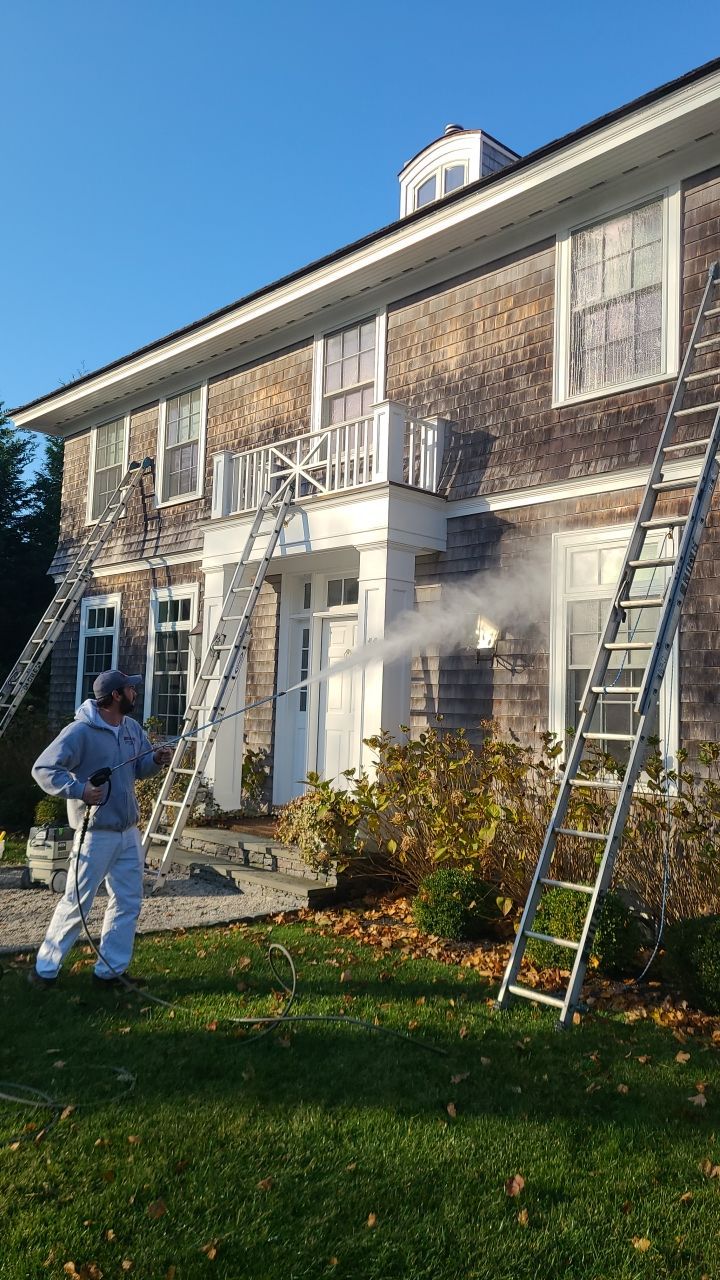 Personalizing Your Cleaning Method
Depending on the type of surface we will be working with, our team may choose a soft washing method over powerwashing like air blasting or scrubbing by hand. This is particularly important for homes with natural shingles or delicate roof shingles. Each home we work with in Rhode Island is different, whether it be a new modern home in Narragansett or a historical wonder in Newport, our services adapt to their needs.
Timing Your Project
Customers often ask us how long it will take to powerwash their home. A typically sized Rhode Island home can be pressure washed in one day. But above all, we want to make sure we take the time to get the job right. Contact us for an estimate to find out how long your powerwashing project will take. To learn more about our talented painting & powerwashing crew and how our exterior cleaning services will work for your Rhode Island home, visit our
project process page
. If you want to protect your home from rot and mildew and maintain a like-new finish on your exteriors, start by
scheduling an estimate
with Bruno Painting now for powerwashing on your Rhode Island home.