Struggling to find the perfect paint colors for your home's exterior? You are not alone! Many homeowners have a difficult time landing on the right hue(s) for their home. We have some paint color ideas and color combinations that can help! Fine Paints of Europe and Benjamin Moore are two paint companies that we love and use in our painting projects. Here are some of the best exterior paint colors and color combinations from these companies, as well as general things to consider when choosing colors.
What to Consider When Choosing Exterior Paint Colors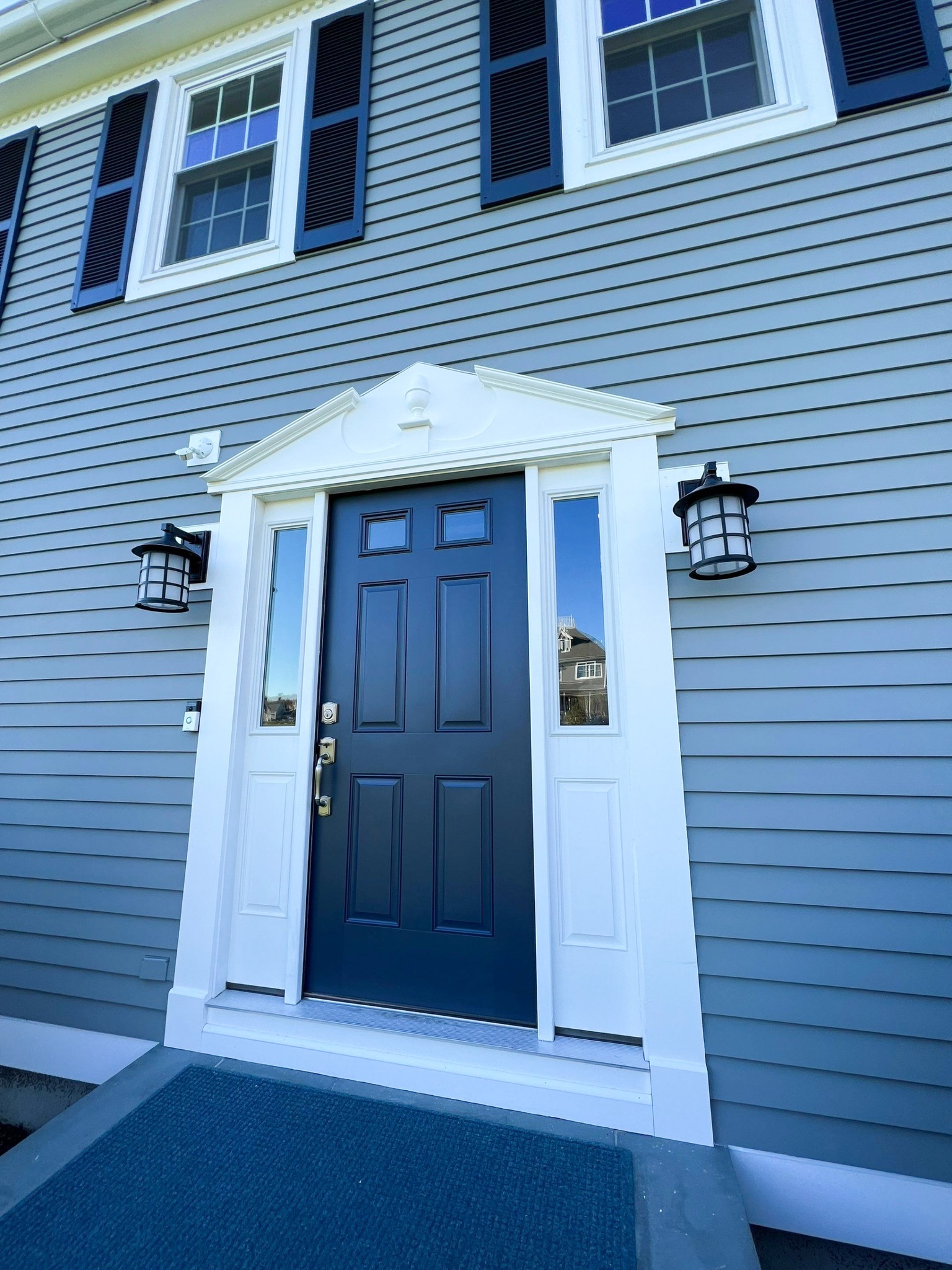 Professional color consultants typically use three to four paint colors when creating an exterior color scheme. These are usually for siding, doors, trim, and accents. When planning your exterior paint color palette, consider trim, windows, garage doors, shutters, and other exterior elements for the full picture. 
Start building your palette using color direction from unchanging exterior elements like roofing, stone, brick, and landscaping. Since these elements are unlikely to change, you'll want to make sure any colors you choose will go well with the colors of the unchanging aspects. If these exterior accents lean warmer, consider hues like browns, reds, oranges or yellows. If they lean cooler, look to grays, blues, greens and violets.
Paint Companies We Recommend
Fine Paints of Europe
Fine Paints of Europe has been in operation since 1987. These paints are formulated with superior pigments, binders, and solvents; however, they never have fillers that stretch coverage at the cost of color and longevity.
Fine Paints of Europe are made to last. They require fewer coats to produce a beautiful and rich color, retain an even finish and are crafted with everyday living in mind. The true value of this paint comes from its longevity. Fine Paints of Europe can protect your home for up to 15 years when properly applied.
Benjamin Moore Paints
Benjamin Moore Paints has been in business since 1883 and has always striven to produce the highest quality paints in the industry. When it comes to premium paints and stains for your home, Benjamin Moore has set a high standard for excellence.
They manufacture their own resins and proprietary Gennex® colorants, which deliver superior performance and application properties in every product. Paired with their incomparable selection of authentic colors, their products are formulated to help you achieve beautiful, lasting results every time you paint. The exterior of your home is so important, and a great choice to ensure a high-quality finish is Benjamin Moore Exterior paints. 
Exterior Paint Color Ideas and Combinations
Two-Tone Olive
Dark olive-green house exteriors are rare, but they tend to be very memorable. This is because of their unique style and captivating character! With homeowners looking for more modern ways to make their home stand out, dark olive green, with white or light trim, is now becoming a go-to.
Colors
Fine Paints of Europe
Siding (Olive Green) – Mooreland Green
Accent (White) - White Café or Royal White
Benjamin Moore Paints
Siding (Olive Green) – Trailing Vines
Accent (White) – Swiss Coffee or Cloud White
Blue and Gray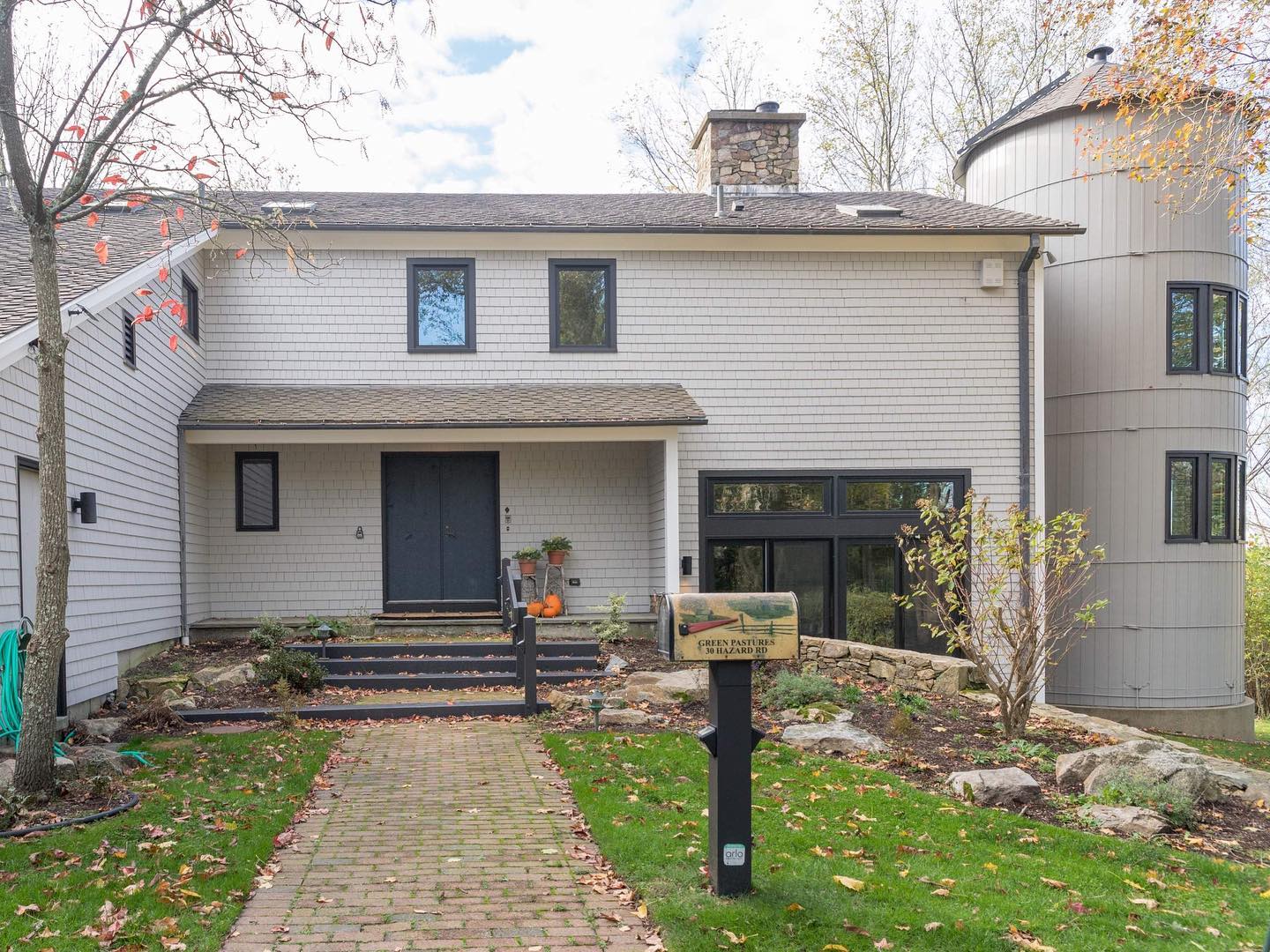 Gray is a great neutral that can match just about any style of home and is a beautiful complement to brick. The shutters and doors done in a more saturated color, like blue, provides a sophisticated accent. The question is... do you prefer light blue or dark blue?
Colors
Fine Paints of Europe
Siding (Gray) – Winter Sky or Grey Mist
Accent (Blue) – Blue Horizon or North Sea Blue
Benjamin Moore Paints
Siding (Gray) – Horizon or Slate or Thunder
Accent (Blue) – Polar Sky or Smoke or Hale Navy
Black and White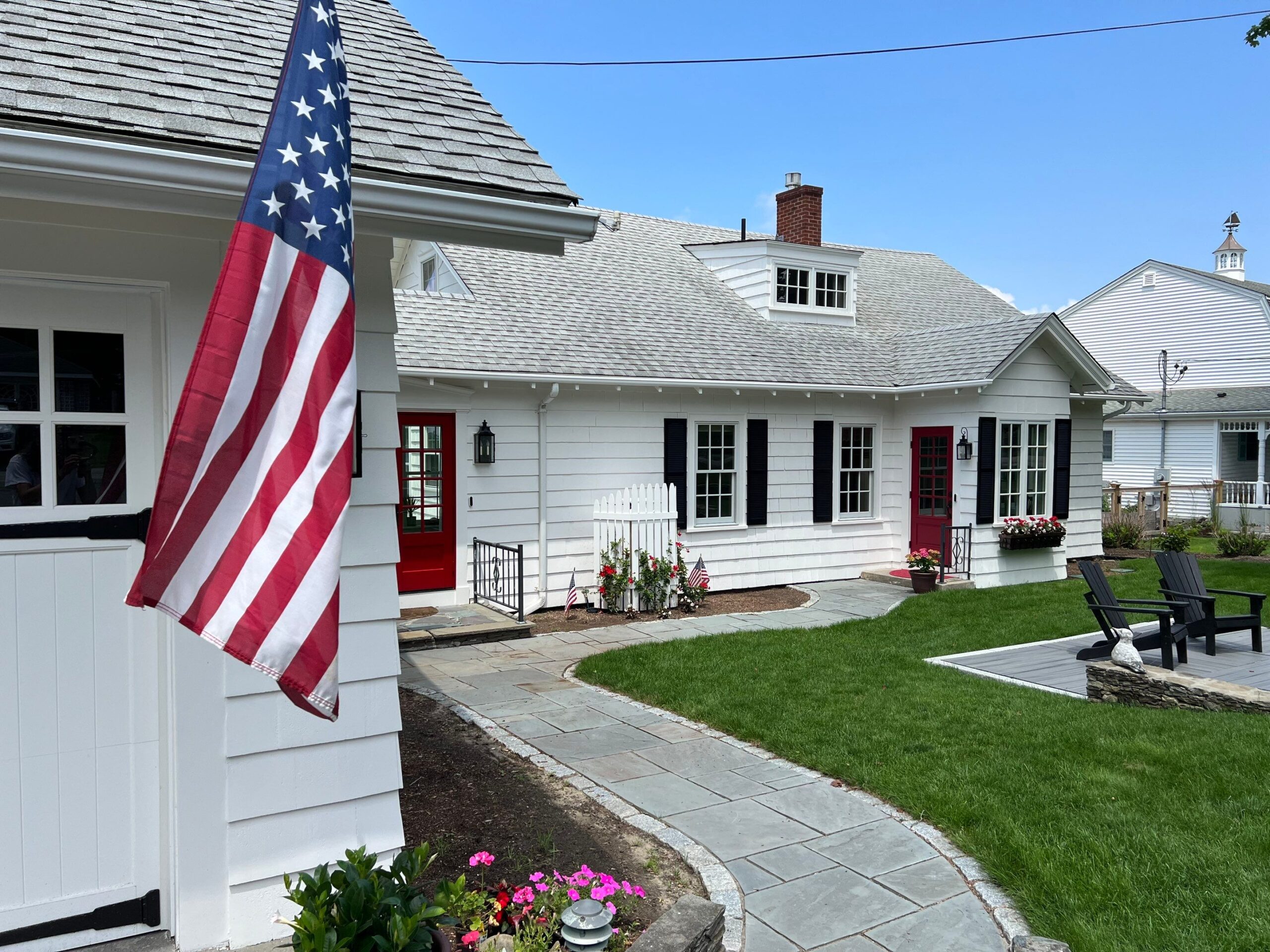 Black and white never goes out of style. The more common way to use this combo is white siding and black accents. However, if you want to go the less tradition route, black siding with white accents can make a great look! Whether you have an old home or a new build, this classic combo looks fresh forever. And it really pops against a lot of greenery! 
Colors
Fine Paints of Europe
Siding (White) – Spinnaker White or Royal White
Siding (Black) - G21850
Accent (White) – White Café 
Accent (Black) – Black or G21850
Benjamin Moore Paints
Siding (White) – White Heron or Cloud Cover
Siding (Black) – Onyx or Soot
Accent (White) – Atrium White or White Dove
Accent (Black) – Flint or Black Tar
Gray, Red, and Black
Especially on smaller or more traditional-style homes, simplicity works best for exterior color combinations. Neutral siding colors, like warm gray, create a solid foundation. Then introduce color in small doses, such as a glossy red front door, to create a focal point that doesn't overwhelm the exterior color scheme.
Colors
Fine Paints of Europe
Siding (Gray) – Storm Cloud or Silverblade
Trim and Accent (Black) – Black or G21850
Door (Red) – Rembrandt Red or Tulip Red
Benjamin Moore Paints
Siding (Gray) – Gray Owl or Storm
Trim and Accent (Black) – Flint or Soot
Door (Red) – Caliente or Smoldering Red
When considering exterior paint colors for your home, there are practical elements to consider, as well as stylistic choices to make. At Bruno Painting, we provide color assistance to our clients so their exteriors look exactly how they want! If your exterior could use a fresh coat of paint, call us for a free estimate – 401-662-0057.