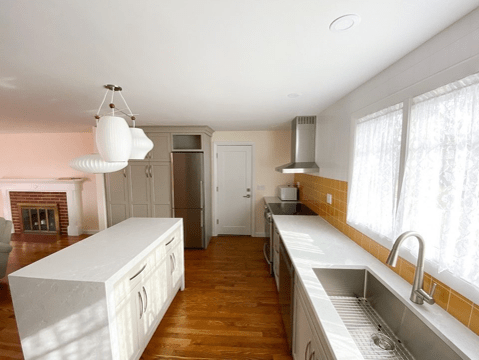 Case Study - Portsmouth Kitchen Remodel
Earlier this year, the Bruno Painting, Carpentry, and Remodeling teams completely remodeled a Portsmouth kitchen. The homeowners wanted to update and modernize their kitchen. In our initial consultation and estimate with our clients, we decided that a new layout with added features would be the best use of their space.
Initial Consultation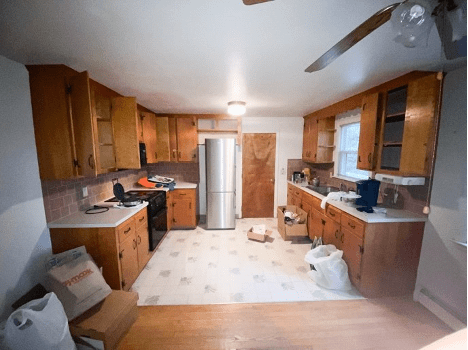 To understand the homeowners' needs, we asked them some important questions about their current kitchen, how it fit their family's needs, and in what ways was it no longer a fit for their family's needs. You can ask yourself these questions if you're considering a kitchen remodel to help guide your renovation project.
Does the flow of your kitchen make sense?
If you have an awkward layout or the configuration of your kitchen makes cooking more difficult than it should be, you may want to remodel. For those looking for added storage, updating your kitchen is an excellent method of improving the functionality and convenience of your kitchen. You may even be surprised at the increase in efficiency and how much extra time you'll want to spend there, once your kitchen flows the way you want.
Does your kitchen meet your needs?
For those with a growing family, you need a space that can adapt and change with your family. From family gatherings to distance learning, having the proper space is imperative.
Is your kitchen outdated?
If you have grown accustomed to older appliances that don't work the way they should or if you have linoleum flooring from when your home was first built, it may be time for an update. In fact, these old components may be more than just an eyesore. Reports have shown that outdated appliances are a common cause of house fires, and a majority of house fires start in the kitchen. Keeping your family safe by updating may be one of the best decisions you make all year.
What is your budget for a kitchen remodel?
Some decide to change their kitchen's appearance by sanding and repainting their cabinets and walls as a quick facelift for their kitchen space. This is a great option for those with a tighter budget and when the overall flow of a kitchen space still works. Additionally, if you're thinking of selling your home soon (within the next year or so), a smaller update may be the way to go. According to Zillow, nationally the average ROI for a minor kitchen remodel is 81.1%!
If your budget has fewer or no limits, there are many ways to lean into a full-scale kitchen remodel, including adding new lighting, fixtures, countertops, a wine fridge, high-end appliances, an exquisite backsplash, and the list goes on. The sky is the limit.
Once we completed our initial consultation, the homeowners' and our team determined that a major kitchen remodel was right for them. Our team got to work and over the course of 30 days, we completely changed the layout of the kitchen so that it felt more open, bright, and welcoming.
Gutting a Kitchen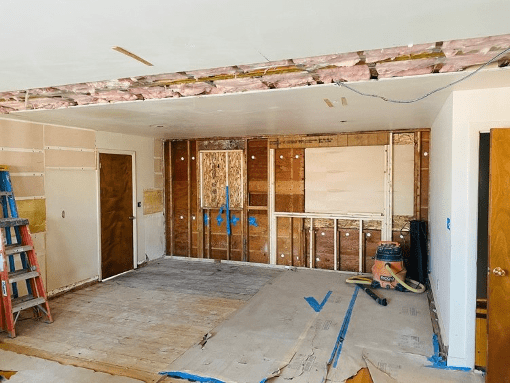 For this particular home, the first step was to completely gut the kitchen. The cabinets and countertops were old and outdated so they and everything else was removed. In their place, our carpentry team built a floor to ceiling storage area next to the fridge, as well as a partial wall, to make the rooms feel separate yet open.
We took out the dividing wall to open the kitchen to the living room area, which makes hosting guests even more enjoyable. With the dividing wall removed, the tile in the kitchen didn't fit the aesthetic of the entire space. Hardwood flooring that matched the living room was installed to give it a more modern look and to tie the two rooms together.
Installing New Appliances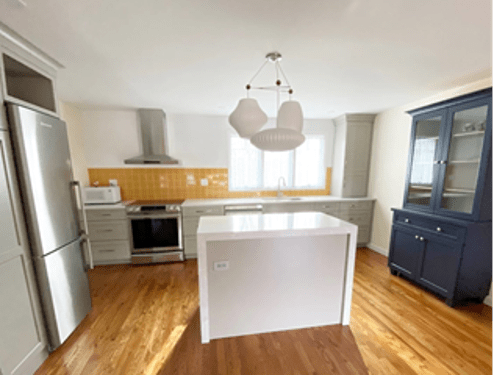 With the new layout, we were able to install a new stove and sink in places that made the flow of the space ideal for these homeowners. These homeowners opted to use their existing refrigerator to reduce costs but chose to add a new dishwasher. Moving the sink and adding the dishwasher meant that the plumbing needed to be moved and updated as well. This welcomed update was carried out by our carpentry division who has skilled plumbers ready to make these types of adjustments.
The hood for the stove was an added feature that brings a modern feel to this space. In order to install the range hood, our carpentry team replaced the window that was there originally with a larger one over the sink. Some electrical rewiring was necessary to make the new arrangement work properly.
Final Touches
The island and hutch were chosen by the homeowners as a beautiful way to maximize storage space. The countertops were carefully selected to brighten the room and complete the modern look of this kitchen remodel.
You'll notice the updates to the light fixtures truly pulls the remodel together. With recessed lighting installed over the sink and a modern chandelier over the island, the room is well lit into the night. Finally, some bright tile used as a backsplash for the stove and sink were installed.
Once all these updates were made, our painting team finished the space update with a fresh coat of paint on the walls and the kitchen remodel was complete!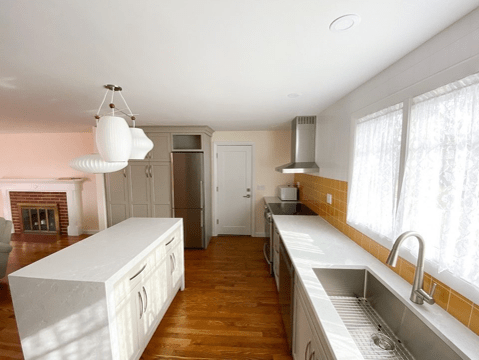 The final product is a beautiful kitchen with great flow, lots of natural light, and an open-concept space.
Upholding & caring for surfaces and relationships since 2004 isn't just our mission statement. It is our reminder to ourselves as well as our community that we are committed to excellence.
By caring for you and your home, we strive to make each of our clients feel like family. Reach out to discuss your remodeling project ideas and let us help you create the kitchen of your dreams.