Realtors and homeowners alike will tell you that a bathroom or a kitchen remodel are two of the most effective ways to increase your home's market value and attractiveness. Your investment in updating either your kitchen or your bathroom (or both) goes well beyond just the monetary value. 
If remodeling your kitchen or bathroom is something you've dreamed of, hiring a carpentry-focused company is a smart move to make so the project, not only meets your standards, but is also completed using the ideal materials and techniques for the best possible finish. Here are a few important questions to ask when you are searching for a contractor for any home remodel.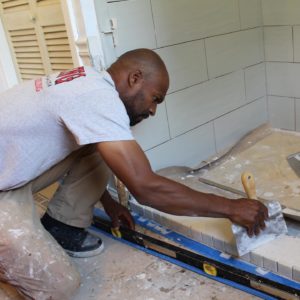 Why a Carpentry-Focused Company?
For homeowners interested in full bathroom or kitchen remodels, a carpenter is the key hire to making sure your newly renovated rooms are completely functional and maximized to their highest potential. Carpenters shape the structure that defines bathroom and kitchen spaces. They build the framework upon which all other components, like electrical, vents, piping, and insulation, will be implemented. 
General Contractors will tell you that the first hire they make when working on a new project is subcontracting a carpenter. You can skip the costly step of hiring a contractor yourself, and, instead, work with a company who has their own in-house, on-staff carpenters already on their team who are poised and ready to give you the best results for your carpentry project.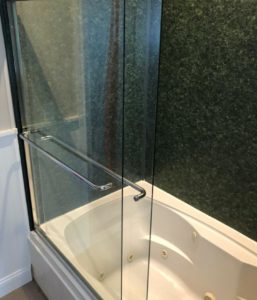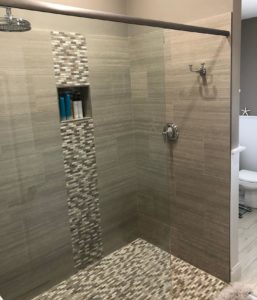 What Edge do Experienced Carpenters Bring?
Having experience in remodeling bathrooms, kitchens, and other areas of the house, both interior and exterior, carpenters can create unique and beautiful spaces. With their keen eye on detail along with their experience working with the wood and other materials used in your home, carpenters make spaces come to life and really can transform any space. By utilizing the potential of your space, carpenters can deliver amazing results in little time, all while staying within your budget.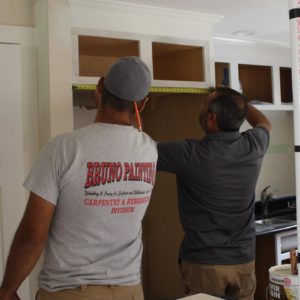 Should you Complete your Remodel yourself?
In some cases, skilled homeowners can tackle certain parts of home projects. For the most part, however, homeowners do not possess the skills necessary to renovate a kitchen or bathroom space to their own high standards. In fact, we've been called in more times than we can count to redo the space renovated by a homeowner on a well-intentioned DIY project.
When it comes to flooring, walls, tile, and other bigger parts of a remodel, professionals should be in charge. The reasoning behind this is that both bathrooms and kitchens, if something goes wrong with the plumbing specifically, are prone to water damage like wood rot, mold, and other potential health hazards. Professionals, especially carpenters, know signs and symptoms to look for in the remodeling process to prevent damage from developing into larger problems. Experienced carpenters are also trained to identify any existing issues when they remove wood or other materials to find some of these unwanted conditions.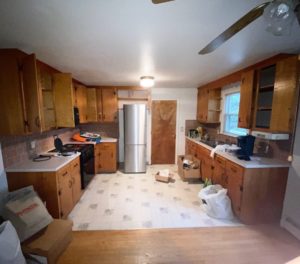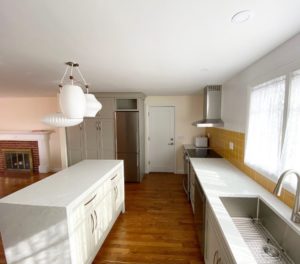 What Updates are Necessary?
The most beautiful part of a remodel is that you can make a kitchen or a bathroom look and function exactly the way you want. Among the infinite bathroom and kitchen projects are: Adding storage, creating a new pantry, or having a second sink installed to stop those fights over who brushes their teeth first; custom designing a large, uniquely-shaped island for large family gatherings; and putting a tub in where there was only a shower to make your home more appealing to young families. The list of projects and the ability to think of them and design them, goes on and on. Thankfully, contractors can help make these important decisions so you get exactly what you want, with a quality finish that only experienced carpenters can deliver.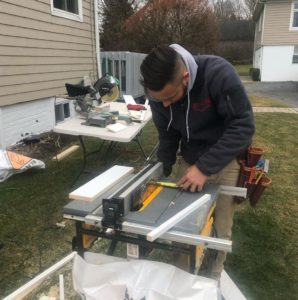 Do They Offer a Warranty on their work?
Finding a quality company means finding one that offers a warranty on the work they do. A strong warranty is essential to your peace of mind. 
At Bruno Painting, before hiring any carpenter, we ensure they have years of experience in siding replacement, window and trim repair, and installation to provide only the highest quality work on every project and remodel. To Uphold & Care for Surfaces and Relationships has been our mission since 2004. 
Bathroom and kitchen remodels are some of our favorite projects as they give us the opportunity to demonstrate our carpentry, finishing, and painting skills demonstrating our commitment to our mission. Our experienced paint and carpentry teams work closely with plumbing and electrical experts to offer you quality service that exceeds expectations. Tell us about your next bathroom or kitchen remodel ideas, and let our carpenters take your home renovation project to the next level.