Summer is officially here and with it comes late nights and long weekends outside enjoying our incredible Rhode Island weather. Now more than ever our homes have become our central hub for work, play, and entertainment. However you enjoy your outdoor area, a great looking, well-maintained deck is essential for enjoying your view from your back deck.
Over time, decks begin to show signs of natural wear and tear that need to be addressed. Most importantly, taking care of your deck will help keep your home protected from damage. Thankfully, our experts at Bruno Painting have put together a list of signs to look for so you know when your deck needs to be repaired.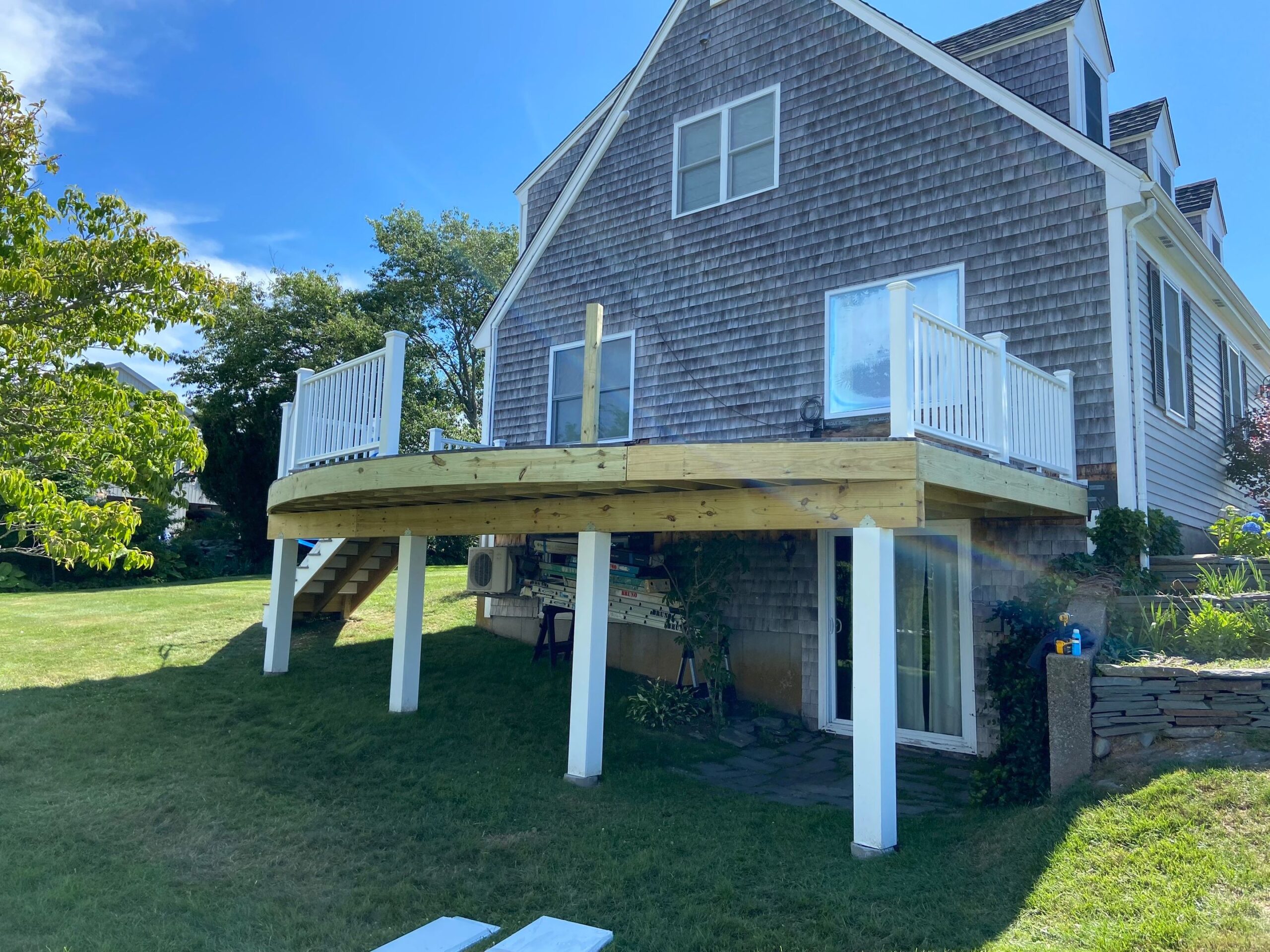 Condition of Your Deck
The most common material for decks in Rhode Island is pressure-treated lumber. For many decades, this sturdy material was the default choice for builders on the classic coast. As with any natural building material, repeated exposure to the elements will cause wood to swell, split, crack, cup, and warp in humid, precipitous climates. Exposed screws or nails from splintering wood, fading or discolored boards, or boards that are soft and spongy to the touch are all clear signs that your deck needs to be repaired.
Deck railing and handrails are other common areas of your deck that require regular attention. Loose handrails can pose a serious hazard to you and your guests if left to weather and wear down over time. Railing is a key component to your deck's aesthetic and to its function, most especially if you have a raised deck and the railing protects against a fall.
If your deck is attached to your home and has wood that is exposed, moisture can seep into joists, ledger boards, and siding of your home that is attached to your deck. This can ultimately expose your foundation to excessive moisture that may lead to larger issues such as mold, mildew, and decay. As long as your deck is cared for properly and regularly maintained over the years, your deck can support your home's health, instead of causing damage to it.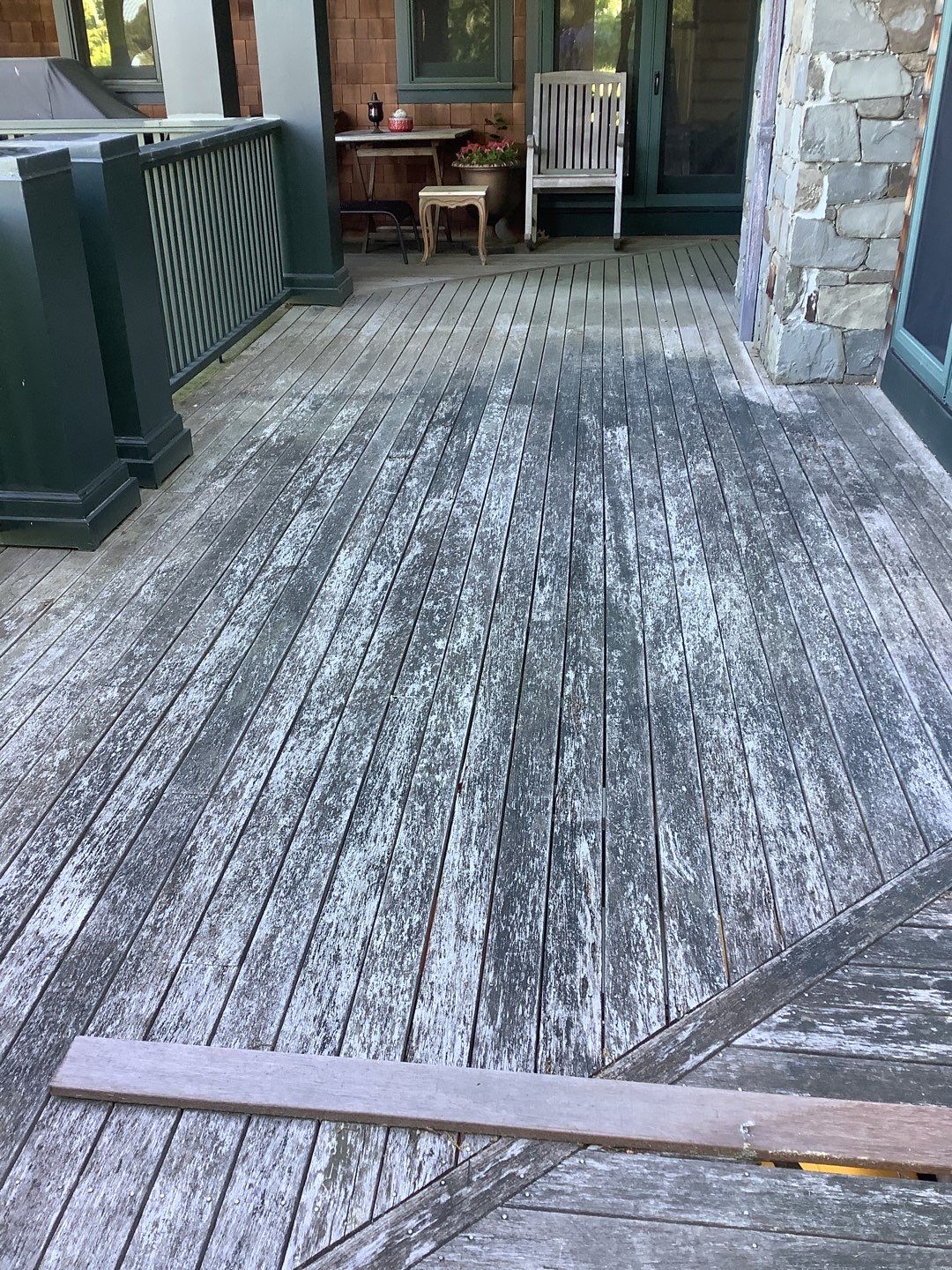 Stain and Finish Peeling
A wooden deck shows obvious signs when it is time for a new coat of paint or stain. Previous coats of sealant will begin to fade and peel revealing exposed wood underneath. This can happen with heavy foot traffic, weather, and everyday life. 
Surfaces needing to be repainted or restained should be completely cleaned and dry before applying a stain. Due to the necessary drying time for stains, the forecast will need to call for clear, sunny days with warm temperatures and low humidity to allow the stain to set properly. Without these conditions, your stain may not bind properly and may need to be reapplied.

Painting versus Staining
There are pros and cons to both painting and staining your deck. Some prefer stain because it allows the natural wood grain of your deck to show through. With stain, an all-in-one protective layer with a wood preservative is already incorporated. On the other hand, paint can provide an added layer of protection, as well as a different look and aesthetic.
Regular cleaning and treatment of your deck is a great way to extend the life of your deck. On average, decks are typically repainted or restained every two to three years. This can vary, though, depending on how much you utilize your deck space.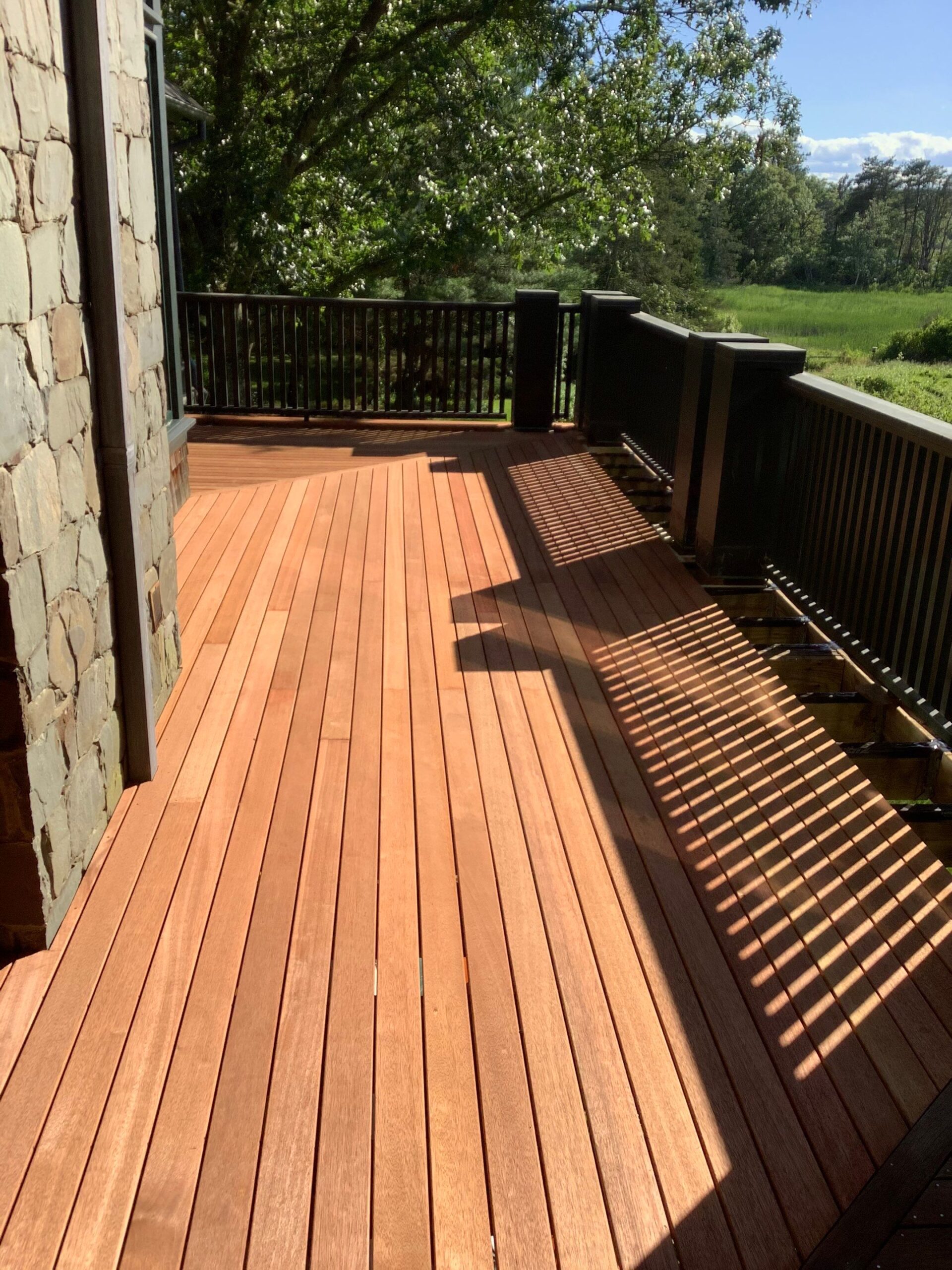 Replace Your Wooden Deck
While pressure-treated wood is one of the more common materials for residential outdoor decking, many homeowners are opting for more durable, upscale alternatives such as exotic woods like ipe and tigerwood. Other homeowners are utilizing composite deck materials (sometimes referred to as 'plastic wood') to reduce deck maintenance needs and enjoy a more splinter-free deck experience.
When you see signs that your deck needs to be repaired, our experienced carpenters can remove your old decking and replace it with any of these newer materials. During our consultation with you, we'll discuss the pros and cons of each type of decking material. This will allow you to choose what fits your design aesthetic and your budget.
Bruno Painting has been built on core values like integrity, humility, attitude, discipline, and excellence. These values are why the mission to uphold and care for surfaces and relationships is so important with every project and interaction our company has. We focus on building long-lasting relationships with our team and clients to provide the best service possible. No matter your home project, we desire to bring great service with trust, honesty, and dedication as if we were working on our own homes. Contact us today to set up a free estimate and let us transform your home this summer.