With the lingering warm days ahead of us and the remnants of summer still in the air, boosting your home's curb appeal with a fresh coat of paint is a great way to wrap up this summer. While homeowners typically schedule exterior painting projects in Spring and Summer, Fall is still a good time of year to schedule your home's facelift in Newport and surrounding cities, here in Rhode Island. 
Few homeowners understand the extent of care and work professional contractors put into prepping their customers' homes before the paint hits the brush. Thankfully, professional painters do take their time in the steps before painting to ensure the results are both long-lasting and smooth. We've detailed 8 essential tips to ensure your painters are focused on your exterior surface prep work for your enjoyment and home protection for years to come.
1. Planning
During the consultation and the planning stages of a home exterior paint project, a professional painter will take care to plan your project to perfection. The first step in this process is scheduling the painting project for days and times during the day when the weather and sun are most cooperative.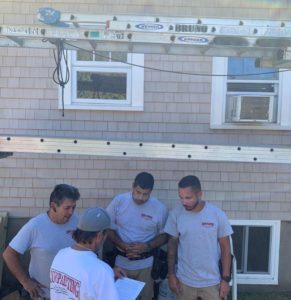 Strong winds and rain can shorten painting windows and leave your home exposed to the elements, effectively ruining your paint finish. High humidity and extreme temperatures can also influence how your paint dries and its eventual look and performance. Professional contractors know how to plan around these types of weather patterns and will ensure that your home stays safe and the best results occur throughout the entire project.
2. Repairs
During the consultation and inspection, repairs identified will need to be taken care of before any painting begins. These sorts of repairs can include exposed wood, loose gutters and shingles, wood rot, leaking windows, damaged siding, and doors that stick. Having skilled carpenters ready and available to make these repairs provides the home or building owner with the valuable gift of ensuring the foundation is healthy for the protective coat of paint goes on. A professional painter has a keen eye to find these issues and make repairs before they become larger issues. 
3. Cleaning
Once repairs have been addressed, cleaning should begin soon after. Professional contractors turn to pressure washing to cover areas that can safely and effectively be cleaned. If pressure washing doesn't suit your home's needs, a soft washing method or air blasting can be used. The goal in this process is to remove dirt, loose paint, and signs of mildew before advancing in your exterior project.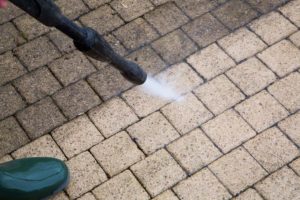 4. Scrape and Sand
After your home is clean and dry, an inspection for loosened paint is conducted. Loose and flaking paint is removed with high-quality scraping tools. This stage in the project may take longer depending on how your home was cleaned. If a pressure washer wasn't used, this step is essential to ensure your home is properly prepared.

5. Caulking
The caulk on the exterior of a house is exposed to the sun and elements while it protects the seals around your windows and other areas. Over time, the caulk can crack and cause leaks. Any area of your home that has been caulked will need to be inspected and possibly recaulked to ensure continual protection. This includes doors, windowsills, and trim.
6. Paint Prep
Once all the necessary repairs and cleaning are complete, the area will need to be prepped for painting. Protecting your landscaping should be a priority to your contractor. Using plastic wrap, tape, and other materials, your lights, plants, porch, sidewalks, and driveway will all be protected.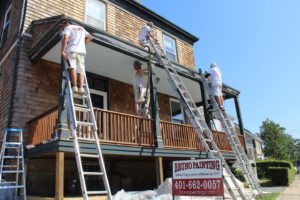 Depending on the number of painters in your contractor's painting team, many of these steps can be completed simultaneously to save time between stages. It is, however, very important that your home is repaired, dried, and prepped before moving past this point. One last final inspection of each of these steps should be conducted by your contractor before priming begins.
7. Priming
Professional painters do not always agree about primer and its usefulness. Some professional painters believe using a primer helps your paint to adhere to your surfaces giving you better coverage that lasts longer. Other painting contractors forego the step of using a primer and, instead, paint two coats of your high-quality paint onto the surface. 
Whichever way you prefer, with primer or using two coats of paint, be sure you and your painter agree and understand the best process for your home and its materials. The main and really the only consideration is the quality of the finish and its longevity.
8. Painting
The most crucial part of painting is allowing adequate time for your paint to dry in between coats and after the final coat. Most of the time, avoiding direct sunlight can be important, so professional contractors start with western facing sides of your building in the morning and eastern facing sides in the afternoon. However, sometimes it is useful to paint in direct sunlight, but as professional painting contractors, we know when or when to not paint in direct sunlight.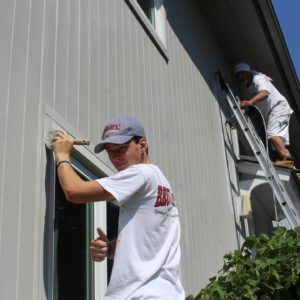 Beginning with the top of your home and working to the ground, high-quality brushes and rollers specific to your siding and paint base are used for even application. After the larger areas of your home are painted, window frames and trim are painted to ensure that your window panes dry properly. Finally, the foundation of your home is painted, if necessary.
9. Final Touches
No home project is complete until our clients are satisfied. Since 2004, our mission at Bruno Painting is Upholding and Caring for Surfaces and Relationships. We take great pride in the work we do for homeowners in the Newport area and in Rhode Island.
We're excited to hear about your next project. Reach out and let us know about your home's unique exterior painting project.