Preparing a home for interior painting is one of, if not the most crucial step in the painting process. If an area or surface is not properly prepared before painting, it can add much more work and time for cleanup. It can also mean that the new paint job won't not last as long as it should. These are the common steps that professional painters go through for interior painting preparation, and why they are so important.
Scrape Flaked Paint or Debris Off the Walls
Scraping the walls is the first step in preparing your interior for painting. This makes sure that there are no surfaces that would be rough or cause the new paint to not adhere properly. This can be old, flaking paint, dirty areas with grime build up, or simply uneven surfaces.
If your walls have texture on them, professional painters might scrape this off too. Removing texture allows for a smoother painting surface and ensures a higher quality finish. It's possible that a textured surface won't allow the paint to adhere as well as it should and might mean another repaint would be needed sooner than it should be. The same principle applies to wallpaper. Painting over wallpaper is always a bad idea. If the wallpaper starts to peel, there goes the new paint too! Removing wallpaper to make way for the new paint is always the best option.
Fill Nail Holes and Grooves
Filling holes and cracks is another important part of the painting preparation process. If these holes and gaps are not filled, the paint will simply sink into the holes. Using spackle or drywall compound is an easy way to cover up those spots to prepare them to be painted. Once the spackle or drywall compound is applied and the area is repainted, it will be as if there was never a hole there.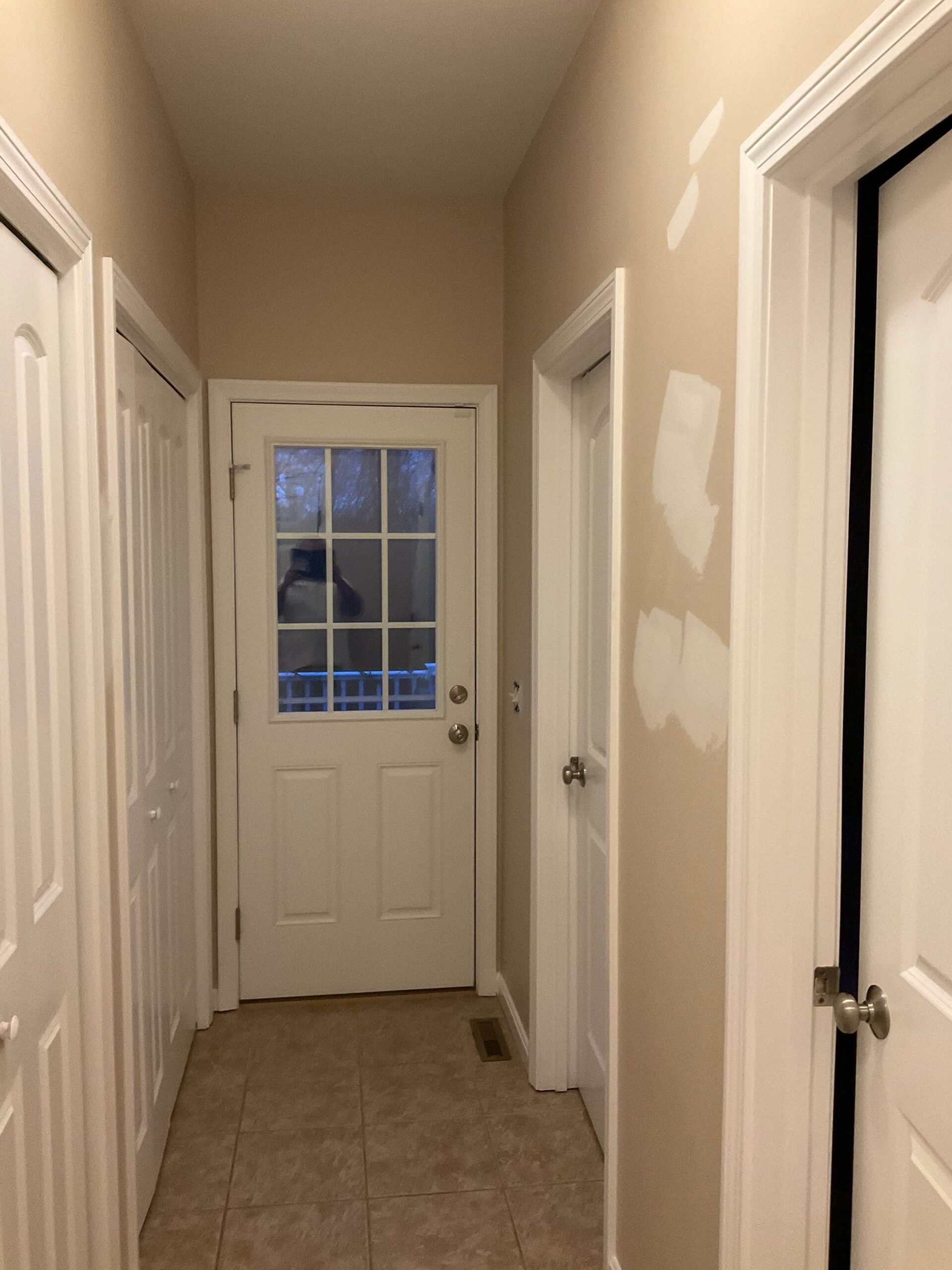 Sand the Walls
The next step is to sand your walls, if needed. Sanding walls before painting does even more to make a surface optimal for painting. Sanding makes the area as smooth as possible, which will ensure the surface is even and the final project will look as high quality as possible.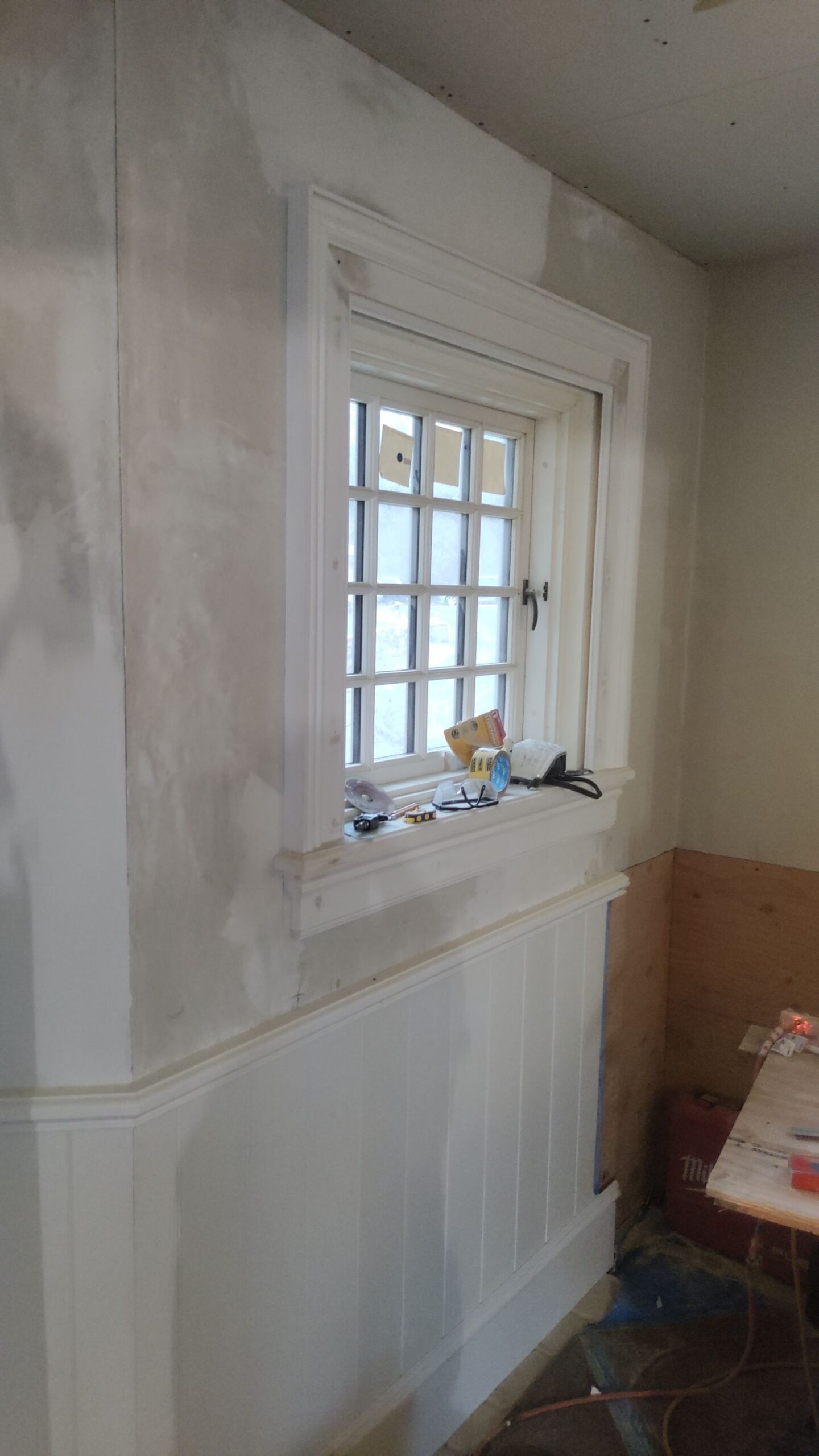 Clean the Walls
We don't always think our walls need to be cleaned, but they do! This is especially true if they're going to be repainted. Even if you aren't having your walls scraped or sanded, cleaning the walls is a necessary step and a simple way to ensure the new finish has a higher quality look. If dirt or grime is painted over, that can show through the fresh coat and look subpar. Cleaning the walls well makes sure this doesn't happen.
Cover Stains
If your walls show major stains of any kind, you can apply a special type of primer to those areas. The purpose of stain-covering primer is to prevent stains from bleeding through the paint. This typically depends on the color of paint that will be used. If the color is lighter than your current one, you will need some assistance in covering the stains. If the color is darker than your current one, you may not need a stain-covering primer since the new darker hue can cover them. White is a trending color at the moment, and would certainly require some prep work on any existing stains that will be under the new coat of paint.
Tape the Trim and Remove Outlet Covers
Finally, apply painter's tape to all the trim in the room to protect it. Remove the outlet covers and set them aside to reuse them when the project is completed. Taping aids in keeping paint off of trim, baseboards, outlet covers, and anywhere else you don't want paint. This final step also saves cleanup time if paint were to spill onto these areas. Additionally, furniture should be moved to the center of the room, and drop cloths should be put on the floor and any furniture for protection.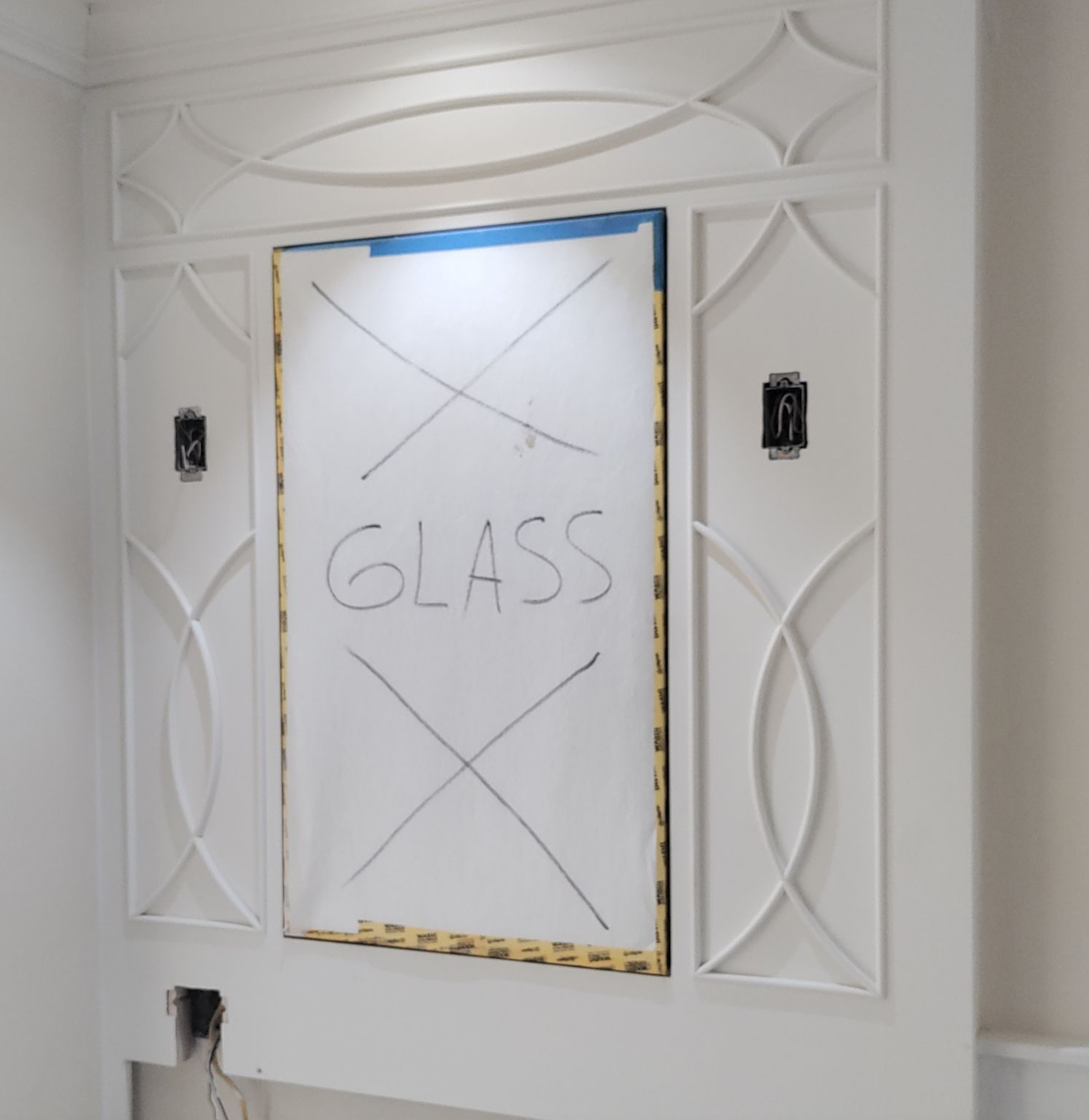 For an interior painting job, surface preparation can make it or break it. Making sure your interior painting preparation is done properly makes your invested time and money worth it and will help your paint job will last as long as it's supposed to. Skimping out on it because you don't have the time or because it's cheaper not to do it will cause you more problems in the long run. Buying the most expensive paint and using the newest techniques can't save you from necessary but skipped surface preparation.
Reach out to Bruno Painting today for your interior painting and carpentry work in Newport, Portsmouth, and all Rhode Island areas. Our mission since 2004 is Upholding and Caring for Surfaces and Relationships. We'd love to welcome you to our customer family. We look forward to serving you!
There are so many aspects of home maintenance to keep track of when you are a homeowner. Exterior home maintenance can seem obvious: cleaning out gutters, power washing siding, or replacing roofing. Interior maintenance, we often think of just needing a fresh coat of paint or maybe fixing a leaky pipe now and then. However, there are other common home interior issues worth keeping an eye out for as a homeowner! Here are a few of the most common interior issues we are asked to fix and how to spot them in your own home.
Wood Rot
One of the most common issues we see in Rhode Island homes is wood rot. Wood rot is decay caused by fungal growth in damp wood. When timber becomes damp enough to have 20% or more moisture content and isn't able to dry out quickly or is repeatedly dampened, it creates the ideal conditions for wood-eating fungi.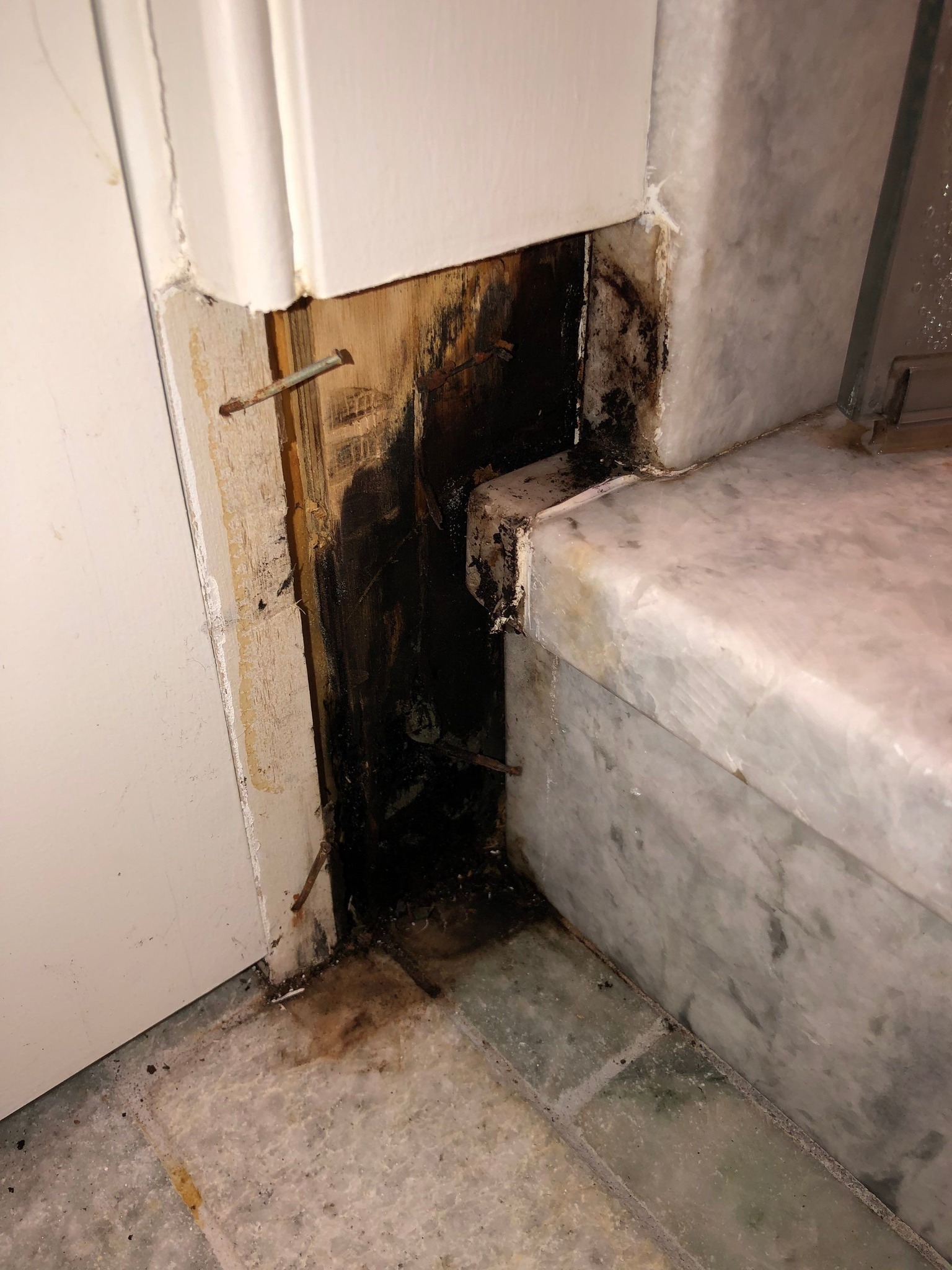 Wood rot is most commonly found in bathrooms, kitchens, and attics or basements. Anywhere moisture levels are higher in your home is at higher risk for wood rot.
To see if you have wood rot, take a good look at the visible wood in your home. Look for:
Areas of discoloration
Places where chunks are falling out.
Texture changes where timber appears sponge-like, stringy, or has cracks.
Timber that is breaking up into cube-shaped chunks.
You may also see fungal growth.
If you're still unsure, the easiest way to test for wood rot is to take a screwdriver and press it against an area you are testing. If it sinks in easily, you likely have wood rot.
How do you solve a problem of wood rot? Contact a professional carpenter or contractor and consult them! Our common course for repair is either removing the rotted wood entirely and replacing it with new lumber or replacing sections that have rotted and filling gaps with epoxy or a similar material.
Old Wood
Old wood can be an eye-sore, as well as dangerous if left alone. Some wood can be noticeably outdated and make your home feel old. On the other hand, old wood may not be as visually noticeable, but can be as structurally insecure.
Old wood can be a structural risk depending on the wood piece's location and purpose. While wood can last a very long time, sometimes up to 150 years, older homes (like the ones we have in the Northeast) can have wood items that have come close to the end of their sturdiness.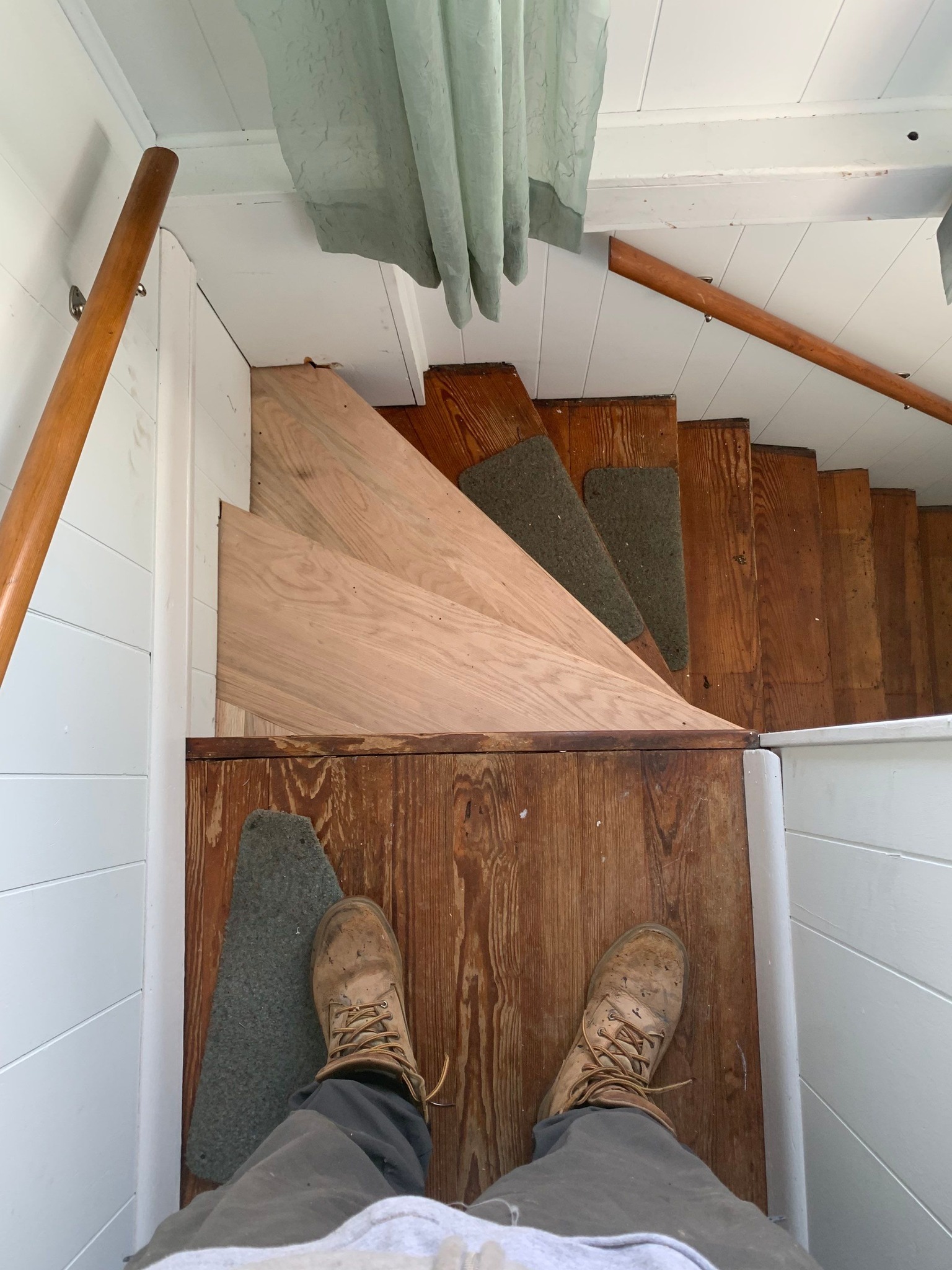 Places to look for older wood are stairs, overhead beams, and other wood surfaces that are not as visible, like cabinet interiors. If wood is splitting or cracked, that can be a tell-tale sign of age. Creaky stairs can be sign of structural issues underneath and might be something to investigate further if you begin to hear that noise.
Plaster Cracks
Another issue we see in homes are plaster cracks. Plaster cracks are an incredibly normal occurrence in homes. Plaster walls respond to inevitable foundation shifts and climate changes, and they can begin to crack. Everyday life, with its bumps and bangs, also takes its toll on plaster walls.
Certain areas, such as above and beside doorways and windows, are classic areas where cracking occurs. Nearly all homes with plaster walls will eventually develop window and door cracks. Repairing these cracks is essential, as leaving these areas unfixed can result in severe structural issues. An early sign can be that a door becomes unable to close because of the shift in the doorframe. Though the repair is a relatively simple and common process, you'll want a professional to handle it since any mistake can give way to further damage.
Awkward Spaces
If you have awkward spaces in your home, such as gaps underneath stairs, carpentry projects can fill those spaces! We have done projects that utilize that free space with carpentry work, including under-the-stairs cabinets, breakfast nooks, mudroom built-ins, and kitchen islands. If spaces in your home feel like they are lacking or empty, an addition of any of the above can make the area feel complete.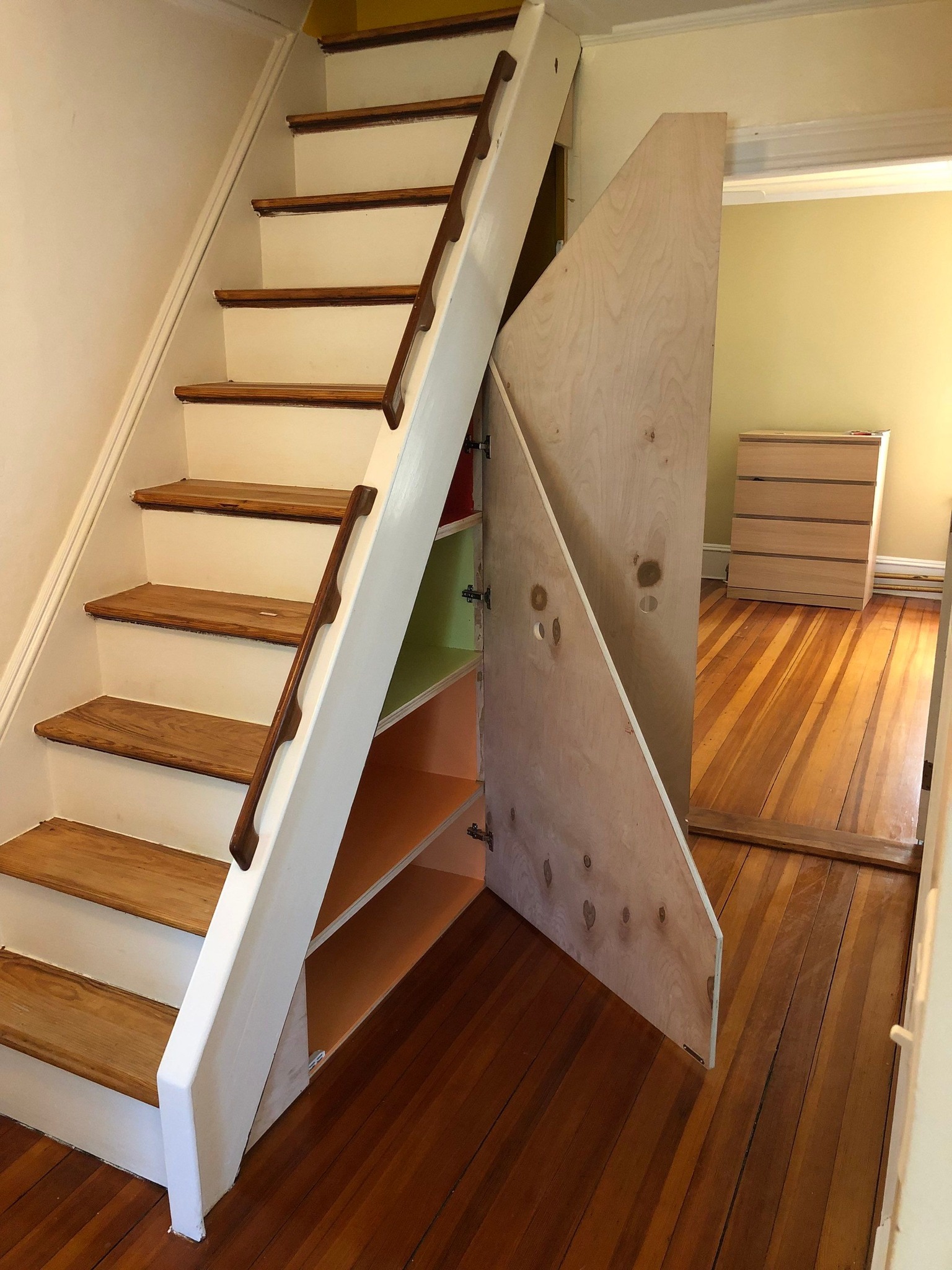 If you notice that some areas in your home feel off or empty, but you don't have any idea how to fix it, consult with a professional contractor! They can help you come up with some creative ideas to utilize those spaces that need a little something more.
Your home is so important since it acts as the barrier between you and the outdoors. Our goal is to help you maintain it and keep it in top shape. Tackling any of these issues as they appear in your house will increase the longevity of the home, as well as make sure everything is structurally sound. If you think that your home might have one (or more) of these issues, contact us! As professional painters and carpenters in Rhode Island, we are here to help with any common (or uncommon) interior home issues you may have.
As we begin to enjoy the cooler months, many people start to think about getting ready for the holidays with thoughts going to planning our friend and family gatherings. With Covid on a seemingly less intrusive course, many are planning to open their homes once again to visitors to celebrate the wonders of the upcoming seasons, but are wondering when to repaint their home's interior.
Questions you may be asking yourself include … Is my home ready to entertain for the holidays? What can I do to get my home ready for the holidays? Whether you're getting your home ready to entertain, simply want to refresh it for your own enjoyment, or if selling your home is in your plans, an interior paint job is a relatively inexpensive way to update your home. Understanding when you should repaint your home's interior will help you get past whether you should or shouldn't and onto the color and sheen selection, arguably the most enjoyable part of the process.
The Current Paint is Outdated or Drab
The simplest way to know when your home's interior should be repainted is when you look at a space in your home and it no longer makes you happy to be in it. The color may be drab, out of style, or just doesn't please you.
Large, often-used spaces, such as your kitchen, should feel pleasing to you and to your guests. Having just the right color, shade, and sheen in these spaces makes a big difference in the enjoyment you get when spending lots of time in them. Don't overlook powder rooms, laundry areas, and foyers, as those spaces either introduce your home to visitors or are used by you more than you think. Having your home fully color planned so there is a great flow from one area to another can further help you enjoy the overall look and feel of your home.

There are Surface Imperfections You Can't Clean
Another way to know when your home's interior should be repainted is to inspect the paint finish to look for any imperfections, such as marks or scrapes you cannot clean off, peeling, or fading. You see the interior of your home almost every day, and sometimes those imperfections seem normal, but they're not.
A More Serious Condition is Affecting the Finish
When your existing paint finish begins to fail, it is time to call your trusted, local paint contractor to come over and inspect the interior of your home. Interior paint imperfections may be a sign of unwanted water, mold, or other even less welcome issues.
Your professional painter will be able to diagnose the cause of the imperfections, but they'll also be able to resolve the problems correctly so your home's integrity is intact. If mold is present, your professional painter will likely call in a mold remediation specialist to take care of the problem.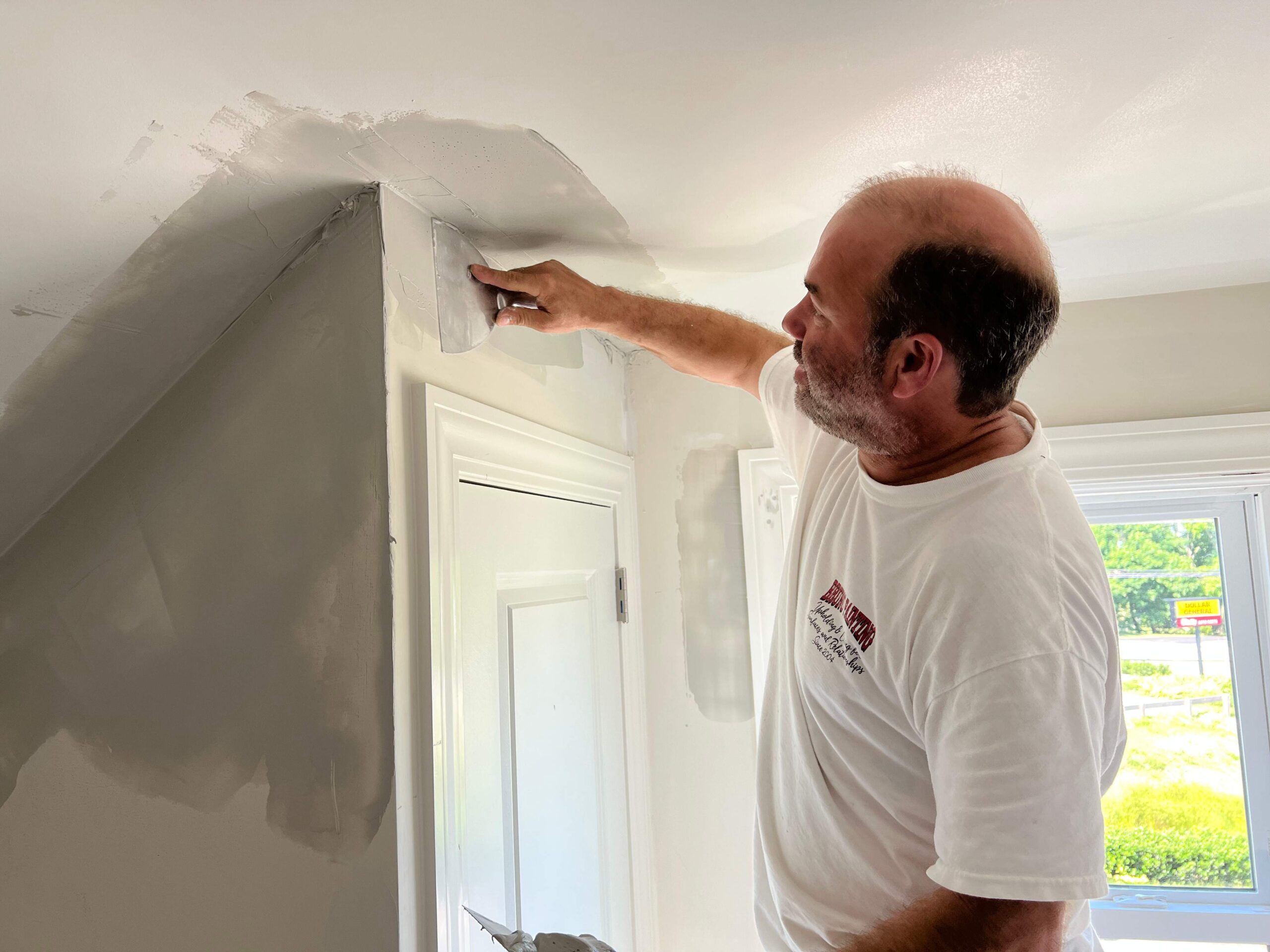 The work necessary to take care of a paint imperfection may be extensive and can include scraping, spackling, filling, priming, and other steps you may or may not be able to handle on your own. Either way, we recommend letting our painting and carpentry experts take a look to be sure you have nothing serious going on behind your walls.
Aside from the aesthetic importance of beautifully finished wall and trim surfaces, it is a health hazard if water seeps and creates damage. Because we're close to water and have our share of wet weather, having an annual or biannual inspection of your home's interior and exterior is a good idea.
You Want a New Color
Finally, even if you've recently painted a room, an area, or the entire house, if you simply want another color or set of colors to adorn your walls, that is a perfectly good reason to do so. Whereas some people prefer to see the same colors (and ask us to repaint their walls in the exact same colors, which is perfectly okay), you may be the type of person who thrives on change or loves to have the latest trending colors surrounding them at home.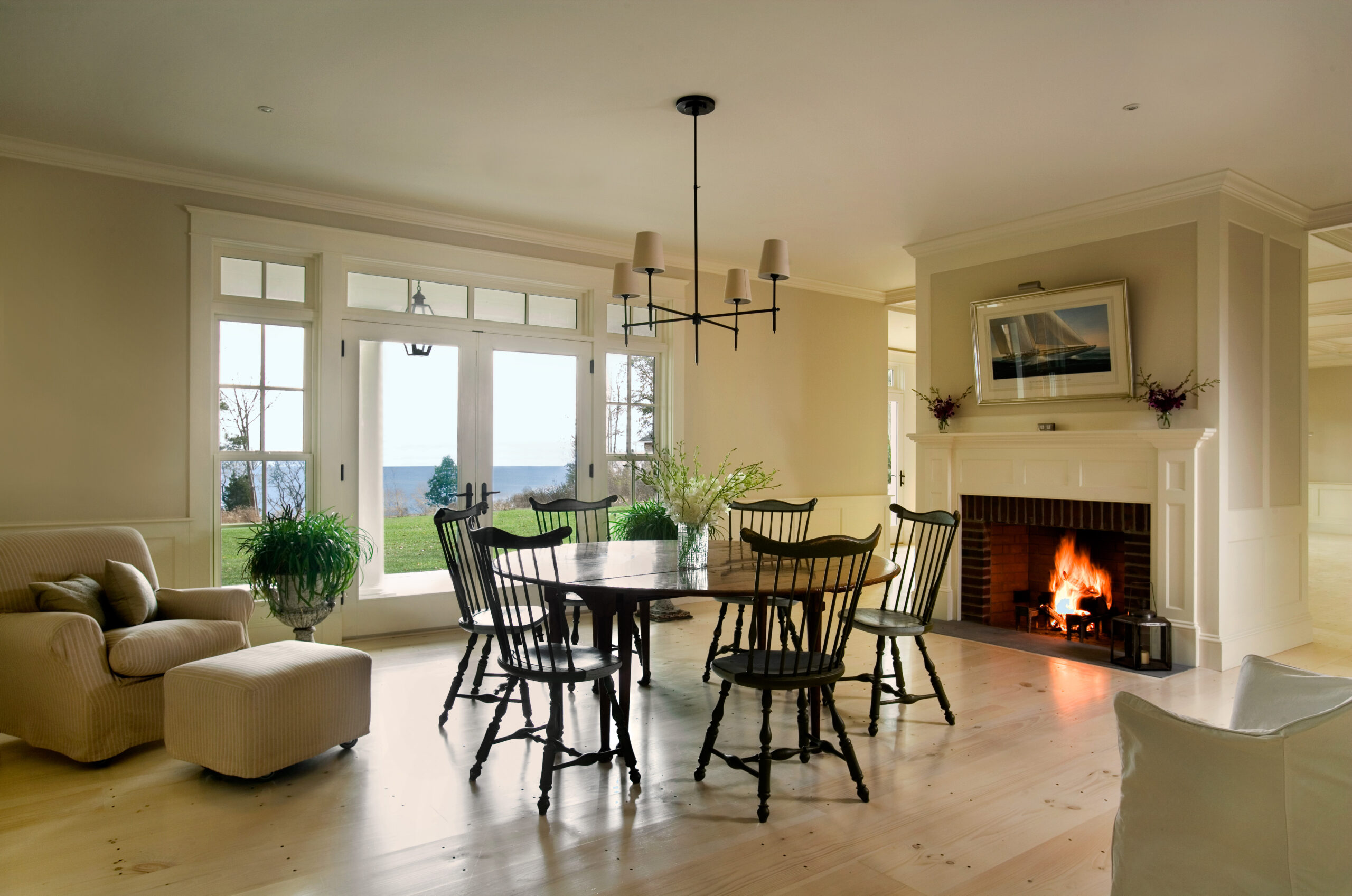 We're happy to oblige and help you repaint your home's interior regardless of your reasons for wanting it to be done. Our team of experienced carpenters can help fix most imperfections you may have in your walls or trim, and our experienced painters will give your home's interior the smooth and beautiful paint finish in the colors you carefully and lovingly select.
Getting ready for the holidays is an act of love. It's about preparing to welcome others into your home to spend precious moments that last a lifetime. We're here to help you with all of your carpentry and painting needs. Reach out if you're in the Rhode Island area. We look forward to serving you!
Taking care of the outside of your house is just as important as taking care of the inside. It's not just about aesthetics. Paint can act as a barrier between your house and the elements. You will want to maintain that barrier, especially if you live in harsh weather conditions like rain, sleet, snow or heat. How do you know when your home is due for a repaint? There are some very clear signs that your home exterior needs to be repainted and then there are some not-so-obvious signs. Here are our top 7 ways to tell if your home needs a repaint.
Clear Signs Your Home Needs a Repaint
Let's start with the clear signs your exterior needs to be repainted.
Visible cracks, flaking and bubbling.
This is when you need to take action because the longer you wait, the more issues can arise. These are signs that your paint is wearing down and will need attention immediately.
Dirty patches that don't come off.
If you've tried scrubbing and power-washing and the dirt just won't come off, then it's time to get professional painters to your home for a new coat of paint.

Water damage.
Look for deep cracks along wood grain and also soft spots which can be a sign of rot. Black or gray spots from excessive moisture is something to be taken seriously and should be addressed immediately. Try to do multiple checks a year for water damage, before and after the rain season, to get ahead of what could be a very expensive repair.

Fading color.
Natural elements can be harsh on an exterior. Excessive heat can cause excessive fading along with rain, snow and wind. Not only will a fresh coat of paint change the overall mood of your home, it can make an older house feel new again.

Not-So-Obvious Signs Your Home Needs a Repaint
It's been 5-10 years since it was last painted.
It can be hard to remember when you last repainted the exterior of your house, but if you have to guess, it just might be time to repaint. You definitely don't want to put it off until you see visible signs of damage. It's just part of maintaining your house.

Poor materials and poor quality of work were used when it was painted last.
These factors play a big role in how long your exterior paint will last. Did previous contractors skimp on the prep work, use low quality paint, or was the application not professional? You know, the old saying..."you get what you pay for!"
You are planning on selling your home.
Repainting your home should be at the top of the list if you plan to make a good first impression with buyers, especially if the color is dated. A fresh coat of paint can make a world of difference in curb appeal as buyers first lay their eyes on what could be their next home.
If you are thinking it's time to repaint your home this is the perfect time of year to do it, before the season changes and the weather starts to get harsh again. If you notice any visible signs of damage or wear, do not put off a repaint until the last minute as it could be even more costly. Now is the time to contact a professional painting contractor to protect and extend the longevity of your home.
At Bruno Painting, we take great pride in the work we do for homeowners and are excited to help you with the process of maintaining the exterior of your home. Reach out to schedule your exterior painting estimate!
Cedar shake siding is a popular type of siding for homes in Rhode Island, especially on homes that are 10 years old or older. Homeowners enjoy the iconic look as it creates a unique finish and can add a rustic yet warm look to your home's exterior. 
If you have cedar siding, it's important to take care of it properly to ensure that it looks good and lasts for many years. From installation through its lifetime, caring for your cedar shakes will help you protect your investment. Here are a few tips on how to care for your cedar shingle siding.
What is Cedar Shake Siding?
Cedar shakes are a specific type of siding material that is found on the classic coast since colonial times. It is typically made of cedarwood, though other types of wood may be blended in, and comes in a variety of colors and sizes. 
Finish options for cedar shakes include stain and sealant or paint to create an even more unique look. When you properly care for your shake siding, it can last anywhere from 10 to 15 years or more. If you take excellent care of your cedar siding, it can last upwards of 20 years or more before needing to be replaced. 
Common Issues—Wear and Tear
Shingle siding is not immune to wear and tear and there are a few common issues that you may experience over time. Due to the nature of the natural material cedar shakes are made from, they are prone to require more maintenance than brick or artificial siding options, such as vinyl. 
As with any natural material, exposure to moisture will mean these surfaces are prone to moss, algae, and even mold growth. Cedarwood is a durable siding but can be a target of wood-boring insects. Traces of these insects such as termites, ants, and beetles seen around your home may be an indication that these insects are enjoying your siding as much as you are.
Other signs of wear and tear can be brought on by heat and dry conditions. Keep a watchful eye for cracked or warping shakes, especially on the sides of your home that are in the direct sunlight. It's important to be aware of these issues and address them as soon as possible to prevent further damage.

How to Care for Shake Siding
To keep your shingle siding looking its best, it's important to clean it and care for it regularly. This includes both cleaning and maintenance tasks, such as checking for damage and repairing any issues that may arise. 
Clean Regularly
One of the most important things you can do to take care of your shingle siding is to clean it regularly. Washing your siding with a garden hose and dish soap is one way to maintain your cedar siding. This will help remove any dirt or debris that may have built up, and it will also help keep the siding looking its best.
A second way to clean your cedar shingles is to use oxygen bleach, which is nontoxic to trees, shrubs, and flowers. As a third option, you can power wash your cedar siding or hire a professional contractor to power wash it. To avoid damaging the cedar shingles, be sure the power washing equipment is used on its most gentle, lowest intensity settings and the appropriate mild detergents are used.
Keep Free From Moisture

Keeping your cedar shakes free from moisture accumulating on them is one of the best ways to prevent damage. To prevent moisture from accumulating on your home's cedar siding, you can trim nearby trees and shrubs so there is enough distance for airflow. If there are any loose boards that may allow water to penetrate the siding, they should be nailed down or replaced with newly treated shakes. 
Treatments to protect from the elements, moisture, insects, and heat are available and will need to be applied every few years for effective protection. Additional measures such as painting can be an effective way to extend the life of your cedar shakes, but this can only be done when your siding is completely dry.
When to Call a Professional Painter for Touchups
Touchups and repairs for shingle siding can vary in price depending on the size and scope of the job. However, most repairs are relatively affordable, and it's always better to address an issue sooner rather than later.
While some minor maintenance or repairs can be done on your own, any major repairs or updates should be done by your local licensed carpentry professional. If you need major updates like painting your cedar shakes or have found damage that has led to larger issues like wood rot, calling your preferred contractor is the best next step so you can avoid costly problems with your home. 
Cedar shake siding care and maintenance are important for your home's integrity to ensure that it looks its absolute best and lasts for many years. By following these tips, you can keep your shingle siding looking great and free from damaging elements. 
Have you noticed your cedar shake siding not looking its best and in need of repair? It may be time to either clean or instead, completely update your home's siding. Bruno Painting is here to help! With our team of expert painters and our carpentry division, we provide an all-in-one service to our clients. Get your complimentary exterior home update consultation and estimate from the experts at Bruno Painting today!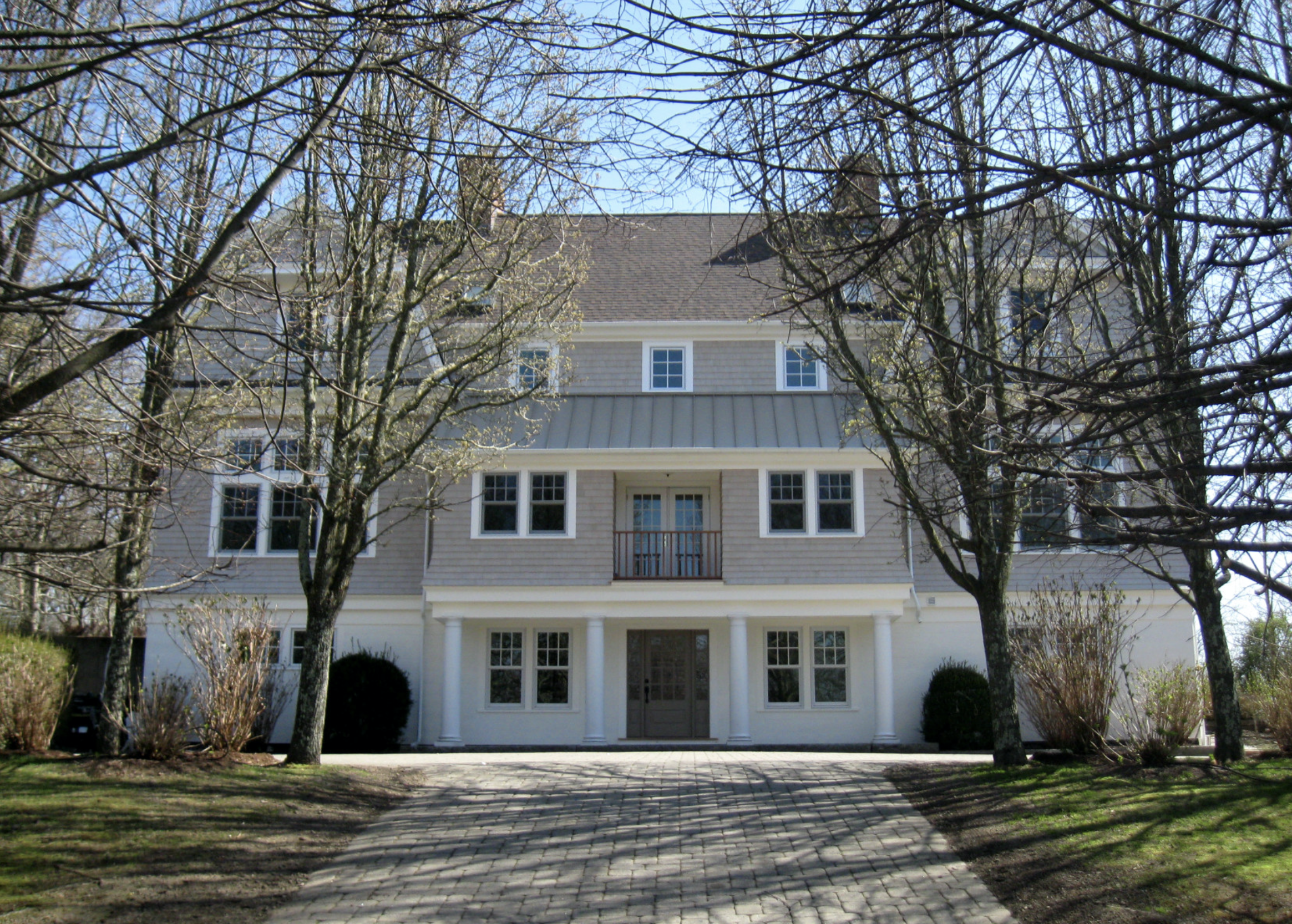 Homes with lots of character and beautiful finishes are seen commonly throughout Rhode Island. When you pull onto your street and take a first glance at your home, you should get a sense of joy because it looks lovely, well taken care of, and inviting. For others who may have recently moved in or who are otherwise behind schedule, this may not be the case. The first sight of your home as you approach may not give you such a feeling of happiness.
If your eye catches spots that need work, you may want to take steps to boost your home's curb appeal. You can also schedule your home's exterior updates during these colder months, in advance of when the work will be done as soon as the weather changes.
There are many options when you decide to improve the curb appeal for your Rhode Island home. The advantages of maintaining your curb appeal go beyond having an aesthetically pleasing house. Understanding the benefits, as well as how to accomplish a well-appointed home exterior will help you decide which updates you'd like to have done. Bruno Painting provides tips on how to boost your Rhode Island home's curb appeal so each time you drive up to your home, you feel pleased, joyful, and happy.
What is Curb Appeal?
Curb appeal is how attractive a house (or building or property) is when looked at from the sidewalk. (Investopedia) Realtors use the phrase "curb appeal" more often than other types of professionals. However, curb appeal can be important outside of real estate.
Advantages of Boosting Your Curb Appeal
There are many advantages to boosting your curb appeal. If you want to sell your home this year, improving the exterior of your home can be a great start to the process. Improving your curb appeal can also boost your overall mood when you drive up to your home. If neither of those is enough to convince you, putting energy and resources toward giving your home better curb appeal could increase the value of your home!
Types of Curb Appeal for Your Rhode Island Home
Landscaping
One of the primary features contributing to your home's curb appeal is landscaping. Many homeowners are surprised how different their home looks after it has been properly landscaped and maintained. With fresh mulch, flowering plants, and some well-appointed shrubs or trees, you can complete your landscaping projects to enhance the appearance of your home's exterior space. Using plants to increase privacy and create a symmetrical look are ideal additions.
Some prefer to use plants to increase privacy and improve appearance. It's worth noting that plant selection should include options that will do well for the weather we see in Rhode Island. Find perennials that are native to our area, as well as evergreens. They will add touch of color all year round.
Exterior Cleanliness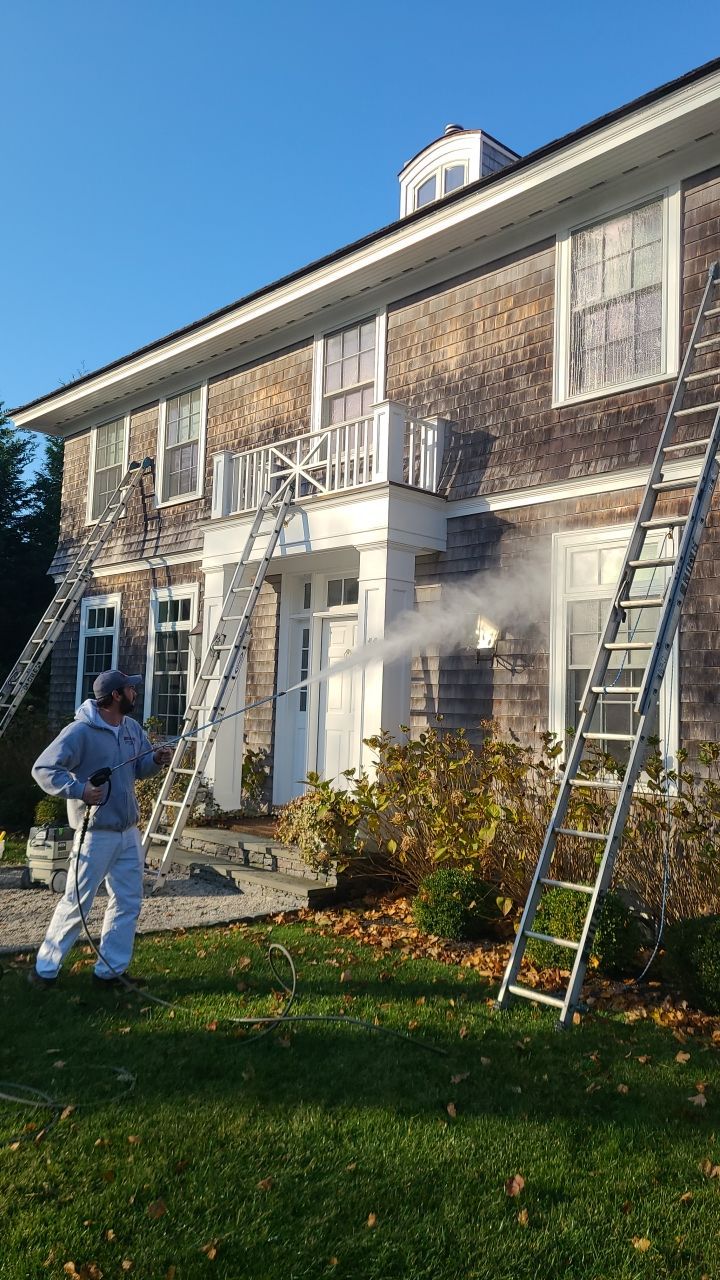 Is your home's paint is in good condition but is a little dusty or dingy looking or simply needs a light sprucing up? There is no better way to make your surfaces look new than a good pressure washing. From siding to driveways to walkways, this is an instantaneous improvement to your curb appeal. Pressure washing cleans a variety of surfaces with ease by removing dirt, oil, and grime that builds up over time.
Another note from the experts: pressure washing can be done on your own. However, using an ill-fitted nozzle or the wrong cleaners for a surface can cause damage instead of improving your surfaces. Always consult with a professional if you are unsure what pressure washing method is best for your home.
Rotting Wood
Wood rot can greatly affect your home's curb appeal. Not only is it an eyesore, but if wood rot is left untreated, it can spread and cause even more damage to your home. Before you paint the exterior of your home, the wood rot will need to be repaired or, in some cases, replaced.
How do you know if you have wood rot? Look for pieces of wood that seem spongy or soft. They are at the beginning or intermediate stages of rot. Other signs of wood rot include paint chipping, paint peeling, wood splintering, or discoloration.  If you think your home may have wood rot, contact a professional painting or carpentry contractor to remedy these areas to protect your home from further damage.
Carpentry Work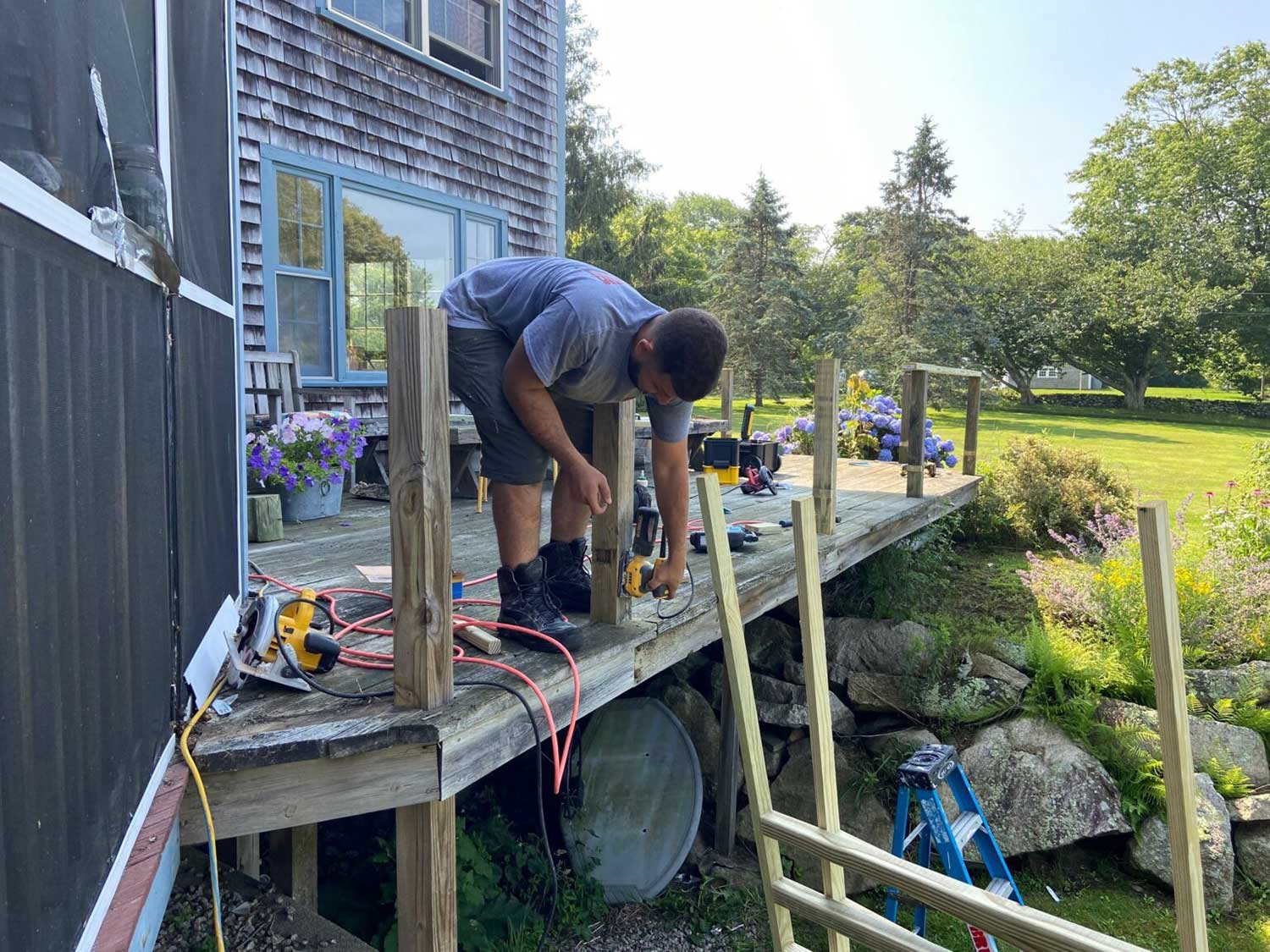 Another feature related to your home's curb appeal that can make a lasting impression is an inviting porch or a welcoming entryway. Home makeovers that include eaves, gables, or a full front porch can make any home a showstopper when it comes to curb appeal.
These types of updates require a trusted and skilled carpentry team that can work within the framework of other updates you want to make. One example is window and door updates. Installing windows, doors, and trim may seem like a possible DIY project. These are better left to carpentry professionals, however, who can provide high-quality craftsmanship that will last.
Painting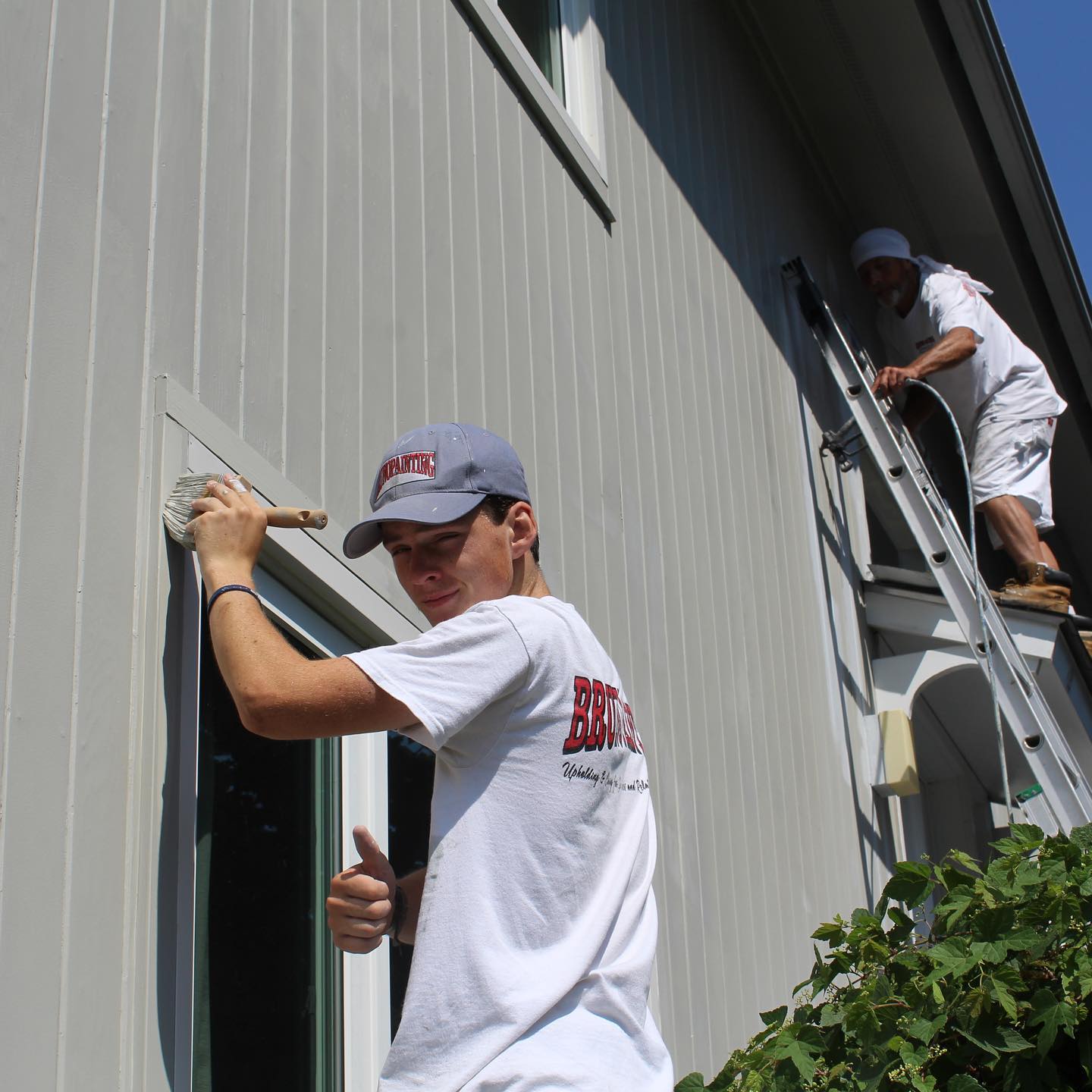 As with any home improvement update, the most effective and impressive way to increase curb appeal is with a fresh coat of paint for your home's exterior, windows, and doors. A paint update to a home with a lack-luster finish not only makes your property look more inviting but also helps protect your home from the elements.
Improving the curb appeal for your Rhode Island home is an important contribution. It can make your exterior look its best for your enjoyment, possibly get it ready to sell, or increase the value of your investment. Carpentry and painting updates are best done by professionals who understand your vision for the look of your home.
The painters and carpentry professionals at Bruno Painting in Rhode Island have been working diligently to prepare and plan for the upcoming exterior painting season. We are taking new clients who need assistance from full-service, experienced home improvement professionals. Contact us for more information about our range of services and how we can help you get the most joy from your home.
Choosing a paint color can be a complicated process. It's easy to get overwhelmed by all the different options and colors available at your local home improvement store. It seems as if every brand has shades and hues that are just slightly different than the next. Here to help make the color choice a little easier are these simple steps from the experts at Bruno Painting. 
We'll show you how paint color can change your mood as well as providing some tips on how to choose the right one for your home. Plus, find out how to use paint colors effectively throughout your house so that every room is not just aesthetically pleasing but also filled with the energy you want.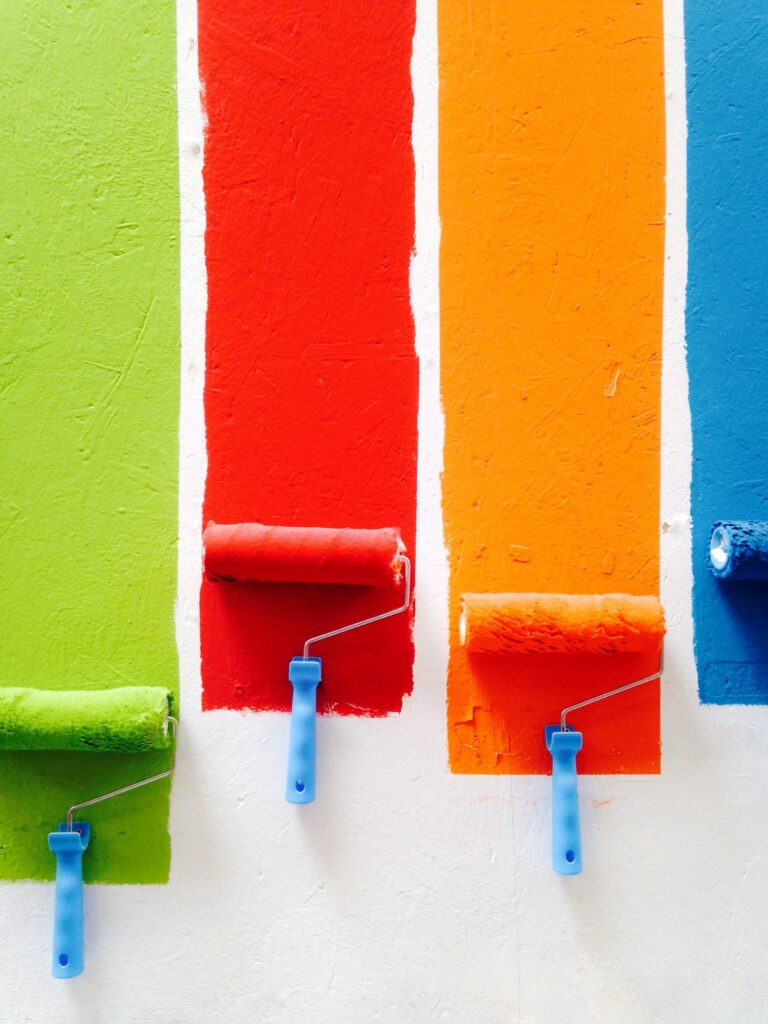 Science behind color
It is no secret that many Rhode Islanders have been spending more time at home creating the perfect spaces that emote feelings of calm, happiness, or whatever it is you want to feel in your home. From decor to lighting to wall paint, how a room is colored and designed will have an impact on how you feel.
Psychologists have confirmed this theory that color affects not just your mood, but how your mind and body will respond to its surroundings. Choosing different colors for the different rooms of your home can boost creativity and productivity, encourage calm and tranquility, and even energize and uplift your mood. There is no wrong choice when it comes to color choice because it all depends on how you want yourself and others to feel when you are in your home. The question you need to ask yourself is 'how do you want to feel in your space?' 
To Feel Vibrant and Bold
For homes that feel full of life and excitement choosing red tones can be the perfect match. Red is a bold, vibrant color that excites and stimulates the body, which is why it is typically found in the kitchen and even in workout rooms.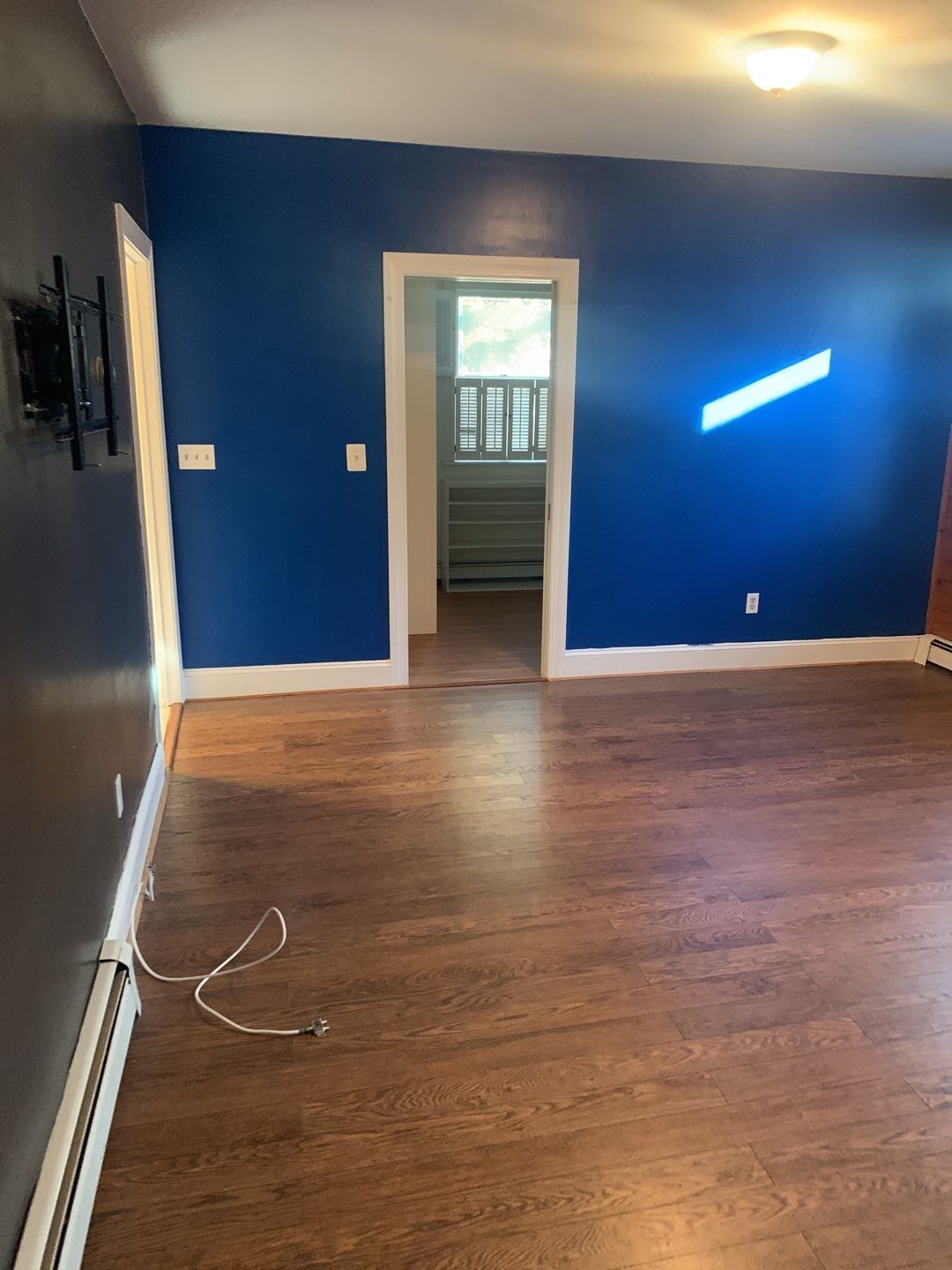 To Feel Soothed or Calm
Evoking a soothing, calming feel in certain spaces can help make your home a welcoming retreat. Since some spaces work well when they feel safe and welcoming, like a bedroom or a reading nook, use colors in those spots that help create that sense of peace. 
Green, blue, and certain pink tones can help create this balance of tranquility and a soothing feel. These colors can be incorporated into bedrooms, bathrooms, or any space you'd like to have a peaceful, Zen-like feeling.
To Feel Creative, Energized, and Productive
For a burst of creativity and to feel inspired, orange may be a great option. Representing feelings of happiness and innovation, orange is a striking color that can wake up your senses and help you tackle any task. 
Similarly, yellows can stimulate the mind and even improve metabolism. A bright yellow can excite the senses, making us feel awake and ready to seize the day. These colors do best in home offices and children's playrooms.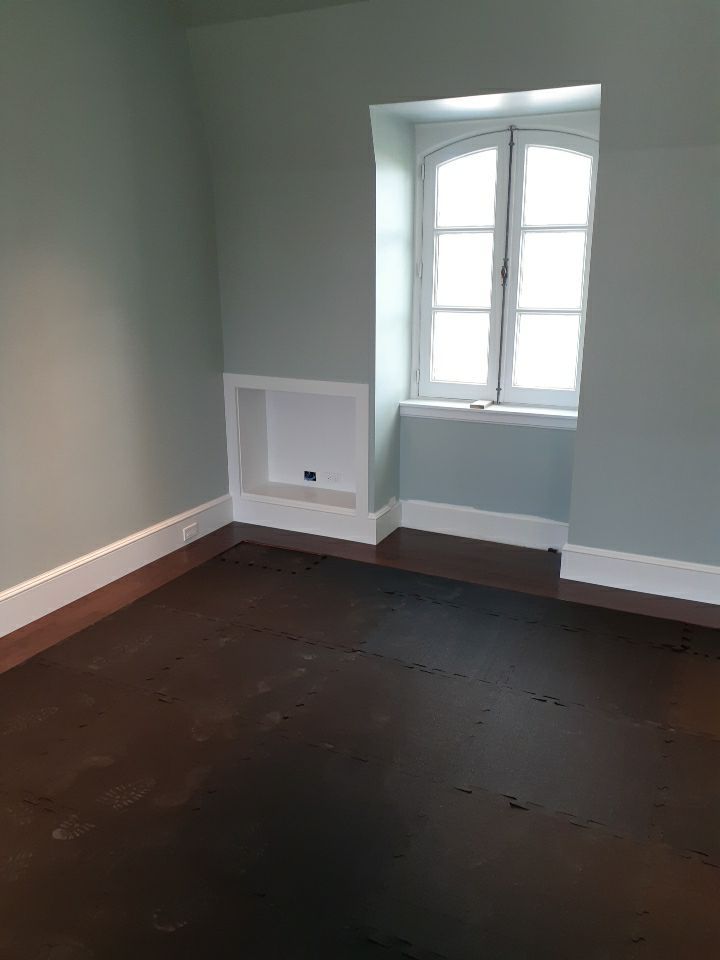 To Feel Emotion
Some spaces need a little drama. For areas that you want to evoke a deeper emotion or a sea of relaxation, blues and purples may be a good choice. Blue is a versatile color that is found in almost every home in the U.S. It has proven to help with concentration and even lower heart rates because of its calming effects. Purples can also encourage a relaxed atmosphere, but also lends to a more dramatic flair which can be an impressive and unique approach. Use these colors in family rooms, home theaters, or dining rooms to add flair and intensity.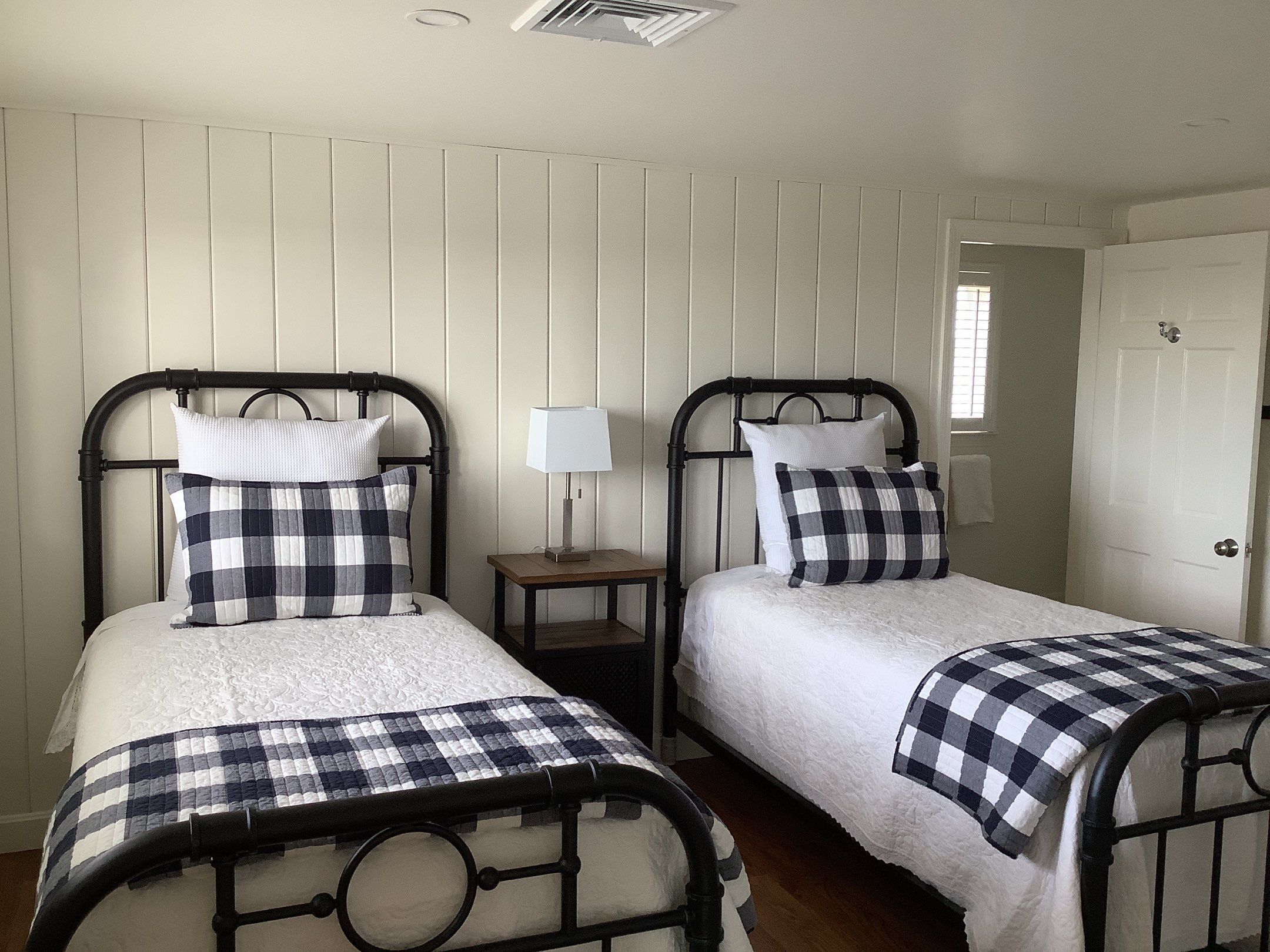 To Feel Grounded or Sophisticated
For a more modern, elegant feel in your home, neutrals are the perfect touch. If you desire to feel more down-to-earth, non-muddy browns and taupes are a good choice. Taupe brings about a sense of stability that can be both comforting and calming. 
For a hint of elegance or sophistication, greys and blacks can achieve this feeling. The colors create a sleek and edgy feel to a space and can promote a sense of power and strength, in a slightly stronger way than taupe hues. Using these colors in living rooms, kitchens, bathrooms, and even bedrooms to evoke a depth of emotion.
If you are looking for a way to update brighten your home, paint color could be the answer. While everyone responds to colors differently, paint can change the mood of any room and increase its energy levels. As personal preferences go, color choice can be just as unique as you are. Individualize your home in a way that you will enjoy it the most.
Since 2004, Bruno Painting's mission has been and remains the same … to uphold and care for surfaces and relationships. We follow this mission every day in working and serving the communities of Rhode Island. To schedule a free estimate and talk about color choice, contact us today!
Spring is upon us. It represents a time of rebirth and fresh starts. As you make your plans for this season, be sure to include a refresh and reset of your home. Take the opportunity to evaluate the interior and exterior and prepare for the warmer days ahead. The experts at Bruno Painting have created a Spring Home Maintenance Checklist that goes beyond basic spring cleaning, detailing a variety of projects for homeowners. If you find you need a hand, Bruno Painting is here for you every step of the way!
Small Indoor Projects
It's a good idea to take care of your interior projects during the cold and wet weather season. As soon as the weather breaks, many of us who've stayed inside because of the cold may find it difficult to spend time indoors working on and finishing up the projects we started. To ensure your interior projects are completed before the Spring weather arrives, check these small indoor projects to be sure your home's interior is refreshed and ready.
Check Screen Doors and Windows
Inspect your screens to make sure there are no holes or gaps, especially since mosquito season is coming.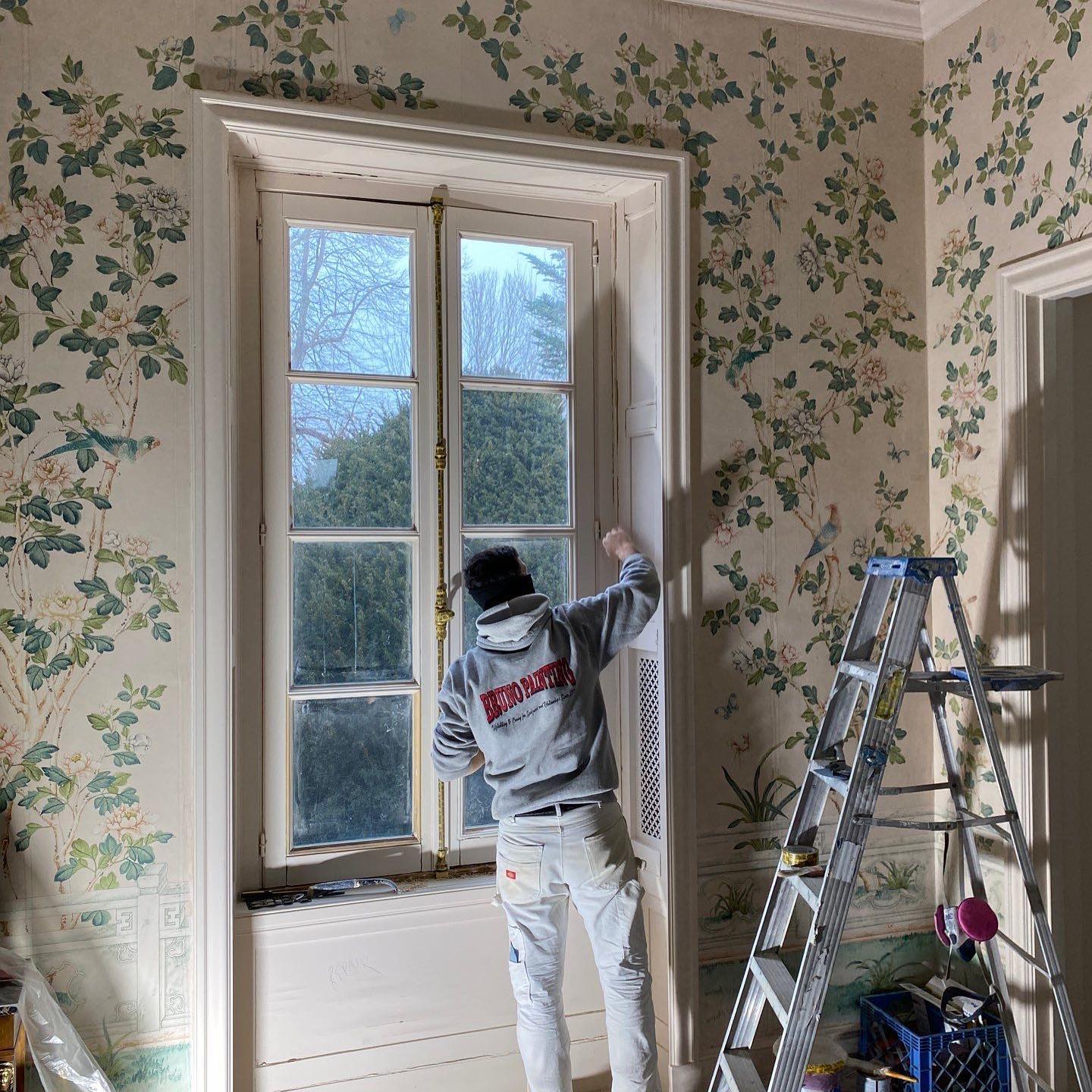 Inspect Caulking Around Windows and Doors
Fluctuations in temperature and exposure to damp, humid air will break caulk down over time. Look for cracks, gaps, or discoloration around all windows and doors. If you're unsure about the condition of the caulk, you can also gently pick at the edge; if it crumbles or easily separates, then the caulk needs to be replaced.
Safety First!
Every season you should test and dust all home safety products, including smoke, gas leak, and carbon monoxide detectors. Be sure you have backup batteries on hand. Nothing is more annoying than a smoke detector whose battery is low and then, not having the ability to change out the old battery right away.
Make sure your fire extinguishers are in good condition and haven't expired. If your extinguisher requires professional inspection or recharge, contact the manufacturer or your local fire department for help.
Medium Indoor Projects
 Check for Leaks
Inspect faucets, under sinks, around dishwashers, and under and around washing machines for standing water or evidence of leaks. Look for discolored pipes, water spots, peeling paint, soft wood, mildew, or mold. Contact a contractor or plumber immediately if you suspect a leak.
Consider Upgrades
Check to make sure lighting, appliances, and other essentials are running effectively. Also, consider conducting an energy audit to evaluate your energy consumption. If replacements are necessary or would cut future utility costs, research the cost-benefit of newer energy-efficient models.
Replace Intake Filters
Plan to replace your central air filters every three months. New, unobstructed filters ensure your system is both running efficiently and pumping in cool, clean air.
Large Indoor Projects
Interior Painting
After spending winter inside, staring at the same walls, you may decide it's time for an update. Check out our blog for some inspiration for your next painting or carpentry update.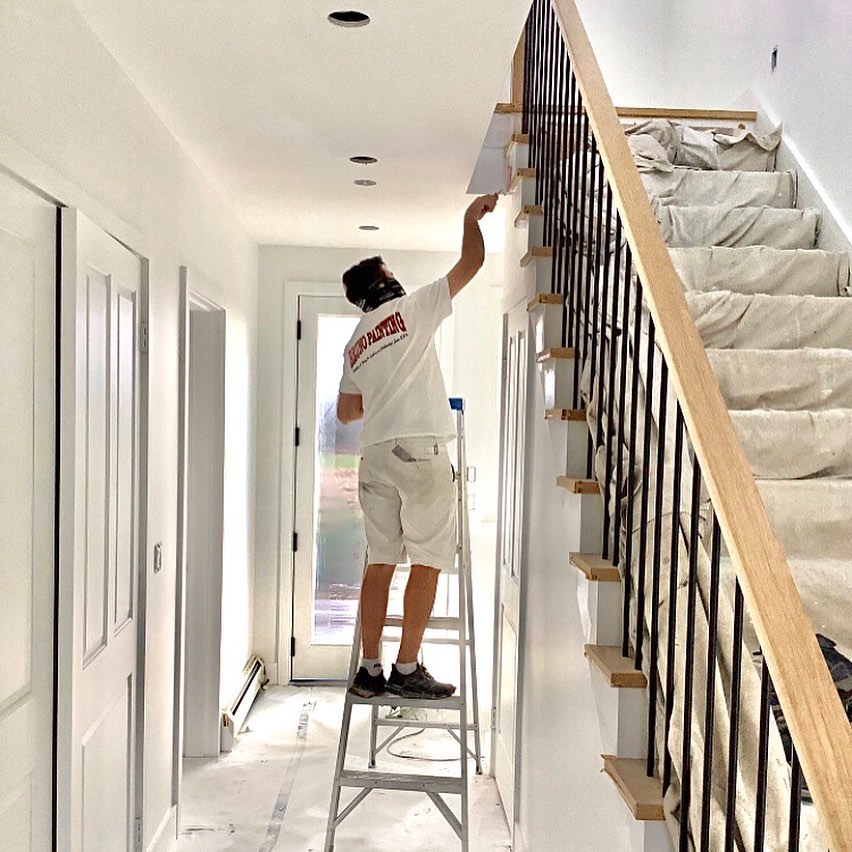 Check for Evidence of Termites
Termites are typically a nuisance between March and June. If you notice a large number of winged insects flying out of one location this spring, it's time to call pest control experts. After the infestation is addressed, look for a contractor to replace the rotten wood and prevent future problems.
Small Outdoor Projects
As the weather breaks, there are several outdoor inspections you'll want to make to ensure your home is in the best condition possible.
Inspect Roof
While inspecting a roof sounds like a task requiring a roofer, an initial roof inspection can be done relatively easily – no ladders required. Simply use binoculars or take a photo on a smartphone and zoom in to inspect your roof. You want to make sure there is no damage to your shingles, chimney, or vents. Take note of any debris or grime left over from the winter and contact us to wash your roof if needed.
Clean Outdoor AC Units 
Winter weather and disuse can lead to a buildup of dirt and debris on and around outdoor AC units. Make sure all sides of your unit are clear and free of debris or landscaping that might inhibit sufficient airflow. Use a broom or brush and a hose to clear accumulated dirt on the grates. 
Medium Outdoor Projects
Clean Gutters and Downspouts
Clogged gutters and downspouts can lead to rot, which can further snowball into multiple problems including bug infestations and rotten wood trim. Check this project off your list as quickly as possible to prevent problems from fall buildup and to prepare for spring rains.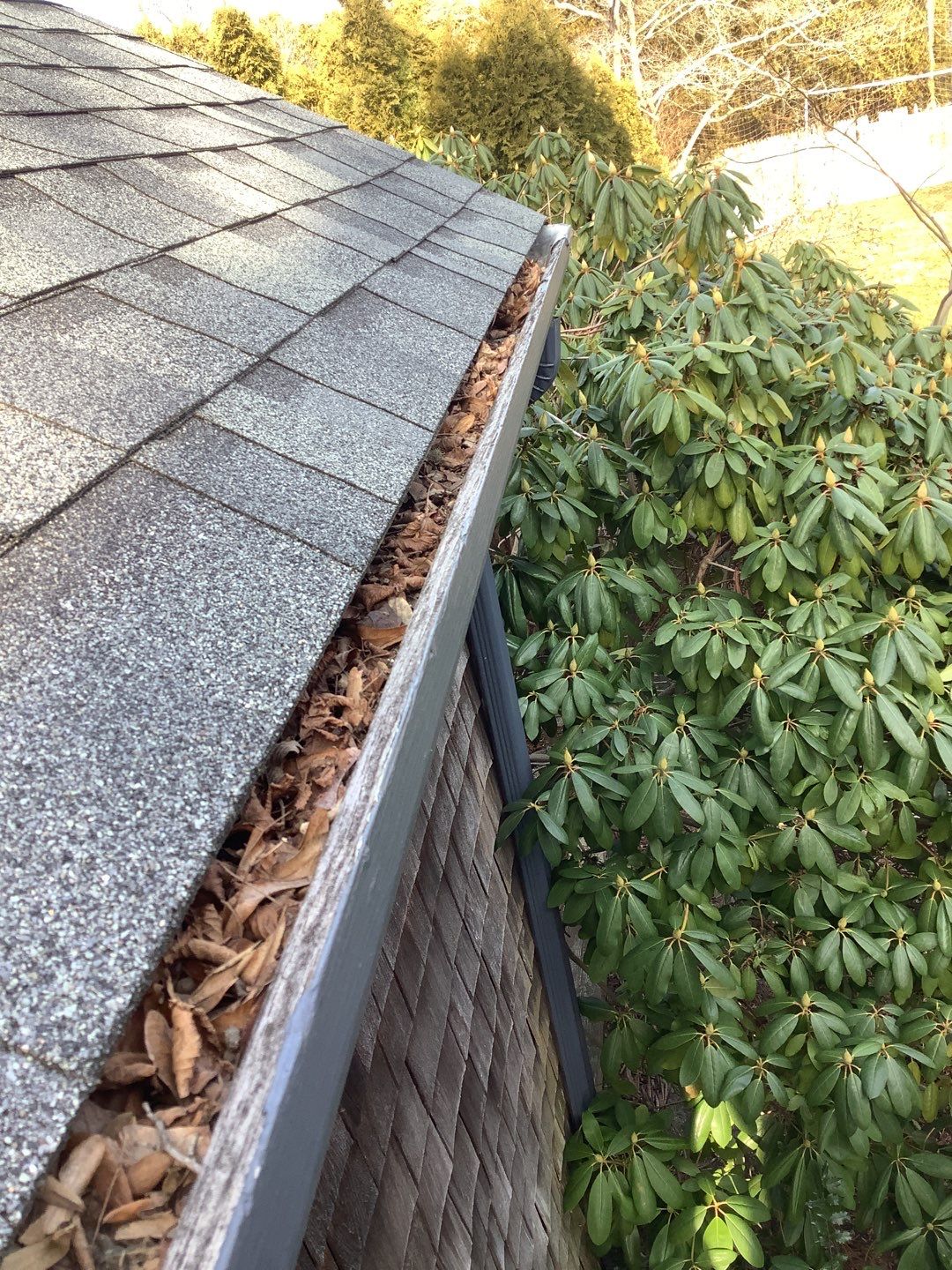 Reseal Exterior Woodwork 
Utilize warmer spring days to reseal exterior wood such as fences, decks, and railing. Resealing every year or two will help your outdoor structures last longer and look better.
Large Outdoor Projects 
Exterior Painting
Winter is a great time to plan and Spring is a great time to schedule exterior painting projects. The fresh colors of Spring offer great inspiration for a new exterior color. Consider scheduling the painting projects for your Spring home maintenance checklist with your local residential painter now to beat the impending warm-weather rush.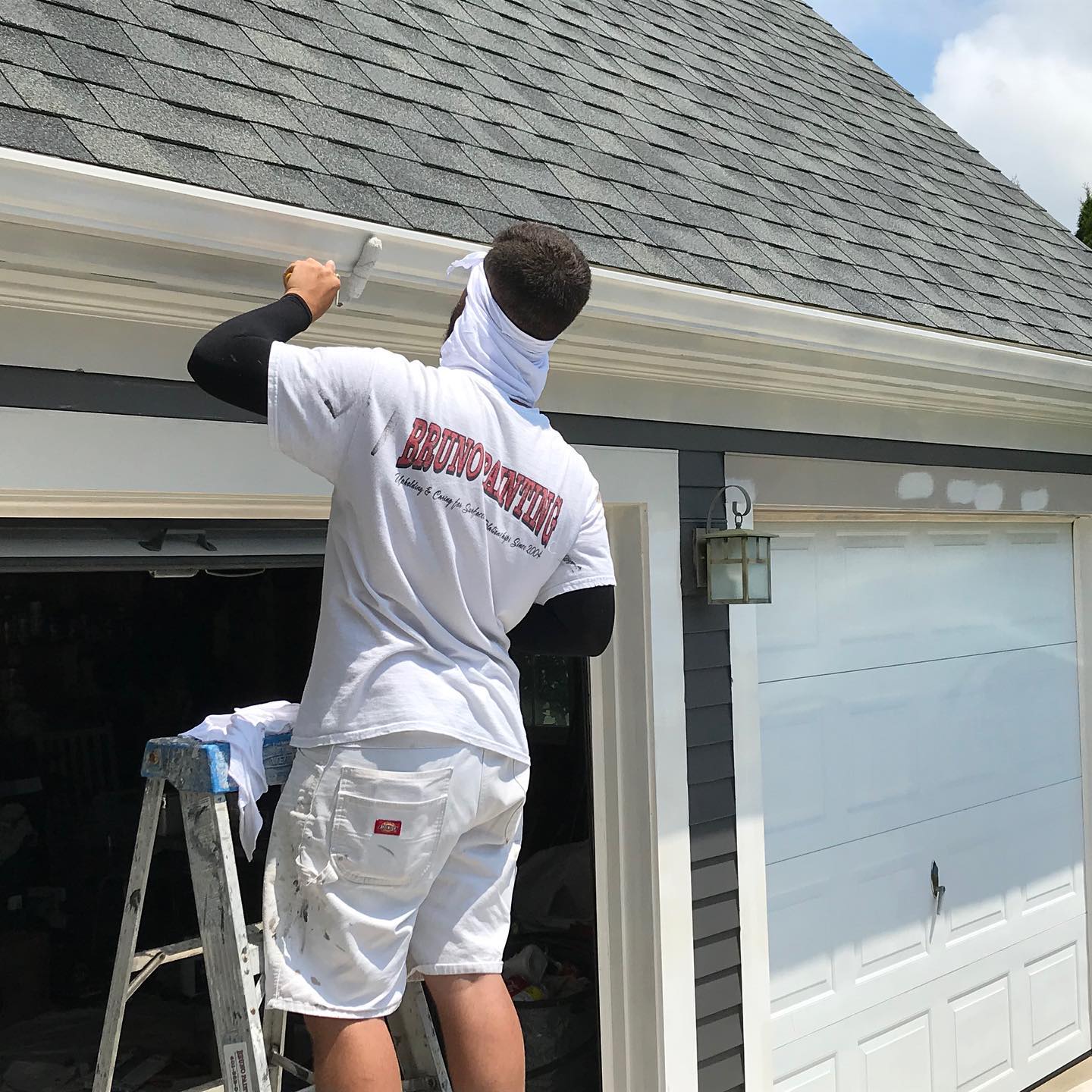 Pressure Wash
After harsh winter weather, your patios, decks, driveways, walkways, outdoor furniture, and siding could all use a thorough cleaning. While your home is getting pressure washed, make note of any irregularities and address problems or damages before they grow.
Inspect Deck
Check decks and wooden walkways for loose nails, rotten boards, discoloration, and buildup of debris between boards. Routine care will extend both the life and beauty of big-ticket items like a deck. Simple care like hammering down loose nails or sweeping in between boards, up to larger tasks, such as replacing individual planks, can significantly increase a deck's longevity.
Finally coming out of our winter hibernation can feel exciting, but that initial enthusiasm may wane when we start going over our spring to-do list. While a homeowner's top priority is providing regular maintenance and care for their home, remember that you don't have to do it alone. If your schedule is already full or you feel a project is beyond your ability, don't hesitate to reach out to us. We have expert designers, carpenters, and painters on staff to help you with all of your needs for your Spring home maintenance checklist.
At Bruno Painting our mission is "Upholding and Caring for Surfaces and Relationships." Whether you need a team of excellent  painters or expert carpenters, we are ready to help you with all your home's maintenance and updating needs!
Deciding to hire a professional painter to update your Rhode Island home is an exciting step in updating your living space. It can also potentially increasing your home's value. Fresh paint can breathe new life back into your space, whether you're thinking about having your walls and ceiling painted, your cabinets, your interior doors, and trim, or even a full or partial renovation.
Browsing at design and decor photos for inspiration and choosing colors is exciting. However, choosing a reputable carpentry and painting company and getting a quote can seem like a lot. Instead of feeling intimidated, use the opportunity to better understand with the painting process. You can also get acquainted with the best available painting contractors with whom you may choose to work with again in the future.
Interacting with the employees of the different painting companies you're considering can help you see if they're professional and whether you'll work well together. Pay attention to the details of both your customer service experience and the information provided in your quote. To feel like you're choosing the right carpentry and painting company for you and your home, it's best to understand what to expect from a house painting quote.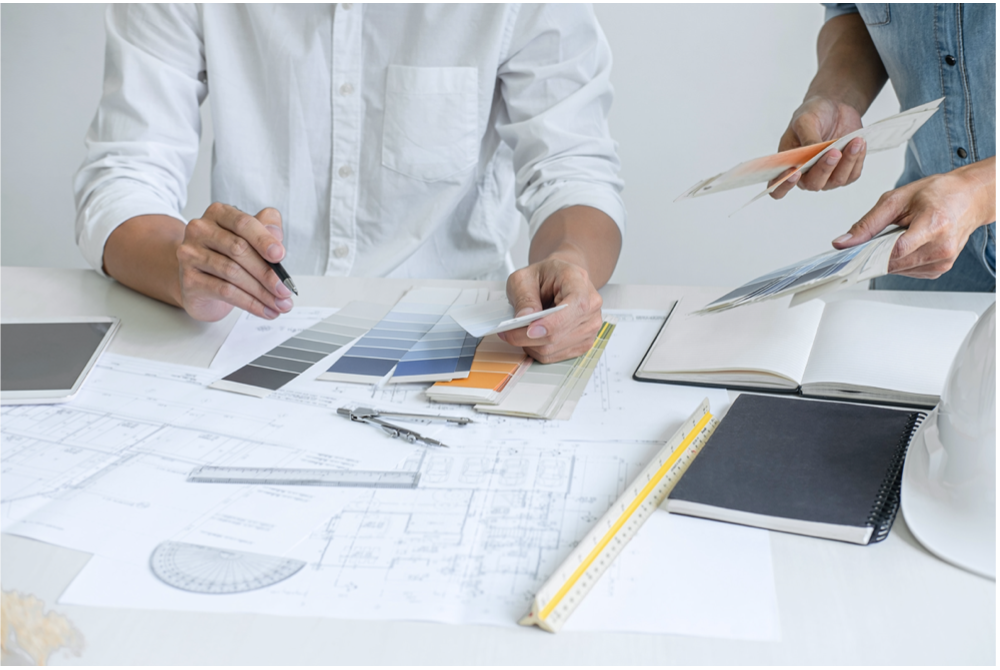 Getting an Estimate
While estimate processes differ slightly among painting companies, all should provide a detailed price quote. Your house painting quote will also include other important information. Most painters offer a free quote, while others may charge a set fee that is later applied to your final bill. Be extremely wary of any company that is reluctant to provide a quote or estimate in writing. Quotes are the foundation for establishing the expectations of both the homeowner and the contractor.
After you've scheduled your estimate, an estimator will meet you at your home to discuss your project and assess the condition of your home. Expect an experienced painter to ask detailed questions about your vision and goals for your update.
Some painting companies may conduct your initial meeting virtually and visit your home at a later date to take measurements, photos, and inspect for repairs in person. The in-home visit is a great time to discuss any questions you may have about a painter's methods and materials. You may also want to discuss the overall process for painting your home. Regardless of how the estimate is conducted, a professional painting company should ensure you are comfortable with the process and be willing to answer all your questions.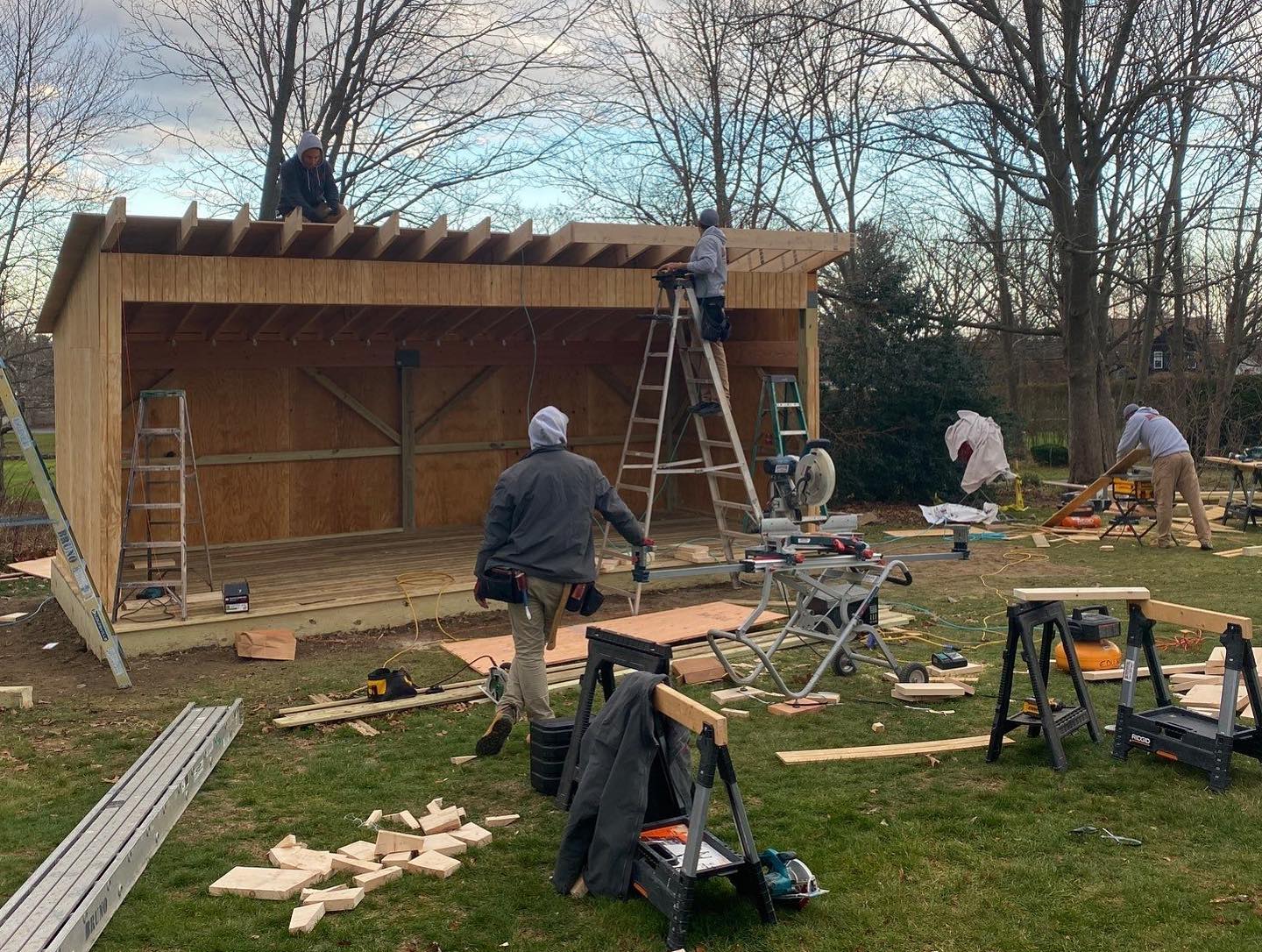 What Your Carpentry and Painting Quote Includes
After considering all the details of your project, your painter will generate a detailed quote for your review.  From repairs, paint types, required tools, and more, the goal of this process is to leave you with a specific and accurate estimate of the cost and time for your project.
Your carpentry and painting quote should include the following details:
Cost of labor
Material costs
Rooms priced separately with detailed explanations of work included
Description of surface prep work (resurfacing, priming, etc.)
Suggested and/or required repairs
Details of paint application (including the brand name and number of coats of paint)
The house painting quote should also provide a project timeline with step-by-step descriptions of the proposed plan. Overall, every important detail should be included to avoid any hidden charges or surprise fees. In fact, professional painting companies sometimes complete unanticipated work or make other necessary adjustments and still complete your job well and on time, without adding to your cost
Your painting quote will show a breakdown by room, showing labor costs, materials costs, and other line items. There may also be an additional cost for any necessary repairs. Additionally, your painting contractor should provide proof of insurance and liability coverage to guarantee that your home is covered in case of an accident or damage.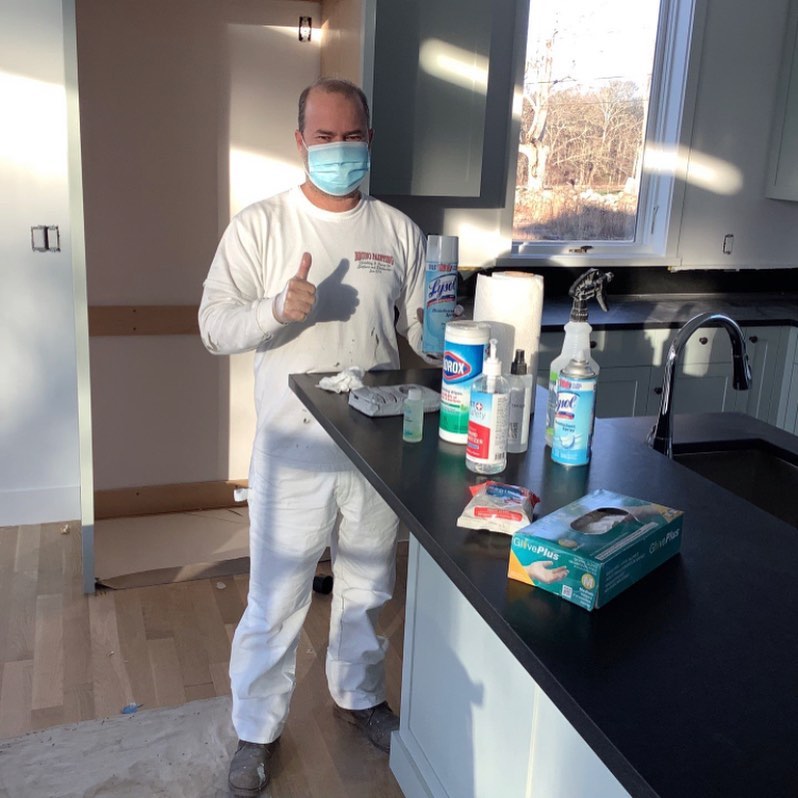 The Unwritten Expectations
You should expect each painter adheres to the highest professional standards. You should feel at ease knowing that you will be treated with the utmost respect and courtesy and that your home is in good hands.
While caring for your home, your Lead Painter should be able to provide you with updated policies when it comes to COVID procedures and how your family will be protected throughout the project. At the end of the day, your painting contractor should act professionally to care for both you and your home.
Winter on the Classic Coast is truly an ideal time to schedule a home painting project. Reduced demand for exterior painting allows professional painting companies to offer discounts and greater flexibility in scheduling to meet your needs.
Bruno Painting has been upholding & caring for surfaces and relationships since 2004. If you have been considering painting your home, but have been reluctant to get started, we would be happy to walk you through the estimate process. Some of our clients are so happy with our work, they've shared their experience with us. Feel at ease knowing you're in the best hands with carpenters and painters who care about your home as much as their own.