Blue House Case Study, Middleton, Rhode Island
This past June we had the privilege to work on a beautiful, blue-shingled home in Middleton. The homeowners were looking to update their home's exterior with a fresh coat of paint. During the initial consultation and estimate, our team of professionals noticed that this home required some special attention to the windows, specifically deteriorating wood. 
When wood deterioration is bad enough, it's called 'wood rot.' If left untreated, wood rot can spread and cause even more damage to a home. Before painting the exterior of this beautiful home, we repaired and, in some cases replaced, the rotted wood. 
Below is our case study for this blue house, detailing how we were able to get rid of the wood degeneration, give the exterior a fresh coat of paint, and deliver a great, long-lasting finish for our clients.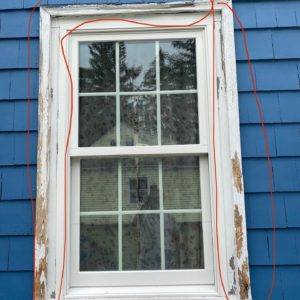 Initial Inspection
At the initial meeting with our clients, we needed to determine the extent of the damage and whether it was caused by weather, which is not uncommon for homes in Portsmouth and Newport. Living on the classic coast, many home exteriors are exposed to quite a bit of moisture and cold temperatures that erode paint and the underlying materials over time, including wooden window frames and other areas of the exterior of a home. 
Any pieces of wood that seem spongy or soft are at the beginning or intermediate stages of rot. Other signs of decay include paint chipping, wood splintering, discoloration, or paint peeling. Before further irreparable damage occurs, contact a professional painting contractor and carpenter to treat these areas to protect the rest of your home from further damage.
How do you know whether the wood will need to be repaired vs replaced? The standard is if there is more than ten percent of damage to the wood, it needs to be replaced. In some cases, if the rot is caught early enough, it can be repaired using epoxy products and paint.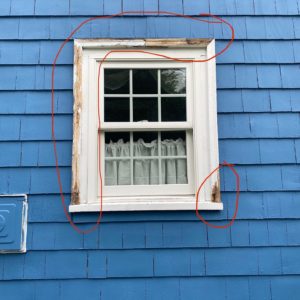 Removal and Replacement of Wood Rot
In this particular case, the damage was extensive enough in some places that the wood needed to be replaced. Our carpentry team made all the necessary repairs before our painters came in to finish the job.
When we removed the rotted frames and sills, our carpentry division took care to pull these boards out without causing damage to the house or windows themselves. Once the old frame and sills were removed, all leftover debris or wood pulp was removed and the area was cleaned.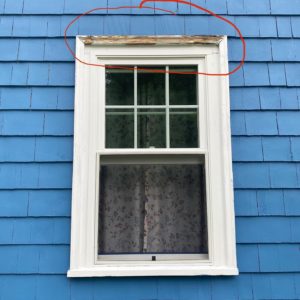 Measure Twice, Cut Once
The pieces of the old frame and sill were measured as a reference for the new boards to be put in place. Measurements were also taken of the sheathing where the frame and sill used to sit to ensure that the new pieces would fit securely.
If your home does not have standard fittings and features (and depending on what type of window or home you have), you'll need a contractor more skilled than the average handyman to help with standout features like mitered corners and fastening sites. Our master carpenter, Chris, and his team did a fantastic job making sure the windows fit perfectly in our client's home.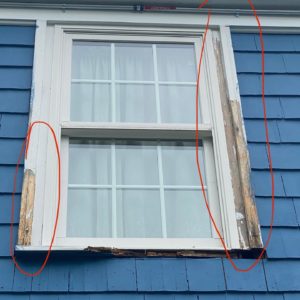 Prepare the Sheathing
Once the wood frames and sills were removed, our carpentry division inspected the sheathing underneath and made necessary repairs. Repairs that may need to be done on sheathing include using caulk to fill in any smaller cracks and an expanding foam insulation to not only fill larger gaps but to also hold the new boards tightly in place.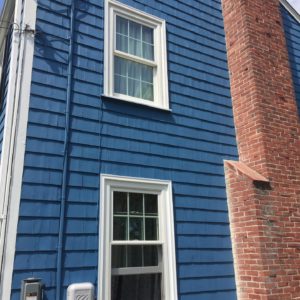 Installation
Once the new pieces were cut, our painters stepped in to apply a few coats of paint to protect these new pieces of wood from exposure to moisture and water. Once the new window frames were ready, our carpentry division installed them into the sheathing and secured those pieces in place with nails. The final step in installing these new frames and sills is caulking any seams to keep out unwanted moisture, bugs, and other enemies of wood.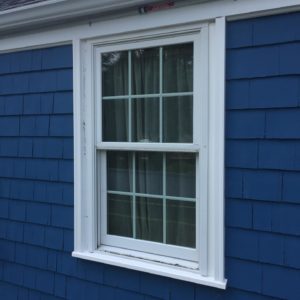 Final Touches
After the frames and sills were installed and inspected for quality, our painters finished the project with a fresh coat of exterior paint. Our team stripped and sanded the old paint to prepare the surface and to prevent unaffected parts of the frames from being exposed to moisture. The entire window trim was repainted with two coats of the highest quality paint to guard against all types of weather conditions.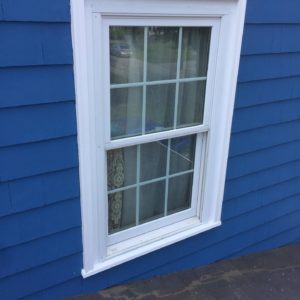 Summary
In each step of this process, our teams took extra time and care to ensure that every surface had a high-quality finish. Our client is thrilled with the work we did and the care and effort we put into their home.
Since 2004, our mission at Bruno Painting is Upholding & Caring for Surfaces and Relationships. We enjoyed every step of this process on this project and take pride in knowing that the hard work and dedication we put into this home will be enjoyed by this family for decades to come.
Call or email our office for a free estimate to see what we can do for your home!