When most homeowners think of projects that can improve and elevate their homes, carpentry work isn't necessarily the first thing on the list. However, there are several carpentry projects that can do just that: improve your home. With a range of complexity and costs, there are many carpentry projects that can add to your home and take it to that next level of quality. Here are our top carpentry projects that elevate your home not only aesthetically, but also functionally.
Adding crown molding and wainscoting
A classic use of carpentry in your home is adding crown molding or wainscotting. For a room revival that brings dimension and lasting value to plain walls, nothing beats a traditional wainscoting of richly layered wood panels. In addition to the aesthetic appeal, wainscoting offers some practical benefits still as well. Wainscoting can be great for preventing damage to your walls, entryways, hallways, stairways, etc. Any place that sees a high amount of foot traffic in the home is at risk for taking damage from accidental bumps, knocks, and brush ups. This is just an added benefit on top of the centuries old, time-tested beauty of wainscoting.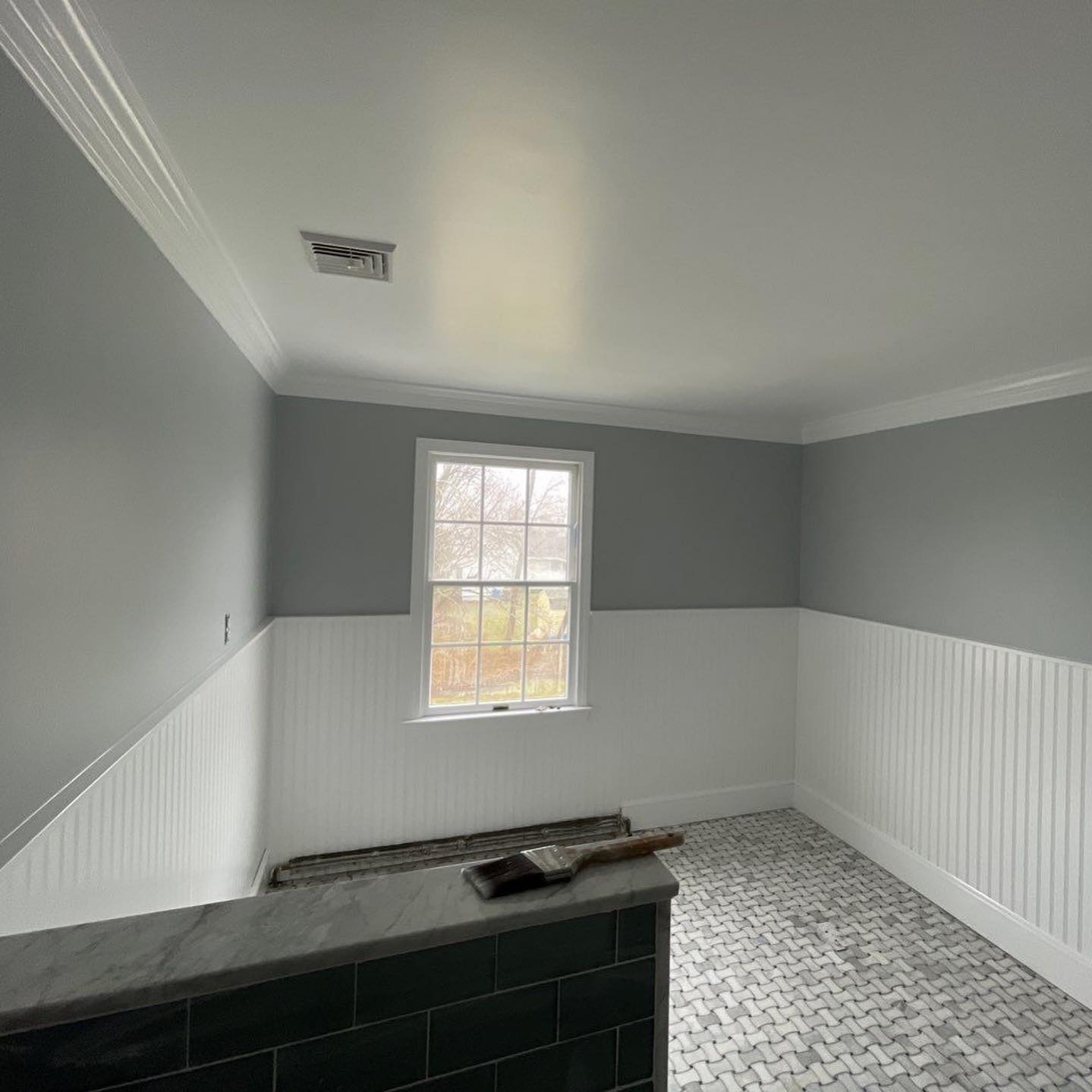 Crown molding is a lower cost carpentry addition that can similarly improve your aesthetic. Crown molding isn't nearly as visually intense as wainscoting. The original purpose of crown molding was to conceal imperfections in older homes, especially where the walls and ceilings touch. If your house is a newer build, you probably won't have to worry about cracks or warps along the tight corners, but older properties are prone to these specific flaws. Crown molding is a quick and easy way to transform the look of your home without any large renovations. At a much lower cost, crown molding can increase your home's value as it is usually an indicator of a higher-quality home. 
Closet and Cabinet Updates
Carpentry work can also elevate your house through updating its existing features. Cabinets and closets are two aspects of your home that can easily be improved and reworked via carpentry work. While these are parts of your home that you might not think about very often, adding new cabinet doors or shelving in a closet can make the space more functional and make them easier to use. 
Closet improvements can include adding additional shelving, redoing your current shelving, and creating built-ins, and replacing your closet doors. Cabinet updates can involve replacing the doors, refinishing the doors, or fixing the shelves. 
Built-in Shelving
Built-in shelving is one of the top carpentry projects that elevate your home's functionality and look. This addition is extra versatile because this style of shelving can be added to any type of room and doesn't take up a lot of space. Bedrooms, offices, living rooms, and dining rooms can all utilize shelving in different ways. If smaller space is an issue, a built-in space can help address it by giving you more room to move since the shelving is completely against the wall. Built-in shelving is also a great way to improve an unused area of your home, such as under a staircase, a narrow hallway or a corner where your furniture cannot fit well. Your built-in shelves can also be used as a focal point over a furniture piece.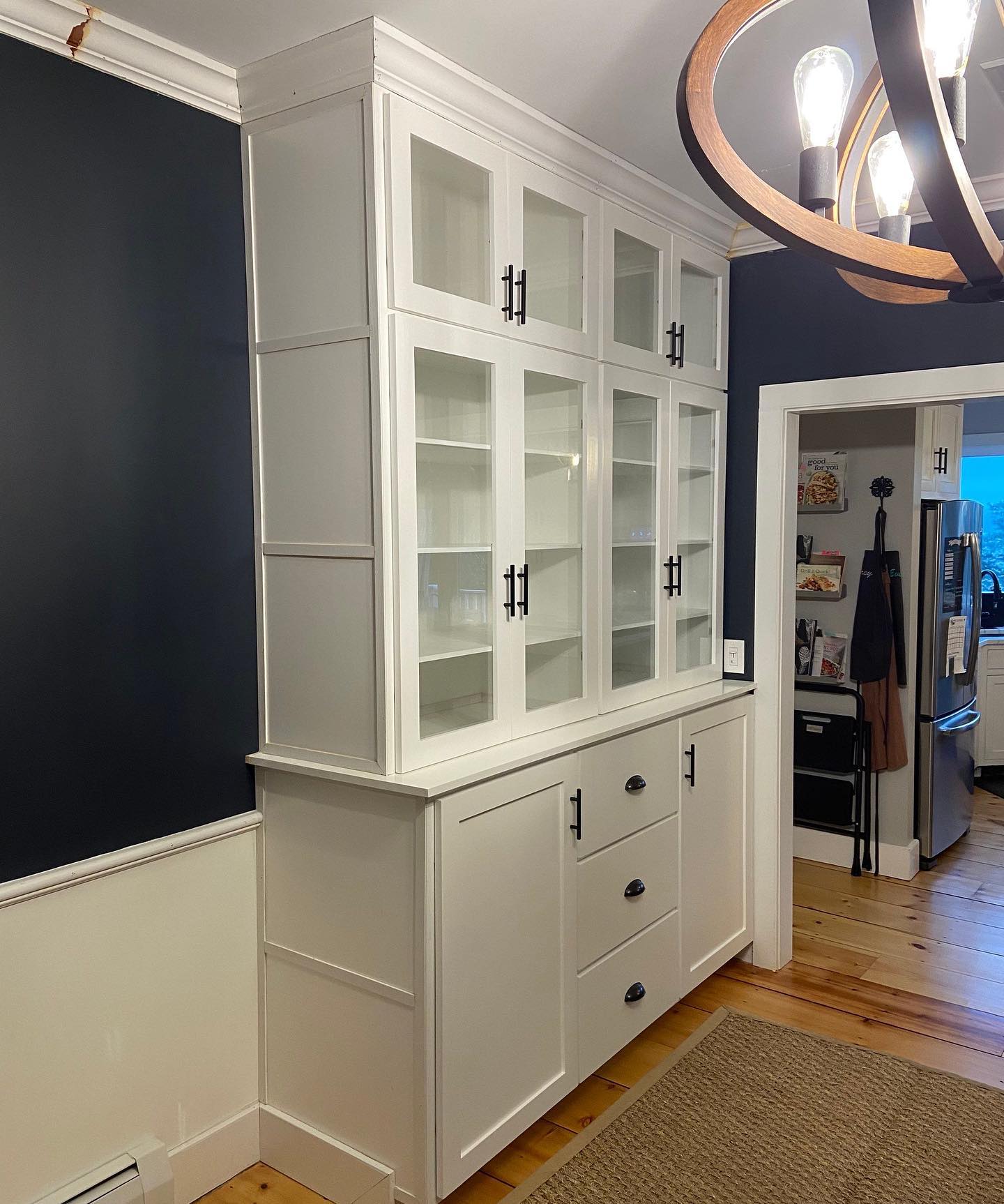 Creating a Mudroom
A mudroom is a dedicated space in the home, usually located at the rear or front entrance. These rooms usually have a bench, as well as cabinets and shelving, sometimes including cubbies and hooks. The shelving and cubbies store all the dirty shoes and clothes to protect your home from dirt and mud collected throughout the day. A mudroom can be an extremely practical and useful way to elevate your home. While in concept mudrooms are very utilitarian, they don't have to be ugly! High quality carpentry work will make the room look beautiful in addition to being functional.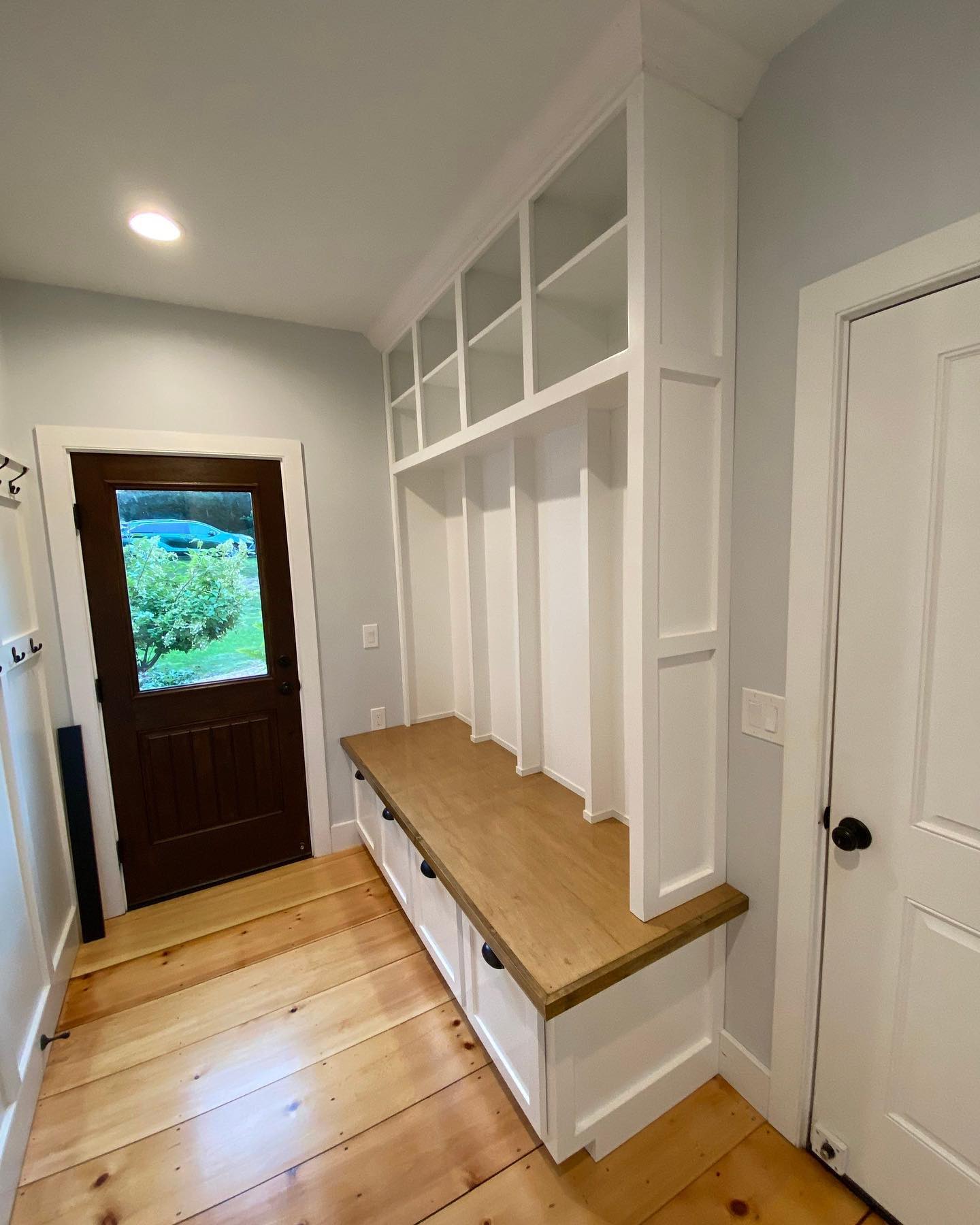 Updating Your Home Office Space
It looks like the home office is here to stay whether you have a fully decked out space or a smaller area with a desk and chair. Some home offices are as simple as a built-in kitchen desk, a small area to check the mail, pay a few bills or where the kids can do their homework. Other home offices include multiple workstations and built-in bookcases. 
Home offices can be custom designed to fit the needs of you and your family. If your needs are greater (if you work from home consistently), explore the idea of creating a specific space for your work. You can add built-ins for organization or a built-in desk to save space. If your home office needs aren't as big, you can add a built-in kitchen desk or drop-down desk that can also serve as a place for other things like paying bills.
Have a carpentry project, big or small, on your to-do list this year? Contact us! We can answer any questions you have and would love to assist you in elevating your home.
As we begin to enjoy the cooler months, many people start to think about getting ready for the holidays with thoughts going to planning our friend and family gatherings. With Covid on a seemingly less intrusive course, many are planning to open their homes once again to visitors to celebrate the wonders of the upcoming seasons, but are wondering when to repaint their home's interior.
Questions you may be asking yourself include … Is my home ready to entertain for the holidays? What can I do to get my home ready for the holidays? Whether you're getting your home ready to entertain, simply want to refresh it for your own enjoyment, or if selling your home is in your plans, an interior paint job is a relatively inexpensive way to update your home. Understanding when you should repaint your home's interior will help you get past whether you should or shouldn't and onto the color and sheen selection, arguably the most enjoyable part of the process.
The Current Paint is Outdated or Drab
The simplest way to know when your home's interior should be repainted is when you look at a space in your home and it no longer makes you happy to be in it. The color may be drab, out of style, or just doesn't please you.
Large, often-used spaces, such as your kitchen, should feel pleasing to you and to your guests. Having just the right color, shade, and sheen in these spaces makes a big difference in the enjoyment you get when spending lots of time in them. Don't overlook powder rooms, laundry areas, and foyers, as those spaces either introduce your home to visitors or are used by you more than you think. Having your home fully color planned so there is a great flow from one area to another can further help you enjoy the overall look and feel of your home.

There are Surface Imperfections You Can't Clean
Another way to know when your home's interior should be repainted is to inspect the paint finish to look for any imperfections, such as marks or scrapes you cannot clean off, peeling, or fading. You see the interior of your home almost every day, and sometimes those imperfections seem normal, but they're not.
A More Serious Condition is Affecting the Finish
When your existing paint finish begins to fail, it is time to call your trusted, local paint contractor to come over and inspect the interior of your home. Interior paint imperfections may be a sign of unwanted water, mold, or other even less welcome issues.
Your professional painter will be able to diagnose the cause of the imperfections, but they'll also be able to resolve the problems correctly so your home's integrity is intact. If mold is present, your professional painter will likely call in a mold remediation specialist to take care of the problem.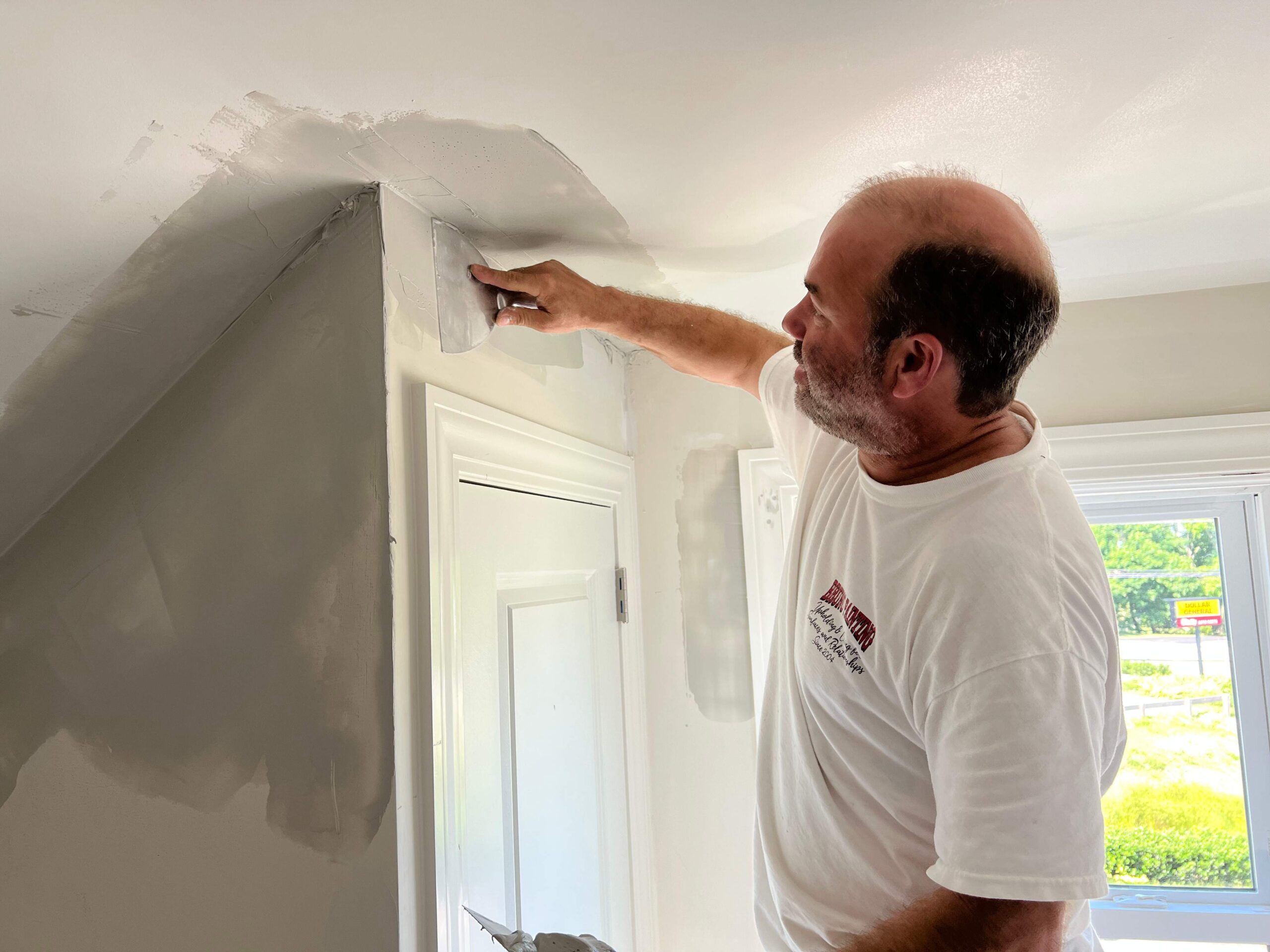 The work necessary to take care of a paint imperfection may be extensive and can include scraping, spackling, filling, priming, and other steps you may or may not be able to handle on your own. Either way, we recommend letting our painting and carpentry experts take a look to be sure you have nothing serious going on behind your walls.
Aside from the aesthetic importance of beautifully finished wall and trim surfaces, it is a health hazard if water seeps and creates damage. Because we're close to water and have our share of wet weather, having an annual or biannual inspection of your home's interior and exterior is a good idea.
You Want a New Color
Finally, even if you've recently painted a room, an area, or the entire house, if you simply want another color or set of colors to adorn your walls, that is a perfectly good reason to do so. Whereas some people prefer to see the same colors (and ask us to repaint their walls in the exact same colors, which is perfectly okay), you may be the type of person who thrives on change or loves to have the latest trending colors surrounding them at home.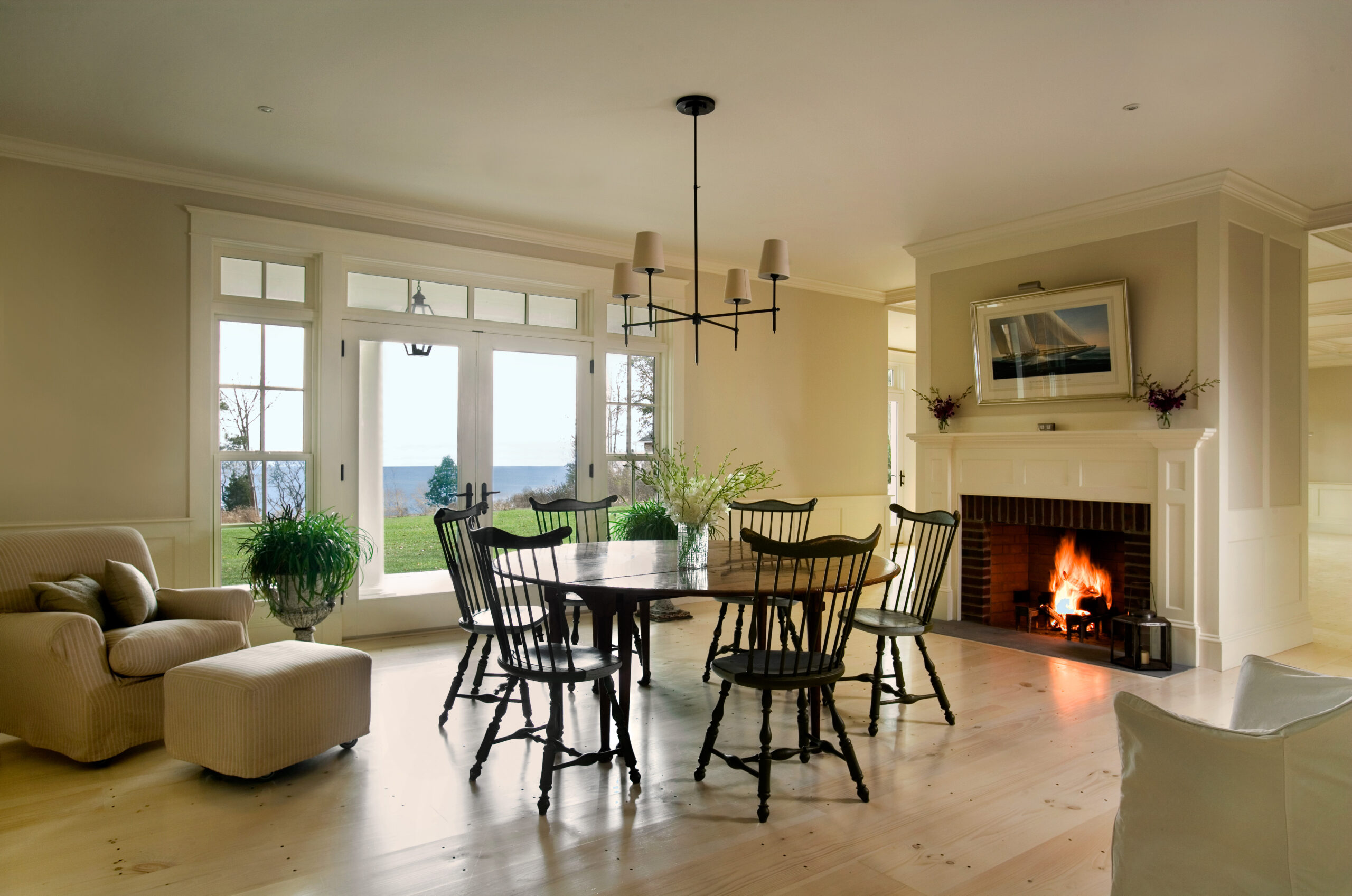 We're happy to oblige and help you repaint your home's interior regardless of your reasons for wanting it to be done. Our team of experienced carpenters can help fix most imperfections you may have in your walls or trim, and our experienced painters will give your home's interior the smooth and beautiful paint finish in the colors you carefully and lovingly select.
Getting ready for the holidays is an act of love. It's about preparing to welcome others into your home to spend precious moments that last a lifetime. We're here to help you with all of your carpentry and painting needs. Reach out if you're in the Rhode Island area. We look forward to serving you!
The Winter months are a time to enjoy the beautiful landscape in Portsmouth. From snowy sceneries to picturesque winter landscapes, there is much to appreciate. When pondering what to do this coming winter, consider booking professional carpentry services to upgrade your home and design your space to fit your needs.
Homeowners schedule carpentry services during the off-peak season of winter to secure off-season, oftentimes better, pricing for their projects. This may give customers an opportunity to get their carpentry work done without paying top dollar without compromising on quality. There are many carpentry projects that may be of interest to you to update your home. Homeowners choose many of these projects, not only to increase their enjoyment of their homes but also with the goal of increasing the value of their property.
Kitchen Renovation
Kitchen renovations are a common project among homeowners year-round as it has been proven to provide one of the best returns on investments (ROI). Your kitchen is the heart of your home, so taking care to update and improve your kitchen is a smart choice. Updates like new counters, backsplashes, flooring, and window treatments are all ideal updates to get the "biggest bang for your buck," as well as the highest enjoyment from your kitchen.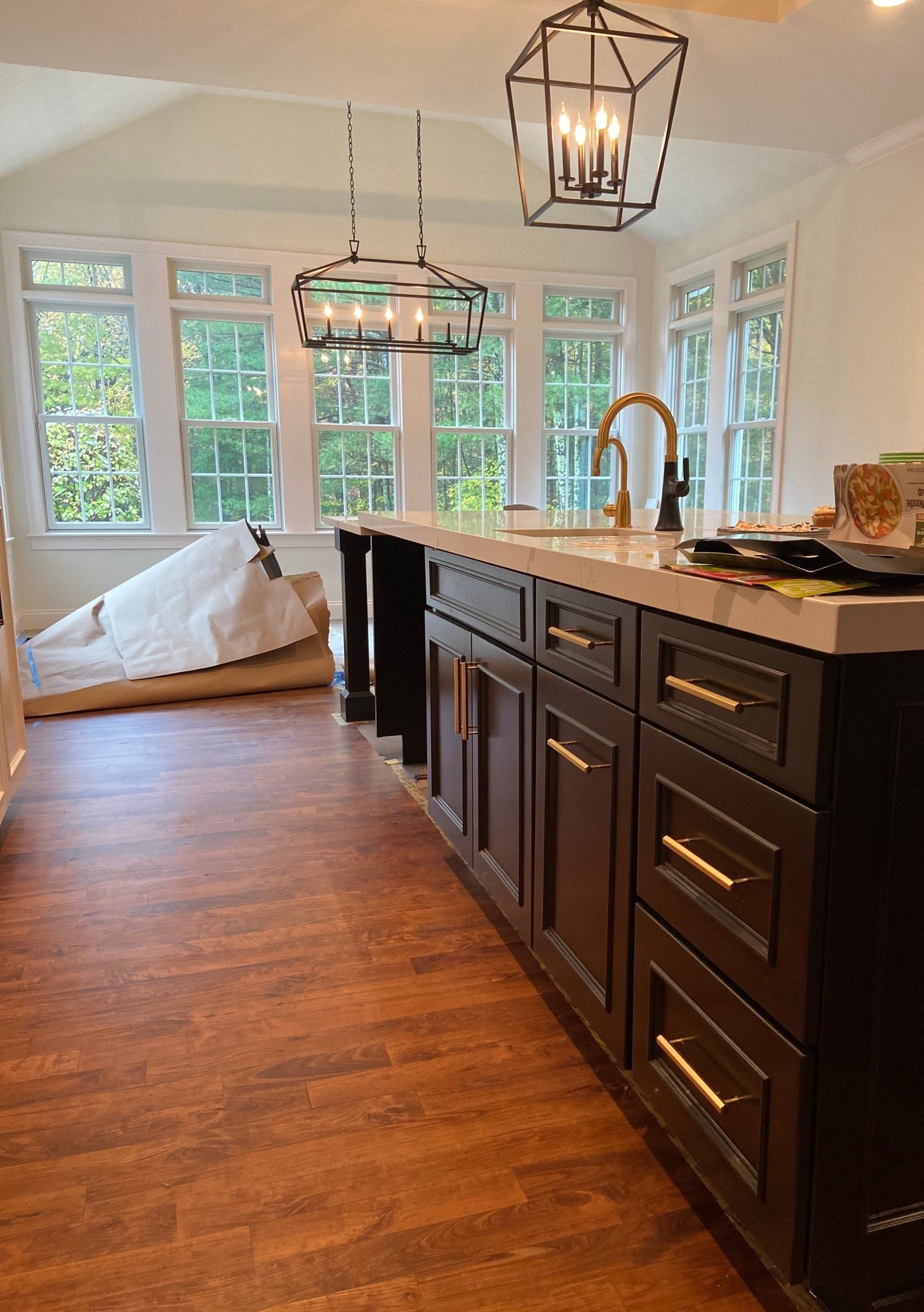 Bathroom Remodel
Bathroom remodeling is something that many homeowners have done over the years in order to add value and convenience to their homes. Second, only to kitchen renovations, bathroom updates are a high ROI for any home. Many choose to update bathrooms that look dated with new flooring, vanities, tubs, and tile which make for a beautiful finish in a space that we spend time in every day.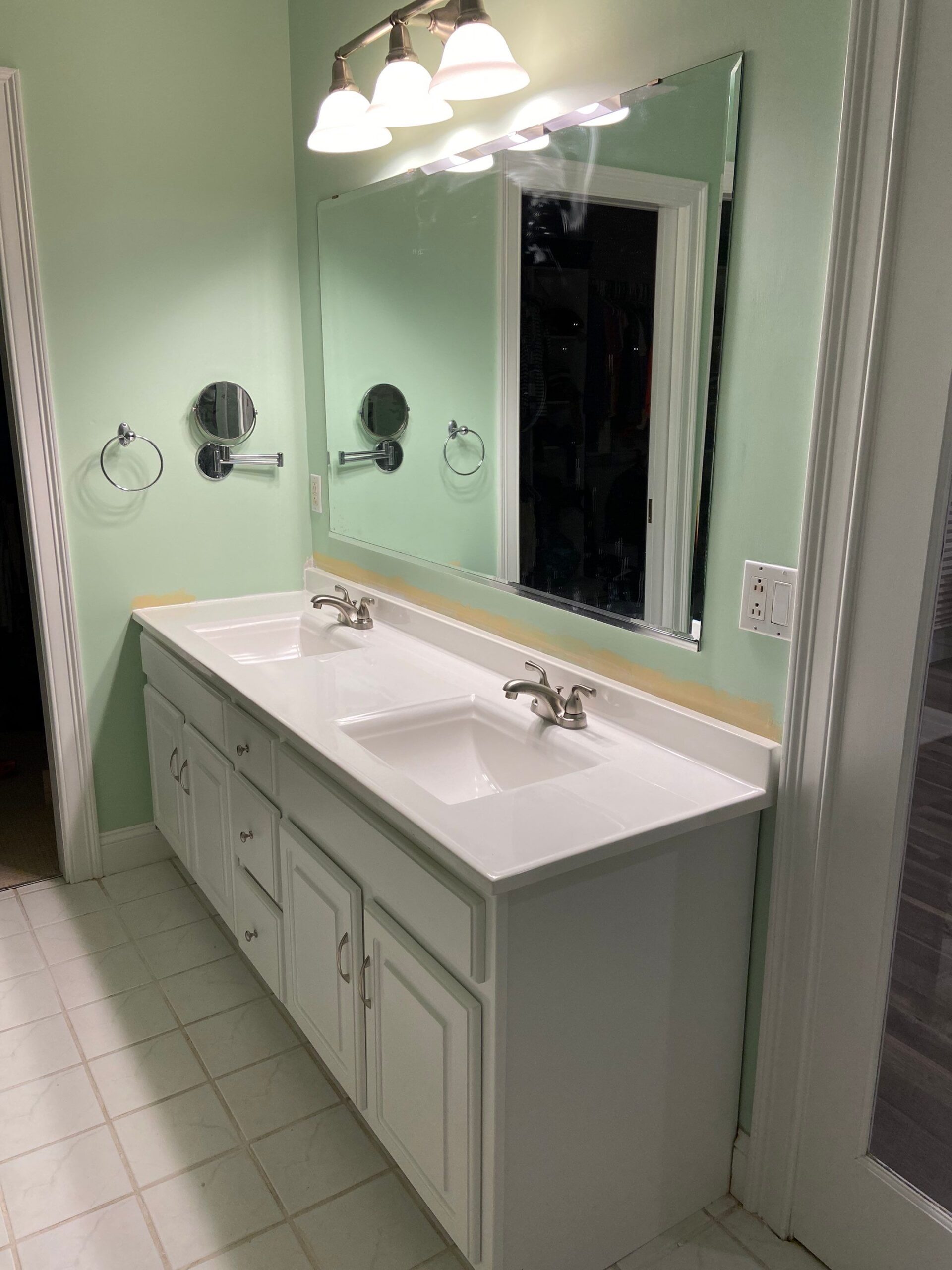 Organization Updates
A well-organized home is one that exudes comfort and a sense of harmony. That is why so many have chosen to focus on areas of their homes that lend to keeping things tidy. With the help of custom closets, built-in shelving, and cabinets any home can feel as if an interior designer has revamped your space.
A closet remodeling project can be done quite easily and will help you stay organized. For smaller spaces, maximizing your storage space is especially important. Built-in shelving both in the bedroom and even in the living room can produce an elevated feel.
One of the easiest parts of home improvement is installing shelving in your closet or pantry. This increases your storage space while keeping your home organized. 
When thinking about organization, you may not think of cabinets immediately but they play a major role in everyday living.  A beautiful finish on kitchen cabinets can make your space feel more open and clean which is always an important factor in organizing your home.
Tiling Projects
One of the less common but equally important home carpentry projects homeowners consider is tiling. From backsplashes to basement and bathroom flooring, tile is a project requiring special skills. That is why professionals take great care and effort to complete them.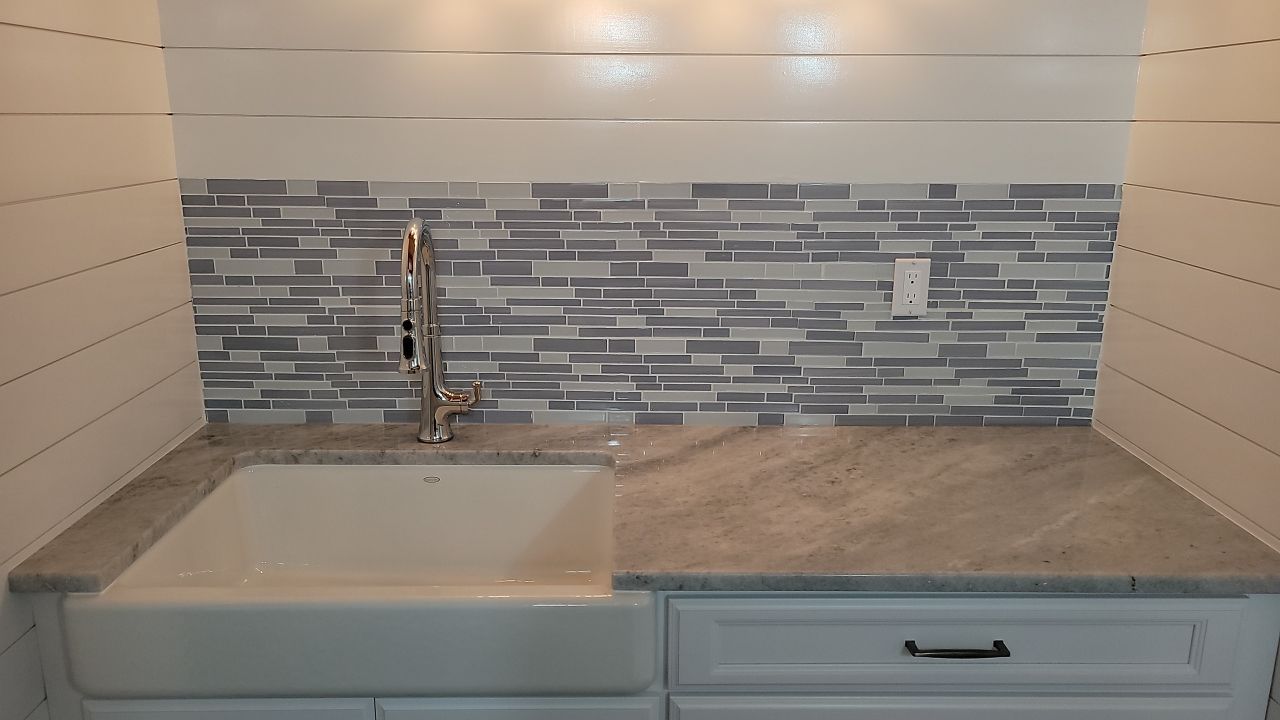 Crown Molding and Wainscoting
When it comes to adding character and elegance to your home, nothing is more elegant than crown molding. While this may look extravagant and luxurious, many skilled carpenters can add this look to your home for a reasonable price. The added beauty and benefits of a finish cannot be understated in how this adds value to your home.
Wainscoting is another classic look you may see in homes in and around Portsmouth. Adding wainscoting to dining rooms and other spaces in your home can positively impact your home's resale value. These aren't very difficult or expensive projects, but when done properly, they can make a dramatic difference.
The winter months provide time for Portsmouth homeowners to make improvements around the home. The first step towards any home interior project is hiring a trusted carpentry service that provides quality work. Hiring a company that offers carpentry along with other services like painting is a smart choice. 
The professional carpenters at Bruno Painting can complete all the services you need. Our team offers comprehensive services like kitchen and bathroom updates, tiling, shelving, and cabinetry. 
The best part of choosing Bruno Painting and Carpentry for your next home project is that you can work with one company to complete your project. We are the best all-in-one carpentry and painting contractor in Rhode Island. If you've been thinking about updating your home, take advantage of the services we offer this winter by scheduling your free consultation today.
Deciding to hire a professional painter to update your Rhode Island home is an exciting step in updating your living space. It can also potentially increasing your home's value. Fresh paint can breathe new life back into your space, whether you're thinking about having your walls and ceiling painted, your cabinets, your interior doors, and trim, or even a full or partial renovation.
Browsing at design and decor photos for inspiration and choosing colors is exciting. However, choosing a reputable carpentry and painting company and getting a quote can seem like a lot. Instead of feeling intimidated, use the opportunity to better understand with the painting process. You can also get acquainted with the best available painting contractors with whom you may choose to work with again in the future.
Interacting with the employees of the different painting companies you're considering can help you see if they're professional and whether you'll work well together. Pay attention to the details of both your customer service experience and the information provided in your quote. To feel like you're choosing the right carpentry and painting company for you and your home, it's best to understand what to expect from a house painting quote.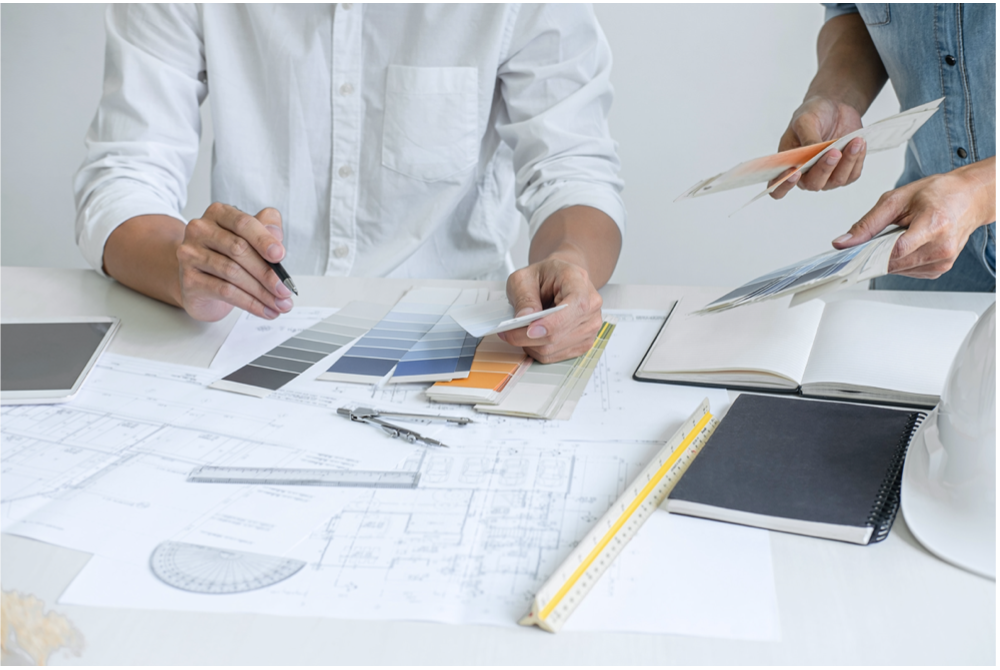 Getting an Estimate
While estimate processes differ slightly among painting companies, all should provide a detailed price quote. Your house painting quote will also include other important information. Most painters offer a free quote, while others may charge a set fee that is later applied to your final bill. Be extremely wary of any company that is reluctant to provide a quote or estimate in writing. Quotes are the foundation for establishing the expectations of both the homeowner and the contractor.
After you've scheduled your estimate, an estimator will meet you at your home to discuss your project and assess the condition of your home. Expect an experienced painter to ask detailed questions about your vision and goals for your update.
Some painting companies may conduct your initial meeting virtually and visit your home at a later date to take measurements, photos, and inspect for repairs in person. The in-home visit is a great time to discuss any questions you may have about a painter's methods and materials. You may also want to discuss the overall process for painting your home. Regardless of how the estimate is conducted, a professional painting company should ensure you are comfortable with the process and be willing to answer all your questions.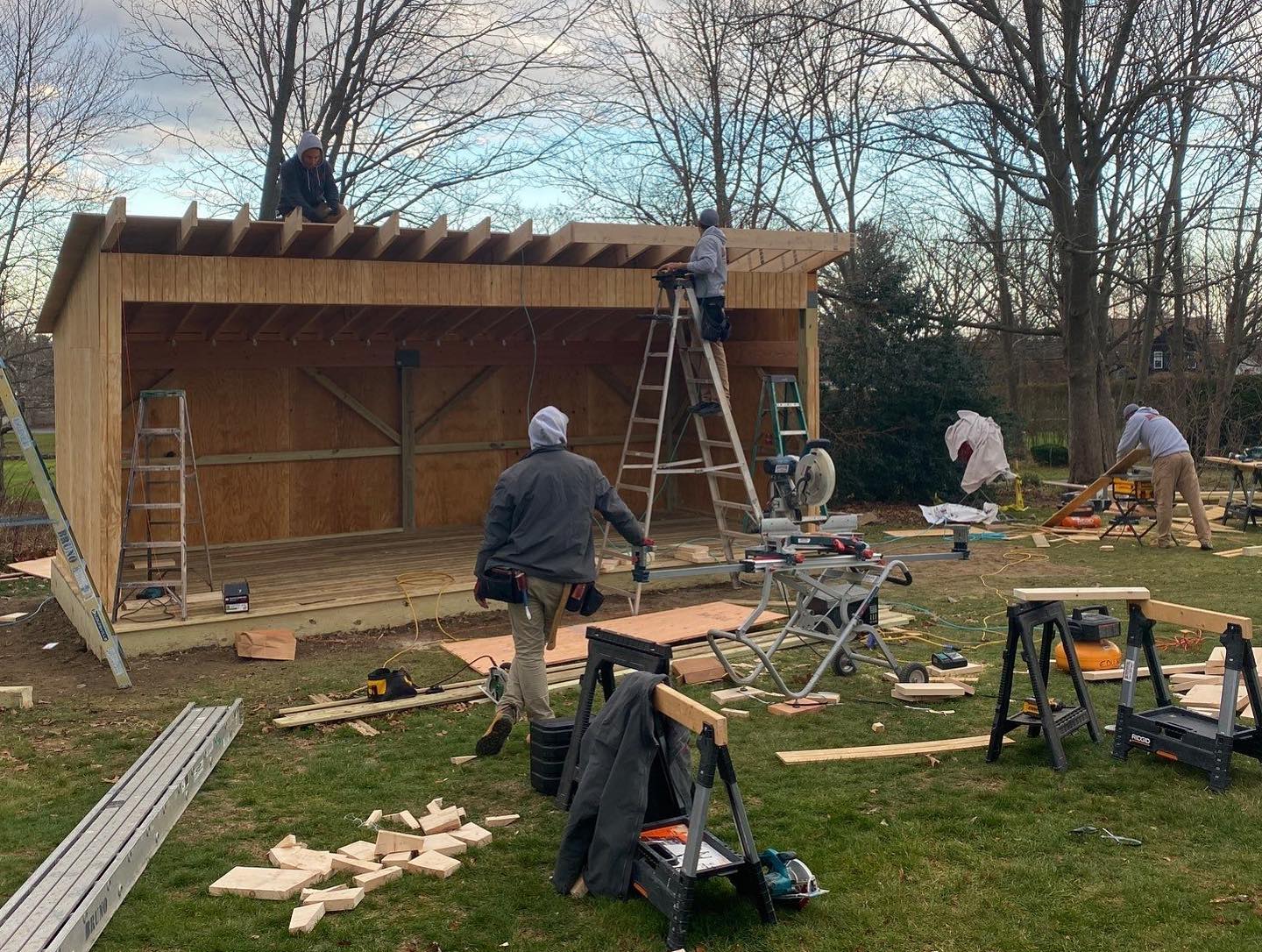 What Your Carpentry and Painting Quote Includes
After considering all the details of your project, your painter will generate a detailed quote for your review.  From repairs, paint types, required tools, and more, the goal of this process is to leave you with a specific and accurate estimate of the cost and time for your project.
Your carpentry and painting quote should include the following details:
Cost of labor
Material costs
Rooms priced separately with detailed explanations of work included
Description of surface prep work (resurfacing, priming, etc.)
Suggested and/or required repairs
Details of paint application (including the brand name and number of coats of paint)
The house painting quote should also provide a project timeline with step-by-step descriptions of the proposed plan. Overall, every important detail should be included to avoid any hidden charges or surprise fees. In fact, professional painting companies sometimes complete unanticipated work or make other necessary adjustments and still complete your job well and on time, without adding to your cost
Your painting quote will show a breakdown by room, showing labor costs, materials costs, and other line items. There may also be an additional cost for any necessary repairs. Additionally, your painting contractor should provide proof of insurance and liability coverage to guarantee that your home is covered in case of an accident or damage.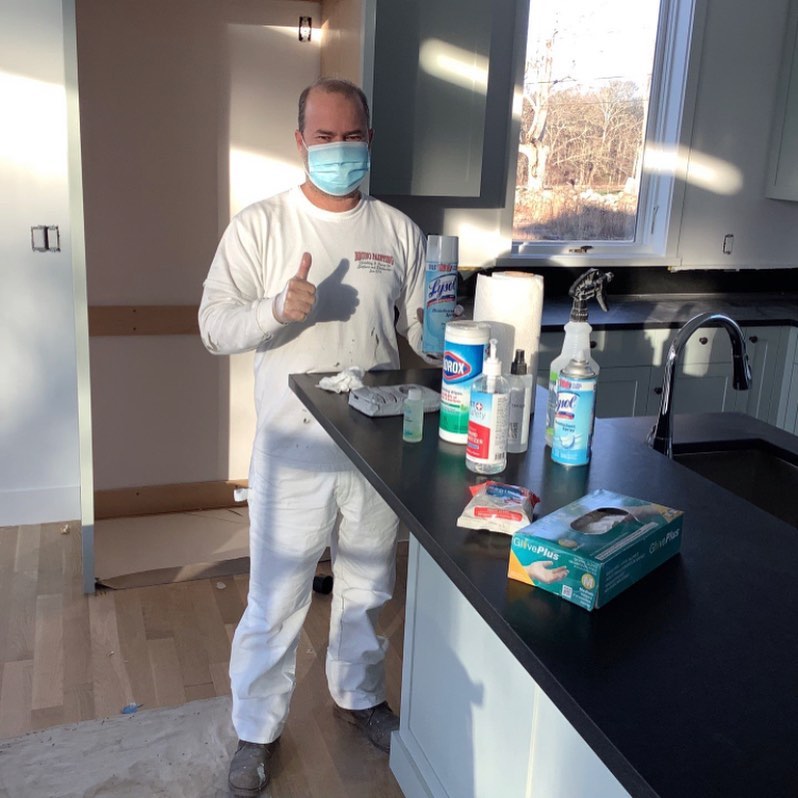 The Unwritten Expectations
You should expect each painter adheres to the highest professional standards. You should feel at ease knowing that you will be treated with the utmost respect and courtesy and that your home is in good hands.
While caring for your home, your Lead Painter should be able to provide you with updated policies when it comes to COVID procedures and how your family will be protected throughout the project. At the end of the day, your painting contractor should act professionally to care for both you and your home.
Winter on the Classic Coast is truly an ideal time to schedule a home painting project. Reduced demand for exterior painting allows professional painting companies to offer discounts and greater flexibility in scheduling to meet your needs.
Bruno Painting has been upholding & caring for surfaces and relationships since 2004. If you have been considering painting your home, but have been reluctant to get started, we would be happy to walk you through the estimate process. Some of our clients are so happy with our work, they've shared their experience with us. Feel at ease knowing you're in the best hands with carpenters and painters who care about your home as much as their own.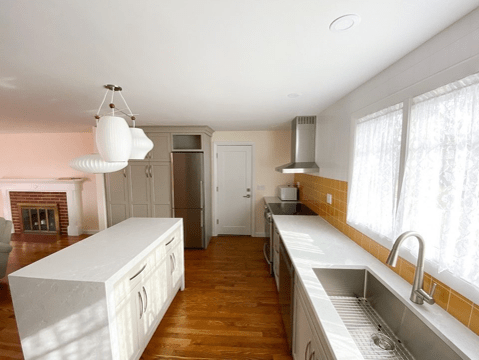 Case Study - Portsmouth Kitchen Remodel
Earlier this year, the Bruno Painting, Carpentry, and Remodeling teams completely remodeled a Portsmouth kitchen. The homeowners wanted to update and modernize their kitchen. In our initial consultation and estimate with our clients, we decided that a new layout with added features would be the best use of their space.
Initial Consultation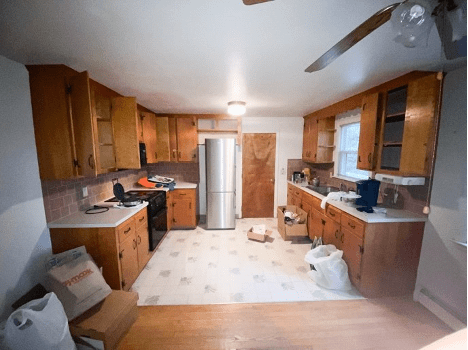 To understand the homeowners' needs, we asked them some important questions about their current kitchen, how it fit their family's needs, and in what ways was it no longer a fit for their family's needs. You can ask yourself these questions if you're considering a kitchen remodel to help guide your renovation project.
Does the flow of your kitchen make sense?
If you have an awkward layout or the configuration of your kitchen makes cooking more difficult than it should be, you may want to remodel. For those looking for added storage, updating your kitchen is an excellent method of improving the functionality and convenience of your kitchen. You may even be surprised at the increase in efficiency and how much extra time you'll want to spend there, once your kitchen flows the way you want.
Does your kitchen meet your needs?
For those with a growing family, you need a space that can adapt and change with your family. From family gatherings to distance learning, having the proper space is imperative.
Is your kitchen outdated?
If you have grown accustomed to older appliances that don't work the way they should or if you have linoleum flooring from when your home was first built, it may be time for an update. In fact, these old components may be more than just an eyesore. Reports have shown that outdated appliances are a common cause of house fires, and a majority of house fires start in the kitchen. Keeping your family safe by updating may be one of the best decisions you make all year.
What is your budget for a kitchen remodel?
Some decide to change their kitchen's appearance by sanding and repainting their cabinets and walls as a quick facelift for their kitchen space. This is a great option for those with a tighter budget and when the overall flow of a kitchen space still works. Additionally, if you're thinking of selling your home soon (within the next year or so), a smaller update may be the way to go. According to Zillow, nationally the average ROI for a minor kitchen remodel is 81.1%!
If your budget has fewer or no limits, there are many ways to lean into a full-scale kitchen remodel, including adding new lighting, fixtures, countertops, a wine fridge, high-end appliances, an exquisite backsplash, and the list goes on. The sky is the limit.
Once we completed our initial consultation, the homeowners' and our team determined that a major kitchen remodel was right for them. Our team got to work and over the course of 30 days, we completely changed the layout of the kitchen so that it felt more open, bright, and welcoming.
Gutting a Kitchen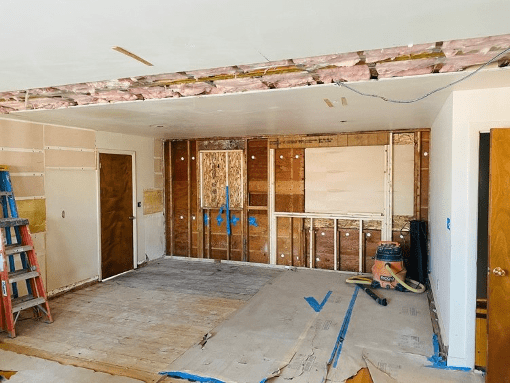 For this particular home, the first step was to completely gut the kitchen. The cabinets and countertops were old and outdated so they and everything else was removed. In their place, our carpentry team built a floor to ceiling storage area next to the fridge, as well as a partial wall, to make the rooms feel separate yet open.
We took out the dividing wall to open the kitchen to the living room area, which makes hosting guests even more enjoyable. With the dividing wall removed, the tile in the kitchen didn't fit the aesthetic of the entire space. Hardwood flooring that matched the living room was installed to give it a more modern look and to tie the two rooms together.
Installing New Appliances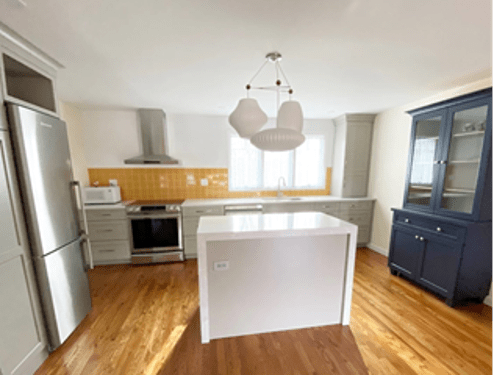 With the new layout, we were able to install a new stove and sink in places that made the flow of the space ideal for these homeowners. These homeowners opted to use their existing refrigerator to reduce costs but chose to add a new dishwasher. Moving the sink and adding the dishwasher meant that the plumbing needed to be moved and updated as well. This welcomed update was carried out by our carpentry division who has skilled plumbers ready to make these types of adjustments.
The hood for the stove was an added feature that brings a modern feel to this space. In order to install the range hood, our carpentry team replaced the window that was there originally with a larger one over the sink. Some electrical rewiring was necessary to make the new arrangement work properly.
Final Touches
The island and hutch were chosen by the homeowners as a beautiful way to maximize storage space. The countertops were carefully selected to brighten the room and complete the modern look of this kitchen remodel.
You'll notice the updates to the light fixtures truly pulls the remodel together. With recessed lighting installed over the sink and a modern chandelier over the island, the room is well lit into the night. Finally, some bright tile used as a backsplash for the stove and sink were installed.
Once all these updates were made, our painting team finished the space update with a fresh coat of paint on the walls and the kitchen remodel was complete!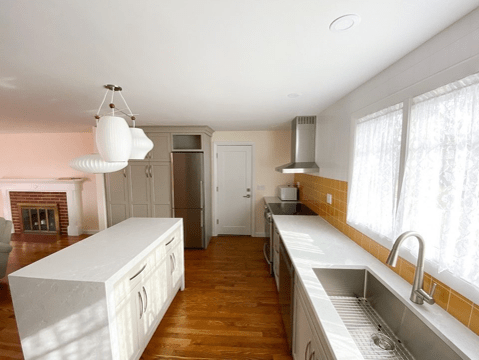 The final product is a beautiful kitchen with great flow, lots of natural light, and an open-concept space.
Upholding & caring for surfaces and relationships since 2004 isn't just our mission statement. It is our reminder to ourselves as well as our community that we are committed to excellence.
By caring for you and your home, we strive to make each of our clients feel like family. Reach out to discuss your remodeling project ideas and let us help you create the kitchen of your dreams.
Realtors and homeowners alike will tell you that a bathroom or a kitchen remodel are two of the most effective ways to increase your home's market value and attractiveness. Your investment in updating either your kitchen or your bathroom (or both) goes well beyond just the monetary value. 
If remodeling your kitchen or bathroom is something you've dreamed of, hiring a carpentry-focused company is a smart move to make so the project, not only meets your standards, but is also completed using the ideal materials and techniques for the best possible finish. Here are a few important questions to ask when you are searching for a contractor for any home remodel.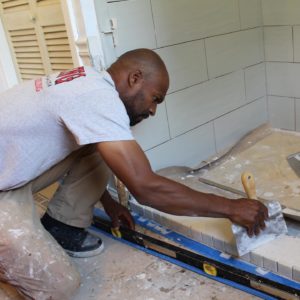 Why a Carpentry-Focused Company?
For homeowners interested in full bathroom or kitchen remodels, a carpenter is the key hire to making sure your newly renovated rooms are completely functional and maximized to their highest potential. Carpenters shape the structure that defines bathroom and kitchen spaces. They build the framework upon which all other components, like electrical, vents, piping, and insulation, will be implemented. 
General Contractors will tell you that the first hire they make when working on a new project is subcontracting a carpenter. You can skip the costly step of hiring a contractor yourself, and, instead, work with a company who has their own in-house, on-staff carpenters already on their team who are poised and ready to give you the best results for your carpentry project.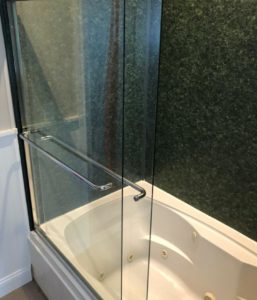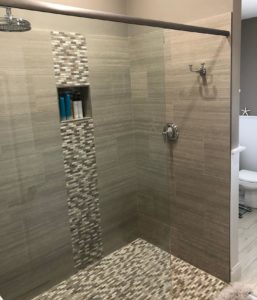 What Edge do Experienced Carpenters Bring?
Having experience in remodeling bathrooms, kitchens, and other areas of the house, both interior and exterior, carpenters can create unique and beautiful spaces. With their keen eye on detail along with their experience working with the wood and other materials used in your home, carpenters make spaces come to life and really can transform any space. By utilizing the potential of your space, carpenters can deliver amazing results in little time, all while staying within your budget.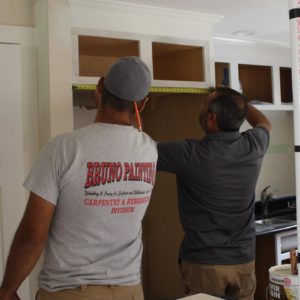 Should you Complete your Remodel yourself?
In some cases, skilled homeowners can tackle certain parts of home projects. For the most part, however, homeowners do not possess the skills necessary to renovate a kitchen or bathroom space to their own high standards. In fact, we've been called in more times than we can count to redo the space renovated by a homeowner on a well-intentioned DIY project.
When it comes to flooring, walls, tile, and other bigger parts of a remodel, professionals should be in charge. The reasoning behind this is that both bathrooms and kitchens, if something goes wrong with the plumbing specifically, are prone to water damage like wood rot, mold, and other potential health hazards. Professionals, especially carpenters, know signs and symptoms to look for in the remodeling process to prevent damage from developing into larger problems. Experienced carpenters are also trained to identify any existing issues when they remove wood or other materials to find some of these unwanted conditions.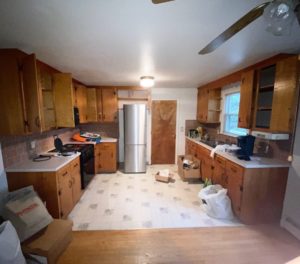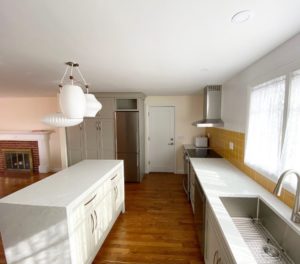 What Updates are Necessary?
The most beautiful part of a remodel is that you can make a kitchen or a bathroom look and function exactly the way you want. Among the infinite bathroom and kitchen projects are: Adding storage, creating a new pantry, or having a second sink installed to stop those fights over who brushes their teeth first; custom designing a large, uniquely-shaped island for large family gatherings; and putting a tub in where there was only a shower to make your home more appealing to young families. The list of projects and the ability to think of them and design them, goes on and on. Thankfully, contractors can help make these important decisions so you get exactly what you want, with a quality finish that only experienced carpenters can deliver.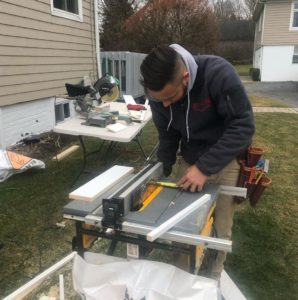 Do They Offer a Warranty on their work?
Finding a quality company means finding one that offers a warranty on the work they do. A strong warranty is essential to your peace of mind. 
At Bruno Painting, before hiring any carpenter, we ensure they have years of experience in siding replacement, window and trim repair, and installation to provide only the highest quality work on every project and remodel. To Uphold & Care for Surfaces and Relationships has been our mission since 2004. 
Bathroom and kitchen remodels are some of our favorite projects as they give us the opportunity to demonstrate our carpentry, finishing, and painting skills demonstrating our commitment to our mission. Our experienced paint and carpentry teams work closely with plumbing and electrical experts to offer you quality service that exceeds expectations. Tell us about your next bathroom or kitchen remodel ideas, and let our carpenters take your home renovation project to the next level.
When Rhode Island residents aren't out exploring the beautiful attractions and taking in the sites of the coast, we are entertaining family, friends, and others at our home. It's no wonder why so many have been taking time to focus on home improvement projects during this break from normalcy. If you've also thought about hiring someone to do home improvement projects, take a look at these six carpentry projects that are worth the time and monetary investment for your home.
Decking
It has been said that 'wasting time on the deck is time well spent.' If this is true, then deck updates will be put to good use. From just repairing or staining to a complete overhaul of your deck, you can create an outdoor space that will bring years of enjoyment.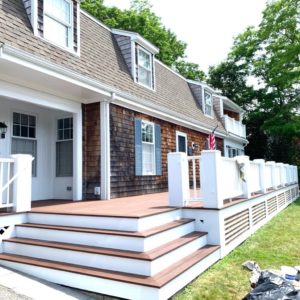 If your deck is already in great shape and you are looking for a more sophisticated look, you may want to consider having a carpenter build a pergola. The shade and design of a professionally built pergola can take your backyard space to the next level.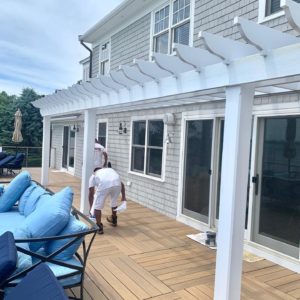 Kitchen Cabinets
Your kitchen is an integral part of your home, so it needs to function well and facilitate traffic flow. Kitchen remodels are not only one of the most satisfying home projects, they also are one of the most sought after by homebuyers when homes are on the market. The importance of a well-crafted kitchen project cannot be overstated. Master carpenters know how to make the most of any space and create storage that maximizes a kitchen's potential.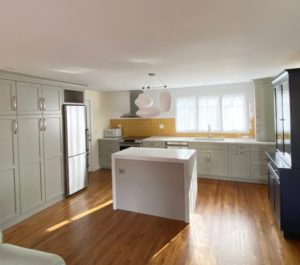 Mudroom
Having all four seasons is just one of the many reasons why we love living in Rhode Island. With the weather, however, comes all the different gear you and your family need to be ready for whatever mother nature decides to bring us. Cue the mudroom. If your entryway or landing space has any room, consider having a contractor construct a mudroom. The added storage alone makes it an easy decision. Not only will you be able to store all those winter gloves and hats in a way that would make Marie Kondo happy, but you'll also be able to keep the rest of your home clean and tidy.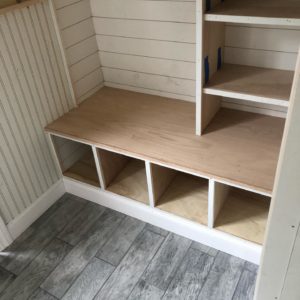 Home Additions
If your family is growing, you may have been considering adding onto your home. Or maybe you have been waiting for the perfect time to turn your porch into a three- or four-season room. Whatever the addition may be, the added square footage to your home brings benefits to your comfort and will likely add value to your home. Having a contractor who can make your addition fit seamlessly with the rest of your home is vital for continuity. Look for the right contractor who can produce a quality build and make it aesthetically pleasing as well.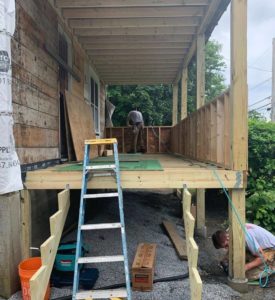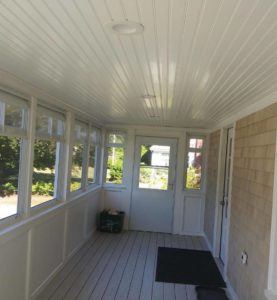 Reshingling - Replacing Exterior Siding
Siding is one of the most important layers of protection for your home. Reshingling or replacing siding that has signs of wear and tear can prevent larger issues, such as wood rot or mold. Additionally, if you already have wood rot or mold, we recommend calling a contractor as soon as possible to take care of the problem. Preventing these common issues is important and finding a contractor who can replace your siding, as well as make any further adjustments to your exterior, is an essential step to prevent any future damage.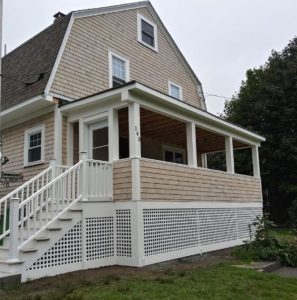 Bathroom Remodeling
A bathroom remodel is often at the top of many homeowners' wish lists for home improvements. As with kitchen remodels, updated bathrooms also top the list for homebuyers. Making this space adapt to your needs and desires can make all the difference in your home. If your bathroom has an outdated feel, a skilled carpenter can lay tile, put up or take down a new tub and shower area, add new cabinetry, and replace old vanities and sinks.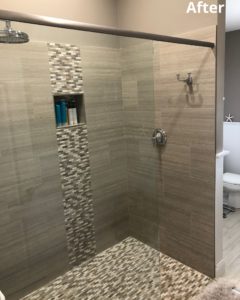 Any home updates that require woodwork require a skilled carpenter. Skilled carpenters have experience and expertise with different types of wood and materials to create cabinets, tables, shelving, and other room furnishings. With the right knowledge, a master carpenter can custom make any of these furnishings to your specifications. 
At Bruno Painting, we are proud of our carpentry and remodeling division of skilled and master carpenters who have refined their skills and produce incredible results. Our carpenters work ahead of our painting division to ensure that your home gets the quality work it deserves.
Email Bruno Painting the details of your next wish list project. Or call us for a free interior or exterior painting and carpentry estimate.