Summer is officially here and with it comes late nights and long weekends outside enjoying our incredible Rhode Island weather. Now more than ever our homes have become our central hub for work, play, and entertainment. However you enjoy your outdoor area, a great looking, well-maintained deck is essential for enjoying your view from your back deck.
Over time, decks begin to show signs of natural wear and tear that need to be addressed. Most importantly, taking care of your deck will help keep your home protected from damage. Thankfully, our experts at Bruno Painting have put together a list of signs to look for so you know when your deck needs to be repaired.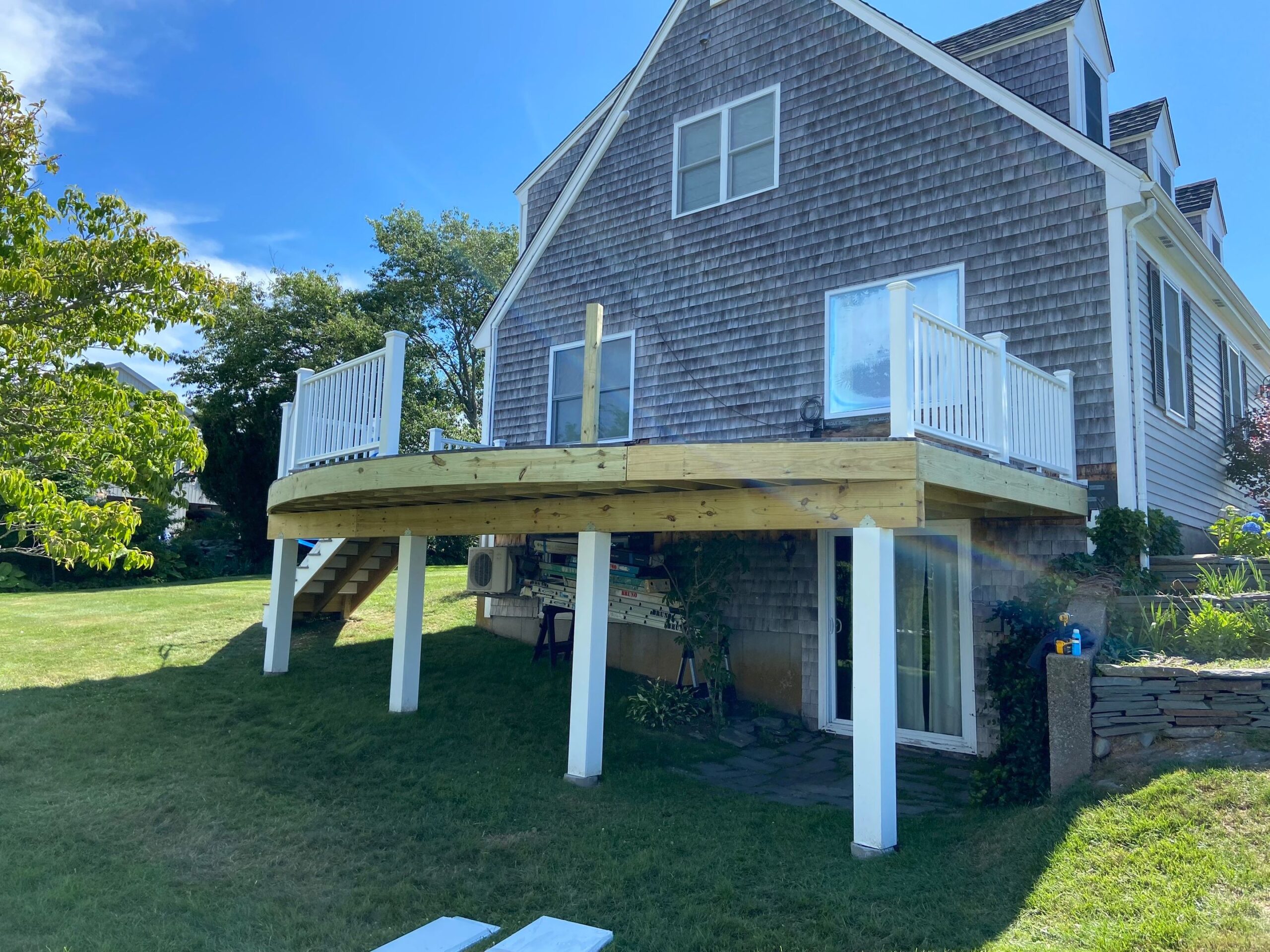 Condition of Your Deck
The most common material for decks in Rhode Island is pressure-treated lumber. For many decades, this sturdy material was the default choice for builders on the classic coast. As with any natural building material, repeated exposure to the elements will cause wood to swell, split, crack, cup, and warp in humid, precipitous climates. Exposed screws or nails from splintering wood, fading or discolored boards, or boards that are soft and spongy to the touch are all clear signs that your deck needs to be repaired.
Deck railing and handrails are other common areas of your deck that require regular attention. Loose handrails can pose a serious hazard to you and your guests if left to weather and wear down over time. Railing is a key component to your deck's aesthetic and to its function, most especially if you have a raised deck and the railing protects against a fall.
If your deck is attached to your home and has wood that is exposed, moisture can seep into joists, ledger boards, and siding of your home that is attached to your deck. This can ultimately expose your foundation to excessive moisture that may lead to larger issues such as mold, mildew, and decay. As long as your deck is cared for properly and regularly maintained over the years, your deck can support your home's health, instead of causing damage to it.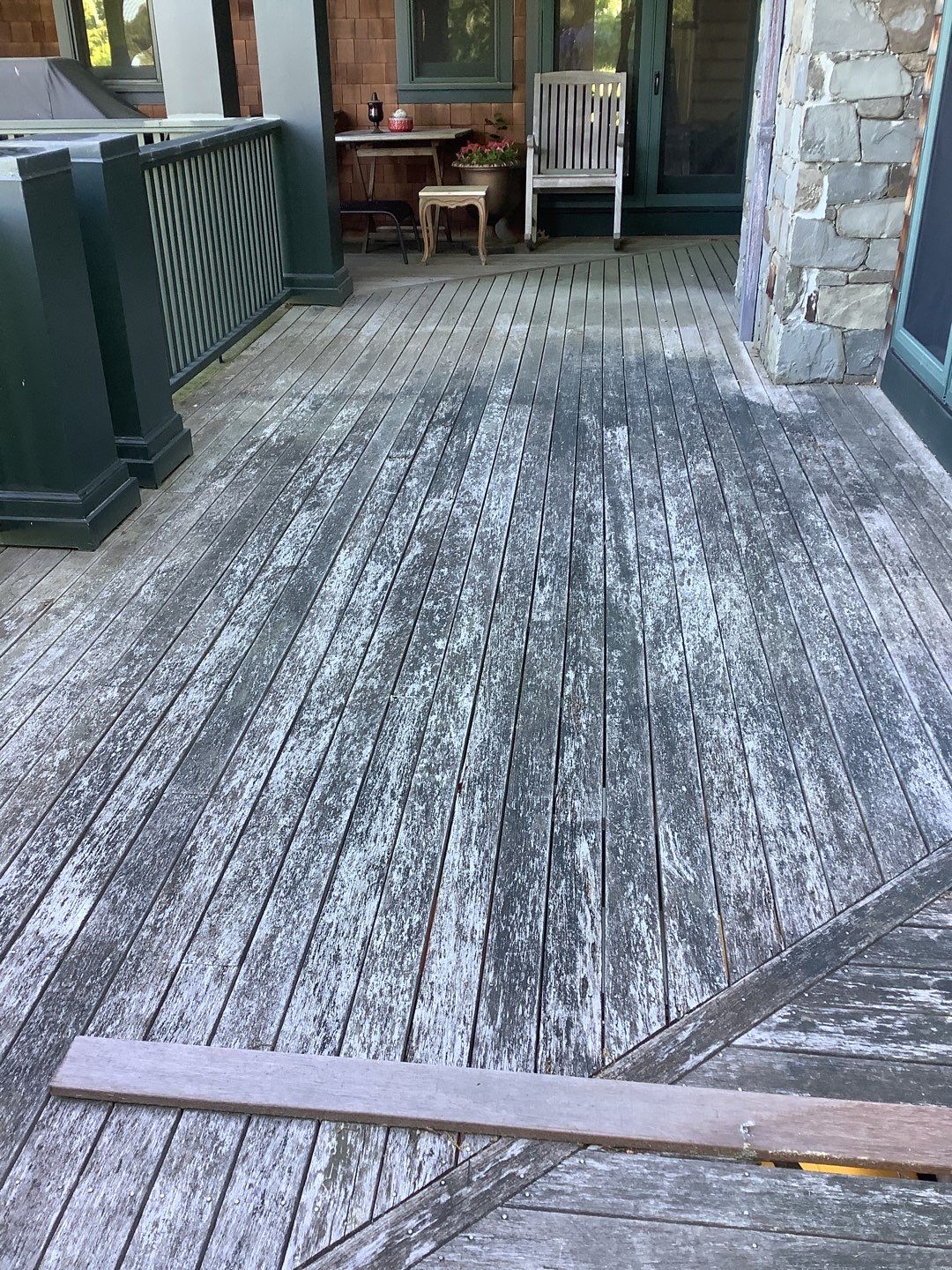 Stain and Finish Peeling
A wooden deck shows obvious signs when it is time for a new coat of paint or stain. Previous coats of sealant will begin to fade and peel revealing exposed wood underneath. This can happen with heavy foot traffic, weather, and everyday life. 
Surfaces needing to be repainted or restained should be completely cleaned and dry before applying a stain. Due to the necessary drying time for stains, the forecast will need to call for clear, sunny days with warm temperatures and low humidity to allow the stain to set properly. Without these conditions, your stain may not bind properly and may need to be reapplied. 
Painting versus Staining
There are pros and cons to both painting and staining your deck. Some prefer stain because it allows the natural wood grain of your deck to show through. With stain, an all-in-one protective layer with a wood preservative is already incorporated. On the other hand, paint can provide an added layer of protection, as well as a different look and aesthetic.
Regular cleaning and treatment of your deck is a great way to extend the life of your deck. On average, decks are typically repainted or restained every two to three years. This can vary, though, depending on how much you utilize your deck space.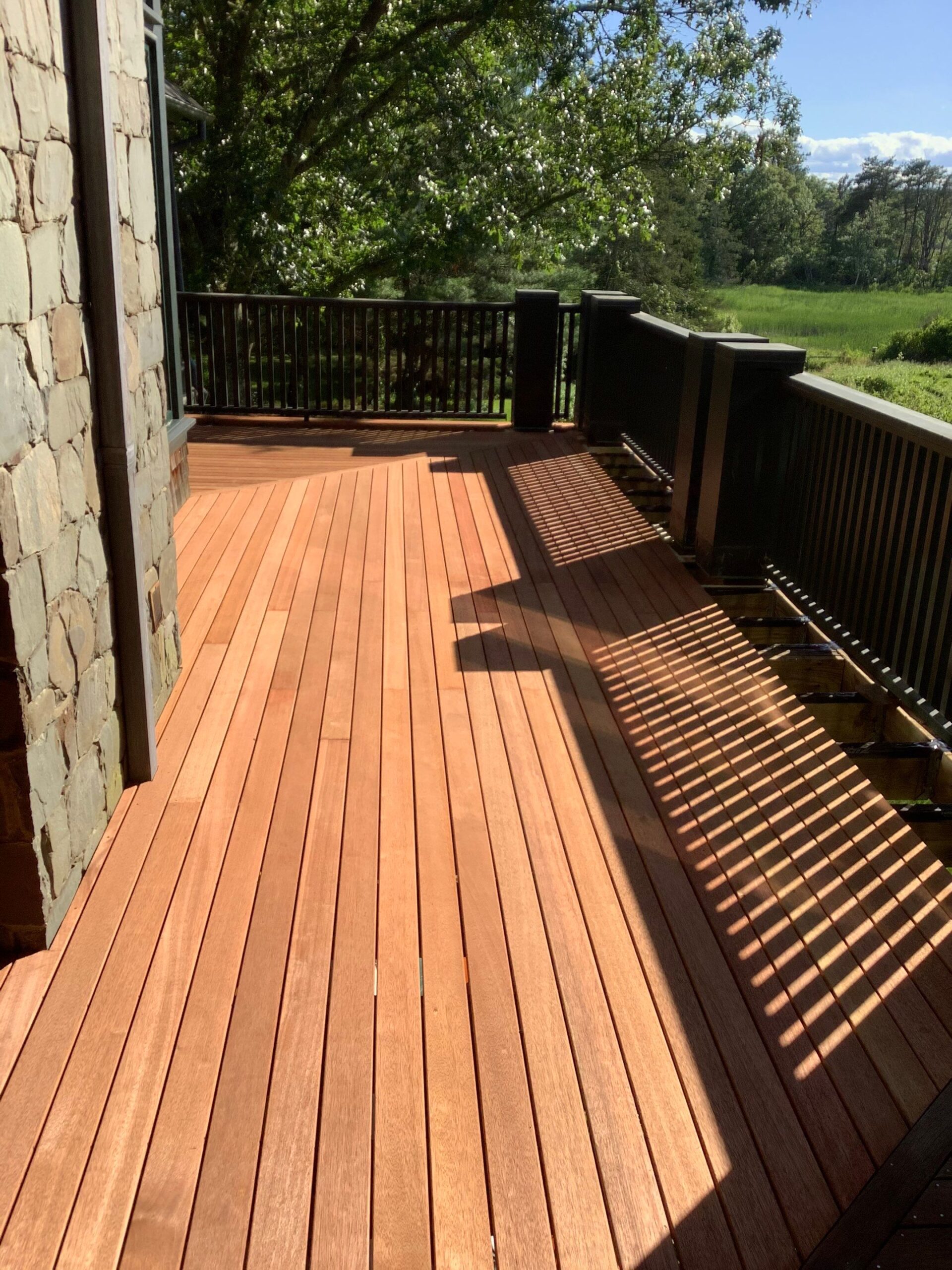 Replace Your Wooden Deck
While pressure-treated wood is one of the more common materials for residential outdoor decking, many homeowners are opting for more durable, upscale alternatives such as exotic woods like ipe and tigerwood. Other homeowners are utilizing composite deck materials (sometimes referred to as 'plastic wood') to reduce deck maintenance needs and enjoy a more splinter-free deck experience.
When you see signs that your deck needs to be repaired, our experienced carpenters can remove your old decking and replace it with any of these newer materials. During our consultation with you, we'll discuss the pros and cons of each type of decking material. This will allow you to choose what fits your design aesthetic and your budget.
Bruno Painting has been built on core values like integrity, humility, attitude, discipline, and excellence. These values are why the mission to uphold and care for surfaces and relationships is so important with every project and interaction our company has. We focus on building long-lasting relationships with our team and clients to provide the best service possible. No matter your home project, we desire to bring great service with trust, honesty, and dedication as if we were working on our own homes. Contact us today to set up a free estimate and let us transform your home this summer.
Our perfect summer weather in Rhode Island has seen many of us spending lots of time entertaining and dining outdoors, soaking in as much of the summer sun and air as possible. No matter where in our great state your home is located, a nice, well-appointed deck is a must for enjoying your yard, whether it backs up to a forest or to the sea.
Each home in Rhode Island is unique and each has specific needs for their deck and outdoor entertainment areas. While many people take advantage of the Spring weather to make exterior updates, it's also very doable to update or even build an entirely new deck during the Summer and Fall months. These are a few examples of options for you to consider for your home's decking needs.
Maintain your Deckspace to Keep Your Deck and Your Home Healthy
Some may think that a worn deck is just a sign of a well-loved home or that there isn't a real need to replace those splintering boards. However, decks left to wither can cause damage to your home and potentially cause you to have to make costly repairs. 
Depending on how your deck is attached to your home, wood rot can set in the joists, ledger boards, and even your siding. If moisture seeps into your foundation, other larger issues such as mold, mildew, and decay will start to take hold. These major areas of repair can be avoided with a deck that is sealed and maintained regularly over the years.
Replace Your Existing Deck with Newer Materials
It is no secret that we see quite a bit of moisture and humidity throughout the year. Most decks in Rhode Island have been built with pressure-treated lumber, as that was the go-to choice for deckbuilding for many decades. Pressure-treated lumber decking is affordable, readily available, durable, and easy to stain so it is no surprise that it is prevalent on the classic coast. Unfortunately, constant exposure to the elements causes pressure-treated wood to swell, crack, split, warp, makes it a relatively high maintenance home amenity in our climate. Annual pressure washing and restaining every one, two, or three years is recommended for this type of decking to keep it looking its best.
An alternative to wood for decking is composite and PVC. This mixture of recycled plastic and wood dust creates composite decking which is a synthetic, yet refined-looking, deck material that many Rhode Island homes are turning to for its many benefits.
These decks are virtually maintenance-free, weather-resistant, and come in a variety of colors and finish looks. If that isn't enough of an advantage, they are also easy to clean and won't splinter, warp, or rot. While this type of decking can cost about three times as pressure-treated wood, it can potentially save homeowners in the long run.
Pressure Treated Decks
If you love the look and feel of real wood, consider the following options some Portsmouth and Newport homeowners have used to satisfy their desire for a 'real wood' deck. Note that some decks are constructed using cedar, exotic woods, and some really amazing, high-end real wood products. Be sure to ask your contractor and their team of carpenters to show you all of the many, many choices of real wood that are available to you if this material is your preference for your next deck.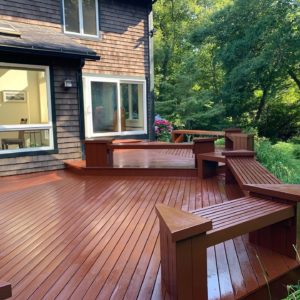 This multi-level low platform deck makes great use of this backyard space. The real wood deck and benches next to the garden create the feeling of a privately enclosed, secret garden. An oasis, a backyard paradise.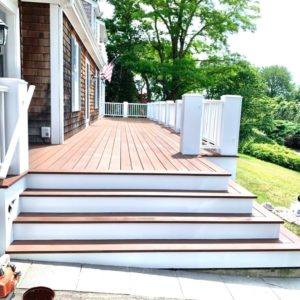 This wooden deck in Newport had new boards installed which were sanded, stained, and reinforced to create this beautiful aesthetic. The railing and stairs were replaced to keep the deck structurally sound.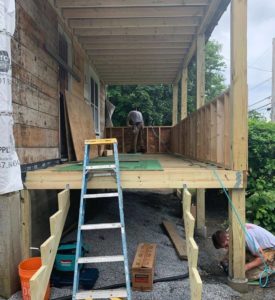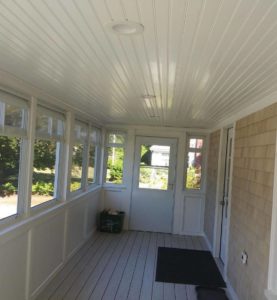 A raised pressure-treated deck in Portsmouth was completely transformed into a closed-in porch. The contractors built the overhang and installed windows to give this homeowner a completely new three-season space to spend their time.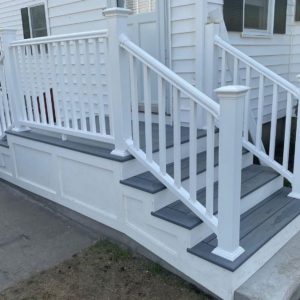 A back door landing repaired and painted to match this beautiful home. Even small spaces deserve a good looking deck and staircase.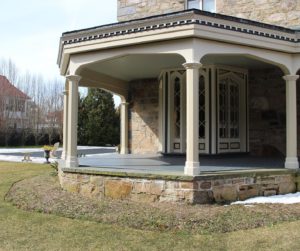 This unique stone home in Portsmouth went under some repairs including the porch area. The original wood was protected from the elements, sanded, and painted a beautiful grey.
Composite and PVC Decks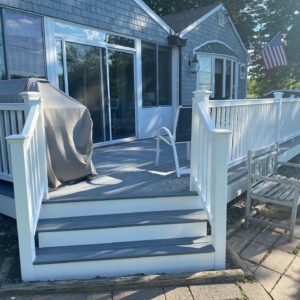 An old wooden deck in Middletown was replaced with composite decking and a new PVC railing. The colors match perfectly to the shingles of this home.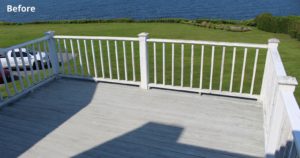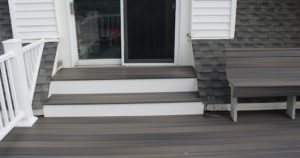 An elevated deck boasting a beautiful view of the water off of a roof is featured here complete with a bench. The railing is constructed from  PVC and composite wood for the deck boards as well as the lovely bench.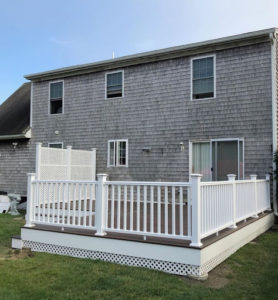 This larger composite deck boasts a privacy fence installed for these homeowners to entertain and enjoy the beautiful weather in a secluded area.
Regardless of the material, your deck and porch can, not only look its best but also be maintained regularly for the rest of your home's protection. If you done your deck maintenance in the spring, take advantage of this time to update your existing deck or create a whole new backyard oasis.
Our mission at Bruno Painting is "to uphold and care for surfaces and relationships." The carpentry and painting divisions that make up our team have some of the most skilled and caring professionals in all of Rhode Island. We look forward to the pleasure of restoring your deck this Summer or Fall for you to enjoy all year long. Call us or email us to discuss your deck, painting, or other home improvement project.