Carpentry projects are a fantastic way to transform your home, enhancing both its functionality and aesthetics. Whether you're aiming to create a cozier living space or increase your home's value, there's a carpentry project that's perfect for your needs. Read on to explore a range of common carpentry projects that can elevate your home, and get inspiration and practical tips to get started. From crown molding to under-stair storage, Bruno Painting has you covered!
15 Common Carpentry Projects
1. Crown Molding and Wainscoting
Crown molding and wainscoting are two timeless carpentry techniques that can instantly add sophistication and charm to any room. Crown molding, installed along the junction between the wall and ceiling, gives your home a touch of elegance. Meanwhile, wainscoting, which consists of wooden panels applied to the lower part of walls, creates a classic, warm ambiance.
2. Closet and Cabinet Updates
Is your bedroom or kitchen cluttered and disorganized? Closet and cabinet updates can make a world of difference in your home's functionality. Transform your chaotic spaces into organized, efficient areas with custom-built closets and cabinets. Whether you're revamping your bedroom closet for more storage or installing new kitchen cabinets for a modern look, this carpentry project will make your daily life more manageable and enjoyable.
Opt for custom closet and cabinet designs that maximize space utilization. Consider incorporating pull-out shelves, dividers, and hanging solutions to keep your belongings tidy and accessible.
3. Built-In Shelving
Built-in shelving not only provides practical storage solutions but also adds a unique character to your home. Whether you're looking to create a cozy reading nook with built-in bookshelves or want to display your collectibles in a stylish way, custom-built shelving can be tailored to your needs and the layout of your home. Showcase your personality and style by selecting the right finish and design for your built-in shelving. Consider contrasting colors or incorporating lighting to make your shelves stand out.
4. Creating a Mudroom
Mudrooms are a game-changer, especially for families. They serve as a transition space between the outdoors and indoors, keeping dirt and clutter at bay. With a well-designed mudroom, you can organize shoes, coats, bags, and more. It's a practical addition that can also enhance your home's resale value. When designing a mudroom, focus on functionality. Incorporate plenty of hooks, storage cubbies, and a durable flooring material that's easy to clean.
5. Updating Home Office Space
As remote work becomes increasingly common, having a comfortable and functional home office space is essential. A carpentry project that involves updating your home office can boost productivity and make your work environment more enjoyable. Custom desks, shelving, and storage solutions can be tailored to your specific needs and design preferences. Consider incorporating ergonomic design principles into your home office project. A well-designed workspace can improve your posture and reduce the risk of discomfort or injury.
6. Garage Cabinets & Shelving
Maximize the storage potential in your garage with custom cabinets and shelving. This project not only helps you keep tools, sports equipment, and seasonal items organized but also creates a clutter-free space for parking your vehicles.
7. Basement Cabinets and Storage
Transform your basement into a functional living space with custom cabinets and storage solutions. Whether you're creating a home gym, a playroom for the kids, or a cozy entertainment area, carpentry can help you optimize the layout and storage.
8. Update Railings
Upgrade your home's interior or exterior railings to enhance safety and aesthetics. Choose from a variety of materials and designs to match your home's style, whether it's a sleek modern look or a classic wrought iron railing.
9. Deck
Revamp your outdoor living space by building or renovating a deck. A well-designed deck provides a perfect place for relaxation, entertaining guests, or enjoying a meal outdoors. Be sure to choose durable materials that can withstand the elements.
10. New Interior Doors
Replace outdated interior doors with stylish and functional alternatives. Custom interior doors can improve the flow of natural light, enhance privacy, and add a touch of luxury to your home.
11. New Front Door
Your front door is the first impression guests have of your home. Upgrade it with a high-quality, aesthetically pleasing door that not only improves curb appeal but also enhances security and insulation.
12. Under-Stair Storage
Maximize underutilized space by creating custom storage solutions under your stairs. From built-in cabinets to pull-out drawers, under-stair storage is both practical and space-saving.
13. New Kitchen Pantry
Transform your kitchen into an organized oasis with a custom-built pantry. A well-designed pantry can make meal prep and grocery organization a breeze.
14. Attic Project
Consider converting your attic into a functional space, whether it's an additional bedroom, a home office, or a cozy reading nook. Carpentry can help you make the most of this often-underutilized area.
15. Front Porch/Updated Front Stairs
Enhance your home's curb appeal by updating your front porch and stairs. Consider adding decorative railings, columns, or a fresh coat of paint to create an inviting entryway.
Conclusion
Carpentry projects are a versatile and effective way to elevate your home's aesthetics and functionality. From classic choices like crown molding and closet updates to more innovative ideas like under-stair storage and attic conversions, there's a carpentry project to suit every homeowner's needs and preferences. Whether you're embarking on a DIY adventure or seeking professional carpentry services, investing in these common carpentry projects can transform your living space and enhance your overall quality of life. Start planning your next carpentry project today and watch your home reach new heights of comfort and beauty.
Find Your Home's Potential with Bruno Painting's Expert Carpentry Services
Are you ready to transform your home with stunning carpentry projects and bring out its true beauty? Look no further than Bruno Painting! Our expert carpenters are ready to turn your ideas into reality. Don't miss out on the chance to elevate your living space and add value to your home. Contact us today to schedule a consultation, learn more about our Carpenter for a Day service, or get started on your dream carpentry project. Your home deserves the best, and Bruno Painting is here to deliver excellence in every detail. Let's make your home the envy of the neighborhood together – get in touch now!
Summer is here on the classic coast and with it comes enjoying the outdoor areas of your home. The summer season is also the best time to make some exterior updates to your home.
Exterior updates are a great way to boost your curb appeal, protect your home and add value to your investment. Regularly inspecting and updating your home's exterior will help to identify any potential problems.
Whether you're looking to add some curb appeal or just want to make your home more enjoyable, there are easy ways to make home exterior updates for summer. Here are some great ideas for giving your home a summer makeover.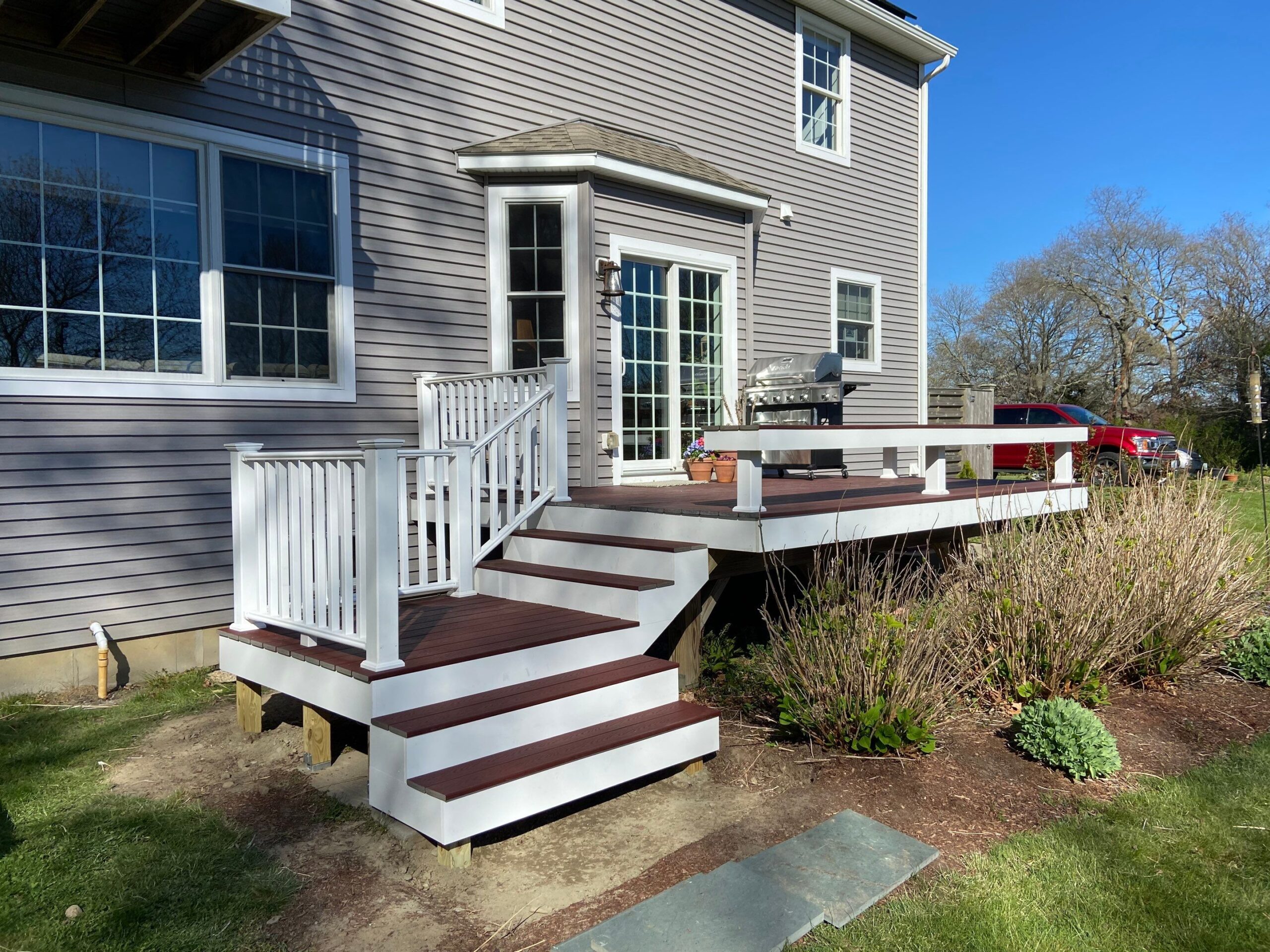 Update Outdoor Areas
Late nights around a fire pit or beautiful patio are some of the best ways to entertain and spend time with your family. Updating your outdoor spaces can extend your living area to your backyard and beyond. Try incorporating some of these into your next home improvement project.
Add Summer Plants - One of the easiest ways to update your home's exterior for summer is to add some new plants. A few colorful flowers can really brighten up your landscaping, and give your home a whole new look. Incorporate these into areas of your home that will be most enjoyed such as the walkway to your home or outdoor seating area. If you're not sure what kinds of plants to choose, talk to your local nursery or garden center for some great ideas. 
Outdoor Lighting – Not only does the addition of outdoor lighting give your exterior extra style, but adding lighting also adds protection for summer nights. Solar lights are a popular option because they're easy to install and work best for walkways or your front porch. In your backyard around outdoor seating areas, string lights can bring the perfect ambiance.
Add a Deck or Patio – If you're looking for a way to add extra living space to your home, a great option is a new deck or patio. When choosing materials for your deck or patio, pick something that compliments the style of your home. You can also add some accent colors to give your space a unique look. If you're not sure what materials to choose or how to add a deck or patio, talk to your local deck contractor.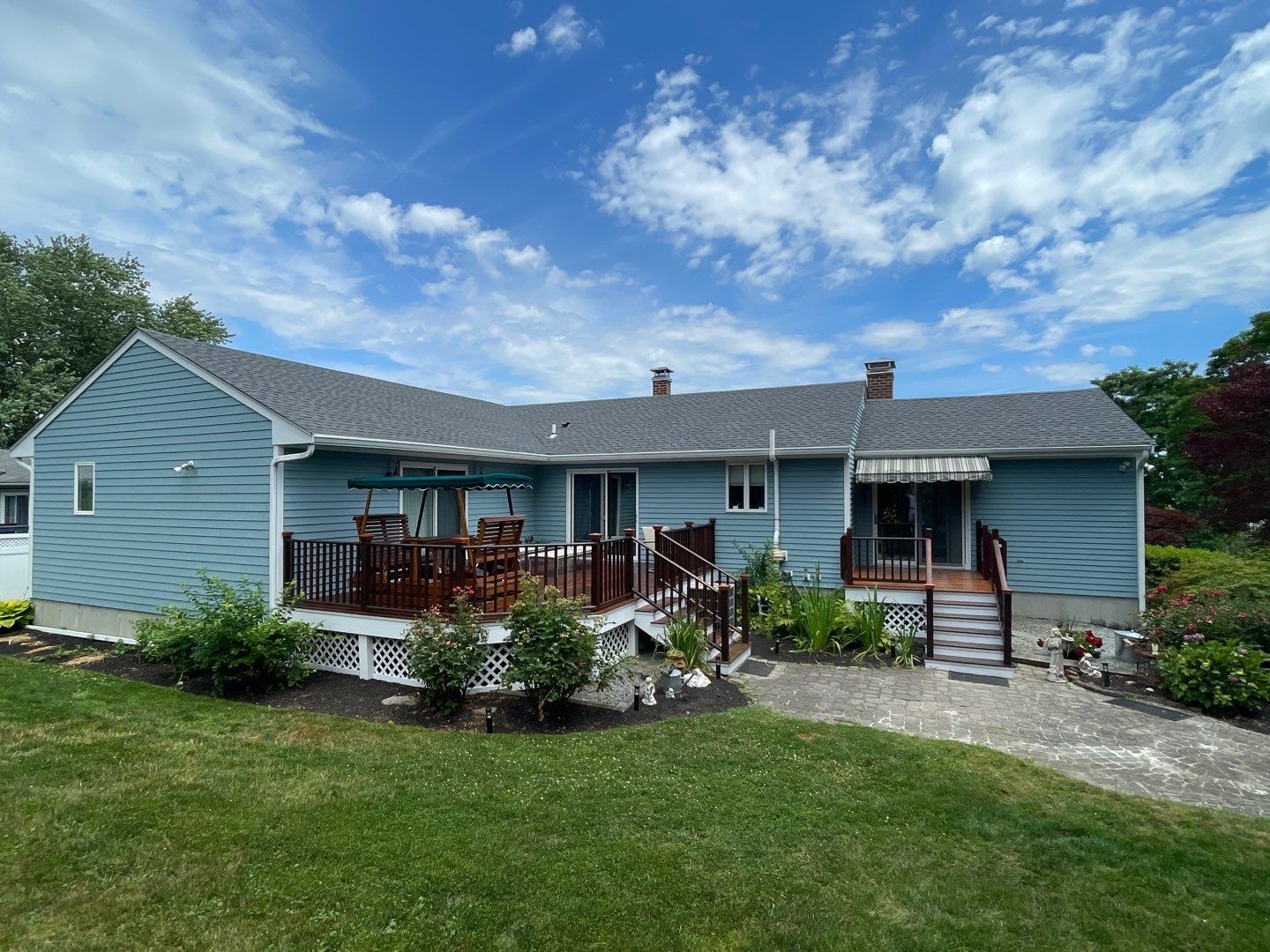 Painting Projects
Painting is one of the most effective ways to transform your home. Paint is also an incredible agent for protecting your surfaces against weather and decay. Two of the most popular updates homeowners make to their exteriors are siding and front door projects.
Painting your Siding - Change the look of your home by painting your siding. It also is one of the best ways to protect your home from the elements by providing a long-lasting barrier.
When you choose a color, first check that the new color will complement the trim on your house. You can also add some accent colors to give your home a unique look. If you're struggling with color choice, talk to your local painting contractor for color trends and options.
Painting your Front Door – A quick and easy update you can make to improve your home's exterior is painting the front door. This seemingly small project can make a big impact on your curb appeal without taking a lot of time or effort.
When choosing a color, go for something that fits your style and is welcoming. Choosing the right color for your door that makes a statement year-round is done best by using a high-quality brand trusted by professionals like Fine Paints of Europe.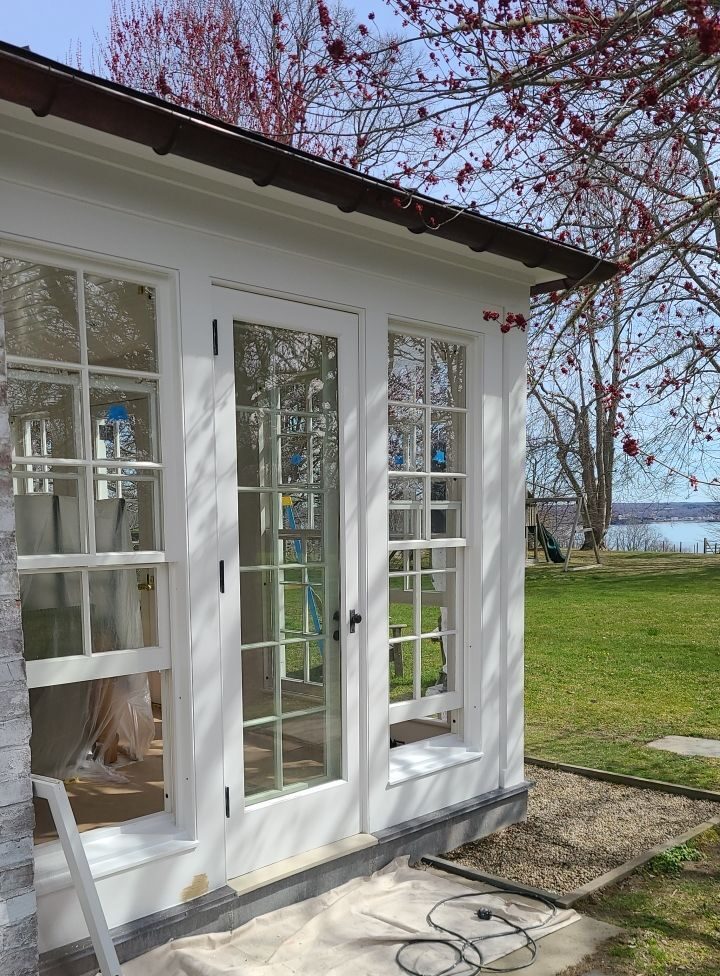 Installing New Windows
Installing new windows is a great way to update your home's exterior and improve its energy efficiency. If your windows are old or drafty, they could be costing you money on your energy bills.
New windows will keep your home better insulated and reduce your energy costs. You can also find windows that come with UV protection to help keep your furniture and carpets from fading.
Exterior updates are also a great way to improve your home's energy efficiency. Not only will regular exterior updates save you money in the long run, but they'll also help make your home more comfortable and efficient.
Updating and maintaining your exterior in summer protects your home, improves your curb appeal, and adds value to your investment. At Bruno Painting, we handle any necessary carpentry work, do the key prep work to ensure longevity in your project, and use high-quality paint. Our expert teams of painters and carpenters are ready to make your home exterior updates seamless. Contact us for your next exterior painting or carpentry project!
Spring is the perfect time to give your home a good deep clean and to do some maintenance tasks that you may have been putting off. Now that spring is in full swing, it's time to get your Rhode Island home in order for the warmer weather ahead on the classic coast. Check out our five spring home maintenance tips to get your house ready for the season. 
After a long winter, your home may need some TLC both inside and out. Our experts at Bruno Painting have helped many homeowners in Rhode Island make improvements to their homes and have compiled the most common spring home maintenance tips to focus on this time of year.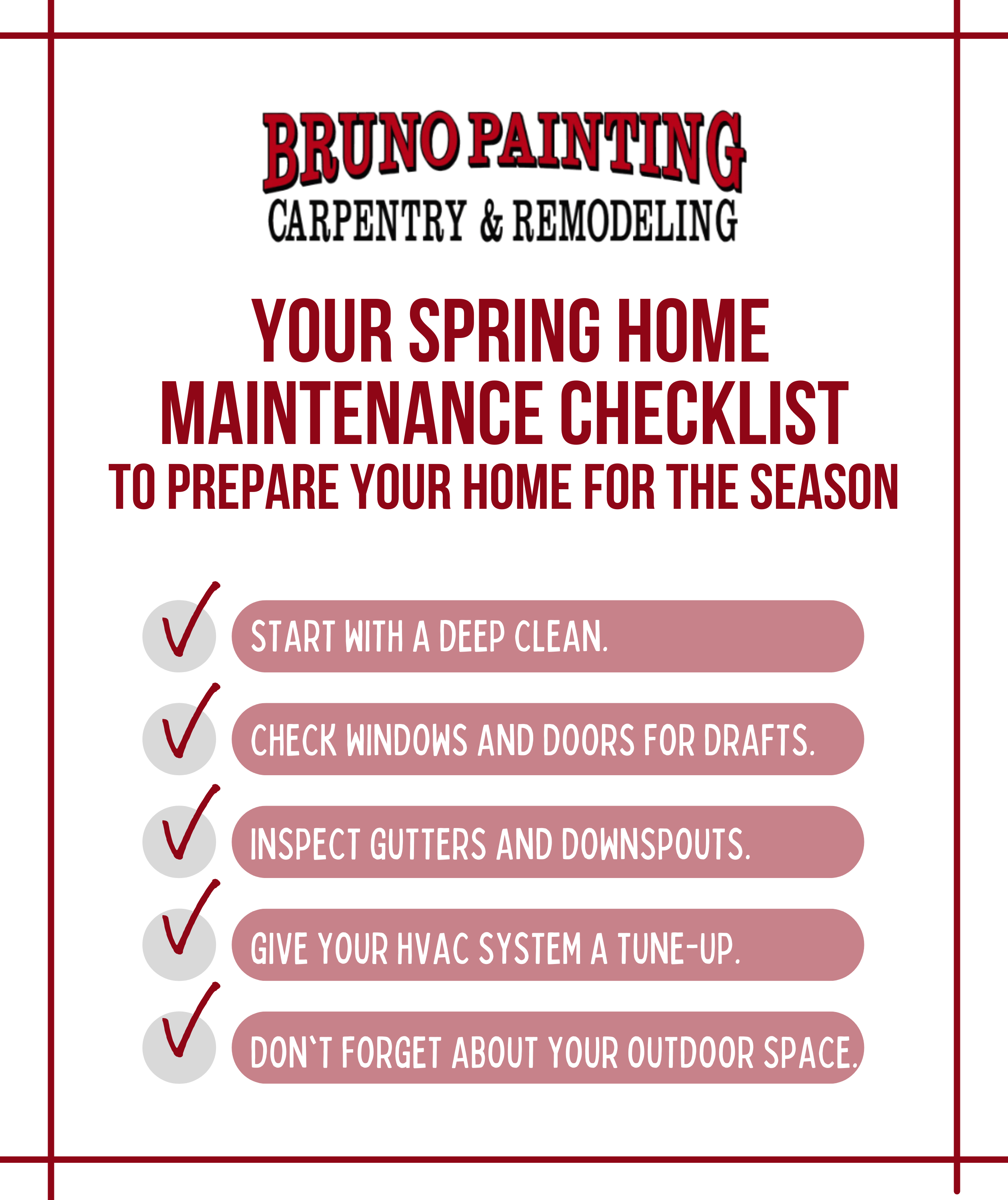 1. Start with a deep clean.
Spring is the perfect time to do a deep clean of your entire house. This means getting rid of all the dirt, dust, and grime that has built up over the winter months. Don't forget to clean those hard-to-reach places, like ceiling fans, high shelves, and under furniture.
Window washing and carpet cleaning are great ways to brighten up your home. Removing dander and pollen buildup in these areas helps clean the air in and around your home as well as reduce allergic reactions that many people experience throughout the season.
2. Check windows and doors for drafts.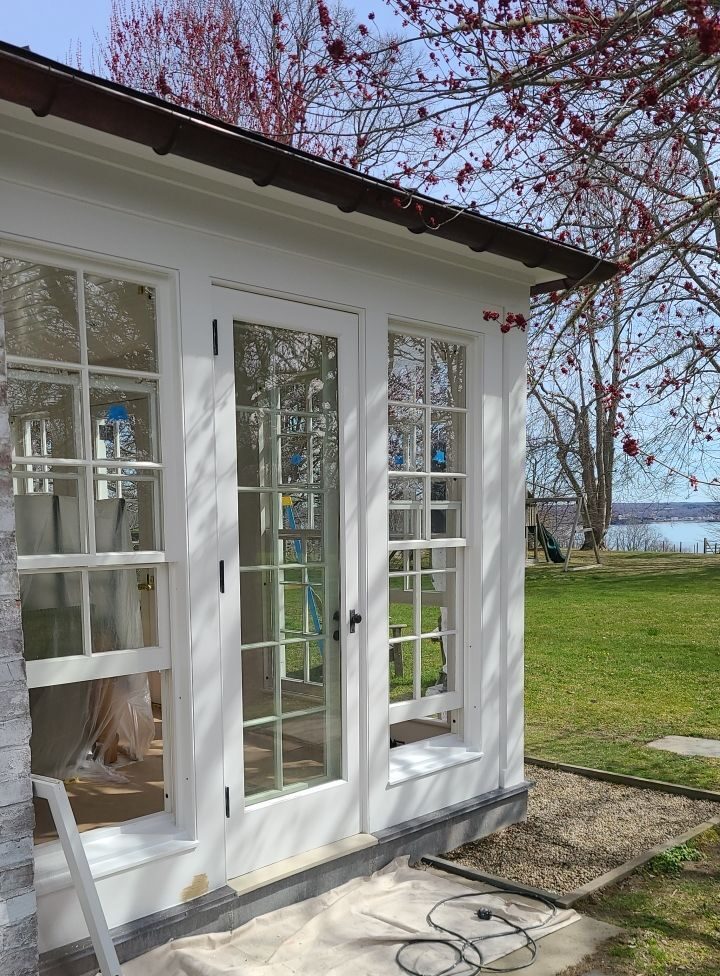 Letting in the fresh air and natural light with clean windows will do wonders for your home. But too much air can make your home feel drafty and uncomfortable. Cold air can seep into your home through cracks and gaps in doors and windows. If you noticed these types of drafts near windows and doors over the winter months, this will need to be a top priority on your spring to-do list. 
Drafty windows and doors not only make your home less comfortable, but they can also drive up your energy bills. Unwanted openings in these areas can cause moisture to accumulate, which can lead to costly damage to your home. To help prevent drafts, check all your windows and doors for any gaps or cracks. Re-caulk these areas to keep moisture out and help your home stay clean and fresh.

3. Inspect gutters and downspouts.
Clogged gutters can lead to water damage on your roof, ceilings, and even walls. During the winter months, ice dams can form which cause damage to your gutters and roof. So, it's important to inspect and clean your gutters and downspouts both in the fall and again in the spring to keep your gutters clear.
To clean your gutters, use a ladder to remove any heavy debris by hand and rinse any remaining dirt with your garden hose. If you notice any damage to your gutters, be sure to get them repaired or replaced as soon as possible.
4. Give your HVAC system a tune-up. 
Your heating and cooling systems work hard all year long to keep your home comfortable. So, it's important to give it a tune-up before the summer heat sets in. This ensures that your system is running efficiently and can help prevent costly repairs down the road. 
In addition to scheduling an HVAC tune-up, replace the air filters every three months or so to keep your system working properly and maintain the air quality in your home for everyday living.
5. Don't forget about your outdoor space.
Now that the cold weather is mostly behind us, your outdoor space should be the focus of your attention.
Now is the time to start prepping your yard and garden for the warmer months ahead. This includes tasks like mowing the lawn, trimming bushes and trees, and planting flowers.
Once your greenery is ready for the sunshine, cleaning your home's exterior is the perfect way to boost your curb appeal. This includes power washing your deck or patio, your exterior siding and gutters, and touching up your siding and trim with a fresh coat of paint. By taking care of these areas now, you can enjoy your outdoor space all summer long.
Following these simple tips can get your home ready for spring and enjoy the season worry-free. Use this checklist as a guide for things that you should do around your home this spring. 
Many homeowners in Rhode Island have spring cleaning projects well underway. If you are looking to make any home improvement updates this season or need a helping hand with making your home look its best, reach out to our team of professional carpenters and painters. 
Our team has been upholding and caring for surfaces and relationships since 2004. This spring, we're happy to help boost your curb appeal and keep your home in top shape!
Cedar shake siding is a popular type of siding for homes in Rhode Island, especially on homes that are 10 years old or older. Homeowners enjoy the iconic look as it creates a unique finish and can add a rustic yet warm look to your home's exterior. 
If you have cedar siding, it's important to take care of it properly to ensure that it looks good and lasts for many years. From installation through its lifetime, caring for your cedar shakes will help you protect your investment. Here are a few tips on how to care for your cedar shingle siding.
What is Cedar Shake Siding?
Cedar shakes are a specific type of siding material that is found on the classic coast since colonial times. It is typically made of cedarwood, though other types of wood may be blended in, and comes in a variety of colors and sizes. 
Finish options for cedar shakes include stain and sealant or paint to create an even more unique look. When you properly care for your shake siding, it can last anywhere from 10 to 15 years or more. If you take excellent care of your cedar siding, it can last upwards of 20 years or more before needing to be replaced. 
Common Issues—Wear and Tear
Shingle siding is not immune to wear and tear and there are a few common issues that you may experience over time. Due to the nature of the natural material cedar shakes are made from, they are prone to require more maintenance than brick or artificial siding options, such as vinyl. 
As with any natural material, exposure to moisture will mean these surfaces are prone to moss, algae, and even mold growth. Cedarwood is a durable siding but can be a target of wood-boring insects. Traces of these insects such as termites, ants, and beetles seen around your home may be an indication that these insects are enjoying your siding as much as you are.
Other signs of wear and tear can be brought on by heat and dry conditions. Keep a watchful eye for cracked or warping shakes, especially on the sides of your home that are in the direct sunlight. It's important to be aware of these issues and address them as soon as possible to prevent further damage.

How to Care for Shake Siding
To keep your shingle siding looking its best, it's important to clean it and care for it regularly. This includes both cleaning and maintenance tasks, such as checking for damage and repairing any issues that may arise. 
Clean Regularly
One of the most important things you can do to take care of your shingle siding is to clean it regularly. Washing your siding with a garden hose and dish soap is one way to maintain your cedar siding. This will help remove any dirt or debris that may have built up, and it will also help keep the siding looking its best.
A second way to clean your cedar shingles is to use oxygen bleach, which is nontoxic to trees, shrubs, and flowers. As a third option, you can power wash your cedar siding or hire a professional contractor to power wash it. To avoid damaging the cedar shingles, be sure the power washing equipment is used on its most gentle, lowest intensity settings and the appropriate mild detergents are used.
Keep Free From Moisture

Keeping your cedar shakes free from moisture accumulating on them is one of the best ways to prevent damage. To prevent moisture from accumulating on your home's cedar siding, you can trim nearby trees and shrubs so there is enough distance for airflow. If there are any loose boards that may allow water to penetrate the siding, they should be nailed down or replaced with newly treated shakes. 
Treatments to protect from the elements, moisture, insects, and heat are available and will need to be applied every few years for effective protection. Additional measures such as painting can be an effective way to extend the life of your cedar shakes, but this can only be done when your siding is completely dry.
When to Call a Professional Painter for Touchups
Touchups and repairs for shingle siding can vary in price depending on the size and scope of the job. However, most repairs are relatively affordable, and it's always better to address an issue sooner rather than later.
While some minor maintenance or repairs can be done on your own, any major repairs or updates should be done by your local licensed carpentry professional. If you need major updates like painting your cedar shakes or have found damage that has led to larger issues like wood rot, calling your preferred contractor is the best next step so you can avoid costly problems with your home. 
Cedar shake siding care and maintenance are important for your home's integrity to ensure that it looks its absolute best and lasts for many years. By following these tips, you can keep your shingle siding looking great and free from damaging elements. 
Have you noticed your cedar shake siding not looking its best and in need of repair? It may be time to either clean or instead, completely update your home's siding. Bruno Painting is here to help! With our team of expert painters and our carpentry division, we provide an all-in-one service to our clients. Get your complimentary exterior home update consultation and estimate from the experts at Bruno Painting today!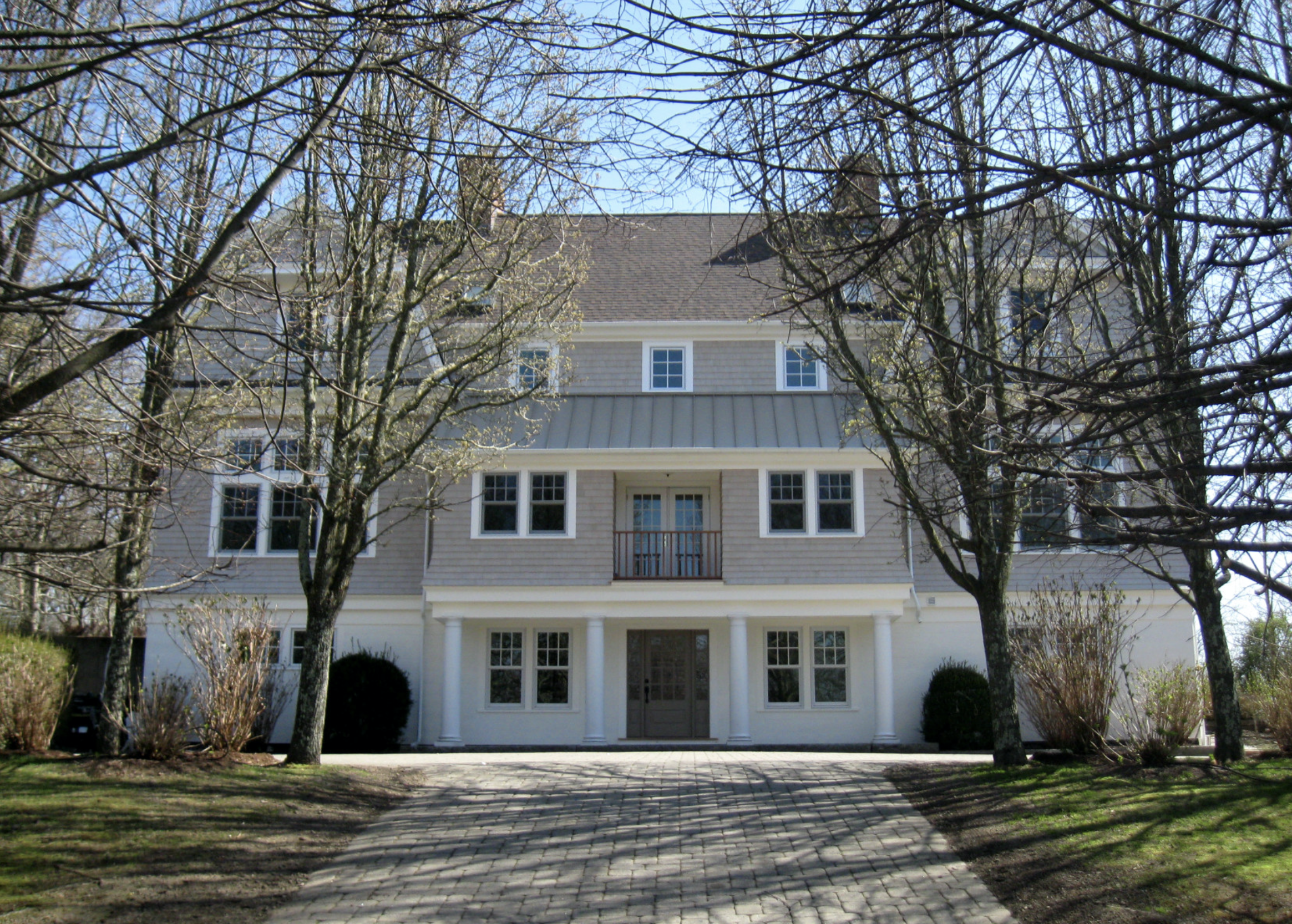 Homes with lots of character and beautiful finishes are seen commonly throughout Rhode Island. When you pull onto your street and take a first glance at your home, you should get a sense of joy because it looks lovely, well taken care of, and inviting. For others who may have recently moved in or who are otherwise behind schedule, this may not be the case. The first sight of your home as you approach may not give you such a feeling of happiness.
If your eye catches spots that need work, you may want to take steps to boost your home's curb appeal. You can also schedule your home's exterior updates during these colder months, in advance of when the work will be done as soon as the weather changes.
There are many options when you decide to improve the curb appeal for your Rhode Island home. The advantages of maintaining your curb appeal go beyond having an aesthetically pleasing house. Understanding the benefits, as well as how to accomplish a well-appointed home exterior will help you decide which updates you'd like to have done. Bruno Painting provides tips on how to boost your Rhode Island home's curb appeal so each time you drive up to your home, you feel pleased, joyful, and happy.
What is Curb Appeal?
Curb appeal is how attractive a house (or building or property) is when looked at from the sidewalk. Realtors use the phrase "curb appeal" more often than other types of professionals. However, curb appeal can be important outside of real estate.
Advantages of Boosting Your Curb Appeal
There are many advantages to boosting your curb appeal. If you want to sell your home this year, improving the exterior of your home can be a great start to the process. Improving your curb appeal can also boost your overall mood when you drive up to your home. If neither of those is enough to convince you, putting energy and resources toward giving your home better curb appeal could increase the value of your home!
Types of Curb Appeal for Your Rhode Island Home
Landscaping
One of the primary features contributing to your home's curb appeal is landscaping. Many homeowners are surprised how different their home looks after it has been properly landscaped and maintained. With fresh mulch, flowering plants, and some well-appointed shrubs or trees, you can complete your landscaping projects to enhance the appearance of your home's exterior space. Using plants to increase privacy and create a symmetrical look are ideal additions.
Some prefer to use plants to increase privacy and improve appearance. It's worth noting that plant selection should include options that will do well for the weather we see in Rhode Island. Find perennials that are native to our area, as well as evergreens. They will add touch of color all year round.
Exterior Cleanliness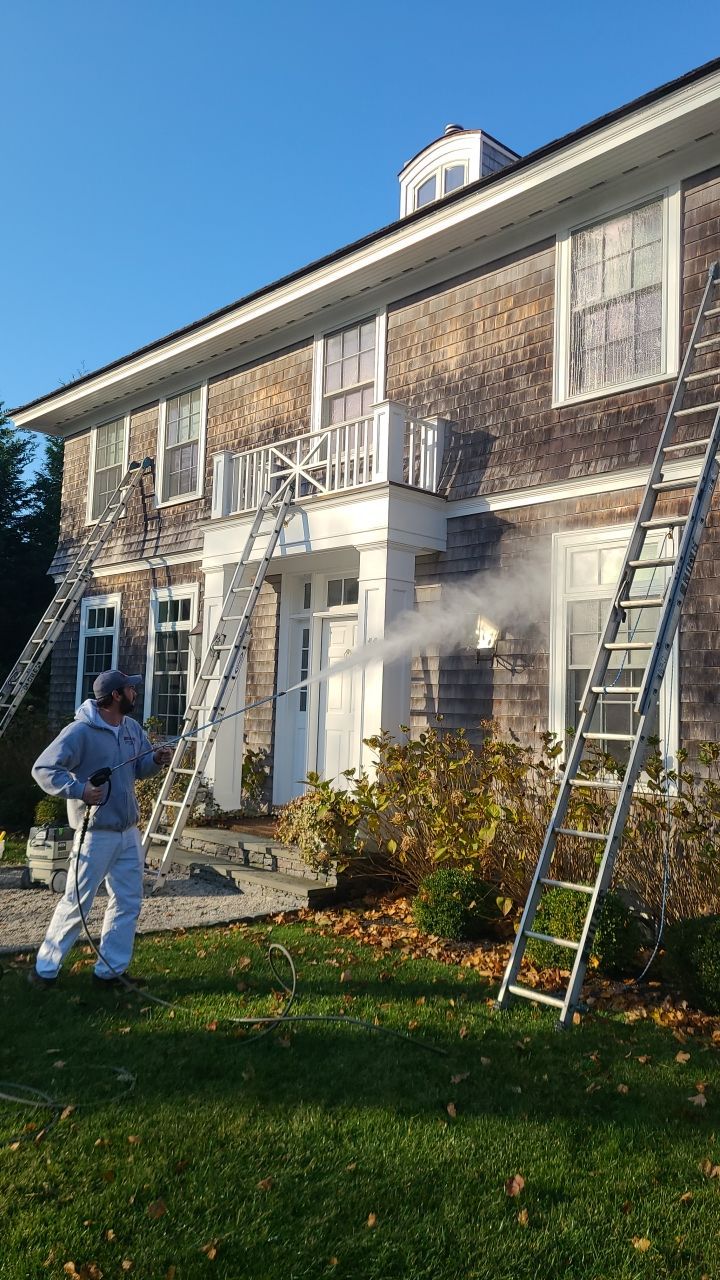 Is your home's paint is in good condition but is a little dusty or dingy looking or simply needs a light sprucing up? There is no better way to make your surfaces look new than a good pressure washing. From siding to driveways to walkways, this is an instantaneous improvement to your curb appeal. Pressure washing cleans a variety of surfaces with ease by removing dirt, oil, and grime that builds up over time.
Another note from the experts: pressure washing can be done on your own. However, using an ill-fitted nozzle or the wrong cleaners for a surface can cause damage instead of improving your surfaces. Always consult with a professional if you are unsure what pressure washing method is best for your home.
Rotting Wood
Wood rot can greatly affect your home's curb appeal. Not only is it an eyesore, but if wood rot is left untreated, it can spread and cause even more damage to your home. Before you paint the exterior of your home, the wood rot will need to be repaired or, in some cases, replaced.
How do you know if you have wood rot? Look for pieces of wood that seem spongy or soft. They are at the beginning or intermediate stages of rot. Other signs of wood rot include paint chipping, paint peeling, wood splintering, or discoloration.  If you think your home may have wood rot, contact a professional painting or carpentry contractor to remedy these areas to protect your home from further damage.
Carpentry Work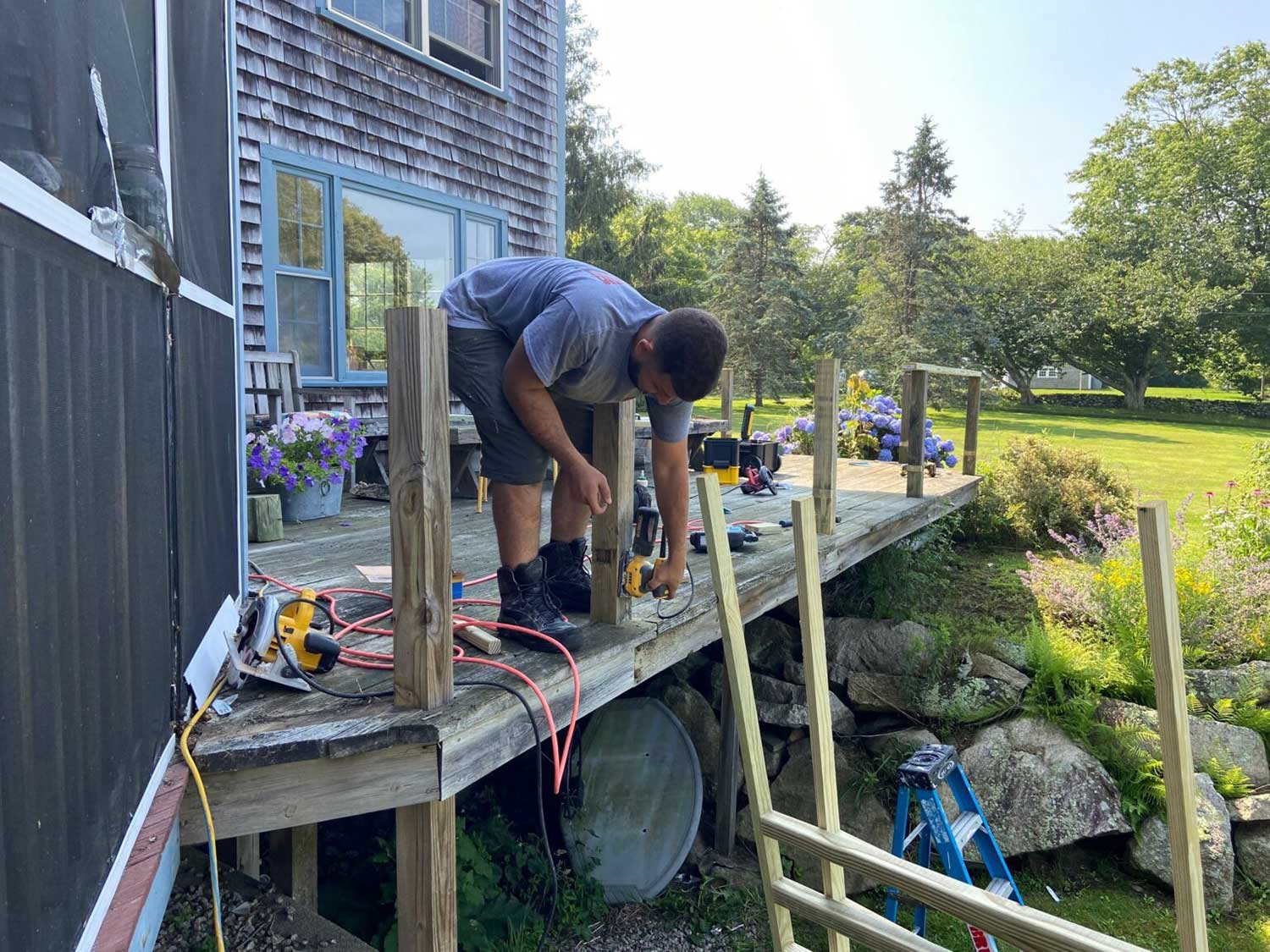 Another feature related to your home's curb appeal that can make a lasting impression is an inviting porch or a welcoming entryway. Home makeovers that include eaves, gables, or a full front porch can make any home a showstopper when it comes to curb appeal.
These types of updates require a trusted and skilled carpentry team that can work within the framework of other updates you want to make. One example is window and door updates. Installing windows, doors, and trim may seem like a possible DIY project. These are better left to carpentry professionals, however, who can provide high-quality craftsmanship that will last.
Painting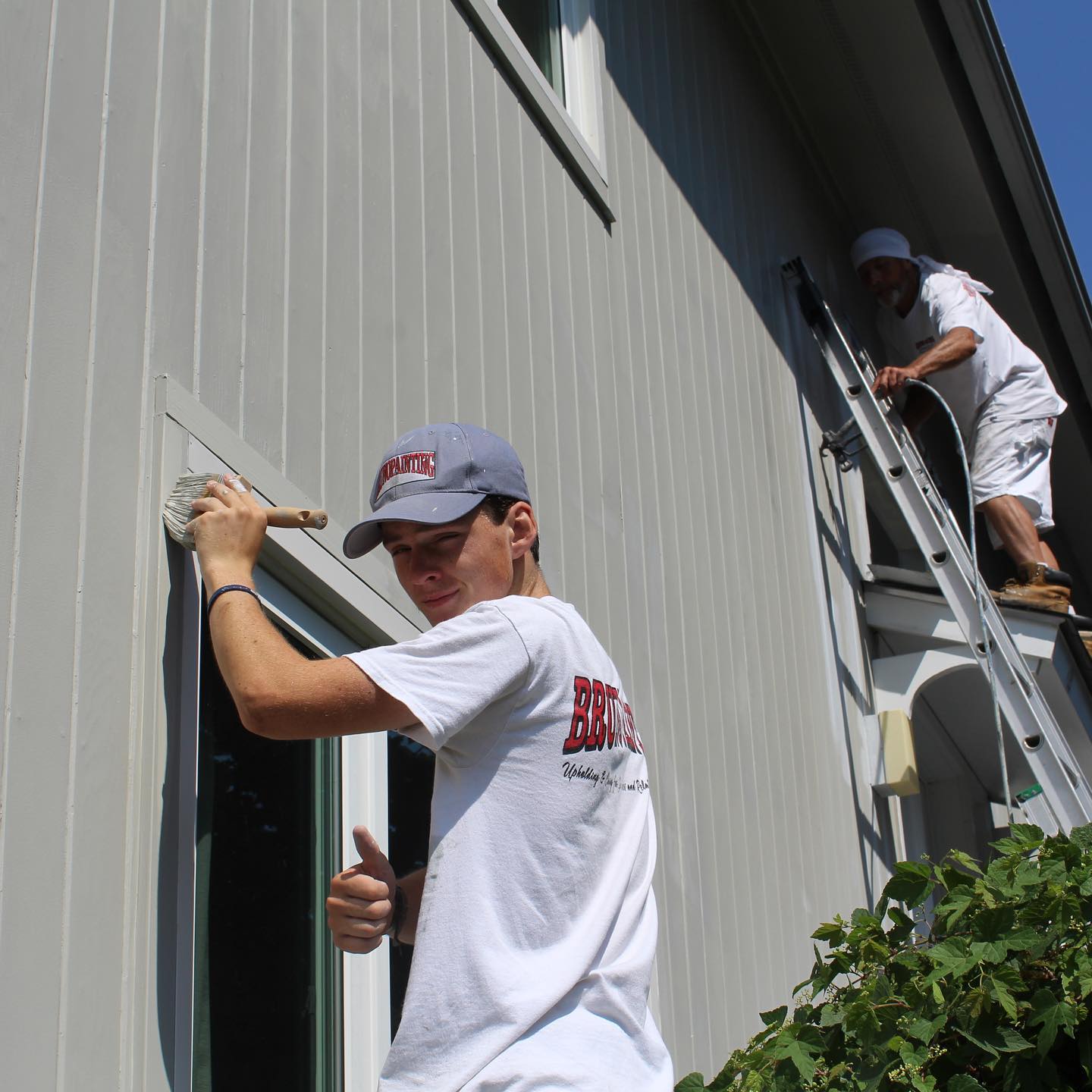 As with any home improvement update, the most effective and impressive way to increase curb appeal is with a fresh coat of paint for your home's exterior, windows, and doors. A paint update to a home with a lack-luster finish not only makes your property look more inviting but also helps protect your home from the elements.
Improving the curb appeal for your Rhode Island home is an important contribution. It can make your exterior look its best for your enjoyment, possibly get it ready to sell, or increase the value of your investment. Carpentry and painting updates are best done by professionals who understand your vision for the look of your home.
The painters and carpentry professionals at Bruno Painting in Rhode Island have been working diligently to prepare and plan for the upcoming exterior painting season. We are taking new clients who need assistance from full-service, experienced home improvement professionals. Contact us for more information about our range of services and how we can help you get the most joy from your home.
There's an old Czech proverb that says, "A good neighbor increases the value of your property." If you're lucky, your neighbors will take good care of their homes. Your neighbors will appreciate you as a 'good' neighbor as well if you also take care of your home's appearance. There are some excellent ways to improve your home's curb appeal, not only to make your home a more beautiful space for you to enjoy but also to increase the value of your property and maybe even the property of your neighbors.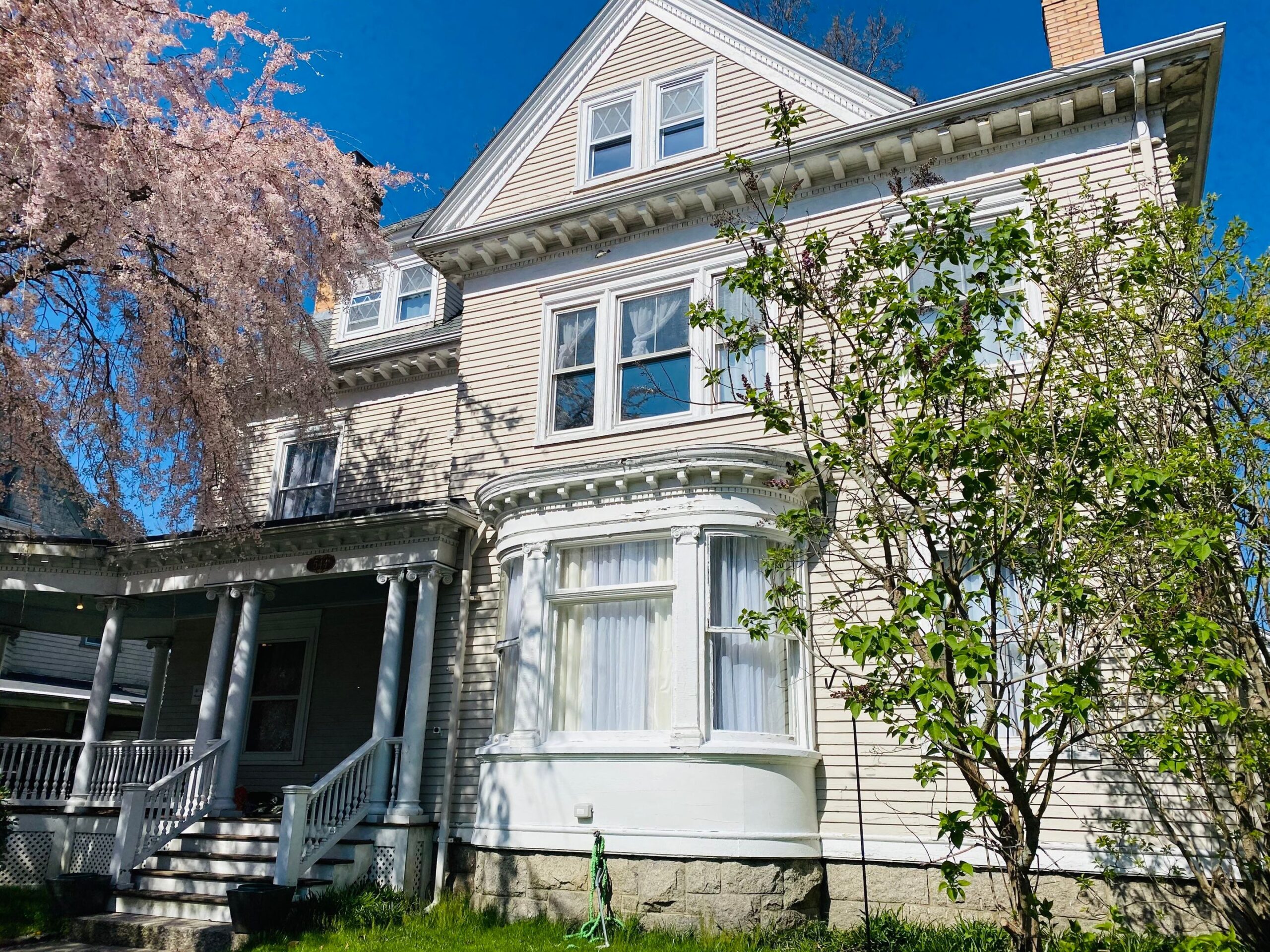 While you shouldn't judge a book by its cover, many people do judge a home based on its outside appearance. A good-looking home with excellent curb appeal goes far in the real estate market. Drawing upon our decades of painting, remodeling, and carpentry experience, we've compiled our top 5 tips for you to increase your home's curb appeal.
Pressure Washing
Pressure washing is a quick, affordable, and satisfying way to clean your home's exterior surfaces and brighten up your outdoor space. By using specialized nozzles, water or cleaning solution can penetrate through oil, dirt, pollutants, and other buildup on and around your home. 

Pressure washing is like a before and after makeover that allows your house, walkways, and the other hard surfaces around your home to look their absolute best. A word from the professionals — not all pressure washers are equal. If you are unsure which surfaces can be pressure washed or the best power nozzle to use, let a professional pressure wash your home, instead of doing it yourself. Using incorrect nozzles or power on surfaces not made for pressure washing can actually damage the surfaces, instead of cleaning them.

Window Treatment
not only makes them look good but actually can prevent future damage from occurring. Simple steps like caulking and making repairs keeps your windows looking great and your home sealed and safe. These minor repairs can then be paired with window cleaning and updates.
Shutters and curtains that are bright and uniform will make your home look its best inside and out. Allowing natural light to flood into your home can make your home look more attractive and provide an upbeat space. In a day and age where most house hunters have initial searches via the web, good photos with well-kept windows can help sell homes.
Painting
A relatively inexpensive yet highly effective way to boost your curb appeal is by applying a new coat of paint. While exterior surfaces of homes found in Portsmouth and Newport are designed to withstand our harsh weather conditions, over time they begin to show signs of wear. One of the signs that your home's exterior paint is wearing down is a dull, lackluster look.
Dull paint can make a home look as though it isn't being cared for, which is something that potential homebuyers may avoid. For those not planning on selling their home soon, fresh paint not only looks good but also acts as a barrier of protection between the elements and your home. Reducing the risk of moisture and rot taking hold is just one of the many benefits of maintaining and painting your home. Another option to give your home improved curb appeal is repainting your front door a new color. Home exterior paint's lifespan varies depending on many factors but should be redone about every 5-7 years.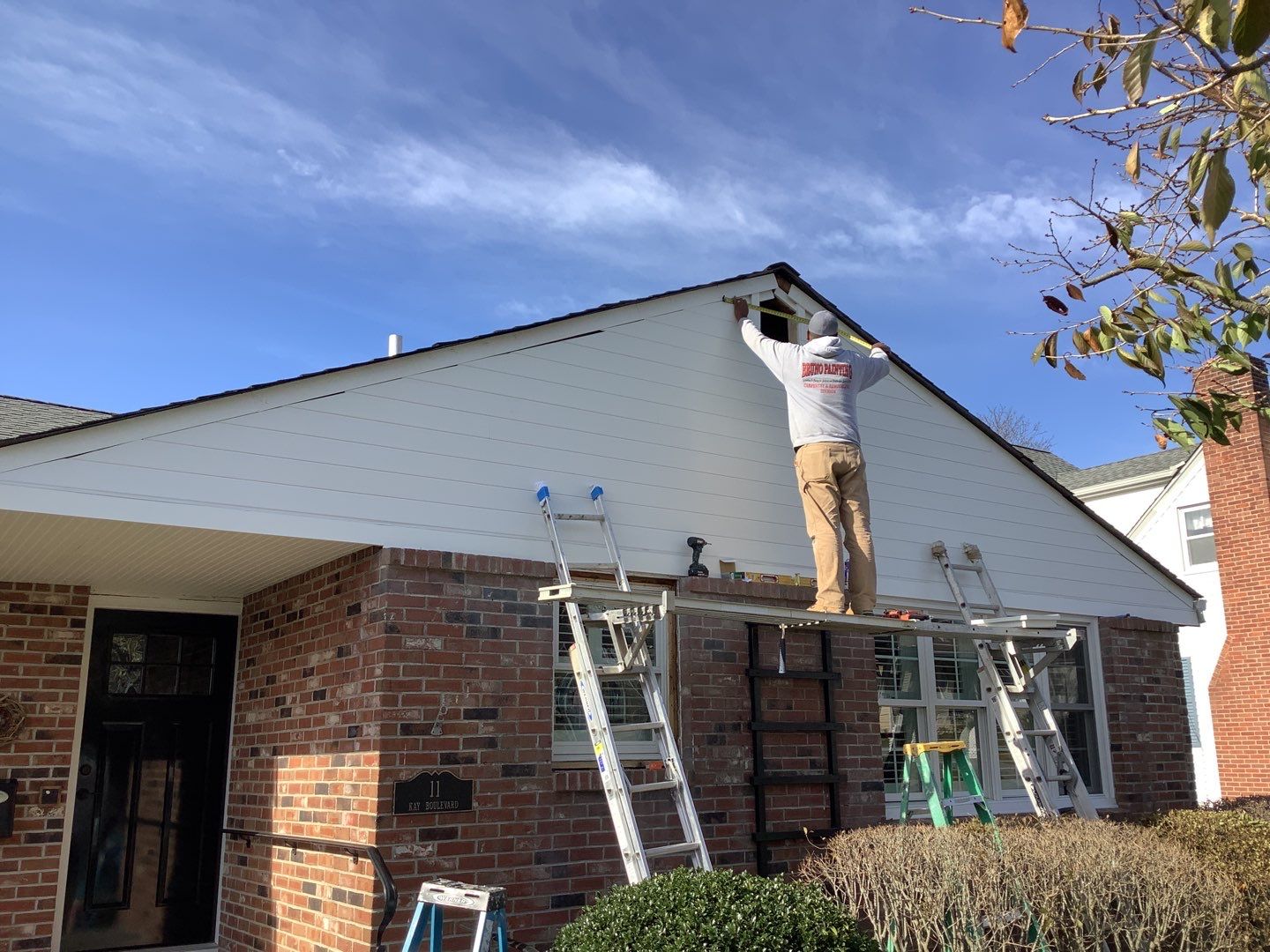 Roofing
One of the most overlooked areas that highly influences curb appeal is the condition of your roof. Signs that your roof may need work include loose or missing shingles, moss, or algae growth, and streaked or dingy spots. While these may be unappealing, they can also indicate damage beneath the surface which will need immediate attention. We recommend scheduling a contractor to come and inspect your roof to be sure there are no areas that need to be repaired or replaced.
Finishing Touches
You don't need to have a green thumb to make your lawn and surrounding areas look great for curb appeal. Adding planters with bright flowers and long grasses can give your home that coveted coastal vibe. Mulch can be used near your foundation to reduce root growth and give your home a uniform base. Lighted paths and ornamental lights around your front entryway make a home look more appealing, well-cared for, and allow for your home's curb appeal to be appreciated into the evening hours.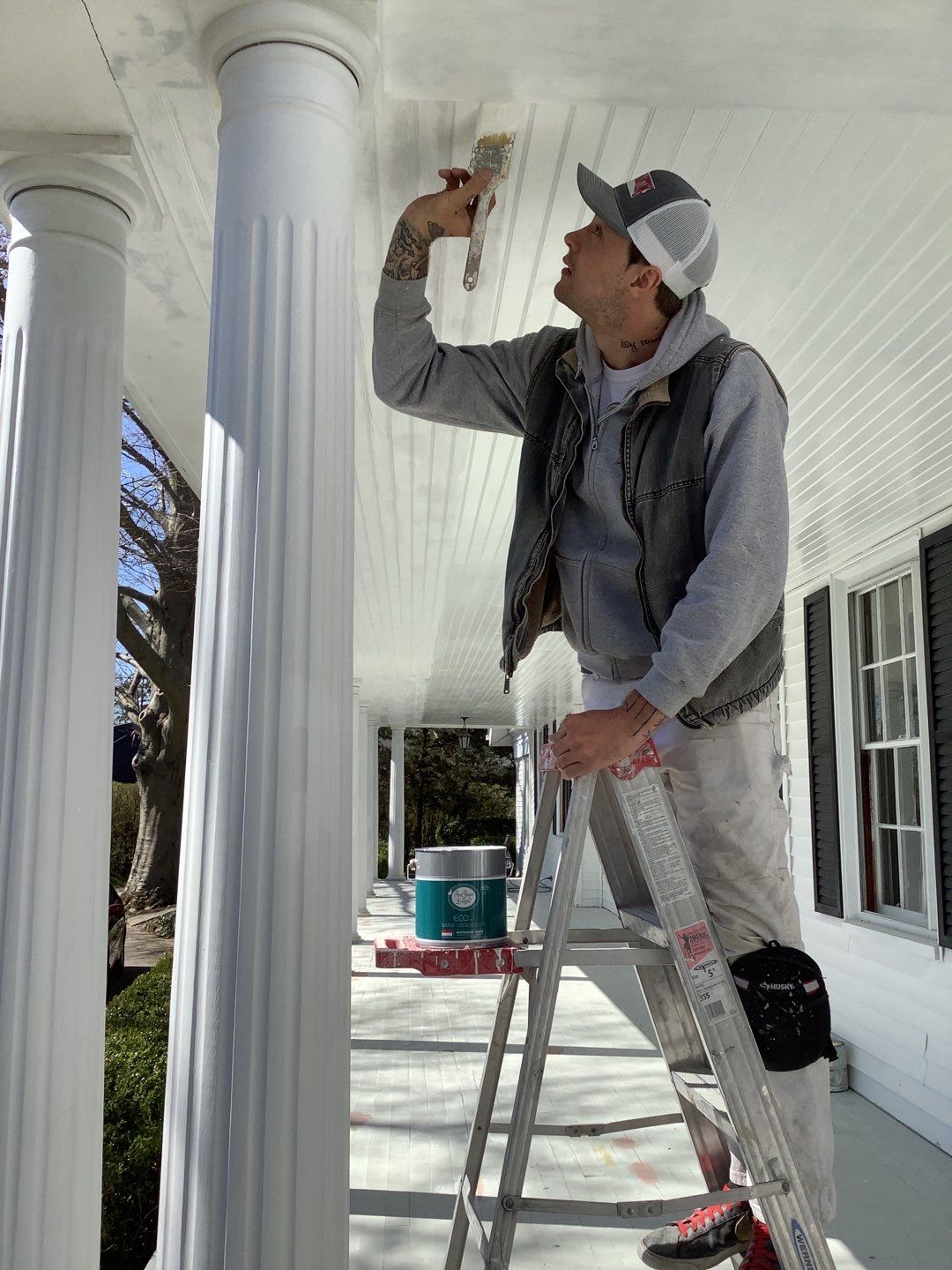 Whether you are getting ready to sell your home or simply want to enjoy your home's exterior, curb appeal is a mood-boosting, price-increasing, great way to make your home look and feel better. If you have already started working to increase your home's curb appeal, or if you don't know where to start, the experts at Bruno Painting can help you in making your home look its best! Upholding and caring for surfaces and relationships is at the heart of our top-quality work.