Taking care of the outside of your house is just as important as taking care of the inside. It's not just about aesthetics. Paint can act as a barrier between your house and the elements. You will want to maintain that barrier, especially if you live in harsh weather conditions like rain, sleet, snow or heat. How do you know when your home is due for a repaint? There are some very clear signs that your home exterior needs to be repainted and then there are some not-so-obvious signs. Here are our top 7 ways to tell if your home needs a repaint.
Clear Signs Your Home Needs a Repaint
Let's start with the clear signs your exterior needs to be repainted.
Visible cracks, flaking and bubbling.
This is when you need to take action because the longer you wait, the more issues can arise. These are signs that your paint is wearing down and will need attention immediately.
Dirty patches that don't come off.
If you've tried scrubbing and power-washing and the dirt just won't come off, then it's time to get professional painters to your home for a new coat of paint.

Water damage.
Look for deep cracks along wood grain and also soft spots which can be a sign of rot. Black or gray spots from excessive moisture is something to be taken seriously and should be addressed immediately. Try to do multiple checks a year for water damage, before and after the rain season, to get ahead of what could be a very expensive repair.

Fading color.
Natural elements can be harsh on an exterior. Excessive heat can cause excessive fading along with rain, snow and wind. Not only will a fresh coat of paint change the overall mood of your home, it can make an older house feel new again.
Not-So-Obvious Signs Your Home Needs a Repaint
It's been 5-10 years since it was last painted.
It can be hard to remember when you last repainted the exterior of your house, but if you have to guess, it just might be time to repaint. You definitely don't want to put it off until you see visible signs of damage. It's just part of maintaining your house.

Poor materials and poor quality of work were used when it was painted last.
These factors play a big role in how long your exterior paint will last. Did previous contractors skimp on the prep work, use low quality paint, or was the application not professional? You know, the old saying..."you get what you pay for!"
You are planning on selling your home.
Repainting your home should be at the top of the list if you plan to make a good first impression with buyers, especially if the color is dated. A fresh coat of paint can make a world of difference in curb appeal as buyers first lay their eyes on what could be their next home.
If you are thinking it's time to repaint your home this is the perfect time of year to do it, before the season changes and the weather starts to get harsh again. If you notice any visible signs of damage or wear, do not put off a repaint until the last minute as it could be even more costly. Now is the time to contact a professional painting contractor to protect and extend the longevity of your home.
At Bruno Painting, we take great pride in the work we do for homeowners and are excited to help you with the process of maintaining the exterior of your home. Reach out to schedule your exterior painting estimate!
Cedar shake siding is a popular type of siding for homes in Rhode Island, especially on homes that are 10 years old or older. Homeowners enjoy the iconic look as it creates a unique finish and can add a rustic yet warm look to your home's exterior. 
If you have cedar siding, it's important to take care of it properly to ensure that it looks good and lasts for many years. From installation through its lifetime, caring for your cedar shakes will help you protect your investment. Here are a few tips on how to care for your cedar shingle siding.
What is Cedar Shake Siding?
Cedar shakes are a specific type of siding material that is found on the classic coast since colonial times. It is typically made of cedarwood, though other types of wood may be blended in, and comes in a variety of colors and sizes. 
Finish options for cedar shakes include stain and sealant or paint to create an even more unique look. When you properly care for your shake siding, it can last anywhere from 10 to 15 years or more. If you take excellent care of your cedar siding, it can last upwards of 20 years or more before needing to be replaced. 
Common Issues—Wear and Tear
Shingle siding is not immune to wear and tear and there are a few common issues that you may experience over time. Due to the nature of the natural material cedar shakes are made from, they are prone to require more maintenance than brick or artificial siding options, such as vinyl. 
As with any natural material, exposure to moisture will mean these surfaces are prone to moss, algae, and even mold growth. Cedarwood is a durable siding but can be a target of wood-boring insects. Traces of these insects such as termites, ants, and beetles seen around your home may be an indication that these insects are enjoying your siding as much as you are.
Other signs of wear and tear can be brought on by heat and dry conditions. Keep a watchful eye for cracked or warping shakes, especially on the sides of your home that are in the direct sunlight. It's important to be aware of these issues and address them as soon as possible to prevent further damage.
How to Care for Shake Siding
To keep your shingle siding looking its best, it's important to clean it and care for it regularly. This includes both cleaning and maintenance tasks, such as checking for damage and repairing any issues that may arise. 
Clean Regularly
One of the most important things you can do to take care of your shingle siding is to clean it regularly. Washing your siding with a garden hose and dish soap is one way to maintain your cedar siding. This will help remove any dirt or debris that may have built up, and it will also help keep the siding looking its best.
A second way to clean your cedar shingles is to use oxygen bleach, which is nontoxic to trees, shrubs, and flowers. As a third option, you can power wash your cedar siding or hire a professional contractor to power wash it. To avoid damaging the cedar shingles, be sure the power washing equipment is used on its most gentle, lowest intensity settings and the appropriate mild detergents are used.
Keep Free From Moisture

Keeping your cedar shakes free from moisture accumulating on them is one of the best ways to prevent damage. To prevent moisture from accumulating on your home's cedar siding, you can trim nearby trees and shrubs so there is enough distance for airflow. If there are any loose boards that may allow water to penetrate the siding, they should be nailed down or replaced with newly treated shakes. 
Treatments to protect from the elements, moisture, insects, and heat are available and will need to be applied every few years for effective protection. Additional measures such as painting can be an effective way to extend the life of your cedar shakes, but this can only be done when your siding is completely dry.
When to Call a Professional Painter for Touchups
Touchups and repairs for shingle siding can vary in price depending on the size and scope of the job. However, most repairs are relatively affordable, and it's always better to address an issue sooner rather than later.
While some minor maintenance or repairs can be done on your own, any major repairs or updates should be done by your local licensed carpentry professional. If you need major updates like painting your cedar shakes or have found damage that has led to larger issues like wood rot, calling your preferred contractor is the best next step so you can avoid costly problems with your home. 
Cedar shake siding care and maintenance are important for your home's integrity to ensure that it looks its absolute best and lasts for many years. By following these tips, you can keep your shingle siding looking great and free from damaging elements. 
Have you noticed your cedar shake siding not looking its best and in need of repair? It may be time to either clean or instead, completely update your home's siding. Bruno Painting is here to help! With our team of expert painters and our carpentry division, we provide an all-in-one service to our clients. Get your complimentary exterior home update consultation and estimate from the experts at Bruno Painting today!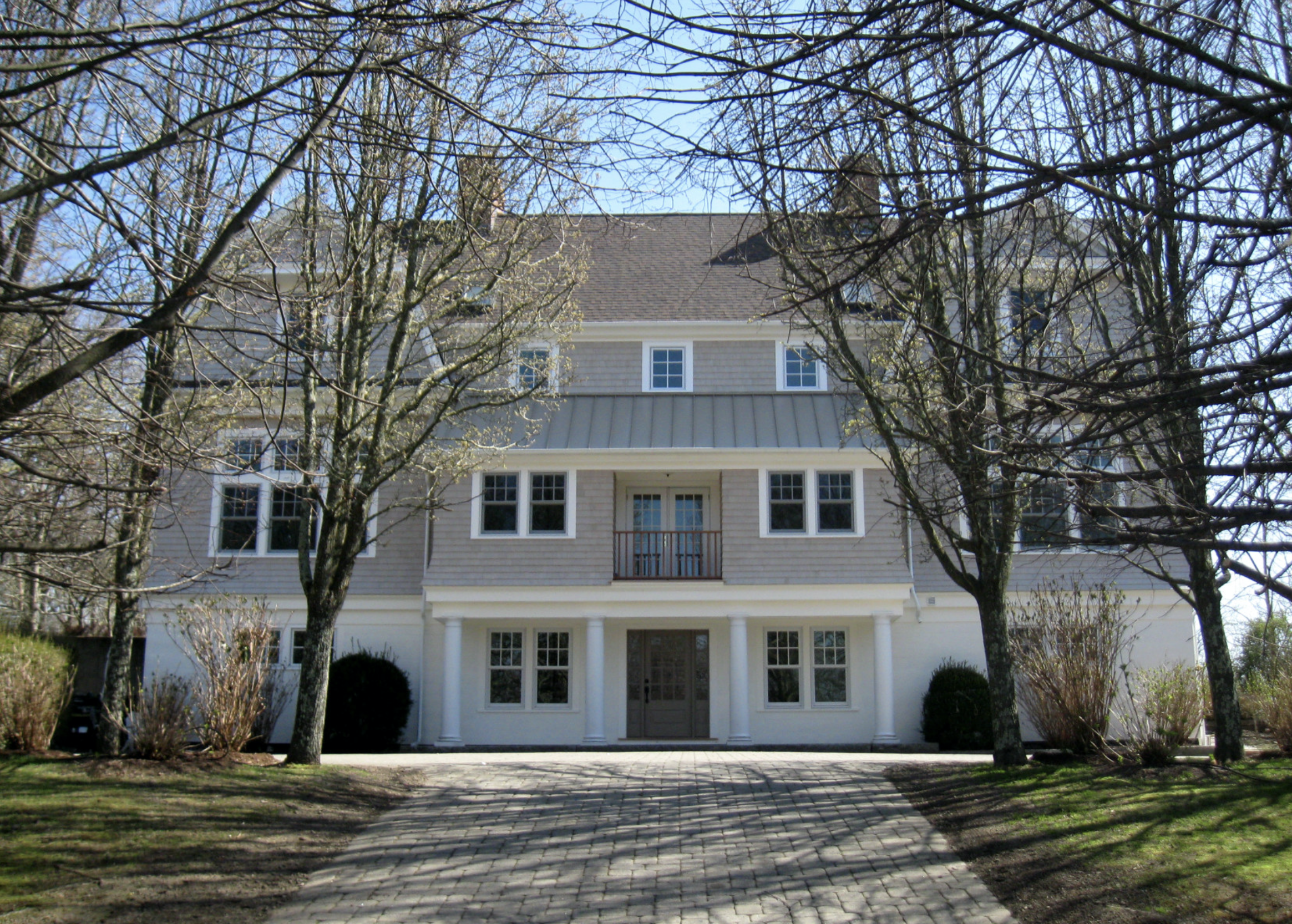 Homes with lots of character and beautiful finishes are seen commonly throughout Rhode Island. When you pull onto your street and take a first glance at your home, you should get a sense of joy because it looks lovely, well taken care of, and inviting. For others who may have recently moved in or who are otherwise behind schedule, this may not be the case. The first sight of your home as you approach may not give you such a feeling of happiness.
If your eye catches spots that need work, you may want to take steps to boost your home's curb appeal. You can also schedule your home's exterior updates during these colder months, in advance of when the work will be done as soon as the weather changes.
There are many options when you decide to improve the curb appeal for your Rhode Island home. The advantages of maintaining your curb appeal go beyond having an aesthetically pleasing house. Understanding the benefits, as well as how to accomplish a well-appointed home exterior will help you decide which updates you'd like to have done. Bruno Painting provides tips on how to boost your Rhode Island home's curb appeal so each time you drive up to your home, you feel pleased, joyful, and happy.
What is Curb Appeal?
Curb appeal is how attractive a house (or building or property) is when looked at from the sidewalk. (Investopedia) Realtors use the phrase "curb appeal" more often than other types of professionals. However, curb appeal can be important outside of real estate.
Advantages of Boosting Your Curb Appeal
There are many advantages to boosting your curb appeal. If you want to sell your home this year, improving the exterior of your home can be a great start to the process. Improving your curb appeal can also boost your overall mood when you drive up to your home. If neither of those is enough to convince you, putting energy and resources toward giving your home better curb appeal could increase the value of your home!
Types of Curb Appeal for Your Rhode Island Home
Landscaping
One of the primary features contributing to your home's curb appeal is landscaping. Many homeowners are surprised how different their home looks after it has been properly landscaped and maintained. With fresh mulch, flowering plants, and some well-appointed shrubs or trees, you can complete your landscaping projects to enhance the appearance of your home's exterior space. Using plants to increase privacy and create a symmetrical look are ideal additions.
Some prefer to use plants to increase privacy and improve appearance. It's worth noting that plant selection should include options that will do well for the weather we see in Rhode Island. Find perennials that are native to our area, as well as evergreens. They will add touch of color all year round.
Exterior Cleanliness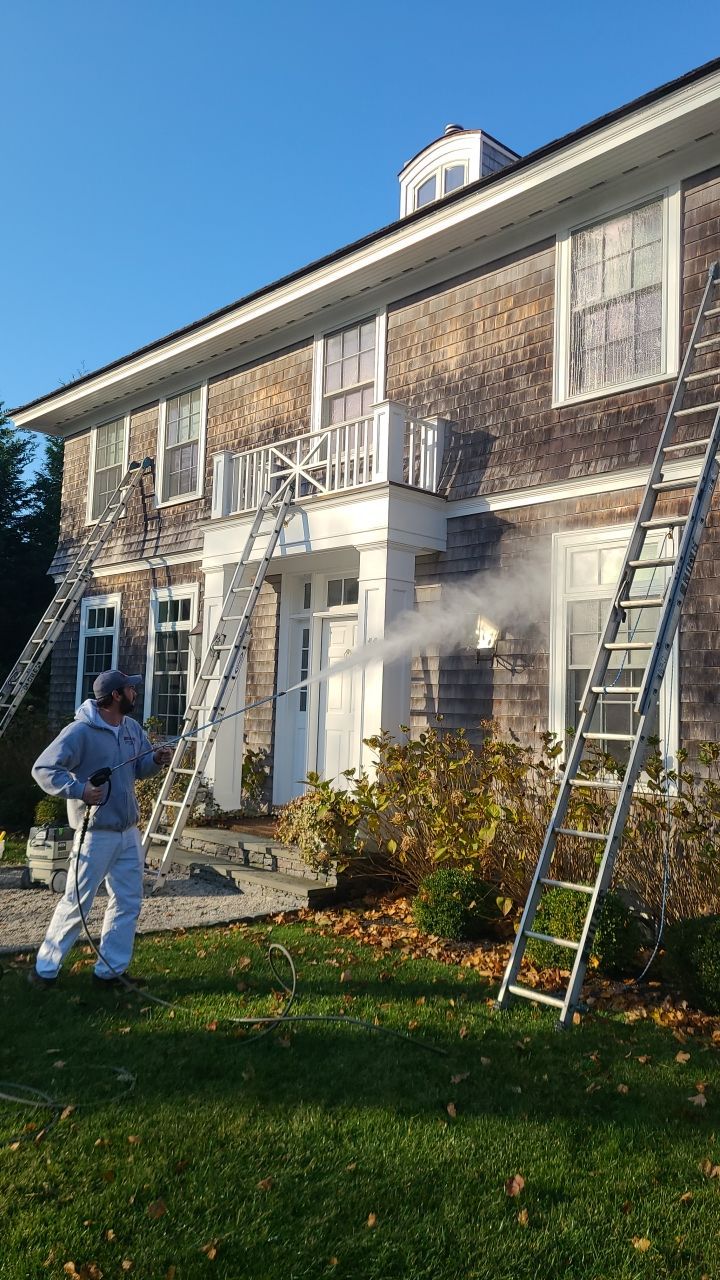 Is your home's paint is in good condition but is a little dusty or dingy looking or simply needs a light sprucing up? There is no better way to make your surfaces look new than a good pressure washing. From siding to driveways to walkways, this is an instantaneous improvement to your curb appeal. Pressure washing cleans a variety of surfaces with ease by removing dirt, oil, and grime that builds up over time.
Another note from the experts: pressure washing can be done on your own. However, using an ill-fitted nozzle or the wrong cleaners for a surface can cause damage instead of improving your surfaces. Always consult with a professional if you are unsure what pressure washing method is best for your home.
Rotting Wood
Wood rot can greatly affect your home's curb appeal. Not only is it an eyesore, but if wood rot is left untreated, it can spread and cause even more damage to your home. Before you paint the exterior of your home, the wood rot will need to be repaired or, in some cases, replaced.
How do you know if you have wood rot? Look for pieces of wood that seem spongy or soft. They are at the beginning or intermediate stages of rot. Other signs of wood rot include paint chipping, paint peeling, wood splintering, or discoloration.  If you think your home may have wood rot, contact a professional painting or carpentry contractor to remedy these areas to protect your home from further damage.
Carpentry Work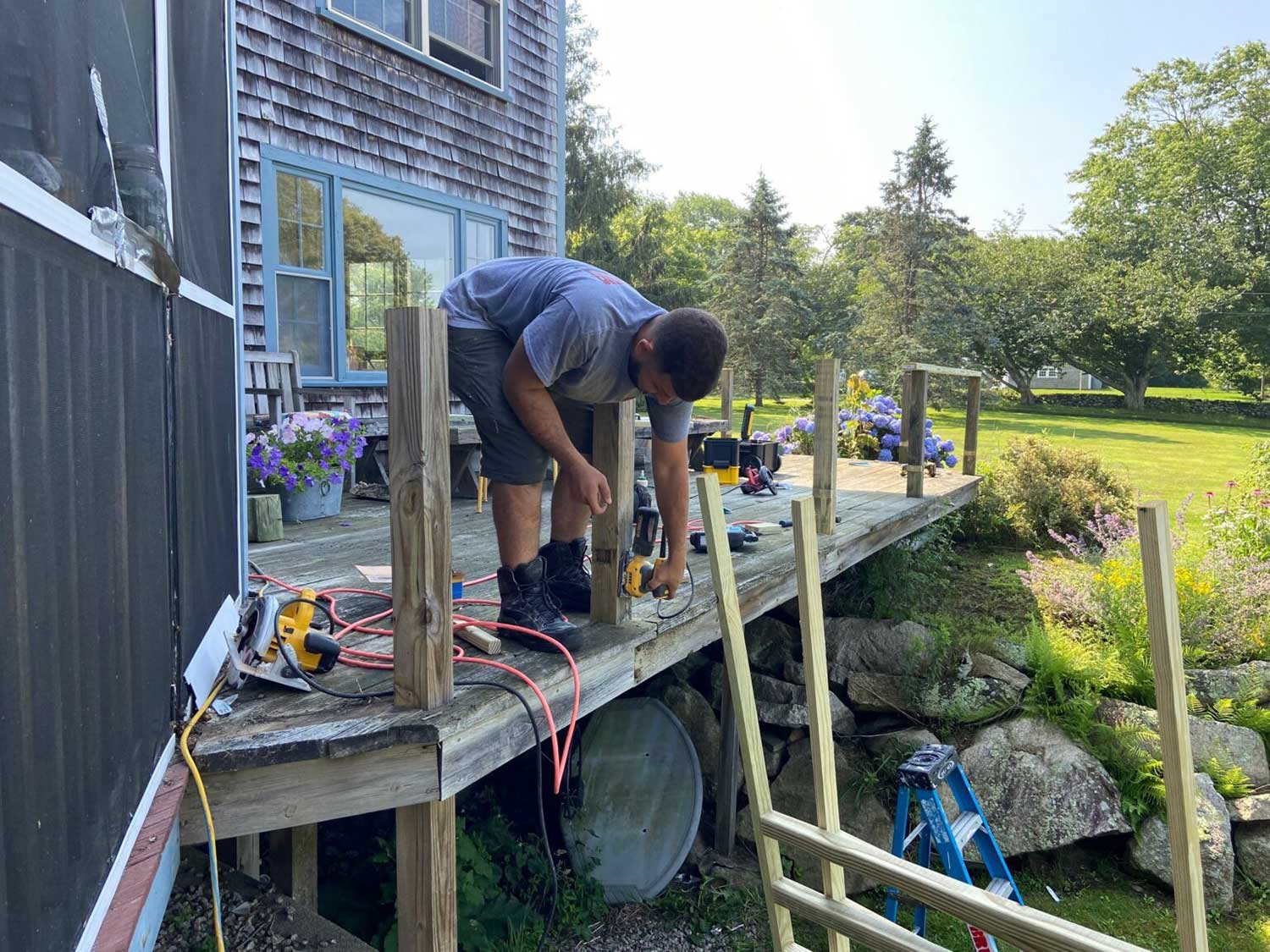 Another feature related to your home's curb appeal that can make a lasting impression is an inviting porch or a welcoming entryway. Home makeovers that include eaves, gables, or a full front porch can make any home a showstopper when it comes to curb appeal.
These types of updates require a trusted and skilled carpentry team that can work within the framework of other updates you want to make. One example is window and door updates. Installing windows, doors, and trim may seem like a possible DIY project. These are better left to carpentry professionals, however, who can provide high-quality craftsmanship that will last.
Painting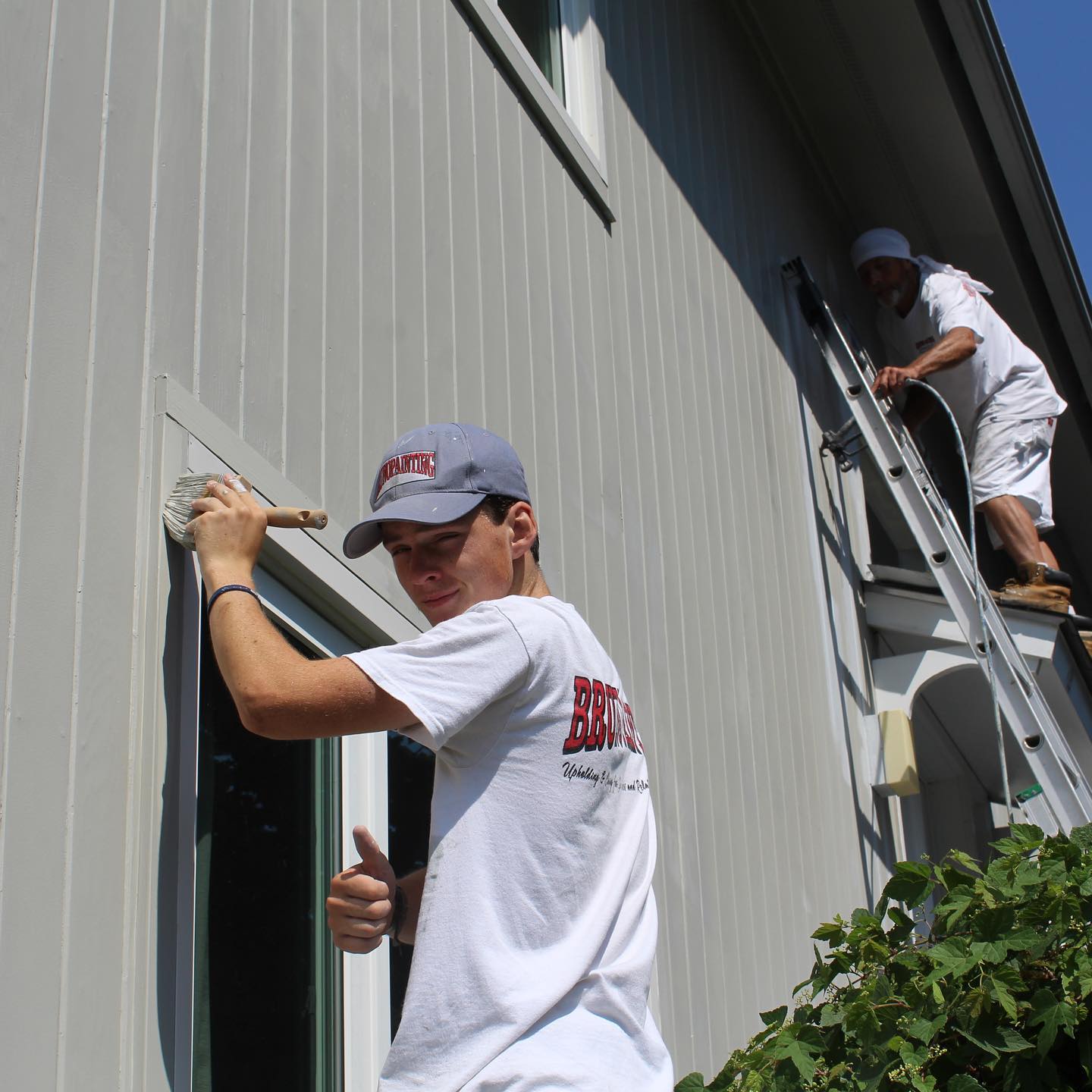 As with any home improvement update, the most effective and impressive way to increase curb appeal is with a fresh coat of paint for your home's exterior, windows, and doors. A paint update to a home with a lack-luster finish not only makes your property look more inviting but also helps protect your home from the elements.
Improving the curb appeal for your Rhode Island home is an important contribution. It can make your exterior look its best for your enjoyment, possibly get it ready to sell, or increase the value of your investment. Carpentry and painting updates are best done by professionals who understand your vision for the look of your home.
The painters and carpentry professionals at Bruno Painting in Rhode Island have been working diligently to prepare and plan for the upcoming exterior painting season. We are taking new clients who need assistance from full-service, experienced home improvement professionals. Contact us for more information about our range of services and how we can help you get the most joy from your home.
Selling a home is a very involved process with many things to do in preparation, including sprucing up your home's interior and exterior to make it more appealing to homebuyers. Your house may need something as simple as a fresh coat of paint or it may require a larger maintenance project to prepare it to sell. It's best to have a clear plan of your projects, both large and small, that you intend to have completed when you prepare your house to sell.
Knowing what repairs and updates need to be done beforehand can help make the process easier. Bruno Painting provides this list of things to do to get your home ready for sale.   

Choose the Right Color
Your home should be seen as a warm and inviting place to potential buyers. Painting your home a harmonious color can add to that effect. If your home needs a fresh coat of paint before you sell, you can consider neutral colors like off-white, light blue, gray, or yellow. Painting your house a neutral color will attract a wider range of potential buyers. Non-traditional colors may only appeal to a limited number of buyers.  
What defines 'the right color' is based on many factors. Is the house surrounded by woods and trees or is it a landscape characterized by lots of green grass and plants? Is your house close to the beach? Are you looking to make your house pop or are you wanting it to blend in?  
A color like red or yellow may stand out in the trees whereas a gray or green would blend in. If your home is close to the coast, you may want to look at painting it a shade of blue, gray, or taupe to match the landscape. 

Additionally, the color of the shutters, doors, and trim can add to the enhanced curb appeal and buyer appeal. White trim and shutters on a blue or gray house really make them stand out. It also gives a fresh and crisp look to the home. If you decide to go with a nautical theme, darker blue or aqua would go perfectly with a lighter color of blue. The elements of your home can truly tie together the color palette you choose. 
Take Care of Repairs and Maintenance
If you are preparing to sell your home, the reality is that you may need to make some repairs. It can be something as simple as fixing a leaky faucet or something a little more complex, like replacing several boards on your deck. Once you figure out what projects need to be done, you can decide if you want to tackle each project on your own or if you need to hire someone to complete it. Some common repairs include a front door upgrade, window replacement, kitchen renovations, roof replacement, and bathroom renovations.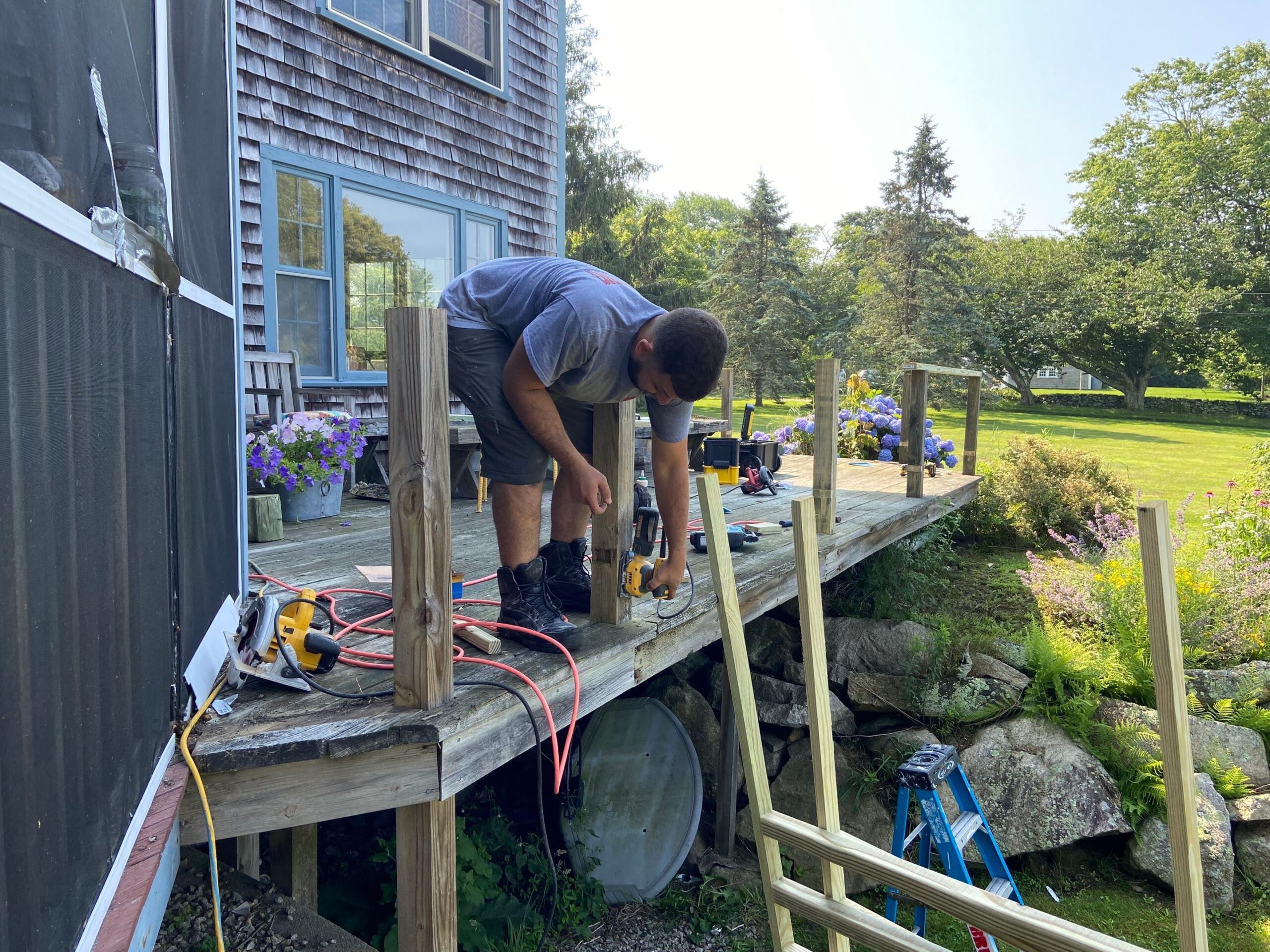 Other things that may need to be done fit more in the maintenance category. It's important to consider spaces that may need professional cleaning or power washing. Deep cleaning your home before putting it on the market can give it a crisp look. 
If you are still living in the house while trying to sell it, it's essential to deep clean every part of your home including dusting the fans, polishing your appliances, and cleaning the windows inside and out. You'll want to make sure much of the clutter is gone, especially if pictures are going to be taken or if you are having a showing. Keeping your home clean and decluttered is not a one-time project. This process will need to continue the entire time your house is on the market.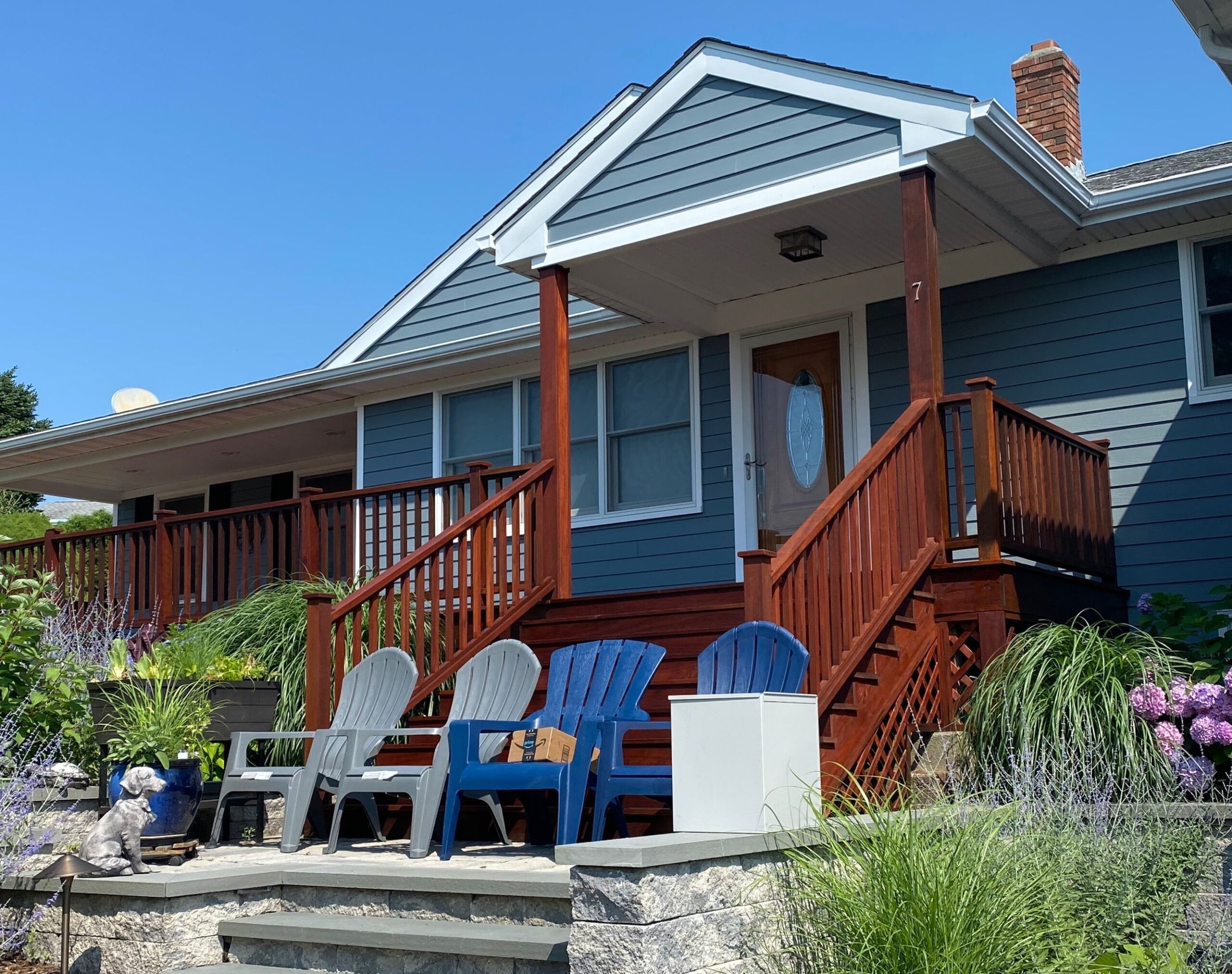 Enhance Your Home By Adding Extra Curb Appeal
Whether buyers are looking at your home online or in person, the first thing they see is the outside and the surrounding areas. When your home is clean and well-taken care of on the outside, it can entice buyers to take a look inside. Adding things like flowers or a wreath on the door, trimming the shrubs, or edging the sidewalk can all add extra curb appeal to your home.
For the projects that cannot be done on your own, the experts at Bruno Painting Carpentry and Remodeling are here to get the job done for you. Our services range from interior and exterior painting, power washing, gutter cleaning, carpentry, deck additions or updates, and remodeling. 
Bruno Painting is here for everything your home needs. When you're ready to prepare your house to sell, our experts can give you advice on what your home needs to get ready to sell quickly. Bruno Painting is a highly trusted name all across Rhode Island. Our trained and certified employees are here to serve Portsmouth and the surrounding areas. Contact us today to find out how we can help you update your home or prep your home to sell.  
Exterior paint projects aren't always at the forefront of a homeowner's mind. Think about it, when was the last time your home's exterior was painted? If it was before 2011, your home may be overdue for an update. Professional contractors recommend homes be repainted every 5 to 10 years in order to keep you and your investment protected and healthy. 
The benefits of taking care of your home's exterior are far-reaching. To understand the advantages of having your home's exterior painted, our experts at Bruno Painting have put together the top four reasons to have your home's exterior painted this Spring or Summer.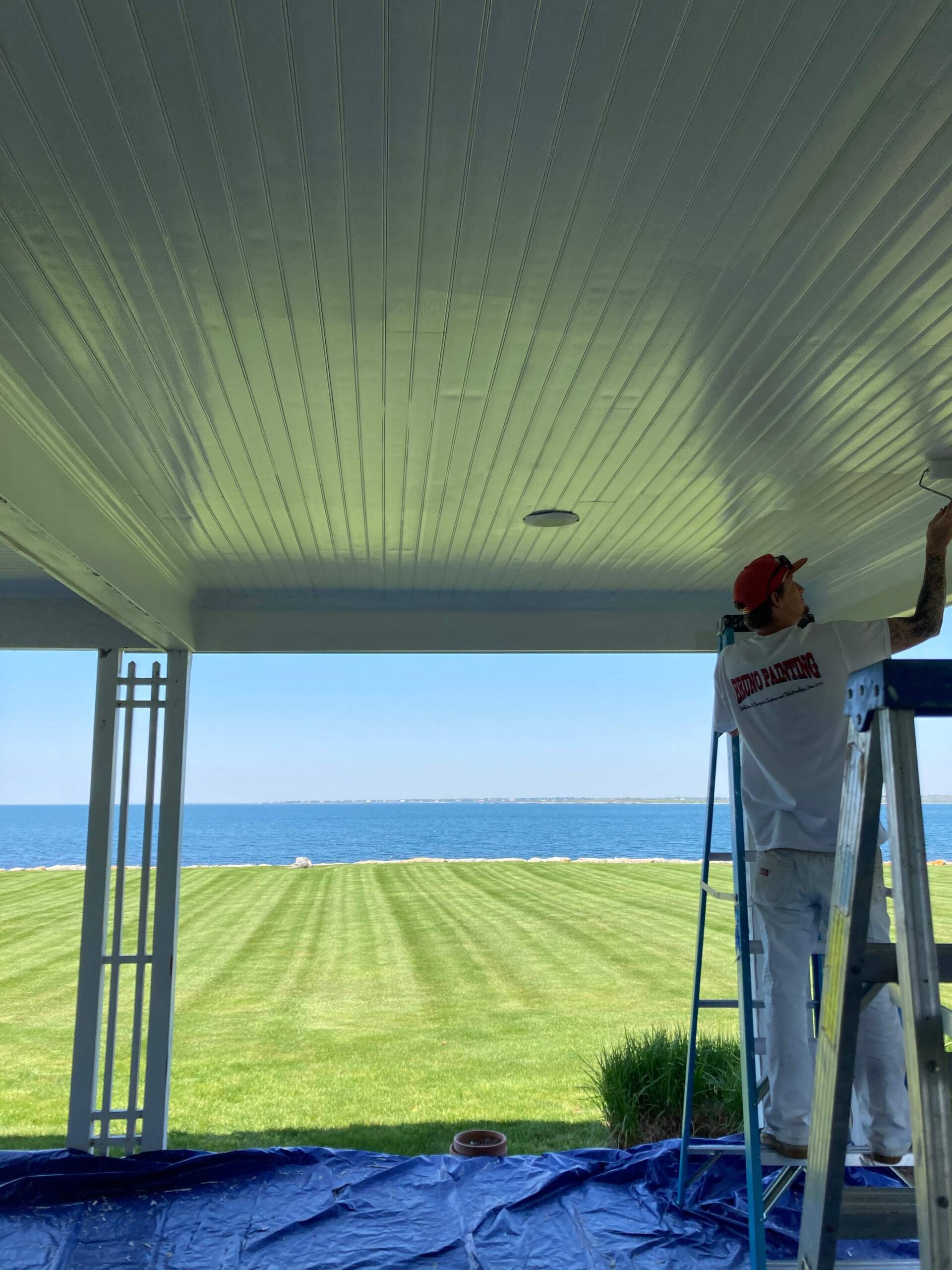 Paint Adds Protection
Regular protection of your exterior surfaces ensures the longevity and health of your home. At its essence, paint is a barrier between your surfaces and the elements. By maintaining this layer of protection, you minimize the exposure your surfaces have to weather damage, insects, sun, dust, mold, and mildew. 
Signs to look for when considering if your paint is failing to provide protection are easy to spot. Look for areas of paint that are peeling, flaking, bubbling, or cracking. These are signs that your paint has been compromised and will need attention. When it comes to painting the old saying rings true: an ounce of prevention is worth a pound of cure. Using paint to protect your home is a relatively inexpensive way to maintain your home's surfaces.
Regular Painting Helps Keep Up with Repairs
Before your home's exterior is repainted, a good painting contractor will inspect all the surfaces, including your trim, siding, windows, and doors. If they find peeling, fading, bubbling, or any other paint failures, your painter will repair the area before they begin the complete exterior painting work. Doing so can keep your home from deteriorating and prevent you from having more expensive repairs in the future.  
When repairs are necessary, finding the root cause of damage is imperative. Water damage, for example, can be caused by permeating rain or other precipitous weather we experience on the classic coast. No matter what the source of the damage is, preventing the source from causing recurring damages and making the necessary repairs is the only way to ensure that your home will not face the same situation in the future. Typically affected surfaces or spots to watch are windows, gutters, roofs, and doorways, all of which may be exposed to excess water.

Painting Adds Value
At the end of the day, your home is one of the greatest investments you'll ever make. Protecting your investment and ensuring the return on your home is as high as possible can be accomplished, in part, by keeping up with the maintenance and painting of your home's exterior.  When you maintain your home, you will prevent it from diminishing in value over time. 
Newer-built homes are often painted with a lower grade of paint and applied with fewer coats than a high-quality paint job. While this allows a home to pass inspection, cutting corners by using below-grade paints won't provide a durable, long-lasting paint finish. Professional painters have access to commercial-grade paints and primers that are engineered and designed to outlast and outperform many of the paints that a consumer can buy at a home improvement store. The results are longer lasting and less frequent need to repaint your home's surfaces, saving you time and money in the long run.
Paint Rejuvenates Curb Appeal
Paint is primarily made up of three components: solvents, binders, and pigments. Pigments provide color and add depth and character to your home. Over time, pigments that are exposed to the sun and precipitation will fade leaving behind a chalky dull appearance. If your home looks remarkably different today than it did five years ago, it indicates that it may be time to paint the exterior of your home.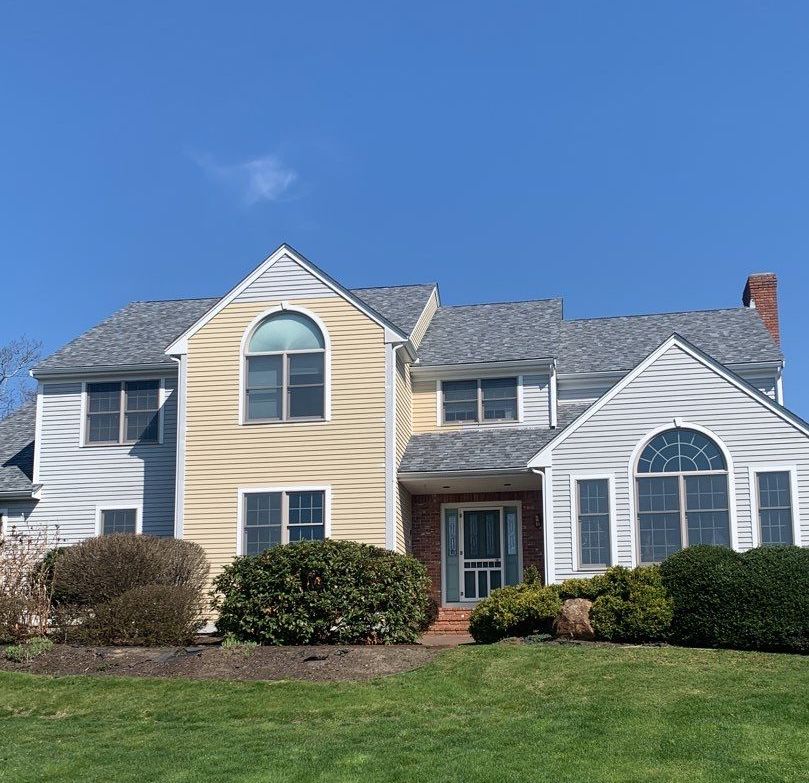 Updating the color of your home can also boost curb appeal. If you are thinking of selling your home or just want to enjoy the beauty of your outdoor areas, consider a color change to brighten up and bring positive attention to your home's exterior. Making a lasting impression, not only boosts the overall aesthetic of your home but can make a large difference in your resale value if and when you choose to sell your home.
Regular maintenance of your home's exterior is important regardless of the materials used to build it. Protection for your home this Spring can extend the longevity of your home's surfaces as well as create a beautiful and welcoming home for you and your family. 
At Bruno Painting, our mission has always been "to uphold and care for surfaces and relationships." Our highly skilled team of painters and carpenters shows this high level of care in each and every project we take on. We have restored Rhode Island homes to their highest potential with our services that reach well beyond painting. Contact us to discuss your exterior painting and other home improvement projects.
There's an old Czech proverb that says, "A good neighbor increases the value of your property." If you're lucky, your neighbors will take good care of their homes. Your neighbors will appreciate you as a 'good' neighbor as well if you also take care of your home's appearance. There are some excellent ways to improve your home's curb appeal, not only to make your home a more beautiful space for you to enjoy but also to increase the value of your property and maybe even the property of your neighbors.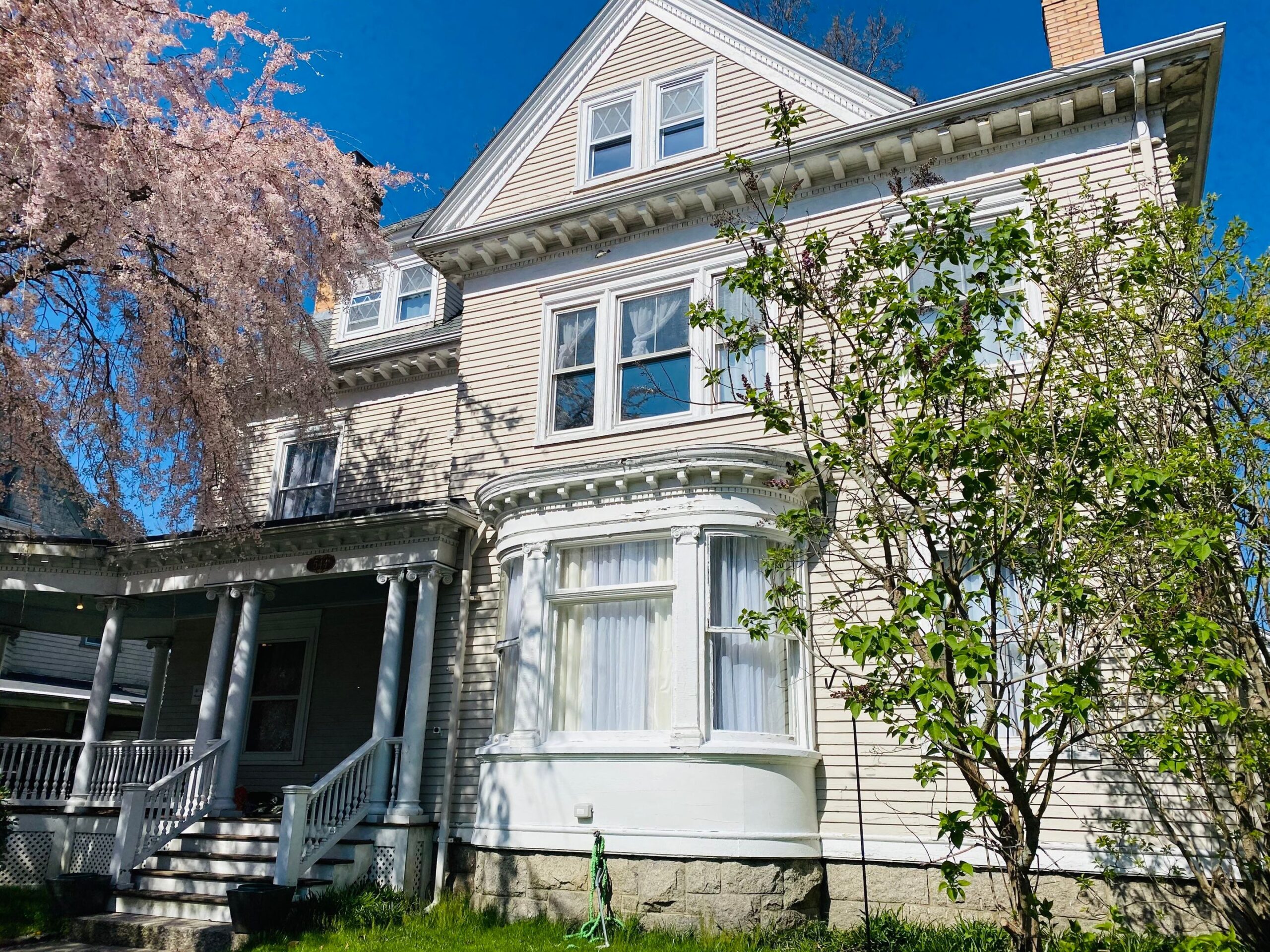 While you shouldn't judge a book by its cover, many people do judge a home based on its outside appearance. A good-looking home with excellent curb appeal goes far in the real estate market. Drawing upon our decades of painting, remodeling, and carpentry experience, we've compiled our top 5 tips for you to increase your home's curb appeal.
Pressure Washing
Pressure washing is a quick, affordable, and satisfying way to clean your home's exterior surfaces and brighten up your outdoor space. By using specialized nozzles, water or cleaning solution can penetrate through oil, dirt, pollutants, and other buildup on and around your home. 

Pressure washing is like a before and after makeover that allows your house, walkways, and the other hard surfaces around your home to look their absolute best. A word from the professionals — not all pressure washers are equal. If you are unsure which surfaces can be pressure washed or the best power nozzle to use, let a professional pressure wash your home, instead of doing it yourself. Using incorrect nozzles or power on surfaces not made for pressure washing can actually damage the surfaces, instead of cleaning them.

Window Treatment
not only makes them look good but actually can prevent future damage from occurring. Simple steps like caulking and making repairs keeps your windows looking great and your home sealed and safe. These minor repairs can then be paired with window cleaning and updates.
Shutters and curtains that are bright and uniform will make your home look its best inside and out. Allowing natural light to flood into your home can make your home look more attractive and provide an upbeat space. In a day and age where most house hunters have initial searches via the web, good photos with well-kept windows can help sell homes.
Painting
A relatively inexpensive yet highly effective way to boost your curb appeal is by applying a new coat of paint. While exterior surfaces of homes found in Portsmouth and Newport are designed to withstand our harsh weather conditions, over time they begin to show signs of wear. One of the signs that your home's exterior paint is wearing down is a dull, lackluster look.
Dull paint can make a home look as though it isn't being cared for, which is something that potential homebuyers may avoid. For those not planning on selling their home soon, fresh paint not only looks good but also acts as a barrier of protection between the elements and your home. Reducing the risk of moisture and rot taking hold is just one of the many benefits of maintaining and painting your home. Another option to give your home improved curb appeal is repainting your front door a new color. Home exterior paint's lifespan varies depending on many factors but should be redone about every 5-7 years.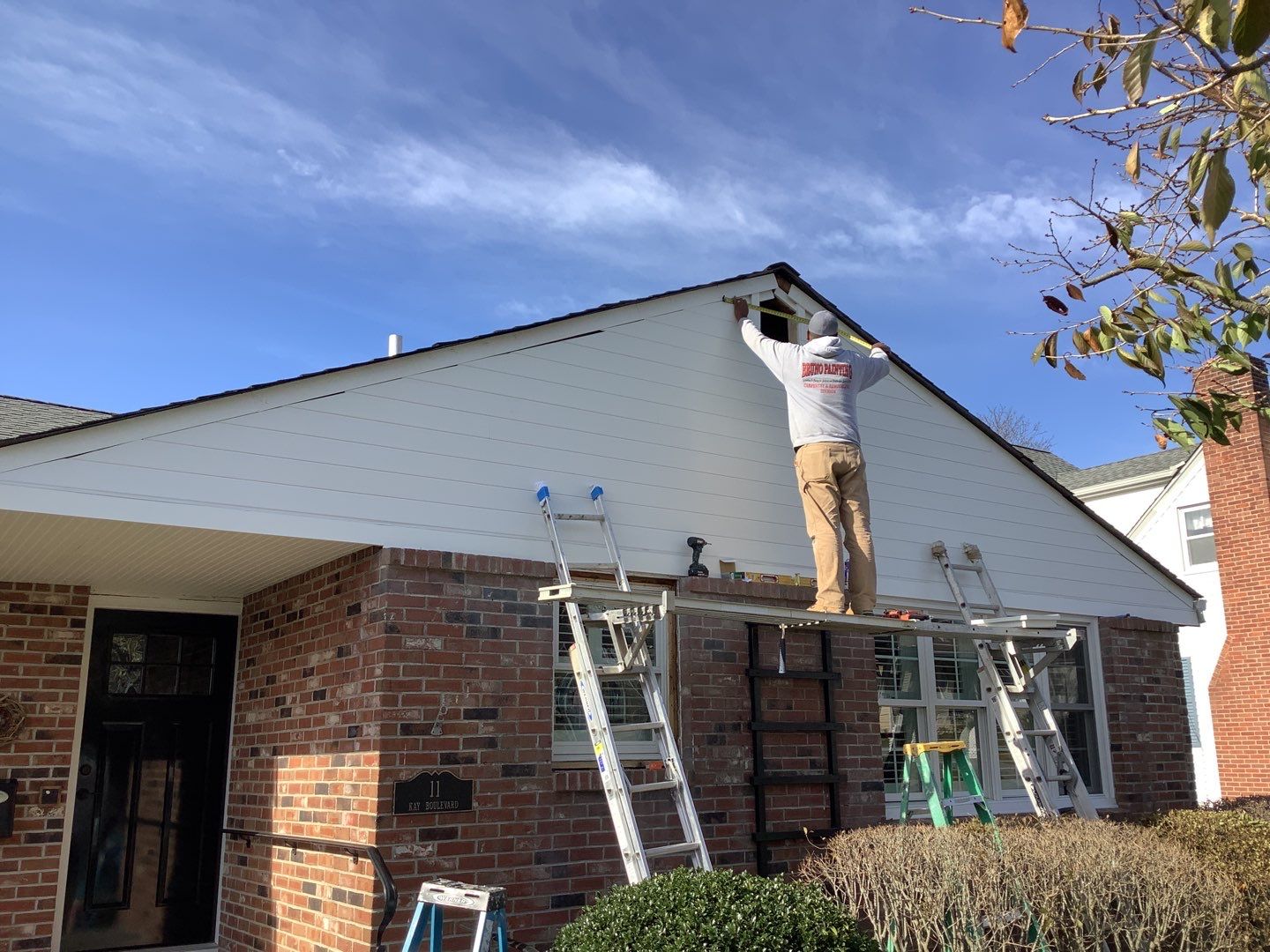 Roofing
One of the most overlooked areas that highly influences curb appeal is the condition of your roof. Signs that your roof may need work include loose or missing shingles, moss, or algae growth, and streaked or dingy spots. While these may be unappealing, they can also indicate damage beneath the surface which will need immediate attention. We recommend scheduling a contractor to come and inspect your roof to be sure there are no areas that need to be repaired or replaced.
Finishing Touches
You don't need to have a green thumb to make your lawn and surrounding areas look great for curb appeal. Adding planters with bright flowers and long grasses can give your home that coveted coastal vibe. Mulch can be used near your foundation to reduce root growth and give your home a uniform base. Lighted paths and ornamental lights around your front entryway make a home look more appealing, well-cared for, and allow for your home's curb appeal to be appreciated into the evening hours.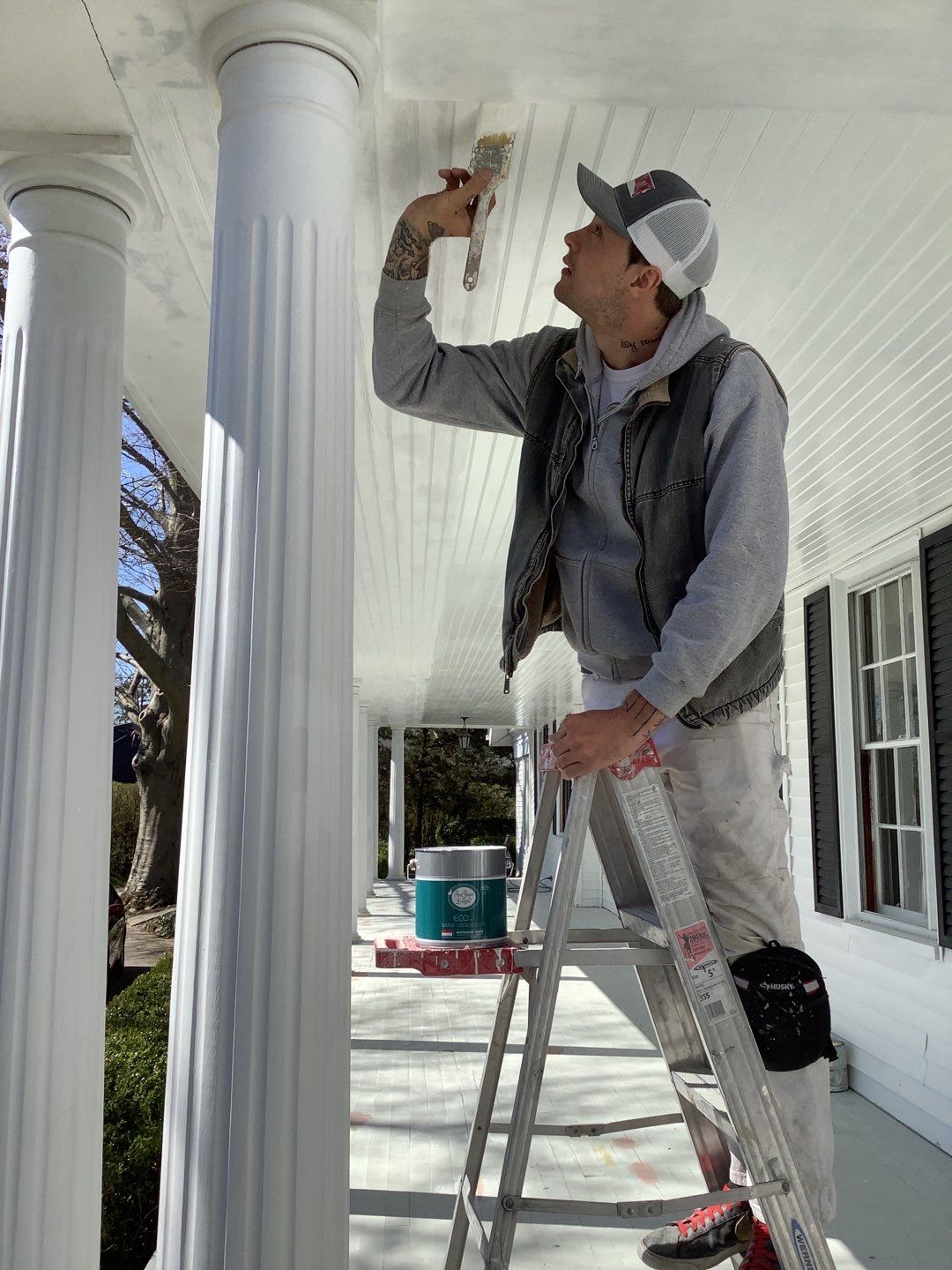 Whether you are getting ready to sell your home or simply want to enjoy your home's exterior, curb appeal is a mood-boosting, price-increasing, great way to make your home look and feel better. If you have already started working to increase your home's curb appeal, or if you don't know where to start, the experts at Bruno Painting can help you in making your home look its best! Upholding and caring for surfaces and relationships is at the heart of our top-quality work.
Making your home a unique and comfortable space is at the forefront of many homeowners' minds. From charming kitchens to cozy living rooms, making your home a pleasant, safe haven has never been more important. While it is a commonly known fact that the color of a room can influence your mood and how you feel in a space, the brand of paint you use can elevate your sense of pride in your home as well. 
Many homeowners in Rhode Island have been trading out standard paint brands with ones like Fine Paints of Europe® to complete their home projects. Our professional painters at Bruno Painting are certified Fine Paints of Europe painters and want to share all about this brand: who they are, why they stand out, what customers have been saying, and how it may be the perfect fit for your home.
What is Fine Paints of Europe?
Since 1987, Fine Paints of Europe has been an independent company that imports high-quality paint from the Netherlands. As a family-owned and operated business, their service and goal is straightforward; to provide the finest paints to homeowners, professionals, and the architectural and design communities. They are dedicated to bringing only high-quality Dutch paint to the U.S. through local reputable retailers. 
What Makes the Difference?
The quality of paint you choose affects both the immediate finish quality and the long-term durability. Fine Paints of Europe contains zero fillers and only superior pigments, binders, and solvents. While these components are found in every paint, the quality of their formula is simply unmatched.
With high-end ingredients, paint lasts longer, provides richer color, and performs best, standing the test of time. While less expensive brands use fillers to stretch the paint to increase coverage and lower costs, higher quality paints do not. Surfaces painted with lower quality paints will need to be repainted more often which can become just as expensive as using a high-quality brand like Fine Paints of Europe.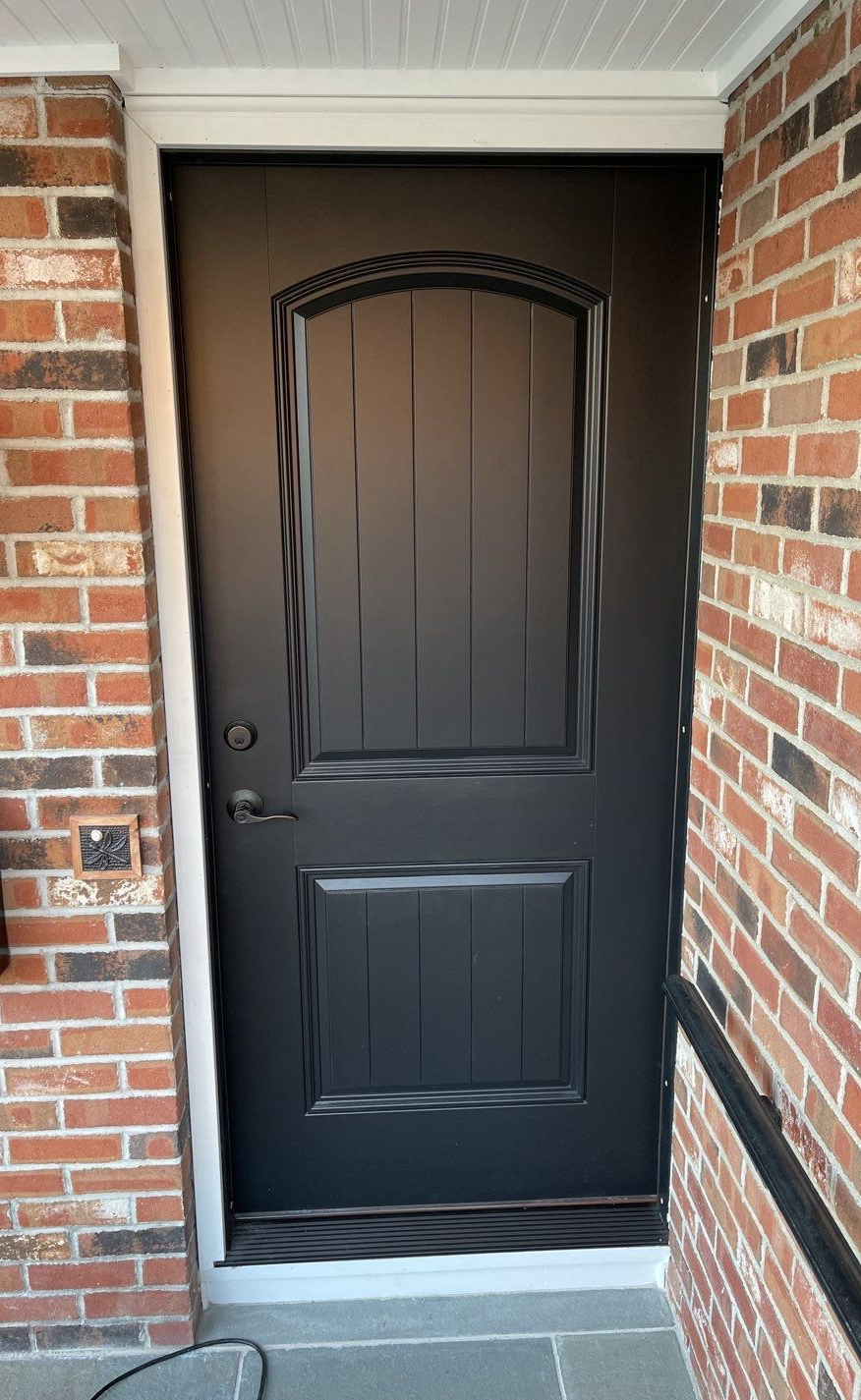 How Long Does Fine Paints of Europe Paint Last on Your Home's Surfaces?
Proper application, including preparing your surfaces, will influence the longevity of any painting project. With a well-prepped surface by a professional painter, a project using Fine Paints of Europe is expected to last 8-10 years–well over the average length which most U.S. homeowners wait before repainting. Some have even reported having great results upwards of 15 years later with only minor necessary touch-ups.
Regardless of how long you are looking to go between repainting your surfaces, a high-quality paint will retain an even finish, require fewer coats of paint during application, and will better stand up to everyday wear-and-tear. Ultimately, better quality paint will provide your home with a more durable, brilliant finish that will protect your surfaces for a longer period of time.
What Customers Say
Customers have been extremely happy with the results they have seen using Fine Paints of Europe. Those who have been to the Netherlands can attest that Dutch doors and colors are an incredible sight to see. Bringing those vibrant hues to homes creates a welcoming and unique environment that US homeowners will be excited to select and have on their homes. 
Many painting customers are happy with the low environmental impact of Fine Paints of Europe. As a U.S. Green Building Council member, they follow environmental guidelines and requirements to ensure that these paints are safe and effective. These low-VOC paints guarantee low odor and contaminants in every gallon, which safeguards those with respiratory problems.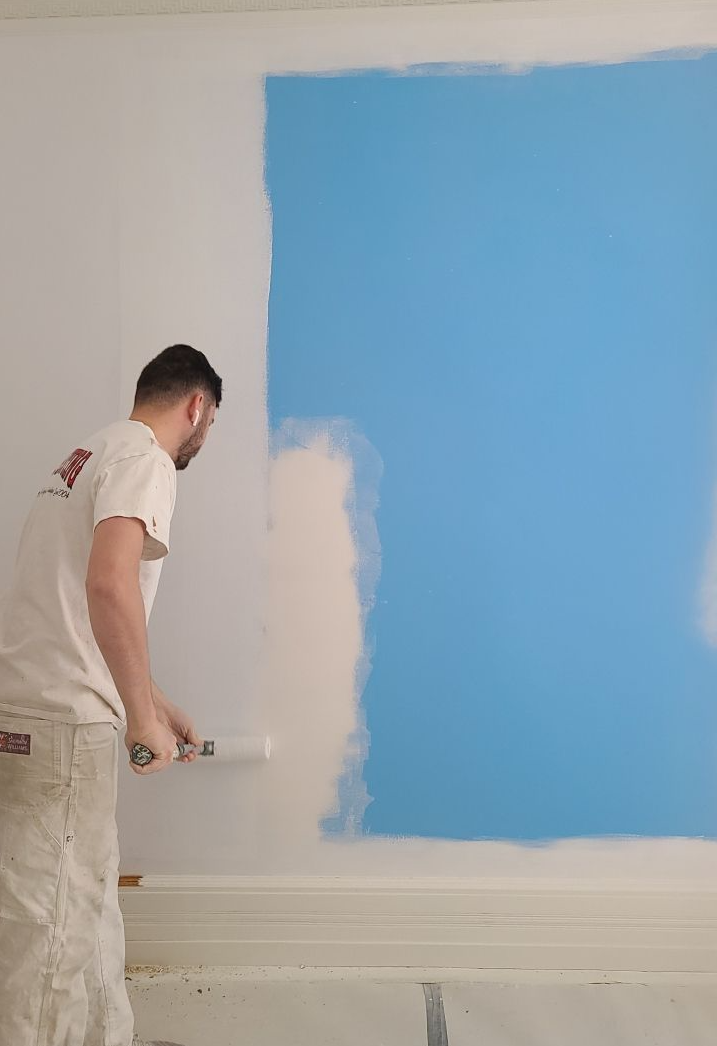 What Painters Say
Skilled professional painters want to exceed their customers' expectations with every project. Painting contractors have not only seen delighted customers, but they themselves are impressed with the ease of application and superior quality Fine Paints of Europe offers. The quality of this paint outmatches many of its competitors. 
The creators of this paint value fine finishes and workmanship so highly that they strongly recommend their clients utilize an experienced, professional painter when using their product. In fact, Fine Paints of Europe has created a Master & Certified Painters Program for clients to identify which painting contractors employ the most skilled craftsmen. Holding this high standard for professional painters speaks to Fine Paints of Europe's commitment to meeting a higher standard of excellence.
Our owner Rick Bruno has dedicated himself to continually improving his trade. Rick has recently graduated from the Fine Paints of Europe Certified Painters Program and continually challenges himself to bring quality work to every home in Portsmouth and the rest of the classic coast. 
Spring is slowly blooming around Portsmouth and with it brings excitement in the air. If the season of re-birth has inspired you to repaint any part of your home, contact us and let our skilled professional painters transform your home this Spring.
Spring is upon us. It represents a time of rebirth and fresh starts. As you make your plans for this season, be sure to include a refresh and reset of your home. Take the opportunity to evaluate the interior and exterior and prepare for the warmer days ahead. The experts at Bruno Painting have created a Spring Home Maintenance Checklist that goes beyond basic spring cleaning, detailing a variety of projects for homeowners. If you find you need a hand, Bruno Painting is here for you every step of the way!
Small Indoor Projects
It's a good idea to take care of your interior projects during the cold and wet weather season. As soon as the weather breaks, many of us who've stayed inside because of the cold may find it difficult to spend time indoors working on and finishing up the projects we started. To ensure your interior projects are completed before the Spring weather arrives, check these small indoor projects to be sure your home's interior is refreshed and ready.
Check Screen Doors and Windows
Inspect your screens to make sure there are no holes or gaps, especially since mosquito season is coming.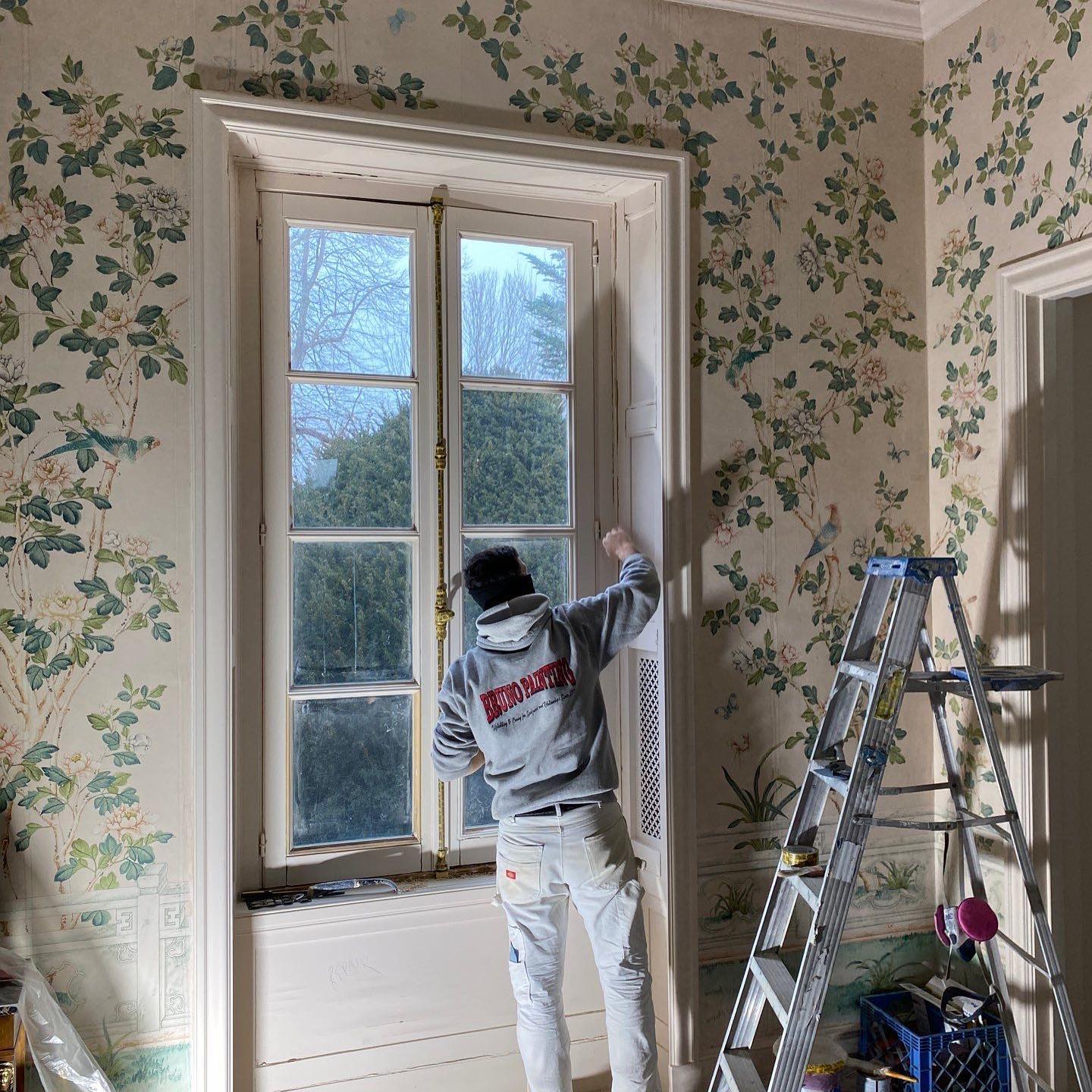 Inspect Caulking Around Windows and Doors
Fluctuations in temperature and exposure to damp, humid air will break caulk down over time. Look for cracks, gaps, or discoloration around all windows and doors. If you're unsure about the condition of the caulk, you can also gently pick at the edge; if it crumbles or easily separates, then the caulk needs to be replaced.
Safety First!
Every season you should test and dust all home safety products, including smoke, gas leak, and carbon monoxide detectors. Be sure you have backup batteries on hand. Nothing is more annoying than a smoke detector whose battery is low and then, not having the ability to change out the old battery right away.
Make sure your fire extinguishers are in good condition and haven't expired. If your extinguisher requires professional inspection or recharge, contact the manufacturer or your local fire department for help.
Medium Indoor Projects
 Check for Leaks
Inspect faucets, under sinks, around dishwashers, and under and around washing machines for standing water or evidence of leaks. Look for discolored pipes, water spots, peeling paint, soft wood, mildew, or mold. Contact a contractor or plumber immediately if you suspect a leak.
Consider Upgrades
Check to make sure lighting, appliances, and other essentials are running effectively. Also, consider conducting an energy audit to evaluate your energy consumption. If replacements are necessary or would cut future utility costs, research the cost-benefit of newer energy-efficient models.
Replace Intake Filters
Plan to replace your central air filters every three months. New, unobstructed filters ensure your system is both running efficiently and pumping in cool, clean air.
Large Indoor Projects
Interior Painting
After spending winter inside, staring at the same walls, you may decide it's time for an update. Check out our blog for some inspiration for your next painting or carpentry update.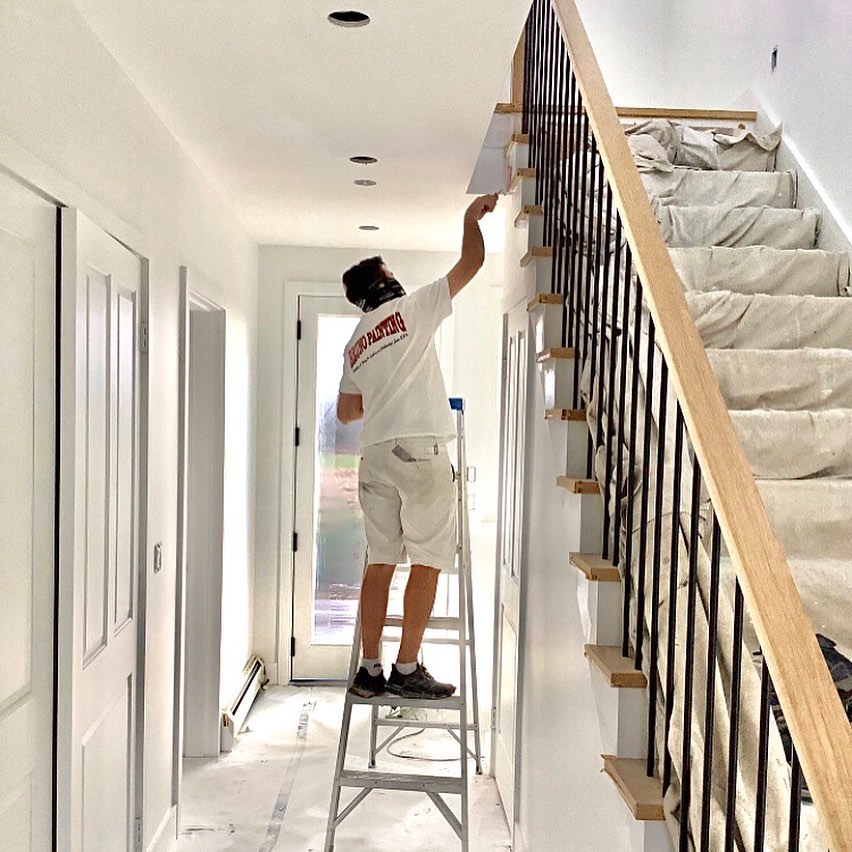 Check for Evidence of Termites
Termites are typically a nuisance between March and June. If you notice a large number of winged insects flying out of one location this spring, it's time to call pest control experts. After the infestation is addressed, look for a contractor to replace the rotten wood and prevent future problems.
Small Outdoor Projects
As the weather breaks, there are several outdoor inspections you'll want to make to ensure your home is in the best condition possible.
Inspect Roof
While inspecting a roof sounds like a task requiring a roofer, an initial roof inspection can be done relatively easily – no ladders required. Simply use binoculars or take a photo on a smartphone and zoom in to inspect your roof. You want to make sure there is no damage to your shingles, chimney, or vents. Take note of any debris or grime left over from the winter and contact us to wash your roof if needed.
Clean Outdoor AC Units 
Winter weather and disuse can lead to a buildup of dirt and debris on and around outdoor AC units. Make sure all sides of your unit are clear and free of debris or landscaping that might inhibit sufficient airflow. Use a broom or brush and a hose to clear accumulated dirt on the grates. 
Medium Outdoor Projects
Clean Gutters and Downspouts
Clogged gutters and downspouts can lead to rot, which can further snowball into multiple problems including bug infestations and rotten wood trim. Check this project off your list as quickly as possible to prevent problems from fall buildup and to prepare for spring rains.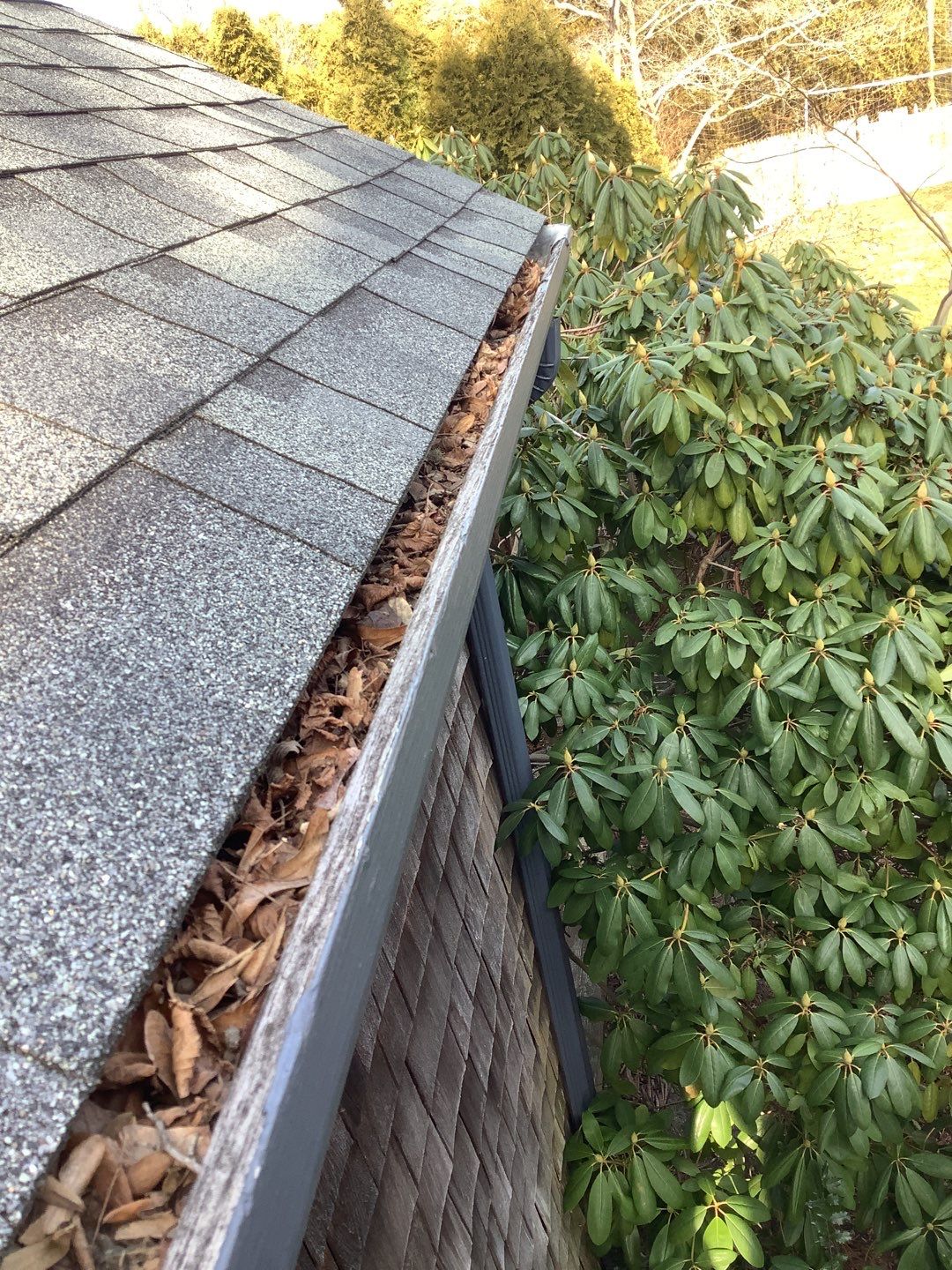 Reseal Exterior Woodwork 
Utilize warmer spring days to reseal exterior wood such as fences, decks, and railing. Resealing every year or two will help your outdoor structures last longer and look better.
Large Outdoor Projects 
Exterior Painting
Winter is a great time to plan and Spring is a great time to schedule exterior painting projects. The fresh colors of Spring offer great inspiration for a new exterior color. Consider scheduling the painting projects for your Spring home maintenance checklist with your local residential painter now to beat the impending warm-weather rush.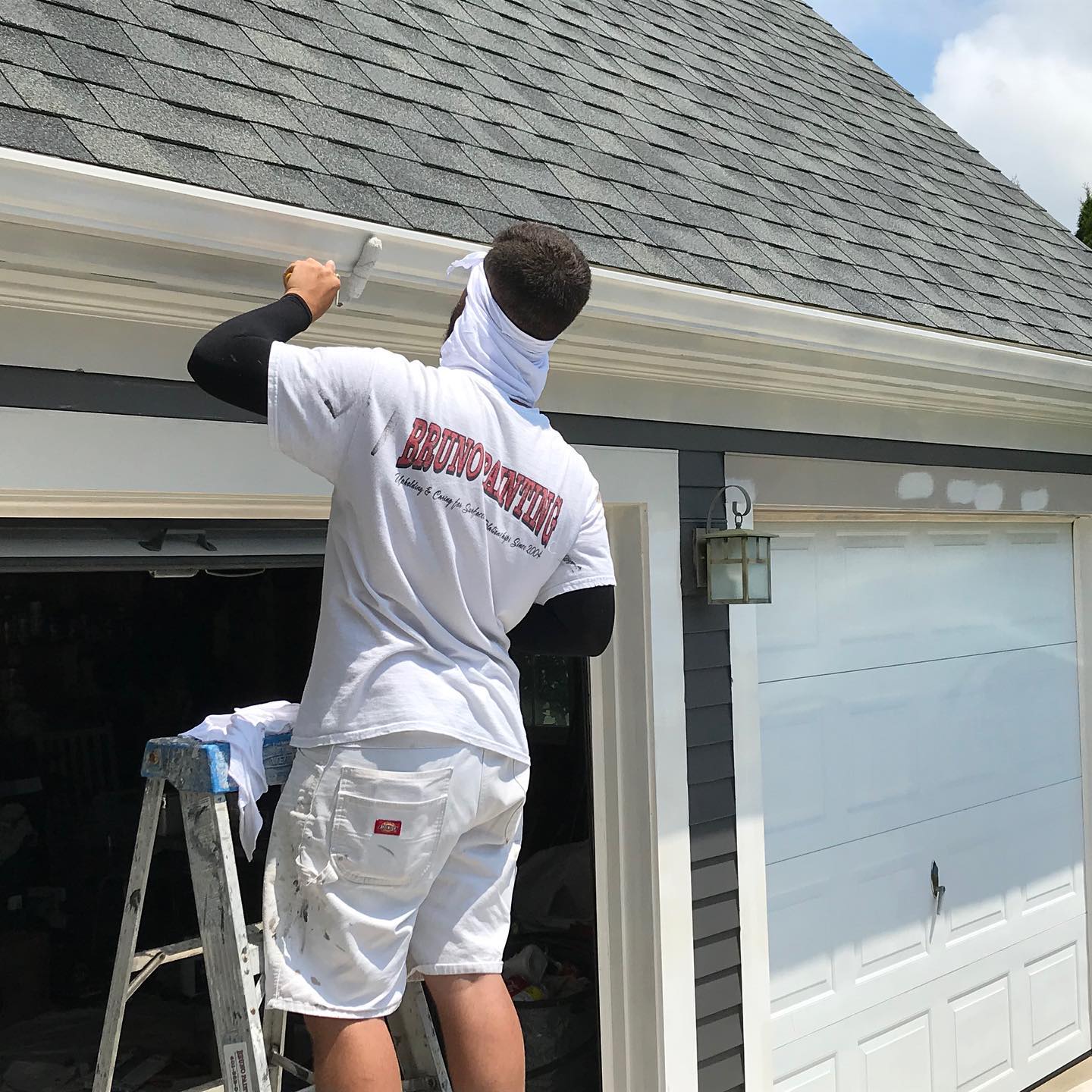 Pressure Wash
After harsh winter weather, your patios, decks, driveways, walkways, outdoor furniture, and siding could all use a thorough cleaning. While your home is getting pressure washed, make note of any irregularities and address problems or damages before they grow.
Inspect Deck
Check decks and wooden walkways for loose nails, rotten boards, discoloration, and buildup of debris between boards. Routine care will extend both the life and beauty of big-ticket items like a deck. Simple care like hammering down loose nails or sweeping in between boards, up to larger tasks, such as replacing individual planks, can significantly increase a deck's longevity.
Finally coming out of our winter hibernation can feel exciting, but that initial enthusiasm may wane when we start going over our spring to-do list. While a homeowner's top priority is providing regular maintenance and care for their home, remember that you don't have to do it alone. If your schedule is already full or you feel a project is beyond your ability, don't hesitate to reach out to us. We have expert designers, carpenters, and painters on staff to help you with all of your needs for your Spring home maintenance checklist.
At Bruno Painting our mission is "Upholding and Caring for Surfaces and Relationships." Whether you need a team of excellent  painters or expert carpenters, we are ready to help you with all your home's maintenance and updating needs!
Deciding to hire a professional painter to update your Rhode Island home is an exciting step in updating your living space. It can also potentially increasing your home's value. Fresh paint can breathe new life back into your space, whether you're thinking about having your walls and ceiling painted, your cabinets, your interior doors, and trim, or even a full or partial renovation.
Browsing at design and decor photos for inspiration and choosing colors is exciting. However, choosing a reputable carpentry and painting company and getting a quote can seem like a lot. Instead of feeling intimidated, use the opportunity to better understand with the painting process. You can also get acquainted with the best available painting contractors with whom you may choose to work with again in the future.
Interacting with the employees of the different painting companies you're considering can help you see if they're professional and whether you'll work well together. Pay attention to the details of both your customer service experience and the information provided in your quote. To feel like you're choosing the right carpentry and painting company for you and your home, it's best to understand what to expect from a house painting quote.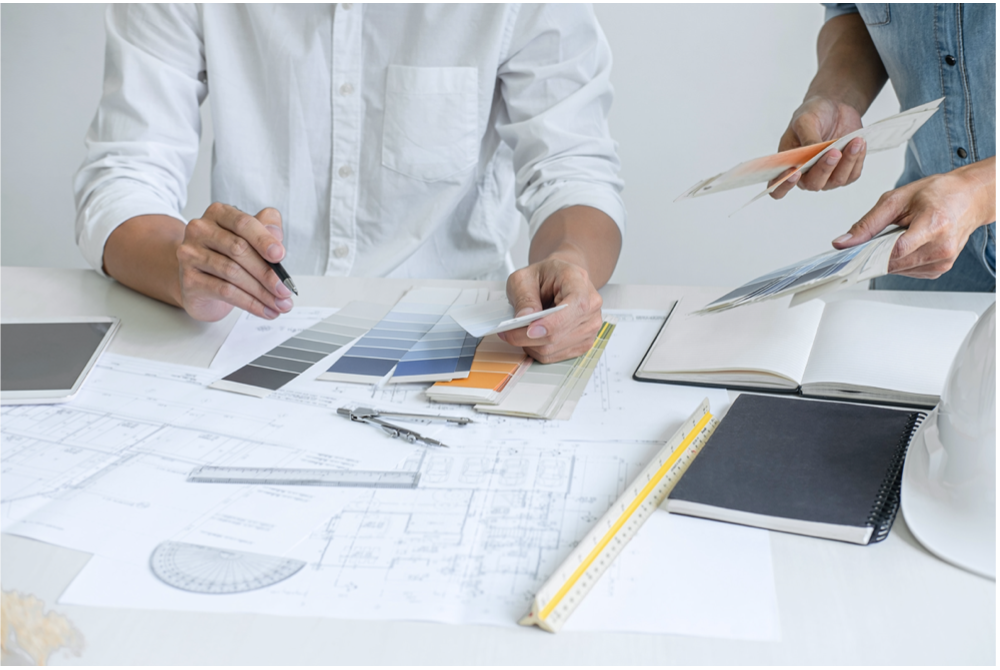 Getting an Estimate
While estimate processes differ slightly among painting companies, all should provide a detailed price quote. Your house painting quote will also include other important information. Most painters offer a free quote, while others may charge a set fee that is later applied to your final bill. Be extremely wary of any company that is reluctant to provide a quote or estimate in writing. Quotes are the foundation for establishing the expectations of both the homeowner and the contractor.
After you've scheduled your estimate, an estimator will meet you at your home to discuss your project and assess the condition of your home. Expect an experienced painter to ask detailed questions about your vision and goals for your update.
Some painting companies may conduct your initial meeting virtually and visit your home at a later date to take measurements, photos, and inspect for repairs in person. The in-home visit is a great time to discuss any questions you may have about a painter's methods and materials. You may also want to discuss the overall process for painting your home. Regardless of how the estimate is conducted, a professional painting company should ensure you are comfortable with the process and be willing to answer all your questions.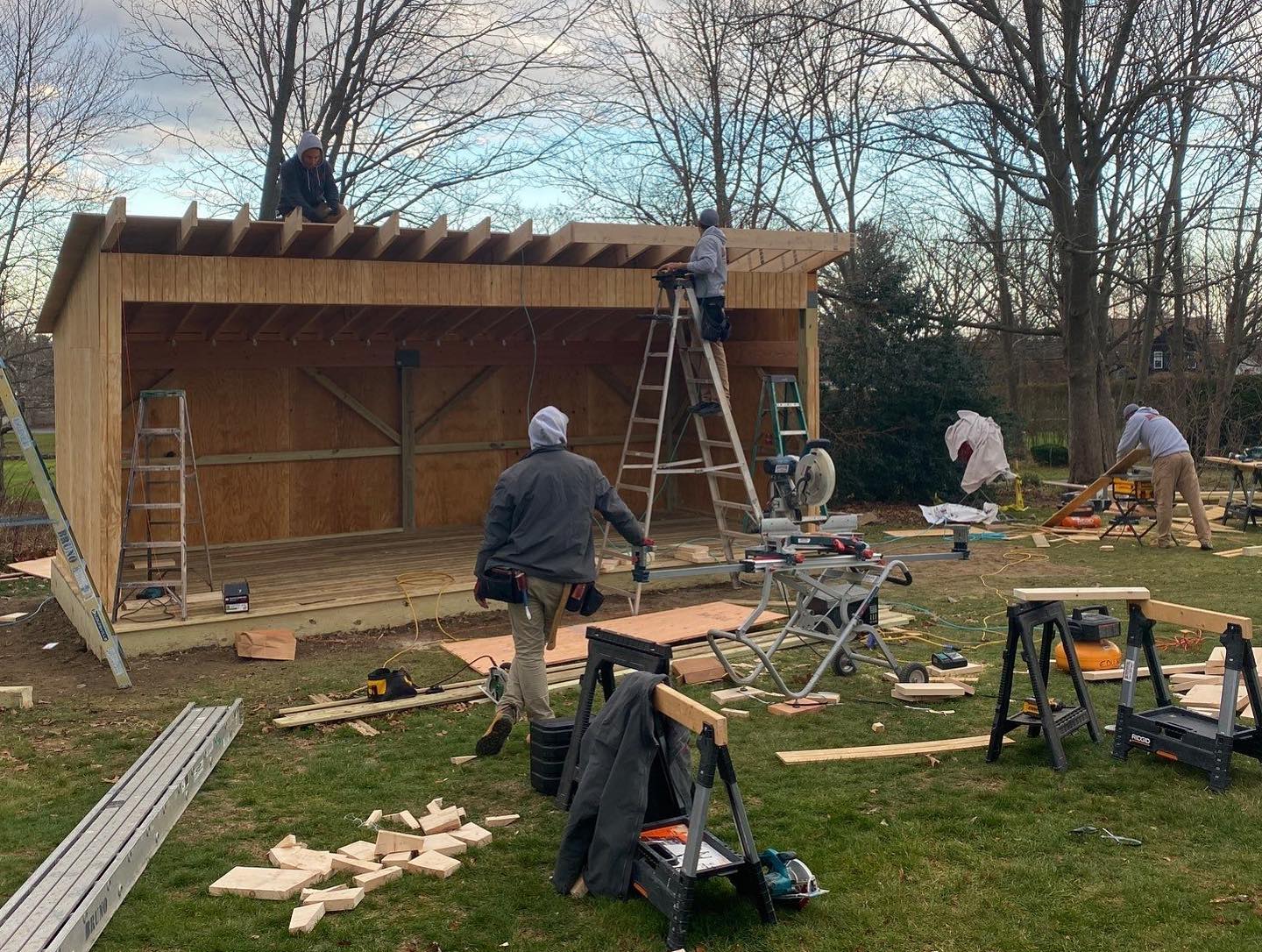 What Your Carpentry and Painting Quote Includes
After considering all the details of your project, your painter will generate a detailed quote for your review.  From repairs, paint types, required tools, and more, the goal of this process is to leave you with a specific and accurate estimate of the cost and time for your project.
Your carpentry and painting quote should include the following details:
Cost of labor
Material costs
Rooms priced separately with detailed explanations of work included
Description of surface prep work (resurfacing, priming, etc.)
Suggested and/or required repairs
Details of paint application (including the brand name and number of coats of paint)
The house painting quote should also provide a project timeline with step-by-step descriptions of the proposed plan. Overall, every important detail should be included to avoid any hidden charges or surprise fees. In fact, professional painting companies sometimes complete unanticipated work or make other necessary adjustments and still complete your job well and on time, without adding to your cost
Your painting quote will show a breakdown by room, showing labor costs, materials costs, and other line items. There may also be an additional cost for any necessary repairs. Additionally, your painting contractor should provide proof of insurance and liability coverage to guarantee that your home is covered in case of an accident or damage.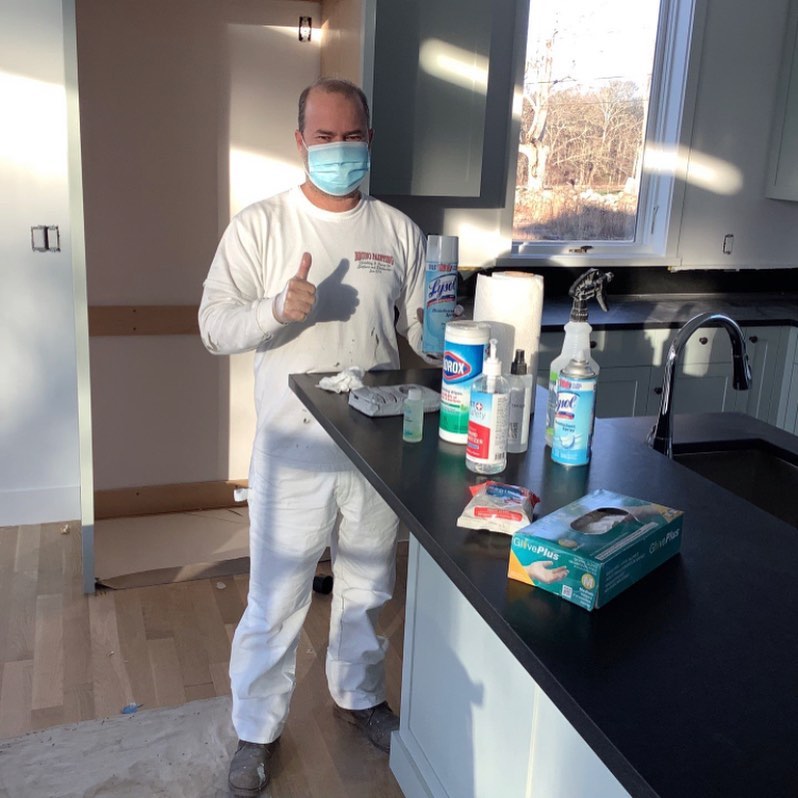 The Unwritten Expectations
You should expect each painter adheres to the highest professional standards. You should feel at ease knowing that you will be treated with the utmost respect and courtesy and that your home is in good hands.
While caring for your home, your Lead Painter should be able to provide you with updated policies when it comes to COVID procedures and how your family will be protected throughout the project. At the end of the day, your painting contractor should act professionally to care for both you and your home.
Winter on the Classic Coast is truly an ideal time to schedule a home painting project. Reduced demand for exterior painting allows professional painting companies to offer discounts and greater flexibility in scheduling to meet your needs.
Bruno Painting has been upholding & caring for surfaces and relationships since 2004. If you have been considering painting your home, but have been reluctant to get started, we would be happy to walk you through the estimate process. Some of our clients are so happy with our work, they've shared their experience with us. Feel at ease knowing you're in the best hands with carpenters and painters who care about your home as much as their own.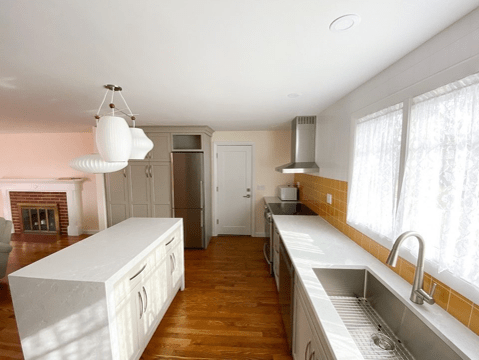 Case Study - Portsmouth Kitchen Remodel
Earlier this year, the Bruno Painting, Carpentry, and Remodeling teams completely remodeled a Portsmouth kitchen. The homeowners wanted to update and modernize their kitchen. In our initial consultation and estimate with our clients, we decided that a new layout with added features would be the best use of their space.
Initial Consultation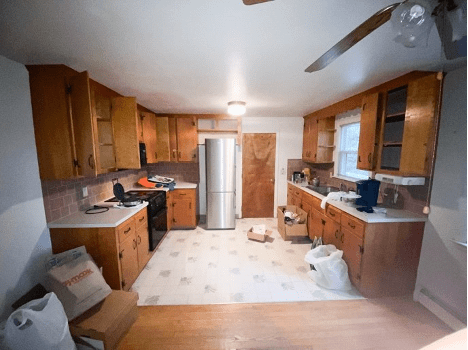 To understand the homeowners' needs, we asked them some important questions about their current kitchen, how it fit their family's needs, and in what ways was it no longer a fit for their family's needs. You can ask yourself these questions if you're considering a kitchen remodel to help guide your renovation project.
Does the flow of your kitchen make sense?
If you have an awkward layout or the configuration of your kitchen makes cooking more difficult than it should be, you may want to remodel. For those looking for added storage, updating your kitchen is an excellent method of improving the functionality and convenience of your kitchen. You may even be surprised at the increase in efficiency and how much extra time you'll want to spend there, once your kitchen flows the way you want.
Does your kitchen meet your needs?
For those with a growing family, you need a space that can adapt and change with your family. From family gatherings to distance learning, having the proper space is imperative.
Is your kitchen outdated?
If you have grown accustomed to older appliances that don't work the way they should or if you have linoleum flooring from when your home was first built, it may be time for an update. In fact, these old components may be more than just an eyesore. Reports have shown that outdated appliances are a common cause of house fires, and a majority of house fires start in the kitchen. Keeping your family safe by updating may be one of the best decisions you make all year.
What is your budget for a kitchen remodel?
Some decide to change their kitchen's appearance by sanding and repainting their cabinets and walls as a quick facelift for their kitchen space. This is a great option for those with a tighter budget and when the overall flow of a kitchen space still works. Additionally, if you're thinking of selling your home soon (within the next year or so), a smaller update may be the way to go. According to Zillow, nationally the average ROI for a minor kitchen remodel is 81.1%!
If your budget has fewer or no limits, there are many ways to lean into a full-scale kitchen remodel, including adding new lighting, fixtures, countertops, a wine fridge, high-end appliances, an exquisite backsplash, and the list goes on. The sky is the limit.
Once we completed our initial consultation, the homeowners' and our team determined that a major kitchen remodel was right for them. Our team got to work and over the course of 30 days, we completely changed the layout of the kitchen so that it felt more open, bright, and welcoming.
Gutting a Kitchen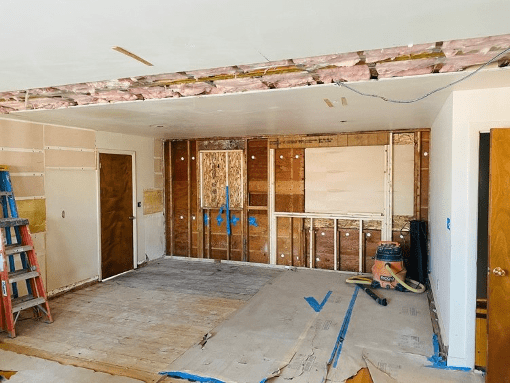 For this particular home, the first step was to completely gut the kitchen. The cabinets and countertops were old and outdated so they and everything else was removed. In their place, our carpentry team built a floor to ceiling storage area next to the fridge, as well as a partial wall, to make the rooms feel separate yet open.
We took out the dividing wall to open the kitchen to the living room area, which makes hosting guests even more enjoyable. With the dividing wall removed, the tile in the kitchen didn't fit the aesthetic of the entire space. Hardwood flooring that matched the living room was installed to give it a more modern look and to tie the two rooms together.
Installing New Appliances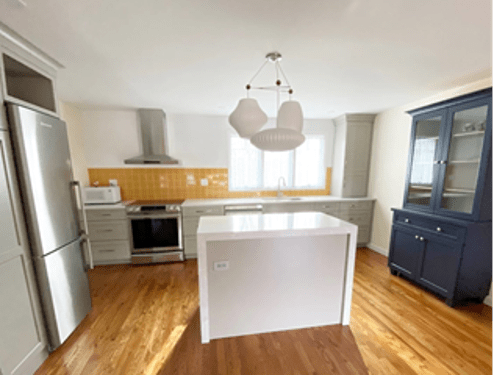 With the new layout, we were able to install a new stove and sink in places that made the flow of the space ideal for these homeowners. These homeowners opted to use their existing refrigerator to reduce costs but chose to add a new dishwasher. Moving the sink and adding the dishwasher meant that the plumbing needed to be moved and updated as well. This welcomed update was carried out by our carpentry division who has skilled plumbers ready to make these types of adjustments.
The hood for the stove was an added feature that brings a modern feel to this space. In order to install the range hood, our carpentry team replaced the window that was there originally with a larger one over the sink. Some electrical rewiring was necessary to make the new arrangement work properly.
Final Touches
The island and hutch were chosen by the homeowners as a beautiful way to maximize storage space. The countertops were carefully selected to brighten the room and complete the modern look of this kitchen remodel.
You'll notice the updates to the light fixtures truly pulls the remodel together. With recessed lighting installed over the sink and a modern chandelier over the island, the room is well lit into the night. Finally, some bright tile used as a backsplash for the stove and sink were installed.
Once all these updates were made, our painting team finished the space update with a fresh coat of paint on the walls and the kitchen remodel was complete!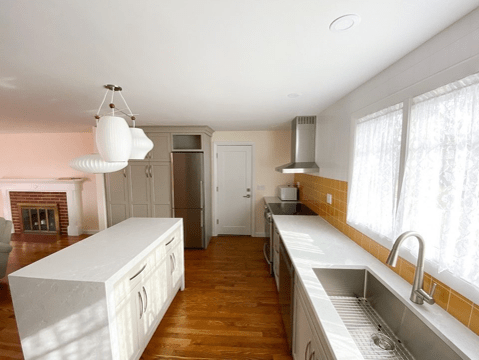 The final product is a beautiful kitchen with great flow, lots of natural light, and an open-concept space.
Upholding & caring for surfaces and relationships since 2004 isn't just our mission statement. It is our reminder to ourselves as well as our community that we are committed to excellence.
By caring for you and your home, we strive to make each of our clients feel like family. Reach out to discuss your remodeling project ideas and let us help you create the kitchen of your dreams.
The average American is spending more time at home and that means spending more time getting good use from your home's features. Many have already utilized the downtime caused by the pandemic to renovate their home. By taking this time to make improvements to your home, you'll get to enjoy the updates for more time and perhaps have an even greater appreciation for your new space because of coronavirus restraints.
For those wondering which improvements are worth taking the time to complete, one of our recommendations is a bathroom remodel. There are many benefits to remodeling your bathroom, but some homeowners have legitimate concerns about the process. To help with these concerns, here are five questions to ask when considering remodeling your bathroom.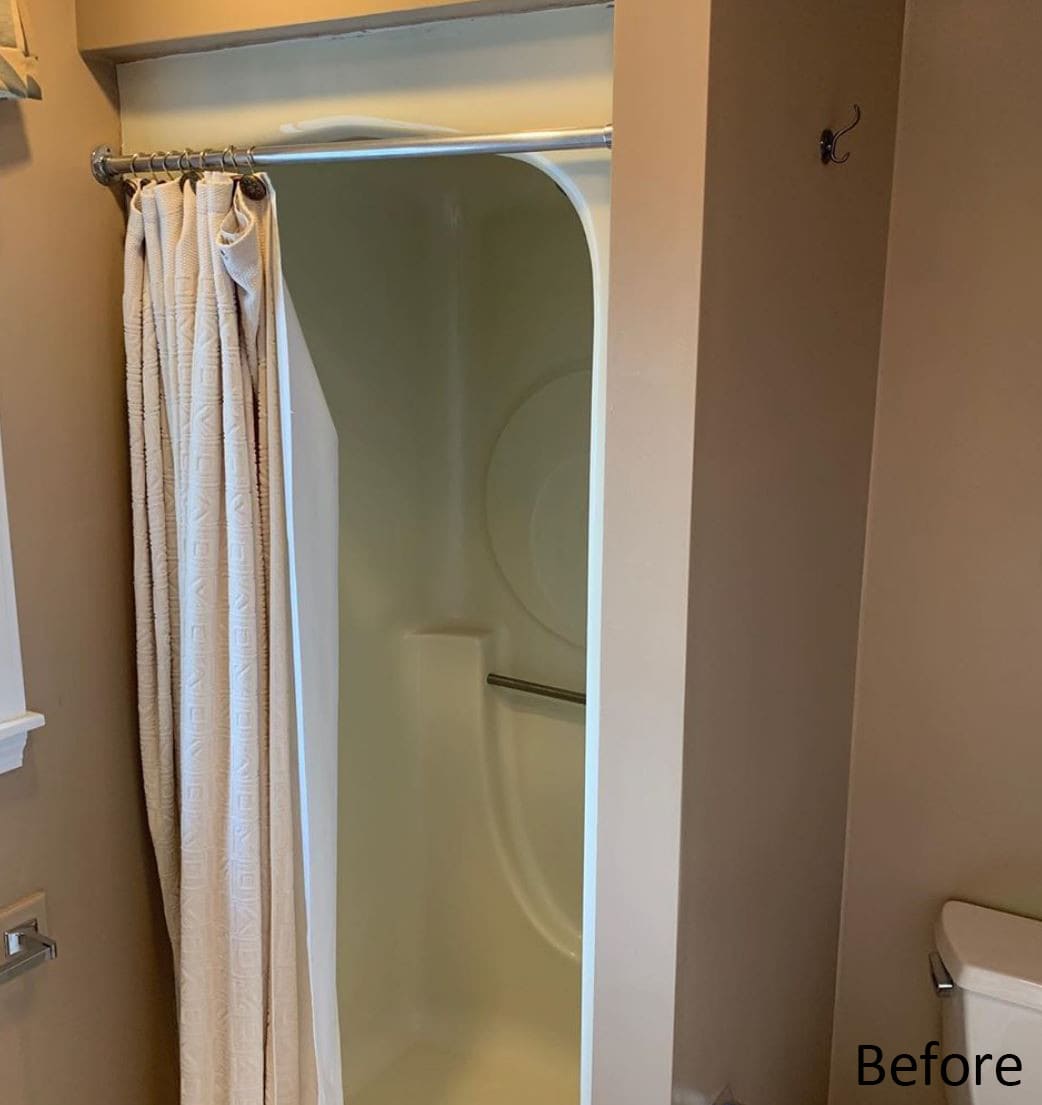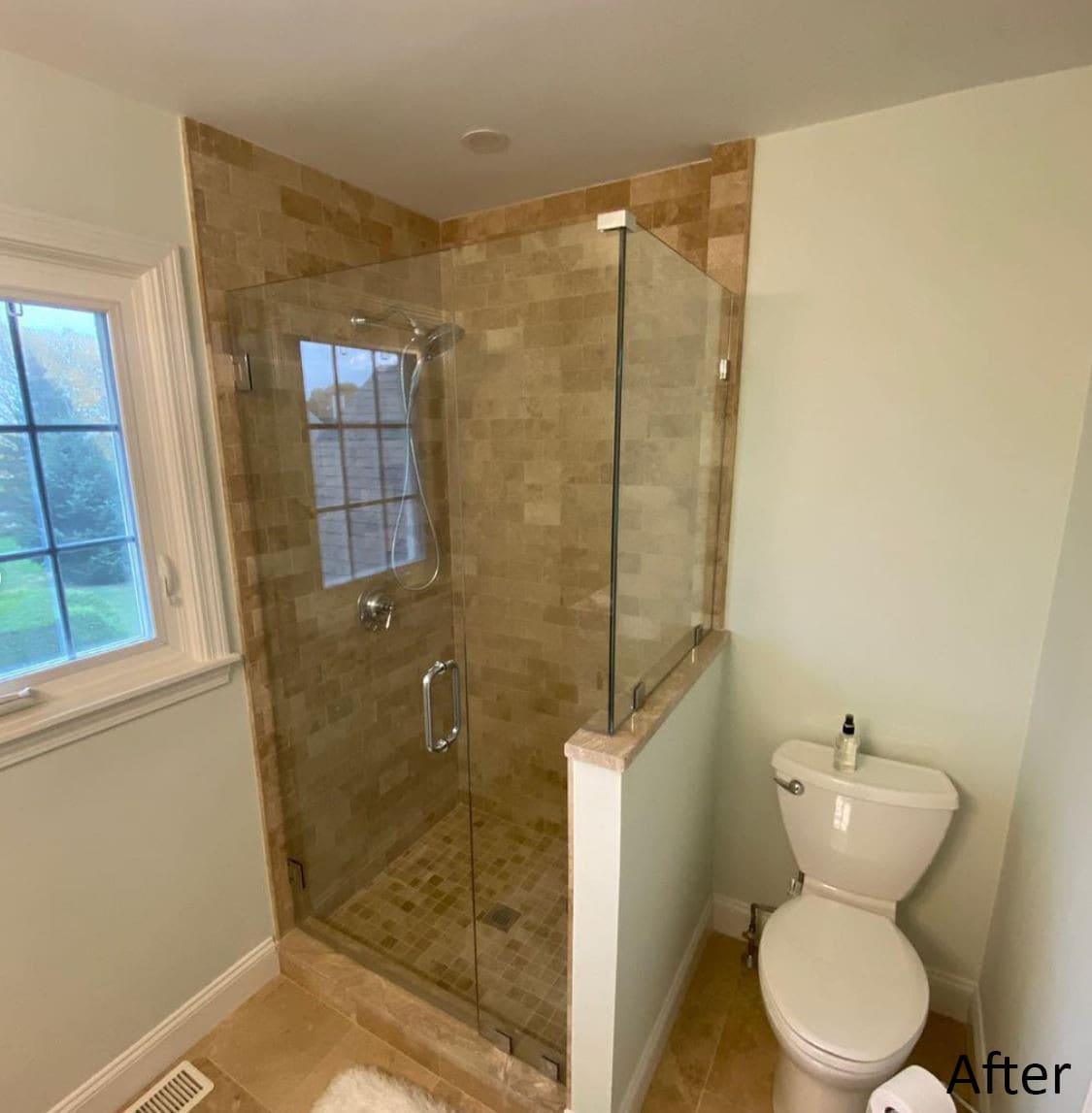 1. What Will It Cost to Remodel My Bathroom?
Maintaining a budget is important with any remodeling project. For homeowners looking to make improvements that will increase your home's value, creating a budget is key to this process. The average at-home bathroom remodel costs around $10,000 and can go much higher, of course. This includes the cost of hiring a contractor to complete intricate tasks like tiling, lighting, and installing a new shower or tub.
If your budget is tight, there are a few ways to lower this cost. For example, consider focusing on a high-quality paint and updating light fixtures instead of laying tile or putting in granite counter tops. You may also want to consider having a remodel done in stages so you can stretch your budget further and make your new space exactly how you want it. Ultimately, you are in control of what you want your remodel to cost, so plan well and enjoy both the process and the outcome.
2. Is it Worth it to Remodel a Bathroom?
The wisest investors know that if you are going to invest in anything, it needs to be worth the time and effort spent to make the improvements. While some are focused on the bottom line, others want to know that their home remodel is going to add value to their lives, and then to their bank account when they sell their home.
If you are in the market to sell, and your realtor suggests a bathroom update before listing, you may want to listen. Some studies show an average of 50% (but sometimes closer to 70%) return from bathroom reno projects. Some parts of the Providence area have even seen returns of more than 100% on their bathroom renovations.
For home renovations, a bathroom renovation is one of the highest returns on investment you can make. The key here is to focus on spending money wisely on the updates that will bring about a high return. For example, adding a second sink in a master bathroom or installing a doorless, larger shower space, will add more value than choosing the most expensive countertops. It is a balance between enjoying what you prefer now versus how much the update will return to you as a percentage of your investment.
There is also the "Joy" factor to consider when remodeling. Those who have made bathroom remodels a priority have reported being happier in their homes and satisfied with how their updates have made them feel. You sometimes cannot put a price tag on happiness.
3. Does my Bathroom Need to Be Remodeled?
One of the most common misconceptions about bathroom renovations is that everything will need to be replaced during a renovation. With a bathroom renovation, you can do a partial or a full renovation.
Some homeowners are embracing their retro pink or blue wall tiles, while others wouldn't dream of living with such a dated looking bathroom. First, decide what you like and what you don't and what things bother you and must be replaced as a priority. Next, build your budget and your list of things to be done as part of your bathroom reno project.
Cracked tiles, leaking toilets, and outdated bathtubs will need attention to get the most out of your investment. Thankfully, these are items that can be replaced relatively easily by a qualified contractor.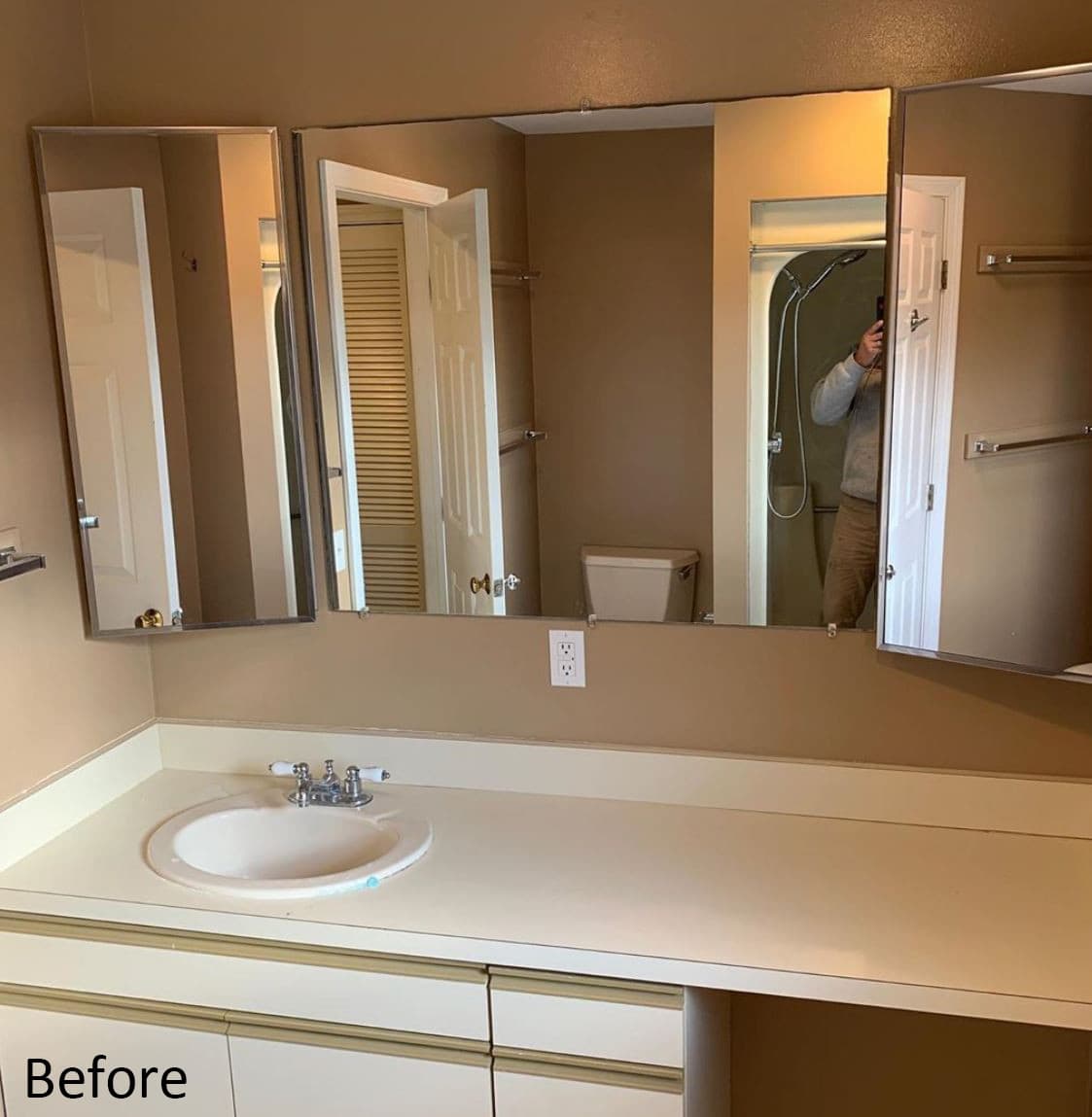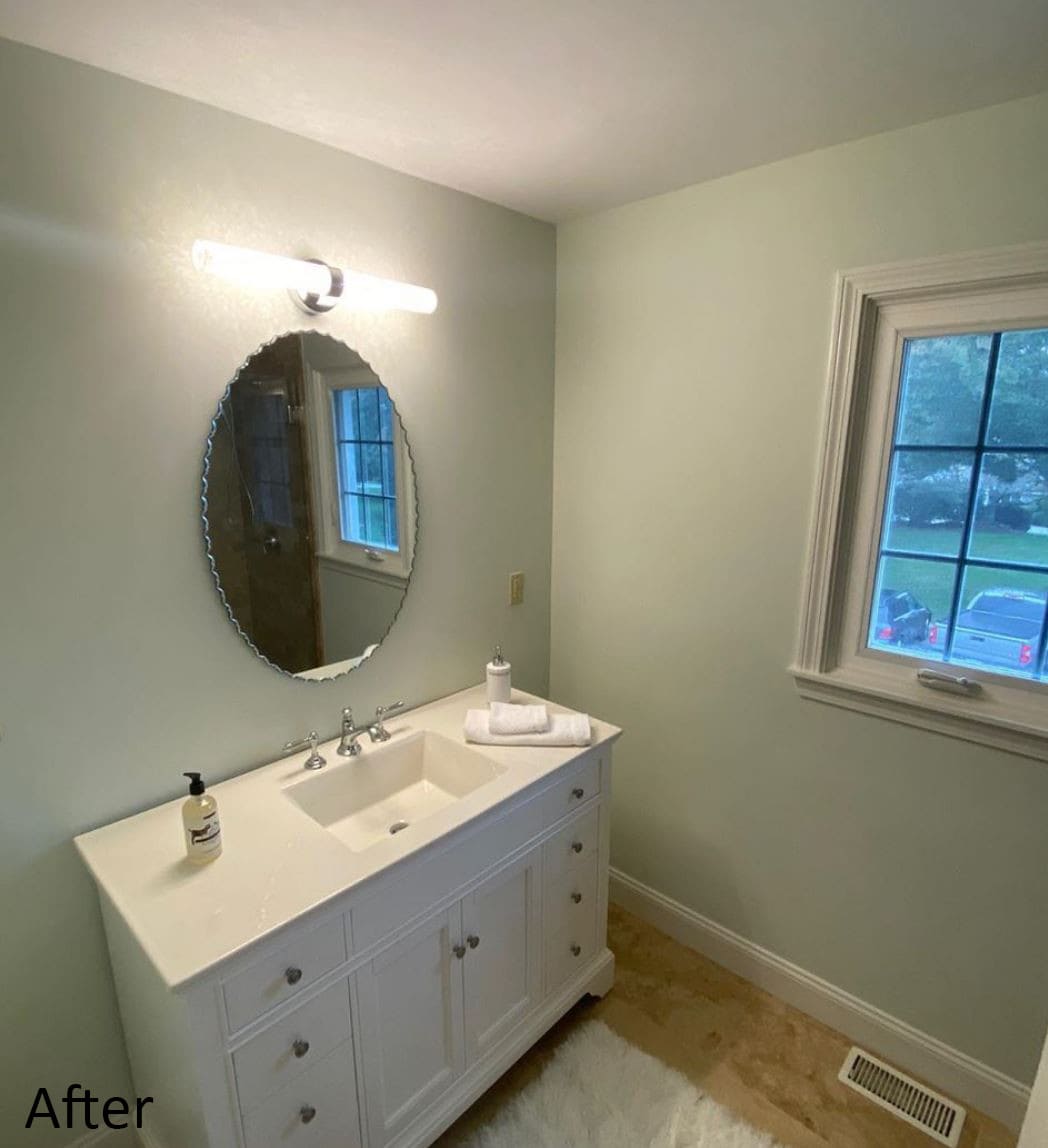 4. What Can I Remodel in My Bathroom?
A bathroom remodel can be a creative project as well as a source of future profit. For resale value, classic and traditional colors and selections tend to bring a higher return. Ultimately, you are remodeling for yourself and your enjoyment of your space for as long as you choose to live in your home.
It's worth noting that if your home has only one bath, adding a second bathroom typically adds more value to your home than a remodeled bathroom. For bathrooms, it's quantity over quality, especially these days when many are at home, perhaps even giving their pets a bath and preferring to do that in a separate tub area.
Buyers are also most interested in cabinetry, flooring, and a new tub or shower. For homes in neighborhoods with lots of families, tubs are extremely popular to remodel, especially if you have the space for a standalone tub in the owner's suite. Otherwise, many are opting for adding huge, walk-in showers to make their delay routine easier and more enjoyable.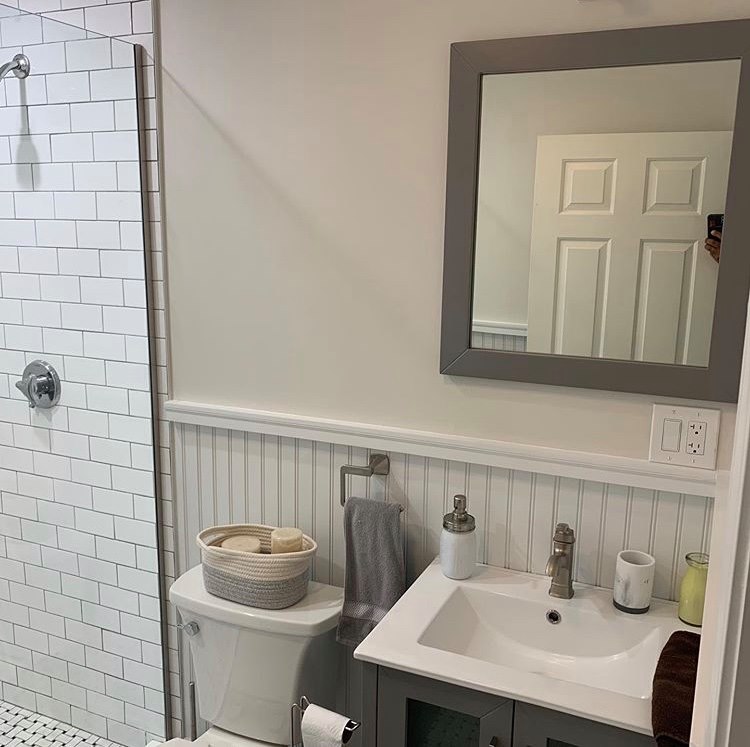 5. Should I Hire a Contractor to Remodel My Bathroom?
While some home remodeling projects can be done by the homeowner, a bathroom remodel is one that is best left to professionals. A bathroom has many complex components that take a skilled craftsman's expertise to ensure it is completed correctly. From electrical to plumbing to tilework and everything in between, a licensed professional contractor will ensure that your bathroom renovation is done right the first time.
The bottom line is hiring a contractor who can take care of the carpentry, remodeling, and painting work is essential when deciding to do a bathroom renovation project in your home. Too many have started a bathroom reno project, only to find months and years later, that it is just too difficult and time-consuming, even if you are spending more time at home.
For all bathroom renovations, large and small, we recommend utilizing the services of an experienced contractor who can provide you with design ideas, great work, and an end result that you love.
Upholding and caring for surfaces and relationships has been our mission at Bruno Painting since 2004. We care deeply for our clients and work hard to make their homes a more enjoyable space to live. From tiling to remodeling (and of course painting), we have a skilled team of professional craftsmen who can make your home renovation dreams into reality.
Interior painting is one of the easiest, least expensive ways to improve and revitalize your home. Finding the right color combinations will, not only tie a room together, but most importantly will make your entire house tell a visual story as you and your house guests move from one room to the next.
Starting this colorful storyline can be a challenge but thankfully the masterful color experts at Benjamin Moore and Sherwin-Williams have recommended color palettes for each room of your home. The question is, "Are certain paint colors better for specific rooms?"
Our answer to that question is, yes, "Specific colors in different rooms serve different purposes and can even alter your mood and how you feel while in the room." There's that, but of course, there's a lot more to color theory and how different colors impact the way you feel in each room in your house. Here are a few tips as well as suggestions to consider when selecting the best colors for each room in your house, as you plan out your interior paint project.
Bedroom
Most people desire their bedroom to be a relaxing, calming space. As a sanctuary of sorts, your bedroom should feel like a safe haven where your cares and stress melt away. To create this harmonious and calming effect, muted blues and muted greens both work well. Rosemary Green - SW 6187 from Sherwin-Williams, for example, elevates any space while bringing a tranquil feeling.
Kitchen
The kitchen is the lifeline in every home. The kitchen is the heartbeat that brings life to every other aspect of your home. Choosing a color that expresses your family's heart is an incredible way to bring an emotional connection from you to your home to your family and guests. A pure and crisp look to a kitchen with a subtle addition of color like Hawthorne Yellow from Benjamin Moore can radiate that feeling of life and warmth to the rest of your home.
Living Room
There is a great amount of flexibility in color choice for your living room because it can and should be an expression of what you want it to be. For the idealist or optimist, bringing light and hope to a room can easily be accomplished through color. This Cloud White and Pale Oak, both from Benjamin Moore, bring a sense of optimism into your home.
If a bolder, more grounded feeling is what you desire for your living room, consider a deep green. Cape Verde - SW 6482 from Sherwin-Williams promotes a peaceful and harmonious balance to any space.
Children's rooms
Children also need a space to feel safe and their bedrooms are the place for them to unwind after a busy day. For a calming yet bright approach, try Oxford Gray from Benjamin Moore which actually gives the room a cool, blue feel. If your child's space is small, consider an accent wall matched with a light neutral or white.
Foyer
As the first place you and your guests see upon entering your home, it is important to set the tone with just the right foyer color. Many of our clients ask, "What's the best color for the foyer? A dark, dramatic color or a light and bright color?" Our answer … "The color choice for your foyer depends somewhat on the size of your foyer area, how open it is, how much natural light it gets, and how it's connected to other walls without a room break." Your foyer color choice can be difficult if all your space is open. Even if there's a corner break, you must consider the nearby colors and hues to be sure the flow of the foyer is harmonious with the nearby spaces.
Cyberspace - SW 7076 by Sherwin-Williams can boldly make a statement to your guests unlike any other.
Bathrooms
Smaller spaces such as bathrooms can be overlooked when it comes to interior painting updates. Instead of a remodel with a new vanity or tiling which can become expensive, an update to your bathroom's paint can do the trick in transforming the space. A green hue like Prescott Green from Benjamin Moore is great in this space, where the serene feeling from the color can make you feel like you're at the spa.
Powder Room
The best part of having a powder room is that you can express yourself in ways that you may not be able to in other rooms in your home. Maximizing these small spaces as a statement piece with a bold color can pack a punch and bring that wow factor.
Alexandrite - SW 0060 from Sherwin Williams is just one of many examples of how to pull off this beautiful bold approach.
Bruno Painting has been serving homeowners in Rhode Island, in the Newport area and beyond, since 2004. Our mission has always been Upholding and Caring for Surfaces and Relationships. We take great pride in the work we do for homeowners and area excited to help you with the process of choosing the right colors for your home. Reach out to schedule your interior painting estimate!