Spring is the perfect time to give your home a good deep clean and to do some maintenance tasks that you may have been putting off. Now that spring is in full swing, it's time to get your Rhode Island home in order for the warmer weather ahead on the classic coast. Check out our five spring home maintenance tips to get your house ready for the season. 
After a long winter, your home may need some TLC both inside and out. Our experts at Bruno Painting have helped many homeowners in Rhode Island make improvements to their homes and have compiled the most common spring home maintenance tips to focus on this time of year.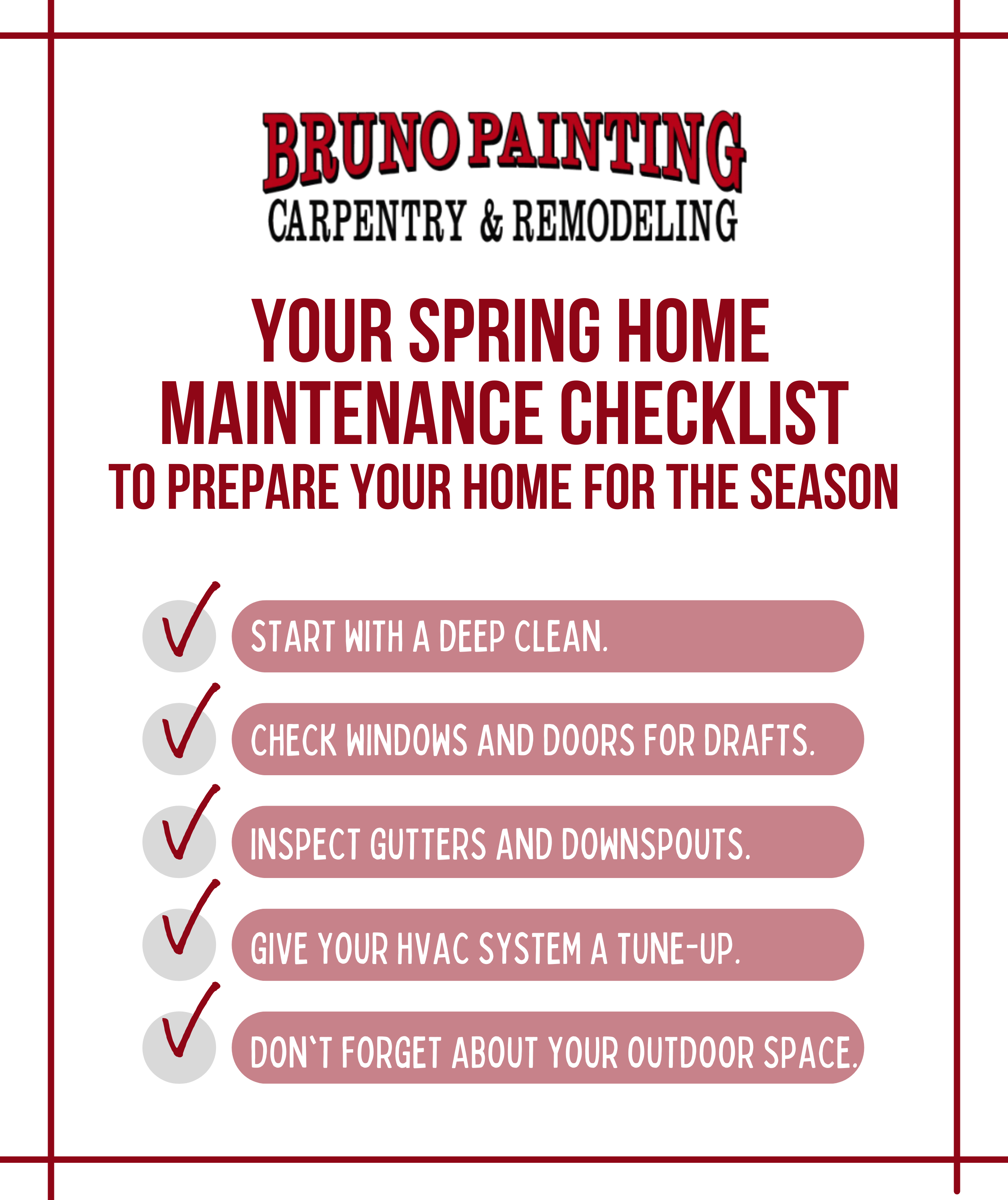 1. Start with a deep clean.
Spring is the perfect time to do a deep clean of your entire house. This means getting rid of all the dirt, dust, and grime that has built up over the winter months. Don't forget to clean those hard-to-reach places, like ceiling fans, high shelves, and under furniture.
Window washing and carpet cleaning are great ways to brighten up your home. Removing dander and pollen buildup in these areas helps clean the air in and around your home as well as reduce allergic reactions that many people experience throughout the season.
2. Check windows and doors for drafts.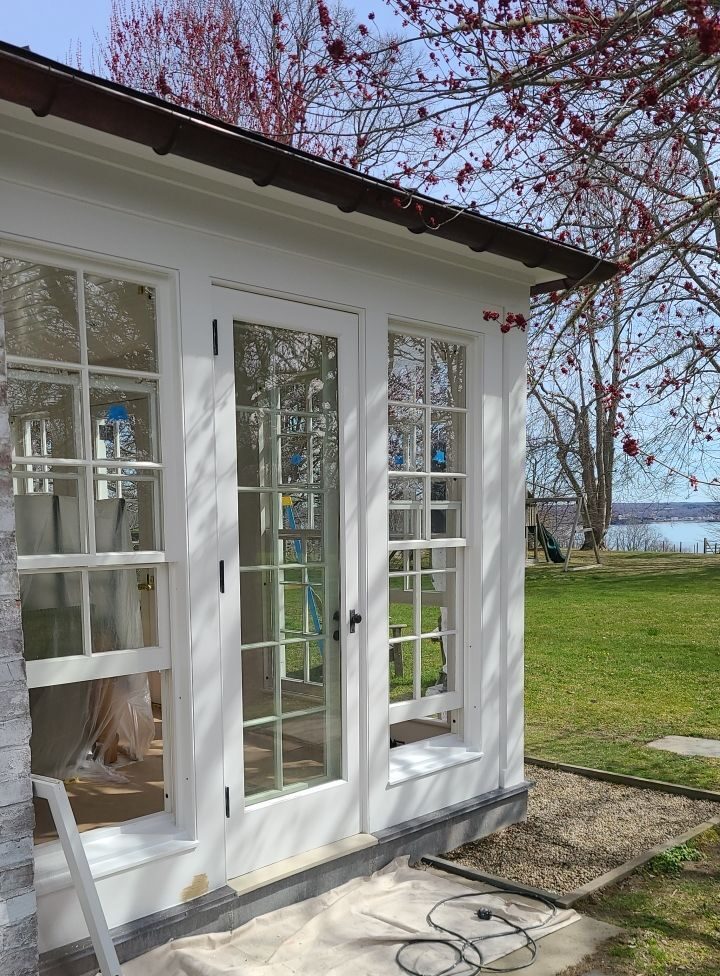 Letting in the fresh air and natural light with clean windows will do wonders for your home. But too much air can make your home feel drafty and uncomfortable. Cold air can seep into your home through cracks and gaps in doors and windows. If you noticed these types of drafts near windows and doors over the winter months, this will need to be a top priority on your spring to-do list. 
Drafty windows and doors not only make your home less comfortable, but they can also drive up your energy bills. Unwanted openings in these areas can cause moisture to accumulate, which can lead to costly damage to your home. To help prevent drafts, check all your windows and doors for any gaps or cracks. Re-caulk these areas to keep moisture out and help your home stay clean and fresh.
3. Inspect gutters and downspouts.
Clogged gutters can lead to water damage on your roof, ceilings, and even walls. During the winter months, ice dams can form which cause damage to your gutters and roof. So, it's important to inspect and clean your gutters and downspouts both in the fall and again in the spring to keep your gutters clear.
To clean your gutters, use a ladder to remove any heavy debris by hand and rinse any remaining dirt with your garden hose. If you notice any damage to your gutters, be sure to get them repaired or replaced as soon as possible.
4. Give your HVAC system a tune-up. 
Your heating and cooling systems work hard all year long to keep your home comfortable. So, it's important to give it a tune-up before the summer heat sets in. This ensures that your system is running efficiently and can help prevent costly repairs down the road. 
In addition to scheduling an HVAC tune-up, replace the air filters every three months or so to keep your system working properly and maintain the air quality in your home for everyday living.
5. Don't forget about your outdoor space.
Now that the cold weather is mostly behind us, your outdoor space should be the focus of your attention.
Now is the time to start prepping your yard and garden for the warmer months ahead. This includes tasks like mowing the lawn, trimming bushes and trees, and planting flowers.
Once your greenery is ready for the sunshine, cleaning your home's exterior is the perfect way to boost your curb appeal. This includes power washing your deck or patio, your exterior siding and gutters, and touching up your siding and trim with a fresh coat of paint. By taking care of these areas now, you can enjoy your outdoor space all summer long.
Following these simple tips can get your home ready for spring and enjoy the season worry-free. Use this checklist as a guide for things that you should do around your home this spring. 
Many homeowners in Rhode Island have spring cleaning projects well underway. If you are looking to make any home improvement updates this season or need a helping hand with making your home look its best, reach out to our team of professional carpenters and painters. 
Our team has been upholding and caring for surfaces and relationships since 2004. This spring, we're happy to help boost your curb appeal and keep your home in top shape!
Cedar shake siding is a popular type of siding for homes in Rhode Island, especially on homes that are 10 years old or older. Homeowners enjoy the iconic look as it creates a unique finish and can add a rustic yet warm look to your home's exterior. 
If you have cedar siding, it's important to take care of it properly to ensure that it looks good and lasts for many years. From installation through its lifetime, caring for your cedar shakes will help you protect your investment. Here are a few tips on how to care for your cedar shingle siding.
What is Cedar Shake Siding?
Cedar shakes are a specific type of siding material that is found on the classic coast since colonial times. It is typically made of cedarwood, though other types of wood may be blended in, and comes in a variety of colors and sizes. 
Finish options for cedar shakes include stain and sealant or paint to create an even more unique look. When you properly care for your shake siding, it can last anywhere from 10 to 15 years or more. If you take excellent care of your cedar siding, it can last upwards of 20 years or more before needing to be replaced. 
Common Issues—Wear and Tear
Shingle siding is not immune to wear and tear and there are a few common issues that you may experience over time. Due to the nature of the natural material cedar shakes are made from, they are prone to require more maintenance than brick or artificial siding options, such as vinyl. 
As with any natural material, exposure to moisture will mean these surfaces are prone to moss, algae, and even mold growth. Cedarwood is a durable siding but can be a target of wood-boring insects. Traces of these insects such as termites, ants, and beetles seen around your home may be an indication that these insects are enjoying your siding as much as you are.
Other signs of wear and tear can be brought on by heat and dry conditions. Keep a watchful eye for cracked or warping shakes, especially on the sides of your home that are in the direct sunlight. It's important to be aware of these issues and address them as soon as possible to prevent further damage.
How to Care for Shake Siding
To keep your shingle siding looking its best, it's important to clean it and care for it regularly. This includes both cleaning and maintenance tasks, such as checking for damage and repairing any issues that may arise. 
Clean Regularly
One of the most important things you can do to take care of your shingle siding is to clean it regularly. Washing your siding with a garden hose and dish soap is one way to maintain your cedar siding. This will help remove any dirt or debris that may have built up, and it will also help keep the siding looking its best.
A second way to clean your cedar shingles is to use oxygen bleach, which is nontoxic to trees, shrubs, and flowers. As a third option, you can power wash your cedar siding or hire a professional contractor to power wash it. To avoid damaging the cedar shingles, be sure the power washing equipment is used on its most gentle, lowest intensity settings and the appropriate mild detergents are used.
Keep Free From Moisture

Keeping your cedar shakes free from moisture accumulating on them is one of the best ways to prevent damage. To prevent moisture from accumulating on your home's cedar siding, you can trim nearby trees and shrubs so there is enough distance for airflow. If there are any loose boards that may allow water to penetrate the siding, they should be nailed down or replaced with newly treated shakes. 
Treatments to protect from the elements, moisture, insects, and heat are available and will need to be applied every few years for effective protection. Additional measures such as painting can be an effective way to extend the life of your cedar shakes, but this can only be done when your siding is completely dry.
When to Call a Professional Painter for Touchups
Touchups and repairs for shingle siding can vary in price depending on the size and scope of the job. However, most repairs are relatively affordable, and it's always better to address an issue sooner rather than later.
While some minor maintenance or repairs can be done on your own, any major repairs or updates should be done by your local licensed carpentry professional. If you need major updates like painting your cedar shakes or have found damage that has led to larger issues like wood rot, calling your preferred contractor is the best next step so you can avoid costly problems with your home. 
Cedar shake siding care and maintenance are important for your home's integrity to ensure that it looks its absolute best and lasts for many years. By following these tips, you can keep your shingle siding looking great and free from damaging elements. 
Have you noticed your cedar shake siding not looking its best and in need of repair? It may be time to either clean or instead, completely update your home's siding. Bruno Painting is here to help! With our team of expert painters and our carpentry division, we provide an all-in-one service to our clients. Get your complimentary exterior home update consultation and estimate from the experts at Bruno Painting today!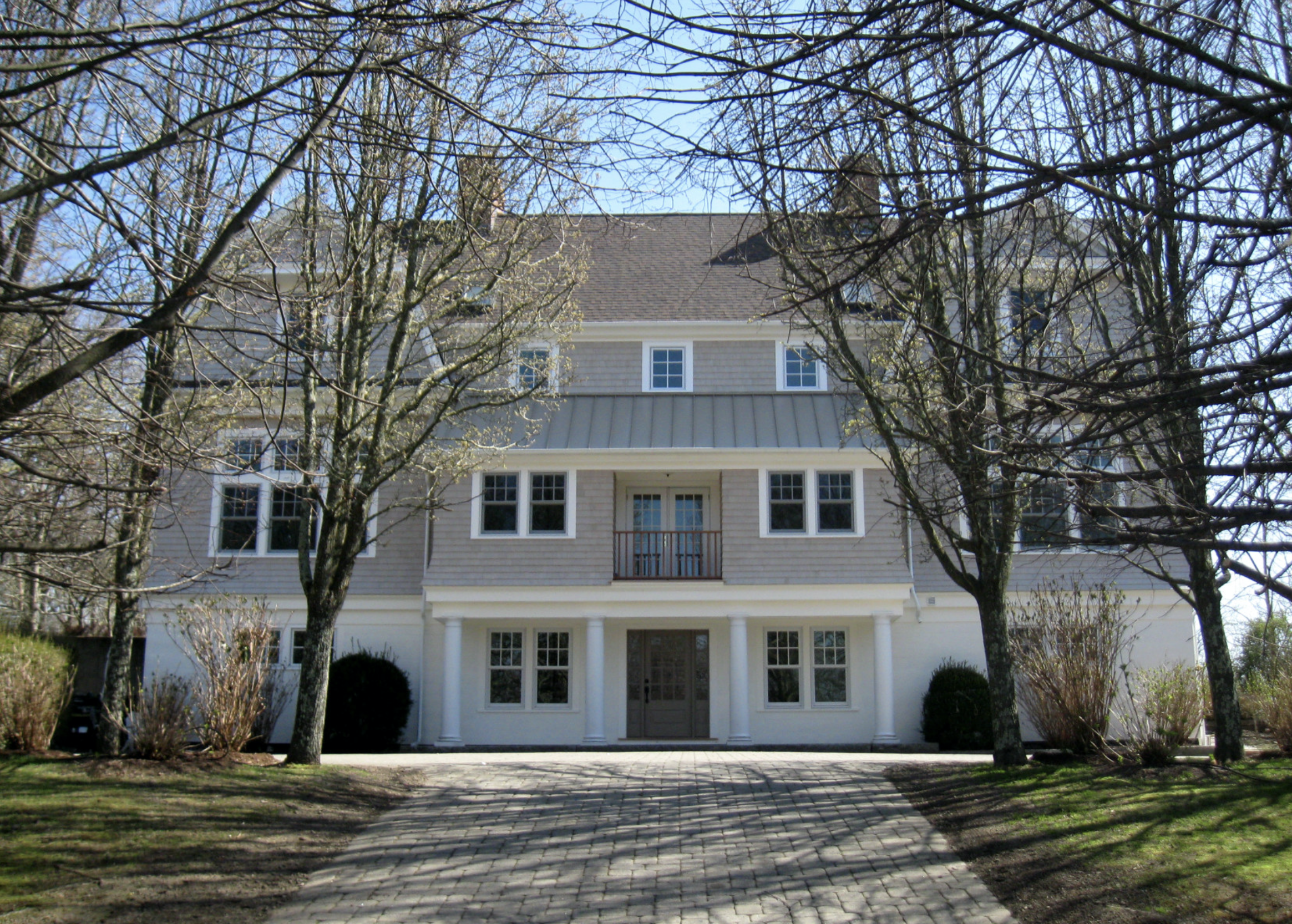 Homes with lots of character and beautiful finishes are seen commonly throughout Rhode Island. When you pull onto your street and take a first glance at your home, you should get a sense of joy because it looks lovely, well taken care of, and inviting. For others who may have recently moved in or who are otherwise behind schedule, this may not be the case. The first sight of your home as you approach may not give you such a feeling of happiness.
If your eye catches spots that need work, you may want to take steps to boost your home's curb appeal. You can also schedule your home's exterior updates during these colder months, in advance of when the work will be done as soon as the weather changes.
There are many options when you decide to improve the curb appeal for your Rhode Island home. The advantages of maintaining your curb appeal go beyond having an aesthetically pleasing house. Understanding the benefits, as well as how to accomplish a well-appointed home exterior will help you decide which updates you'd like to have done. Bruno Painting provides tips on how to boost your Rhode Island home's curb appeal so each time you drive up to your home, you feel pleased, joyful, and happy.
What is Curb Appeal?
Curb appeal is how attractive a house (or building or property) is when looked at from the sidewalk. (Investopedia) Realtors use the phrase "curb appeal" more often than other types of professionals. However, curb appeal can be important outside of real estate.
Advantages of Boosting Your Curb Appeal
There are many advantages to boosting your curb appeal. If you want to sell your home this year, improving the exterior of your home can be a great start to the process. Improving your curb appeal can also boost your overall mood when you drive up to your home. If neither of those is enough to convince you, putting energy and resources toward giving your home better curb appeal could increase the value of your home!
Types of Curb Appeal for Your Rhode Island Home
Landscaping
One of the primary features contributing to your home's curb appeal is landscaping. Many homeowners are surprised how different their home looks after it has been properly landscaped and maintained. With fresh mulch, flowering plants, and some well-appointed shrubs or trees, you can complete your landscaping projects to enhance the appearance of your home's exterior space. Using plants to increase privacy and create a symmetrical look are ideal additions.
Some prefer to use plants to increase privacy and improve appearance. It's worth noting that plant selection should include options that will do well for the weather we see in Rhode Island. Find perennials that are native to our area, as well as evergreens. They will add touch of color all year round.
Exterior Cleanliness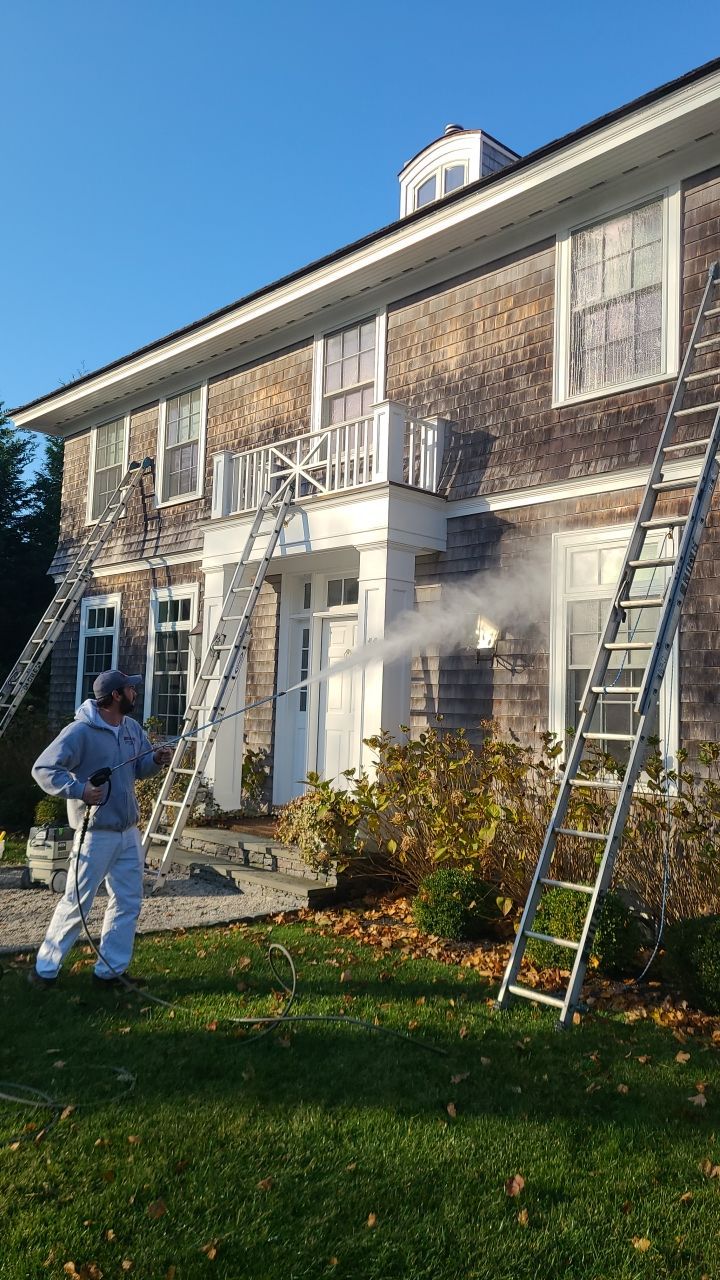 Is your home's paint is in good condition but is a little dusty or dingy looking or simply needs a light sprucing up? There is no better way to make your surfaces look new than a good pressure washing. From siding to driveways to walkways, this is an instantaneous improvement to your curb appeal. Pressure washing cleans a variety of surfaces with ease by removing dirt, oil, and grime that builds up over time.
Another note from the experts: pressure washing can be done on your own. However, using an ill-fitted nozzle or the wrong cleaners for a surface can cause damage instead of improving your surfaces. Always consult with a professional if you are unsure what pressure washing method is best for your home.
Rotting Wood
Wood rot can greatly affect your home's curb appeal. Not only is it an eyesore, but if wood rot is left untreated, it can spread and cause even more damage to your home. Before you paint the exterior of your home, the wood rot will need to be repaired or, in some cases, replaced.
How do you know if you have wood rot? Look for pieces of wood that seem spongy or soft. They are at the beginning or intermediate stages of rot. Other signs of wood rot include paint chipping, paint peeling, wood splintering, or discoloration.  If you think your home may have wood rot, contact a professional painting or carpentry contractor to remedy these areas to protect your home from further damage.
Carpentry Work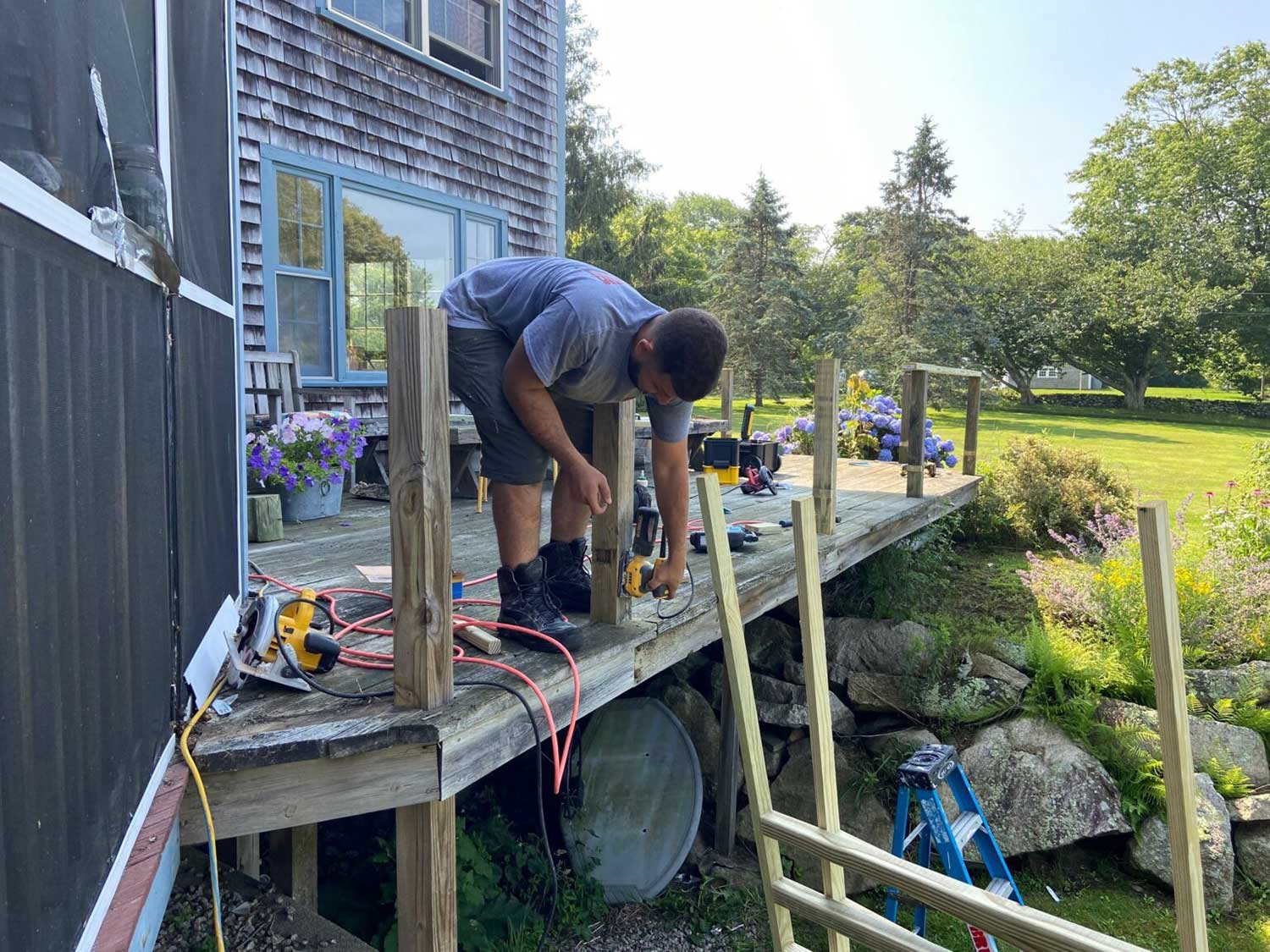 Another feature related to your home's curb appeal that can make a lasting impression is an inviting porch or a welcoming entryway. Home makeovers that include eaves, gables, or a full front porch can make any home a showstopper when it comes to curb appeal.
These types of updates require a trusted and skilled carpentry team that can work within the framework of other updates you want to make. One example is window and door updates. Installing windows, doors, and trim may seem like a possible DIY project. These are better left to carpentry professionals, however, who can provide high-quality craftsmanship that will last.
Painting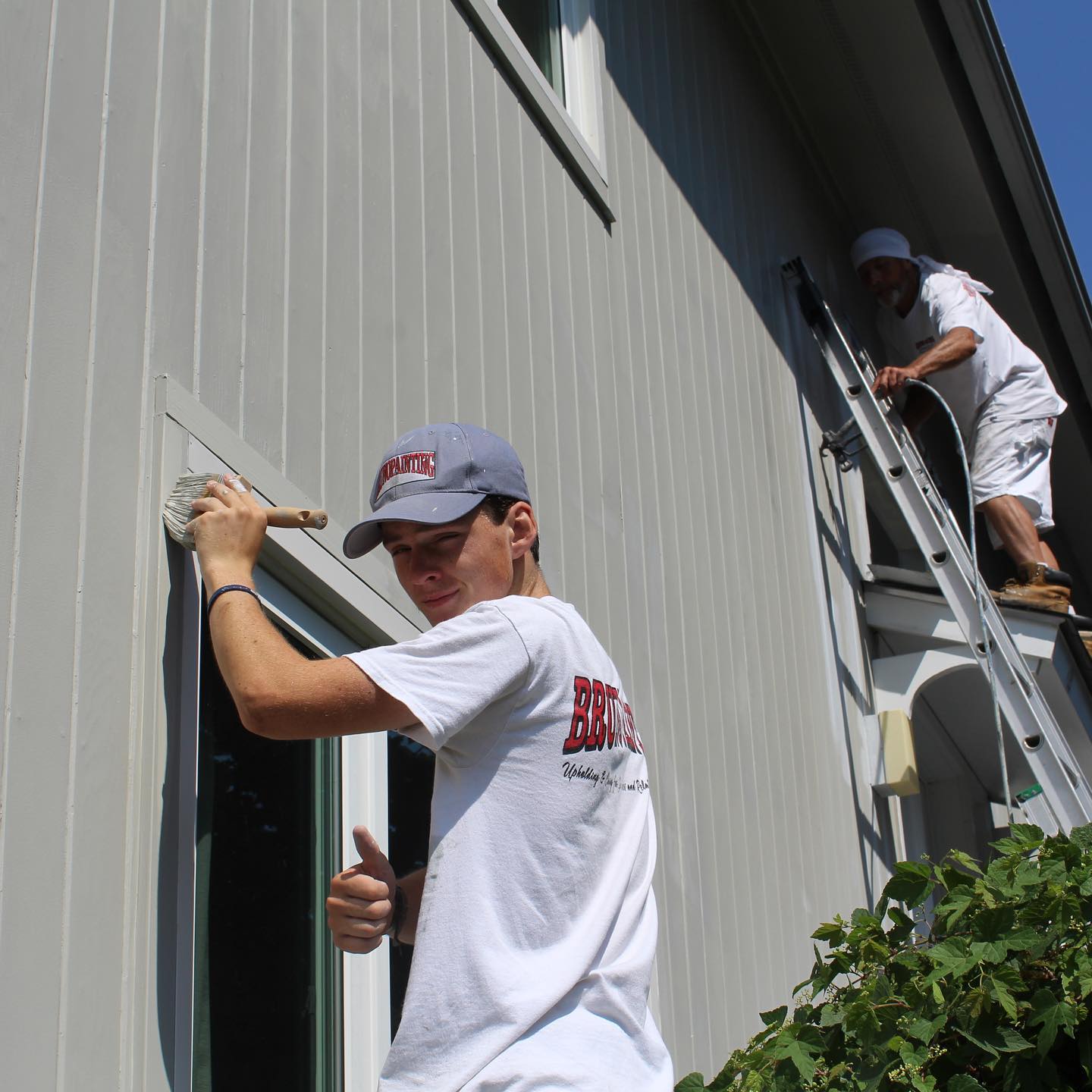 As with any home improvement update, the most effective and impressive way to increase curb appeal is with a fresh coat of paint for your home's exterior, windows, and doors. A paint update to a home with a lack-luster finish not only makes your property look more inviting but also helps protect your home from the elements.
Improving the curb appeal for your Rhode Island home is an important contribution. It can make your exterior look its best for your enjoyment, possibly get it ready to sell, or increase the value of your investment. Carpentry and painting updates are best done by professionals who understand your vision for the look of your home.
The painters and carpentry professionals at Bruno Painting in Rhode Island have been working diligently to prepare and plan for the upcoming exterior painting season. We are taking new clients who need assistance from full-service, experienced home improvement professionals. Contact us for more information about our range of services and how we can help you get the most joy from your home.
When you take on a home painting project yourself, you'll find an almost excessive number of paint types within each paint brand from which to choose. Though there are many choices, it can be difficult to know which paint is best for your specific painting project.
When you hire a painting professional to paint your home, on the other hand, you'll have a wide variety of professional paint brands at your disposal, plus a painting team with the knowledge and information needed to select the best paint for your particular home and its unique characteristics.
We've put together a list of some of the best interior and exterior paint brands for your home. You can use this information to better understand all the different paint technologies available and be better able to have a conversation with your painting contractor about the best paints for your home.
Interior Recommendations
For interior paint, some paint characteristics we believe are important are paint thickness, paint coverage or spread, fumes or paint odor, "green" considerations, color variety, sheen selection, specific chemical and preservative ingredients, and ease of application.
When we consider if a paint is "green," we look at the presence or absence of volatile organic compounds (VOCs). VOCs release gasses into the air that cause a strong paint odor, and which can be harmful to people and animals, possibly causing respiratory problems as well as harm the air quality.
Along with these factors, we look at customer satisfaction and overall performance for the price. Here are our top recommendations for interior paints:
Fine Paints of Europe created the Eurolux™ Interior Acrylic Paint line to serve as an odorless acrylic paint option, which has been perfected over the last two decades. The coating quality is unmatched by this remarkable paint. Many have compared the durability and scrubbable strength tile, with the same washability! It is both quick drying and Low VOC,  making this a wonderful option for lasting beauty in any home. We recommend this in both kitchens and bathrooms due to its impeccable ability to be cleaned.
As an alternative, Eco™ Waterborne Paints by Fine Paints of Europe offer the benefits of both alkyd and acrylic formulated paints. With easy clean-up and application, this self-leveling paint dries to a beautiful finish while also being Low VOC paint, making it an eco-friendly choice. We recommend this paint for dining rooms, family rooms, and even bedrooms.
Aura by Benjamin Moore is another paint we recommend for homeowners specifically looking for a paint that goes on effortlessly. The Gennex color-technology in this paint has maximum performance for long-lasting results. As a paint and primer in one, this paint dries quickly and adapts well to different surfaces. We recommend Aura in bedrooms for its low VOCs and minimal-odor qualities. Additionally, Aura Bath and Spa is designed specifically for high-humidity areas like your bathroom.
Last, but not least, for interior paint Regal Select by Benjamin Moore has performed well for more than 50 years. With its unique formula, a wide variety of beautiful colors, and an easy-to-clean finish for all sheens, this paint is one of our favorites.
As a paint and primer in one, Regal Select performs consistently on many different surfaces. The greatest advantage is that it has zero VOC and low odor making this a versatile choice for any room in your home.
Exterior Recommendations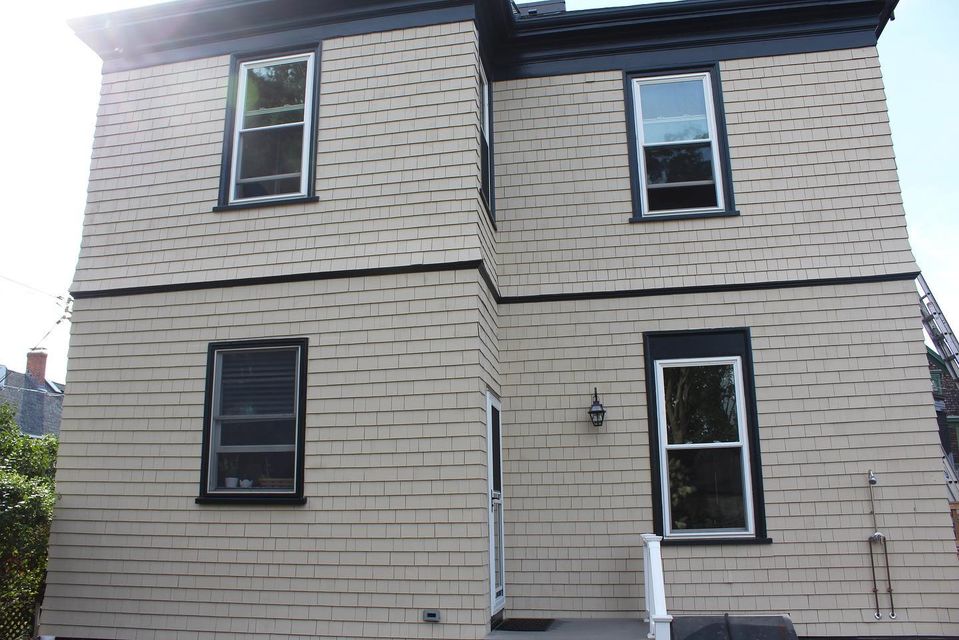 Exterior surfaces require paints that match the needs caused by local conditions. For homes that are near a body of water, for example, mildew-resistant paint will protect best; a stain- and dirt-resistant paint performs well in urban areas. Our exterior paint recommendations are based on specific attributes that may apply to your home's unique needs.
Benjamin Moore's Regal Select Exterior Paints offer optimum coverage with protection and durability. This paint holds up its appearance to weathering very nicely. This is due in part to the alkyd technology, which provides ultimate adherence to all surfaces. Its resistance to cracking, dirt, mildew, and color change make this a good overall choice for homes whose exterior requires extra protection from moisture and other elements.
EUROLUXⓇ Housepaint by Fine Paints of Europe provides the advantages of both traditional oil formulas and modern acrylic features with a state-of-the-art formulation. Thanks to the advanced, durable coating this paint application is known for easy use. Weather resistance and environmental conscientiousness are associated with this paint which boasts superior adhesion to surfaces with flexibility making it a great choice for exterior paint as it stands up to numerous cycles of contraction and expansion that we see on the classic coast.
We use a number of different paint lines from these companies outside of these and always prioritize the highest quality paints. These are a simple selection of some of the best options as a starting point for you to consider. There are many paints on the market, with professional-grade paints offering the most technologically advanced qualities. Choosing one or more of these paints that are manufactured using the latest in paint-performance technologies will give your home greater protection and a better paint finish in the long run.
We know paint selection can be difficult, even confusing. Our mission at Bruno Painting is Upholding and Caring for Surfaces and Relationships. We take great pride in the carpentry and painting projects we do for Rhode Island homeowners and are excited to help you with the process of choosing the right paint for your home's interior and exterior. Contact us for a fresh coat of paint for your home!
With the lingering warm days ahead of us and the remnants of summer still in the air, boosting your home's curb appeal with a fresh coat of paint is a great way to wrap up this summer. While homeowners typically schedule exterior painting projects in Spring and Summer, Fall is still a good time of year to schedule your home's facelift in Newport and surrounding cities, here in Rhode Island. 
Few homeowners understand the extent of care and work professional contractors put into prepping their customers' homes before the paint hits the brush. Thankfully, professional painters do take their time in the steps before painting to ensure the results are both long-lasting and smooth. We've detailed 8 essential tips to ensure your painters are focused on your exterior surface prep work for your enjoyment and home protection for years to come.
1. Planning
During the consultation and the planning stages of a home exterior paint project, a professional painter will take care to plan your project to perfection. The first step in this process is scheduling the painting project for days and times during the day when the weather and sun are most cooperative.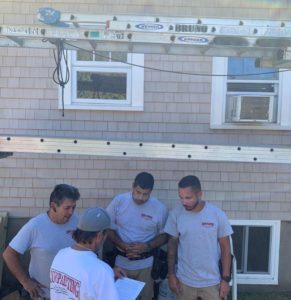 Strong winds and rain can shorten painting windows and leave your home exposed to the elements, effectively ruining your paint finish. High humidity and extreme temperatures can also influence how your paint dries and its eventual look and performance. Professional contractors know how to plan around these types of weather patterns and will ensure that your home stays safe and the best results occur throughout the entire project.
2. Repairs
During the consultation and inspection, repairs identified will need to be taken care of before any painting begins. These sorts of repairs can include exposed wood, loose gutters and shingles, wood rot, leaking windows, damaged siding, and doors that stick. Having skilled carpenters ready and available to make these repairs provides the home or building owner with the valuable gift of ensuring the foundation is healthy for the protective coat of paint goes on. A professional painter has a keen eye to find these issues and make repairs before they become larger issues. 
3. Cleaning
Once repairs have been addressed, cleaning should begin soon after. Professional contractors turn to pressure washing to cover areas that can safely and effectively be cleaned. If pressure washing doesn't suit your home's needs, a soft washing method or air blasting can be used. The goal in this process is to remove dirt, loose paint, and signs of mildew before advancing in your exterior project.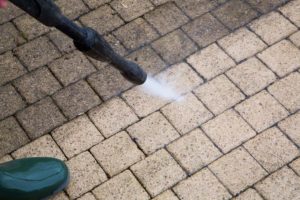 4. Scrape and Sand
After your home is clean and dry, an inspection for loosened paint is conducted. Loose and flaking paint is removed with high-quality scraping tools. This stage in the project may take longer depending on how your home was cleaned. If a pressure washer wasn't used, this step is essential to ensure your home is properly prepared.
5. Caulking
The caulk on the exterior of a house is exposed to the sun and elements while it protects the seals around your windows and other areas. Over time, the caulk can crack and cause leaks. Any area of your home that has been caulked will need to be inspected and possibly recaulked to ensure continual protection. This includes doors, windowsills, and trim.
6. Paint Prep
Once all the necessary repairs and cleaning are complete, the area will need to be prepped for painting. Protecting your landscaping should be a priority to your contractor. Using plastic wrap, tape, and other materials, your lights, plants, porch, sidewalks, and driveway will all be protected.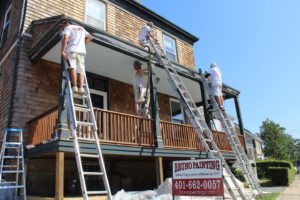 Depending on the number of painters in your contractor's painting team, many of these steps can be completed simultaneously to save time between stages. It is, however, very important that your home is repaired, dried, and prepped before moving past this point. One last final inspection of each of these steps should be conducted by your contractor before priming begins.
Priming
Professional painters do not always agree about primer and its usefulness. Some professional painters believe using a primer helps your paint to adhere to your surfaces giving you better coverage that lasts longer. Other painting contractors forego the step of using a primer and, instead, paint two coats of your high-quality paint onto the surface. 
Whichever way you prefer, with primer or using two coats of paint, be sure you and your painter agree and understand the best process for your home and its materials. The main and really the only consideration is the quality of the finish and its longevity.
Painting
The most crucial part of painting is allowing adequate time for your paint to dry in between coats and after the final coat. Most of the time, avoiding direct sunlight can be important, so professional contractors start with western facing sides of your building in the morning and eastern facing sides in the afternoon. However, sometimes it is useful to paint in direct sunlight, but as professional painting contractors, we know when or when to not paint in direct sunlight.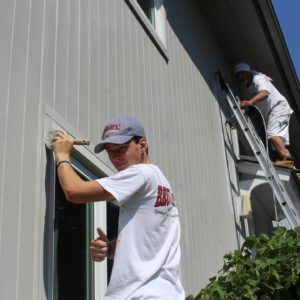 Beginning with the top of your home and working to the ground, high-quality brushes and rollers specific to your siding and paint base are used for even application. After the larger areas of your home are painted, window frames and trim are painted to ensure that your window panes dry properly. Finally, the foundation of your home is painted, if necessary.
Final Touches
No home project is complete until our clients are satisfied. Since 2004, our mission at Bruno Painting is Upholding and Caring for Surfaces and Relationships. We take great pride in the work we do for homeowners in the Newport area and in Rhode Island.
We're excited to hear about your next project. Reach out and let us know about your home's unique exterior painting project.
Our perfect summer weather in Rhode Island has seen many of us spending lots of time entertaining and dining outdoors, soaking in as much of the summer sun and air as possible. No matter where in our great state your home is located, a nice, well-appointed deck is a must for enjoying your yard, whether it backs up to a forest or to the sea.
Each home in Rhode Island is unique and each has specific needs for their deck and outdoor entertainment areas. While many people take advantage of the Spring weather to make exterior updates, it's also very doable to update or even build an entirely new deck during the Summer and Fall months. These are a few examples of options for you to consider for your home's decking needs.
Maintain your Deckspace to Keep Your Deck and Your Home Healthy
Some may think that a worn deck is just a sign of a well-loved home or that there isn't a real need to replace those splintering boards. However, decks left to wither can cause damage to your home and potentially cause you to have to make costly repairs. 
Depending on how your deck is attached to your home, wood rot can set in the joists, ledger boards, and even your siding. If moisture seeps into your foundation, other larger issues such as mold, mildew, and decay will start to take hold. These major areas of repair can be avoided with a deck that is sealed and maintained regularly over the years.
Replace Your Existing Deck with Newer Materials
It is no secret that we see quite a bit of moisture and humidity throughout the year. Most decks in Rhode Island have been built with pressure-treated lumber, as that was the go-to choice for deckbuilding for many decades. Pressure-treated lumber decking is affordable, readily available, durable, and easy to stain so it is no surprise that it is prevalent on the classic coast. Unfortunately, constant exposure to the elements causes pressure-treated wood to swell, crack, split, warp, makes it a relatively high maintenance home amenity in our climate. Annual pressure washing and restaining every one, two, or three years is recommended for this type of decking to keep it looking its best.
An alternative to wood for decking is composite and PVC. This mixture of recycled plastic and wood dust creates composite decking which is a synthetic, yet refined-looking, deck material that many Rhode Island homes are turning to for its many benefits.
These decks are virtually maintenance-free, weather-resistant, and come in a variety of colors and finish looks. If that isn't enough of an advantage, they are also easy to clean and won't splinter, warp, or rot. While this type of decking can cost about three times as pressure-treated wood, it can potentially save homeowners in the long run.
Pressure Treated Decks
If you love the look and feel of real wood, consider the following options some Portsmouth and Newport homeowners have used to satisfy their desire for a 'real wood' deck. Note that some decks are constructed using cedar, exotic woods, and some really amazing, high-end real wood products. Be sure to ask your contractor and their team of carpenters to show you all of the many, many choices of real wood that are available to you if this material is your preference for your next deck.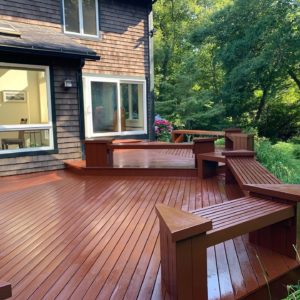 This multi-level low platform deck makes great use of this backyard space. The real wood deck and benches next to the garden create the feeling of a privately enclosed, secret garden. An oasis, a backyard paradise.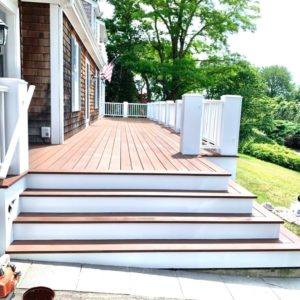 This wooden deck in Newport had new boards installed which were sanded, stained, and reinforced to create this beautiful aesthetic. The railing and stairs were replaced to keep the deck structurally sound.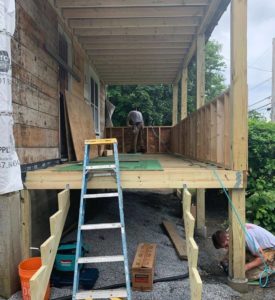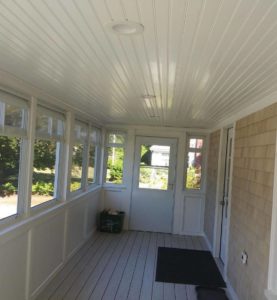 A raised pressure-treated deck in Portsmouth was completely transformed into a closed-in porch. The contractors built the overhang and installed windows to give this homeowner a completely new three-season space to spend their time.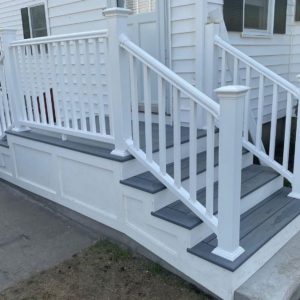 A back door landing repaired and painted to match this beautiful home. Even small spaces deserve a good looking deck and staircase.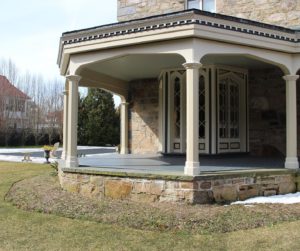 This unique stone home in Portsmouth went under some repairs including the porch area. The original wood was protected from the elements, sanded, and painted a beautiful grey.
Composite and PVC Decks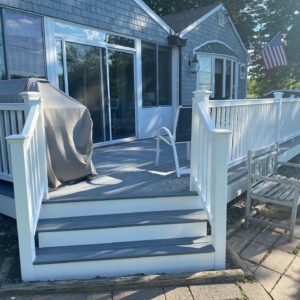 An old wooden deck in Middletown was replaced with composite decking and a new PVC railing. The colors match perfectly to the shingles of this home.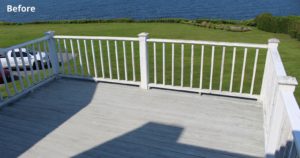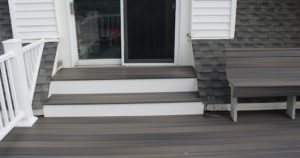 An elevated deck boasting a beautiful view of the water off of a roof is featured here complete with a bench. The railing is constructed from  PVC and composite wood for the deck boards as well as the lovely bench.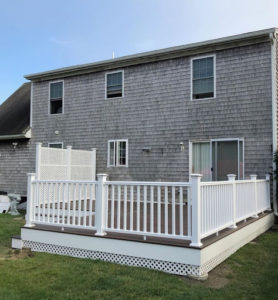 This larger composite deck boasts a privacy fence installed for these homeowners to entertain and enjoy the beautiful weather in a secluded area.
Regardless of the material, your deck and porch can, not only look its best but also be maintained regularly for the rest of your home's protection. If you done your deck maintenance in the spring, take advantage of this time to update your existing deck or create a whole new backyard oasis.
Our mission at Bruno Painting is "to uphold and care for surfaces and relationships." The carpentry and painting divisions that make up our team have some of the most skilled and caring professionals in all of Rhode Island. We look forward to the pleasure of restoring your deck this Summer or Fall for you to enjoy all year long. Call us or email us to discuss your deck, painting, or other home improvement project.
Blue House Case Study, Middleton, Rhode Island
This past June we had the privilege to work on a beautiful, blue-shingled home in Middleton. The homeowners were looking to update their home's exterior with a fresh coat of paint. During the initial consultation and estimate, our team of professionals noticed that this home required some special attention to the windows, specifically deteriorating wood. 
When wood deterioration is bad enough, it's called 'wood rot.' If left untreated, wood rot can spread and cause even more damage to a home. Before painting the exterior of this beautiful home, we repaired and, in some cases replaced, the rotted wood. 
Below is our case study for this blue house, detailing how we were able to get rid of the wood degeneration, give the exterior a fresh coat of paint, and deliver a great, long-lasting finish for our clients.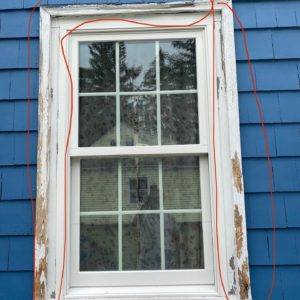 Initial Inspection
At the initial meeting with our clients, we needed to determine the extent of the damage and whether it was caused by weather, which is not uncommon for homes in Portsmouth and Newport. Living on the classic coast, many home exteriors are exposed to quite a bit of moisture and cold temperatures that erode paint and the underlying materials over time, including wooden window frames and other areas of the exterior of a home. 
Any pieces of wood that seem spongy or soft are at the beginning or intermediate stages of rot. Other signs of decay include paint chipping, wood splintering, discoloration, or paint peeling. Before further irreparable damage occurs, contact a professional painting contractor and carpenter to treat these areas to protect the rest of your home from further damage.
How do you know whether the wood will need to be repaired vs replaced? The standard is if there is more than ten percent of damage to the wood, it needs to be replaced. In some cases, if the rot is caught early enough, it can be repaired using epoxy products and paint.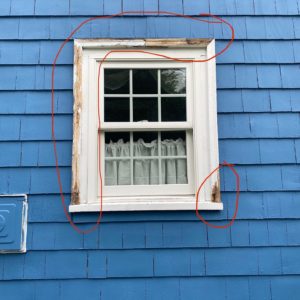 Removal and Replacement of Wood Rot
In this particular case, the damage was extensive enough in some places that the wood needed to be replaced. Our carpentry team made all the necessary repairs before our painters came in to finish the job.
When we removed the rotted frames and sills, our carpentry division took care to pull these boards out without causing damage to the house or windows themselves. Once the old frame and sills were removed, all leftover debris or wood pulp was removed and the area was cleaned.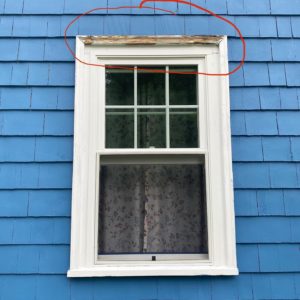 Measure Twice, Cut Once
The pieces of the old frame and sill were measured as a reference for the new boards to be put in place. Measurements were also taken of the sheathing where the frame and sill used to sit to ensure that the new pieces would fit securely.
If your home does not have standard fittings and features (and depending on what type of window or home you have), you'll need a contractor more skilled than the average handyman to help with standout features like mitered corners and fastening sites. Our master carpenter, Chris, and his team did a fantastic job making sure the windows fit perfectly in our client's home.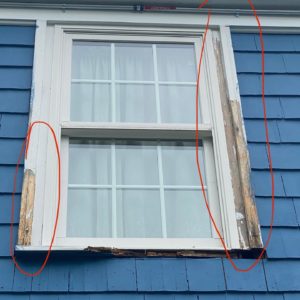 Prepare the Sheathing
Once the wood frames and sills were removed, our carpentry division inspected the sheathing underneath and made necessary repairs. Repairs that may need to be done on sheathing include using caulk to fill in any smaller cracks and an expanding foam insulation to not only fill larger gaps but to also hold the new boards tightly in place.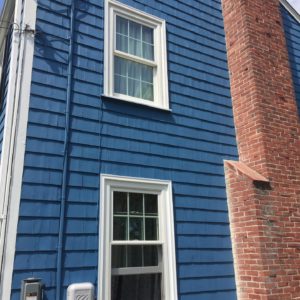 Installation
Once the new pieces were cut, our painters stepped in to apply a few coats of paint to protect these new pieces of wood from exposure to moisture and water. Once the new window frames were ready, our carpentry division installed them into the sheathing and secured those pieces in place with nails. The final step in installing these new frames and sills is caulking any seams to keep out unwanted moisture, bugs, and other enemies of wood.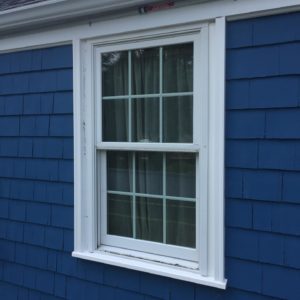 Final Touches
After the frames and sills were installed and inspected for quality, our painters finished the project with a fresh coat of exterior paint. Our team stripped and sanded the old paint to prepare the surface and to prevent unaffected parts of the frames from being exposed to moisture. The entire window trim was repainted with two coats of the highest quality paint to guard against all types of weather conditions.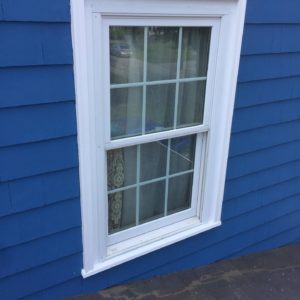 Summary
In each step of this process, our teams took extra time and care to ensure that every surface had a high-quality finish. Our client is thrilled with the work we did and the care and effort we put into their home.
Since 2004, our mission at Bruno Painting is Upholding & Caring for Surfaces and Relationships. We enjoyed every step of this process on this project and take pride in knowing that the hard work and dedication we put into this home will be enjoyed by this family for decades to come.
Call or email our office for a free estimate to see what we can do for your home!