The first thing you may think of when it comes time to repaint your home's exterior is the color you'll choose this time around. Since a well-done exterior paint job lasts between 5 – 7 years, considering our often-harsh Rhode Island weather conditions, you'll be looking at the color you choose for some time. Selecting the exterior paint color you'll love for many years is a topic for another blog. Suffice it to say, paint color selection is not the only thing that goes into painting your home's exterior.
You may or may not know that an excellent paint prep and application can actually protect your home's exterior surfaces, and provide protection from unwanted water, from snow, rain, condensation, or other sources, from entering your home. If unwanted water gets inside and is not somehow dried, you may get mold which can cause rot and harm your health.
Before your house can benefit from the protection afforded by a well-executed paint job, it's essential to be sure your professional painter does all it takes to properly prepare and then paint your home's exterior.
What Paint to Use
One of our favorite paint brands to use for our clients is called Fine Paints of Europe (FPE). Their tagline is "Luxurious Lasting Color, Imported from Holland." They're not inexpensive, but what FPE supports is following proper painting protocols for best results.
In fact, on their website, FPE says, "Please do not consider the use of our house paints unless you are committed to doing a proper job and are aware of the factors which will determine the appearance and durability of the application."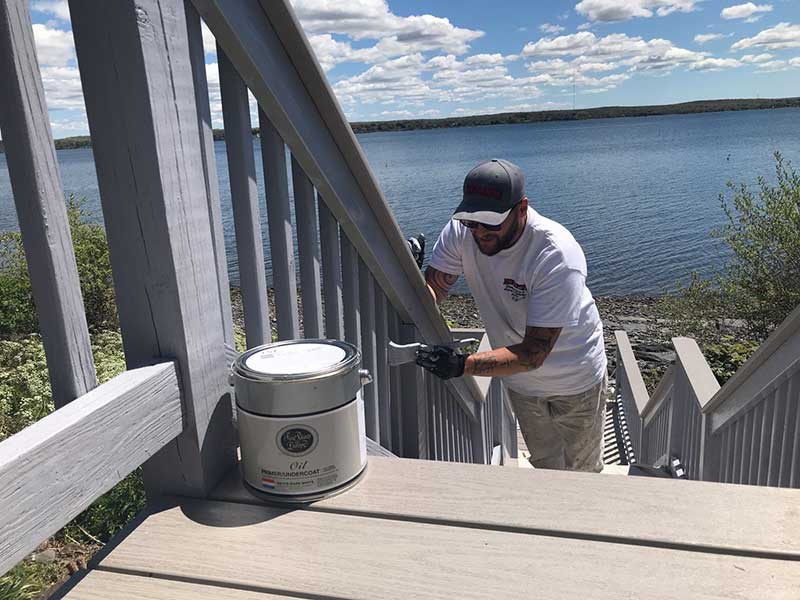 Steps to Properly Paint Your Home's Exterior
At Bruno Painting, we are 100% committed to doing a proper job and exceeding expectations for best painting results. How do we do that? We follow a step-by-step process cultivated over many years of painting our clients' homes. Our formula is proprietary, but we'll share the basic steps for how to properly paint your home's exterior for the best results.
Step 1
 Select your painting professional. Of course, we're biased and believe we're one of the best painters in Rhode Island. (Anyone who takes their work seriously should believe they're the best!) At Bruno Painting, we not only offer elite painting services, we also have a team of experienced carpenters who can remodel your home, fix any fixable problems with your home, and basically re-work or rebuild your home to your liking. Then our team of experienced, highly trained painters come in and add the coats of paint needed to make your home aesthetically amazing!
What we've cultivated at Bruno Painting is a teamwork environment so our carpenters and our painters work seamlessly to do the work the right way, no cutting corners, the best way, the correct way. You're assured a structurally sound, well-painted home when your project is completed!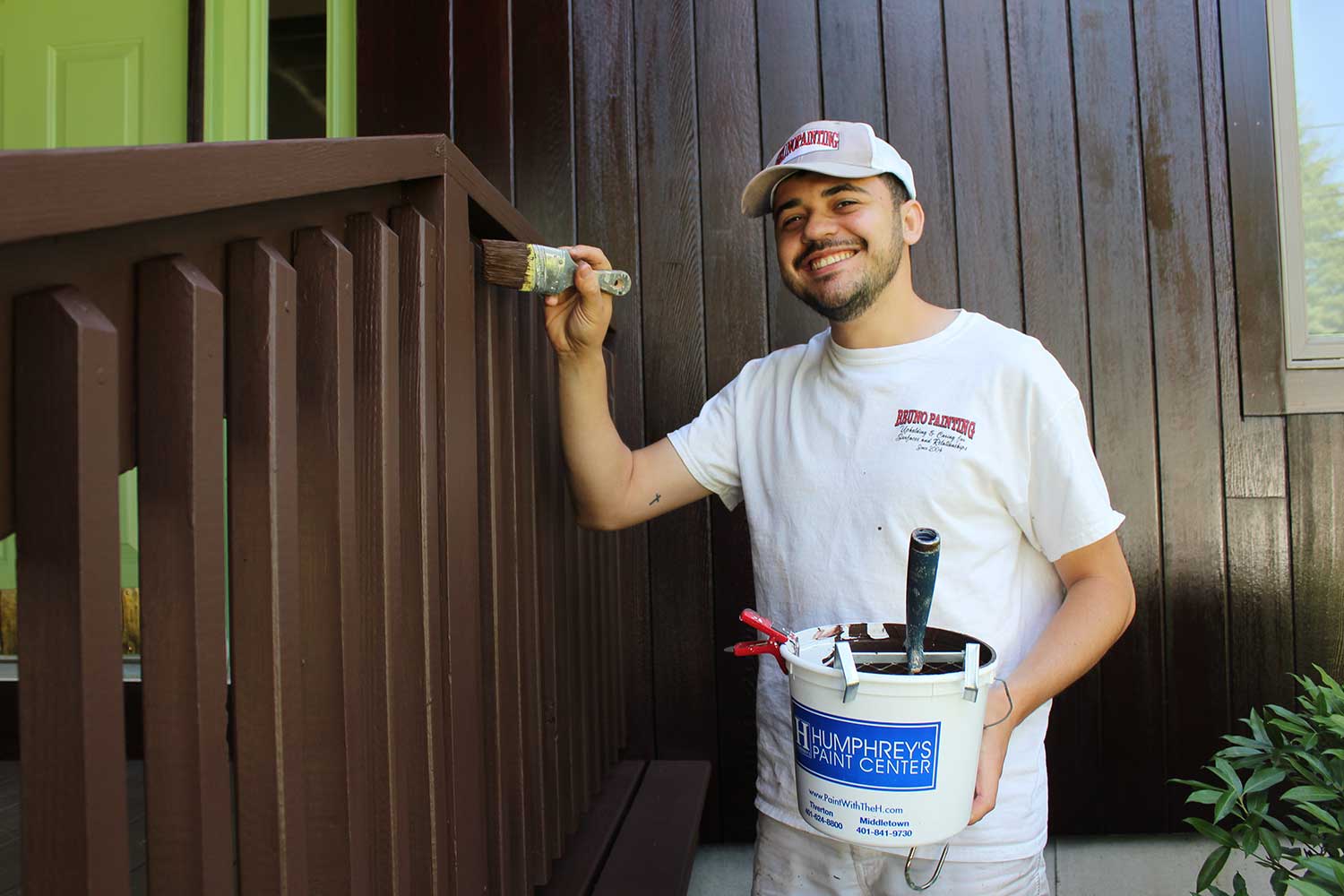 Step 2
Plan which parts of your exterior will be painted and agree on the paint brand and the color palettes that will be used. If there are any structural updates or fixes to be made to your home, we'll discuss those with you in detail so you can decide all the work that needs to be done prior to paint prep.
Decide on exactly what color and finish goes on which surfaces. Even exterior paints come in different sheens and selecting the sheen for each area to be painted, such as the siding or the trim, is an important step not to be overlooked. To note, exterior paints with a more matted sheen tend to be less durable. Conversely, exterior paints with a more glossy sheen tend to tolerate wear and tear better.
Another consideration when choosing the sheen for your exterior paint is to realize that an exterior paint with a more matted sheen is not as easy to wash. If you anticipate needing to have your home power washed because it is near an ocean or trees, you'll want to select a finish that is not completely a matte finish.
During your professional painting consultation, paint brand, color, and sheen selection will all be addressed.

Step 3
Decide on a schedule for the painting your home based on your best estimates and weather forecasts. Another one of our favorite paint brands is Benjamin Moore. According to the experts at Benjamin Moore, "Plan based on weather – rain can easily ruin a fresh coat of paint … so weather Is truly a critical component of a successful exterior paint project."
Benjamin Moore's tip for exterior painting in the "right" weather:  "Low temperatures and high humidity are a bad combination. Generally speaking, the higher the humidity, the slower a product dries."
Realize, of course, that the weather can change. But it's important to be aware of upcoming weather to give your paint project the best chance of success!
Step 4
Prepare your home for painting. This stage is often referred to as "prep" and many experts prep a home for painting in different order. The important thing to note is that a house exterior is cleaned, dried, caulked, and sanded for optimal paint adherence before a primer or paint brush is used.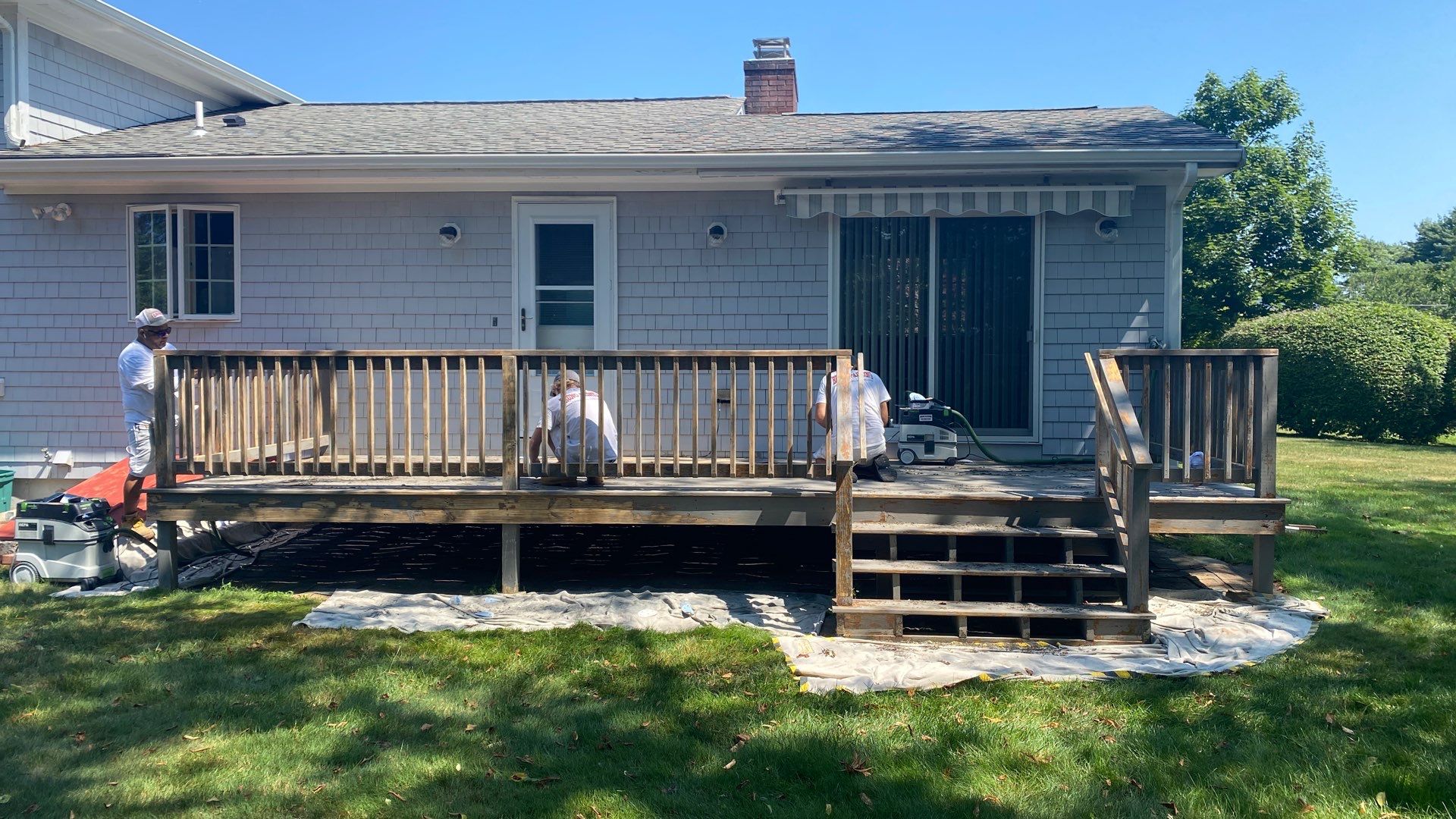 Step 5
Prime the exterior surfaces to be painted, including brick surfaces. Note that some experts recommend caulking after priming. You may even choose to caulk some areas before priming and caulking other spots after priming. The key point is to make the caulked surface as smooth as possible so the paint covering it will look as smooth.
Step 6
Have your carefully chosen paint color and sheen applied to your home's exterior. This is the most rewarding step, of course, especially if you're changing to a new color that you're excited to see on your home.
While painting professionals may differ in their process of painting your home, the best exterior painting results will be achieved when the approach is systematic and well-planned. It is a big endeavor to have your home's exterior painted. There's a lot that goes into properly painting your home's exterior.
At Bruno Painting, we're focused on doing all the right things and on Upholding and Caring for Surfaces and Relationships since 2004. We invite you to become a completely happy Bruno Painting client. Reach out today for your complimentary remodeling and painting estimate.
Summer is here on the classic coast and with it comes enjoying the outdoor areas of your home. The summer season is also the best time to make some exterior updates to your home.
Exterior updates are a great way to boost your curb appeal, protect your home and add value to your investment. Regularly inspecting and updating your home's exterior will help to identify any potential problems.
Whether you're looking to add some curb appeal or just want to make your home more enjoyable, there are easy ways to make home exterior updates for summer. Here are some great ideas for giving your home a summer makeover.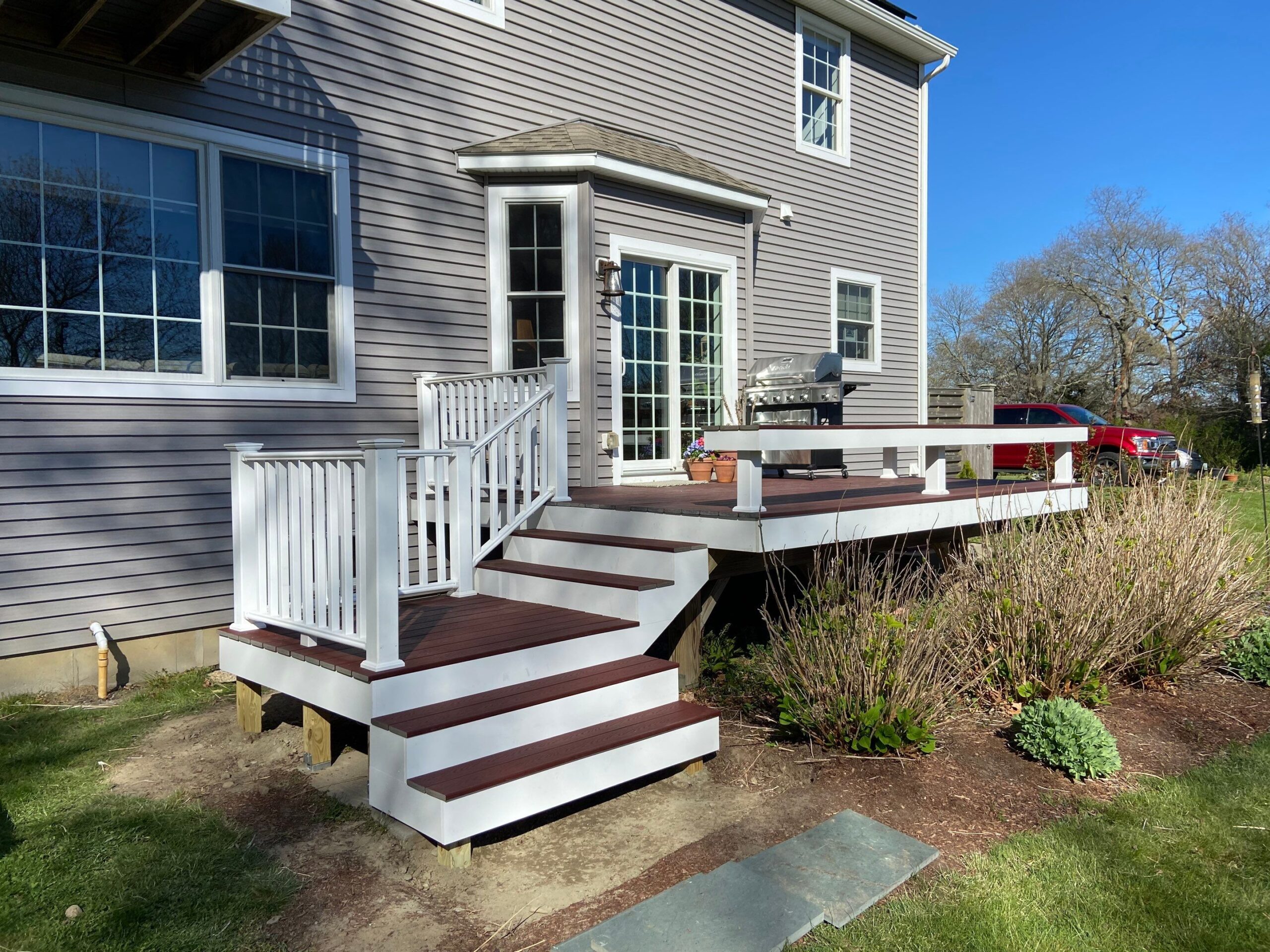 Update Outdoor Areas
Late nights around a fire pit or beautiful patio are some of the best ways to entertain and spend time with your family. Updating your outdoor spaces can extend your living area to your backyard and beyond. Try incorporating some of these into your next home improvement project.
Add Summer Plants - One of the easiest ways to update your home's exterior for summer is to add some new plants. A few colorful flowers can really brighten up your landscaping, and give your home a whole new look. Incorporate these into areas of your home that will be most enjoyed such as the walkway to your home or outdoor seating area. If you're not sure what kinds of plants to choose, talk to your local nursery or garden center for some great ideas. 
Outdoor Lighting – Not only does the addition of outdoor lighting give your exterior extra style, but adding lighting also adds protection for summer nights. Solar lights are a popular option because they're easy to install and work best for walkways or your front porch. In your backyard around outdoor seating areas, string lights can bring the perfect ambiance.
Add a Deck or Patio – If you're looking for a way to add extra living space to your home, a great option is a new deck or patio. When choosing materials for your deck or patio, pick something that compliments the style of your home. You can also add some accent colors to give your space a unique look. If you're not sure what materials to choose or how to add a deck or patio, talk to your local deck contractor.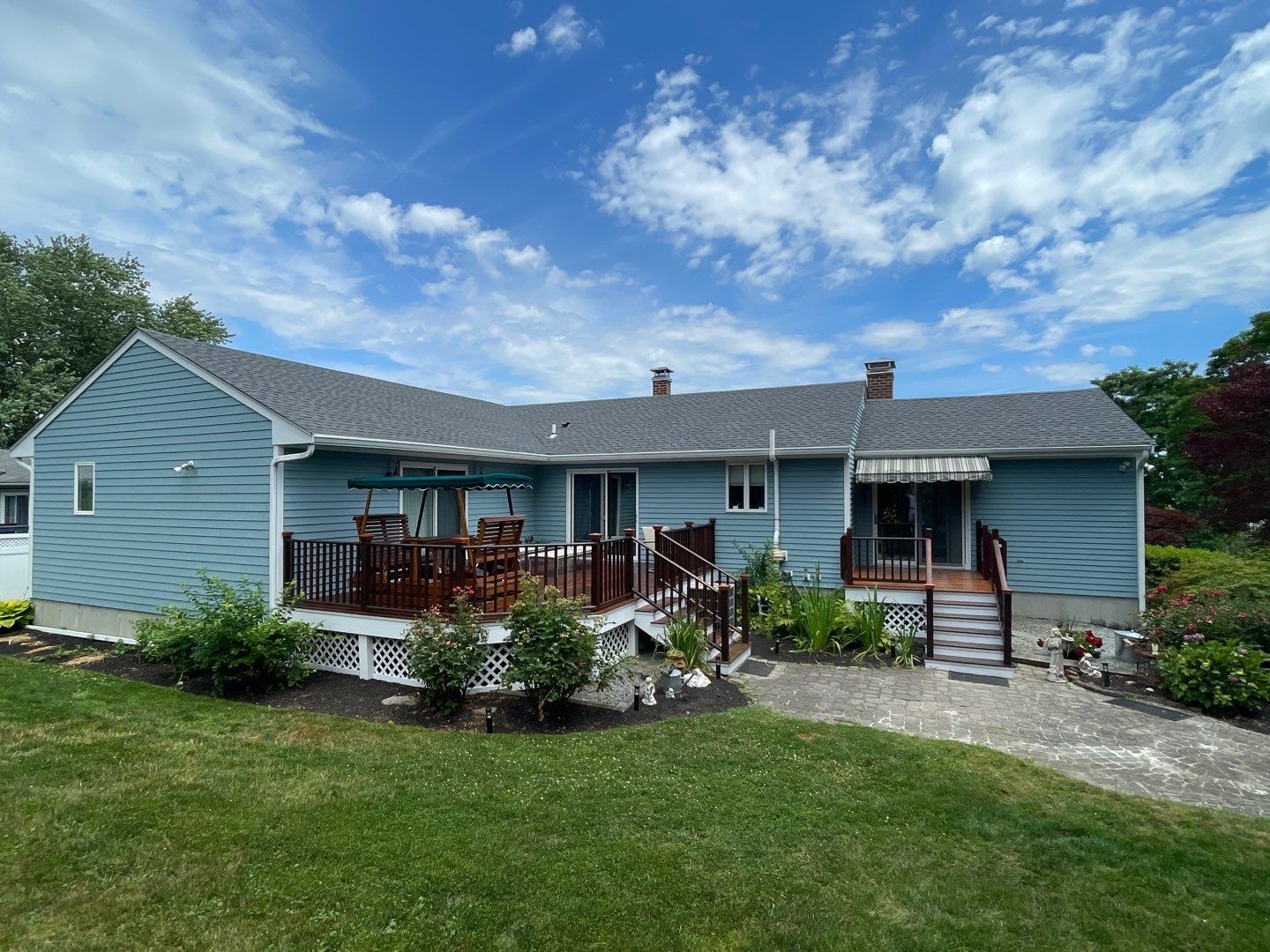 Painting Projects
Painting is one of the most effective ways to transform your home. Paint is also an incredible agent for protecting your surfaces against weather and decay. Two of the most popular updates homeowners make to their exteriors are siding and front door projects.
Painting your Siding - Change the look of your home by painting your siding. It also is one of the best ways to protect your home from the elements by providing a long-lasting barrier.
When you choose a color, first check that the new color will complement the trim on your house. You can also add some accent colors to give your home a unique look. If you're struggling with color choice, talk to your local painting contractor for color trends and options.
Painting your Front Door – A quick and easy update you can make to improve your home's exterior is painting the front door. This seemingly small project can make a big impact on your curb appeal without taking a lot of time or effort.
When choosing a color, go for something that fits your style and is welcoming. Choosing the right color for your door that makes a statement year-round is done best by using a high-quality brand trusted by professionals like Fine Paints of Europe.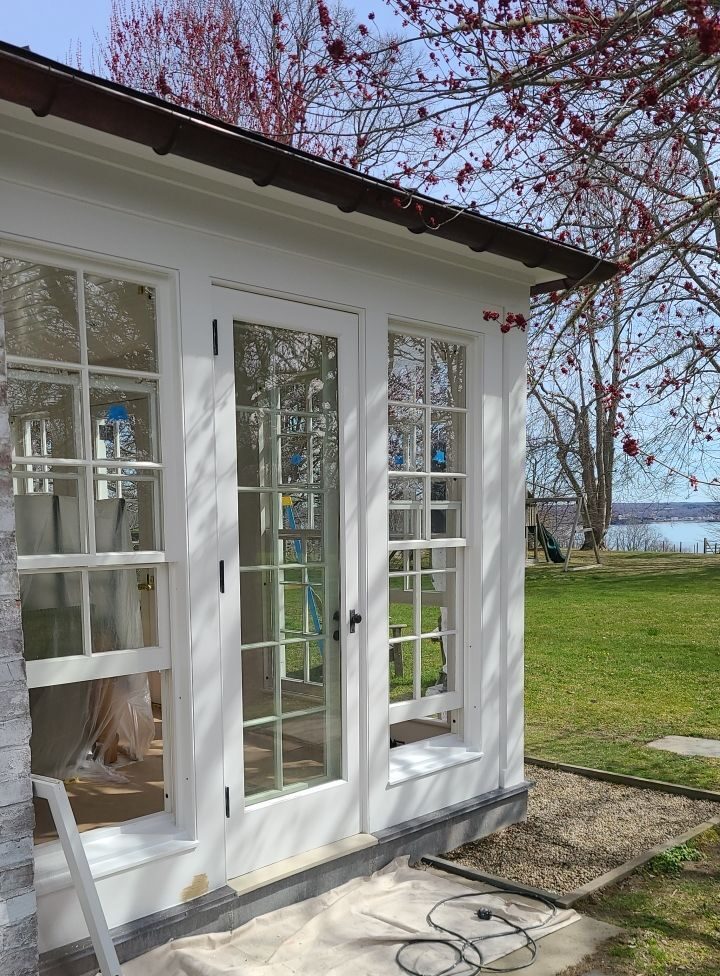 Installing New Windows
Installing new windows is a great way to update your home's exterior and improve its energy efficiency. If your windows are old or drafty, they could be costing you money on your energy bills.
New windows will keep your home better insulated and reduce your energy costs. You can also find windows that come with UV protection to help keep your furniture and carpets from fading.
Exterior updates are also a great way to improve your home's energy efficiency. Not only will regular exterior updates save you money in the long run, but they'll also help make your home more comfortable and efficient.
Updating and maintaining your exterior in summer protects your home, improves your curb appeal, and adds value to your investment. At Bruno Painting, we handle any necessary carpentry work, do the key prep work to ensure longevity in your project, and use high-quality paint. Our expert teams of painters and carpenters are ready to make your home exterior updates seamless. Contact us for your next exterior painting or carpentry project!
Spring is the perfect time to give your home a good deep clean and to do some maintenance tasks that you may have been putting off. Now that spring is in full swing, it's time to get your Rhode Island home in order for the warmer weather ahead on the classic coast. Check out our five spring home maintenance tips to get your house ready for the season. 
After a long winter, your home may need some TLC both inside and out. Our experts at Bruno Painting have helped many homeowners in Rhode Island make improvements to their homes and have compiled the most common spring home maintenance tips to focus on this time of year.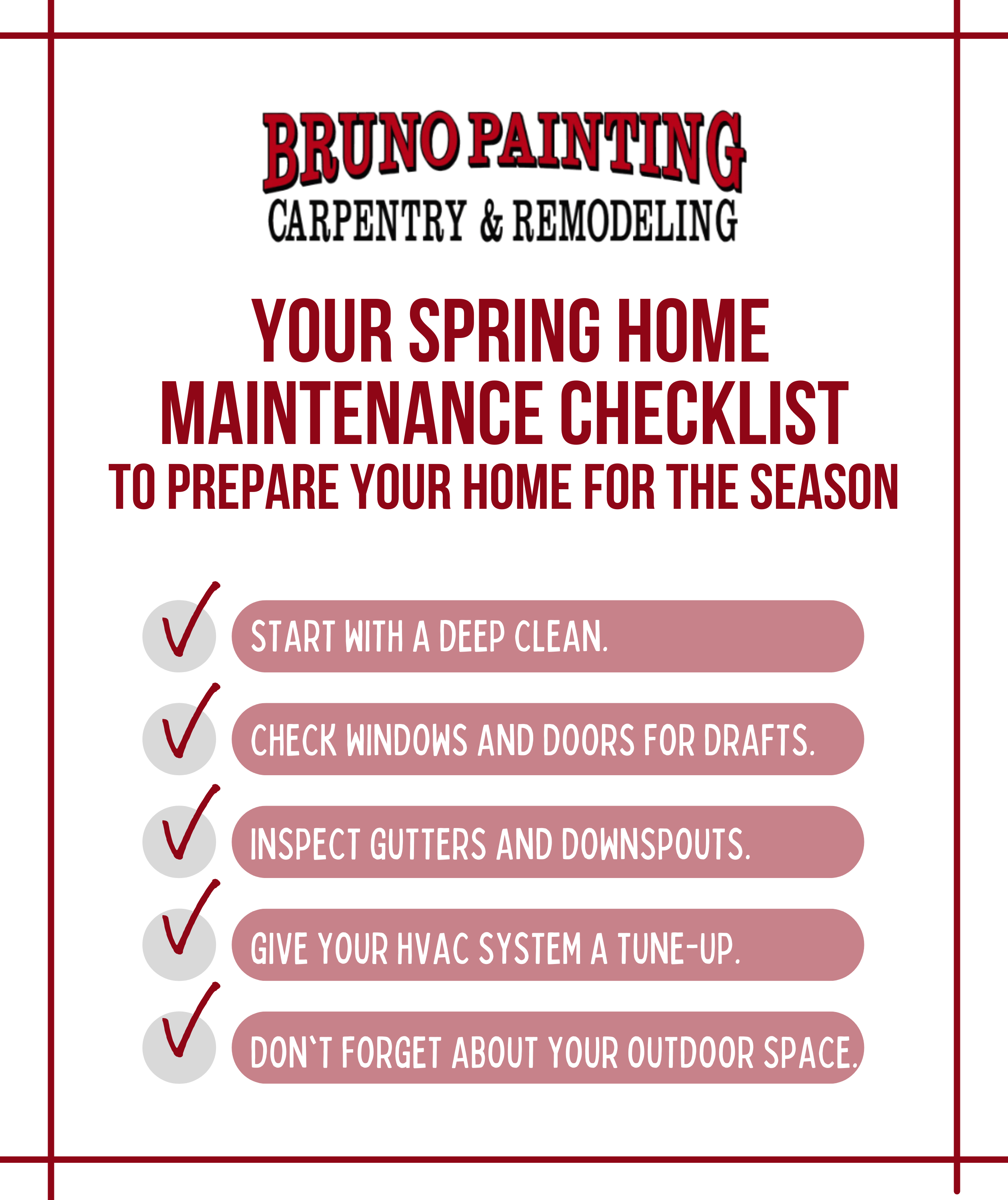 1. Start with a deep clean.
Spring is the perfect time to do a deep clean of your entire house. This means getting rid of all the dirt, dust, and grime that has built up over the winter months. Don't forget to clean those hard-to-reach places, like ceiling fans, high shelves, and under furniture.
Window washing and carpet cleaning are great ways to brighten up your home. Removing dander and pollen buildup in these areas helps clean the air in and around your home as well as reduce allergic reactions that many people experience throughout the season.
2. Check windows and doors for drafts.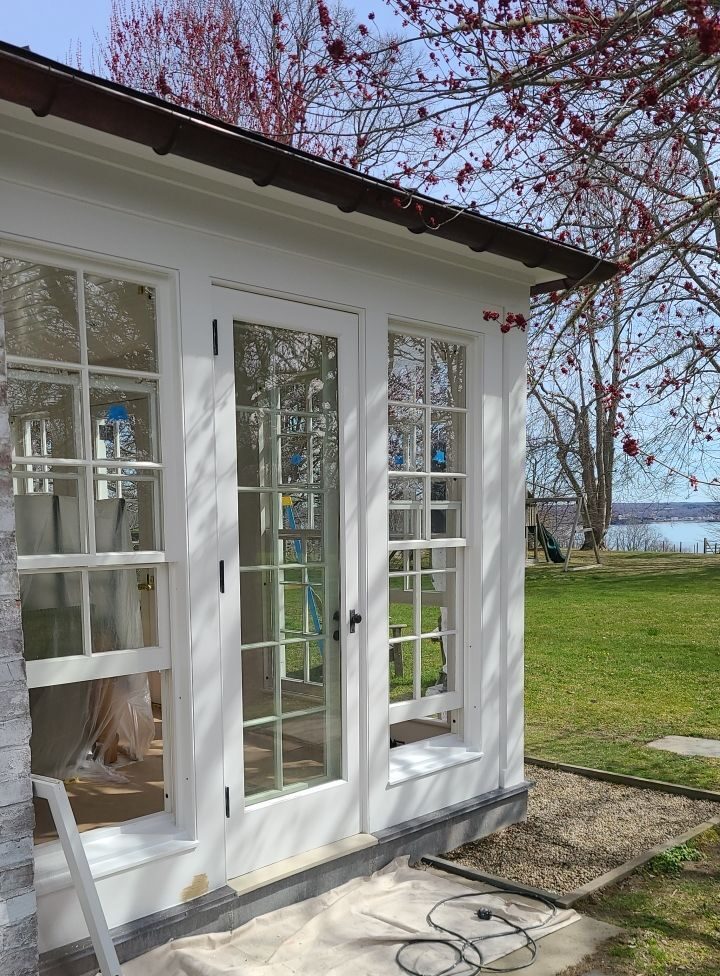 Letting in the fresh air and natural light with clean windows will do wonders for your home. But too much air can make your home feel drafty and uncomfortable. Cold air can seep into your home through cracks and gaps in doors and windows. If you noticed these types of drafts near windows and doors over the winter months, this will need to be a top priority on your spring to-do list. 
Drafty windows and doors not only make your home less comfortable, but they can also drive up your energy bills. Unwanted openings in these areas can cause moisture to accumulate, which can lead to costly damage to your home. To help prevent drafts, check all your windows and doors for any gaps or cracks. Re-caulk these areas to keep moisture out and help your home stay clean and fresh.

3. Inspect gutters and downspouts.
Clogged gutters can lead to water damage on your roof, ceilings, and even walls. During the winter months, ice dams can form which cause damage to your gutters and roof. So, it's important to inspect and clean your gutters and downspouts both in the fall and again in the spring to keep your gutters clear.
To clean your gutters, use a ladder to remove any heavy debris by hand and rinse any remaining dirt with your garden hose. If you notice any damage to your gutters, be sure to get them repaired or replaced as soon as possible.
4. Give your HVAC system a tune-up. 
Your heating and cooling systems work hard all year long to keep your home comfortable. So, it's important to give it a tune-up before the summer heat sets in. This ensures that your system is running efficiently and can help prevent costly repairs down the road. 
In addition to scheduling an HVAC tune-up, replace the air filters every three months or so to keep your system working properly and maintain the air quality in your home for everyday living.
5. Don't forget about your outdoor space.
Now that the cold weather is mostly behind us, your outdoor space should be the focus of your attention.
Now is the time to start prepping your yard and garden for the warmer months ahead. This includes tasks like mowing the lawn, trimming bushes and trees, and planting flowers.
Once your greenery is ready for the sunshine, cleaning your home's exterior is the perfect way to boost your curb appeal. This includes power washing your deck or patio, your exterior siding and gutters, and touching up your siding and trim with a fresh coat of paint. By taking care of these areas now, you can enjoy your outdoor space all summer long.
Following these simple tips can get your home ready for spring and enjoy the season worry-free. Use this checklist as a guide for things that you should do around your home this spring. 
Many homeowners in Rhode Island have spring cleaning projects well underway. If you are looking to make any home improvement updates this season or need a helping hand with making your home look its best, reach out to our team of professional carpenters and painters. 
Our team has been upholding and caring for surfaces and relationships since 2004. This spring, we're happy to help boost your curb appeal and keep your home in top shape!
Fall is quickly approaching here in Rhode Island. We know all too well that cold temperatures and harsh weather conditions that are soon to be here can possibly cause damage to your home. Thankfully, preventative maintenance in the fall can help keep your home protected all winter long. 
The cooler days of fall make working on your house easier than in the hottest days of summer or the coldest days of winter. Some fall maintenance projects can be done on your own, while others may require a professional. Here at Bruno Painting, we have compiled a list of fall home maintenance projects to help get your property prepared for the colder months ahead.  

Power Washing 
There are many benefits to power washing your home. The most noticeable is how your home looks after. Powerwashing your home will make it look like it's new again. It adds a clean crisp look to the exterior. Powerwashing your home regularly also helps you protect your investment. It cleans your house of any mildew and mold that has accumulated. It washes away the grime, dirt, and allergens that have built up over time.  
All homes should be power washed at least once a year, includes power washing the siding, roof, and any surrounding concrete or pavement. The question is, when is the best time to power wash your home? Just like painting, there is an optimal time to power wash the exterior of your home. 
Powerwashing must be done while the outside temperature is above freezing. If not, the water and cold temperatures can cause things to freeze. Between 45 degrees and 80 degrees, Fahrenheit is an optimal temperature range to powerwash the exterior of your home. 
Fall is a great time to schedule your home to be power washed. The temperatures are not as hot, which makes it easier for a crew to work. Any algae or allergens that have accumulated on your home's exterior and roof can be washed away. Powerwashing not only helps prepare your home for the winter ahead, but it also helps prevent damage or wear on those surfaces.   
Powerwashing essentially can be done at any point during the day, as long as it is not dark outside. Shadows and cloud coverage can make it hard to see dirty sections of your home's exterior. In addition, the sun helps to dry the water from the power washing. 

Roof and Gutters 
One area that should be checked and inspected during your fall maintenance is the roof. While it is important to power wash to remove the algae and moss that may have grown over the summer, it is also necessary to check for any cracks or leaks before winter arrives. 
Fixing a roof in the winter can be very challenging. A leaky roof can cause structural damage to your home. It can also cause problems with your electrical, plumbing, and HVAC systems. Having electrical or heating complications in the fall and winter can lead to a slew of other issues.  
Along with the roof, all gutters and drainpipes should be checked. If your roof and gutters are not draining correctly, it can cause problems. The water can accumulate, causing it to wear away the surrounding materials. This wearing away can eventually lead to a crack or leak. 
Gutters and drainage pipes should be clear of blockages in order to drain properly. Hiring a professional to remove leaves and other debris will help accomplish this task. 
To make sure your gutters and downspouts are draining properly, have them professionally serviced. This will ensure that there are no leaks and that your house is effectively draining off water from precipitation.  
Check Safety Devices 
Additionally, the fall is the perfect time to check your safety devices. Do all your smoke detectors have working batteries? Is your carbon monoxide detector plugged in and functioning? 
Driveways
Lastly, if you have a paved driveway, you will want to make sure there are no cracks in your driveway. If there are, you will want to address that and plan to get them fixed or sealed. If water goes into these cracks and freezes, it can cause the pavement to expand, causing a more significant gap. What starts as a small crack can morph into a large pothole if not taken care of. 
Bruno Painting is here to help you prepare for the colder months ahead. We are not only a painting company … we offer a wide range of services, including house washing, roof washing, power washing, gutter cleaning, as well as a complete array of remodeling and carpentry services. Contact us today for a free estimate to see how we can help you with your Fall home maintenance to transition your home from today's summer months to the colder months ahead.   
Summer is officially here and with it comes late nights and long weekends outside enjoying our incredible Rhode Island weather. Now more than ever our homes have become our central hub for work, play, and entertainment. However you enjoy your outdoor area, a great looking, well-maintained deck is essential for enjoying your view from your back deck.
Over time, decks begin to show signs of natural wear and tear that need to be addressed. Most importantly, taking care of your deck will help keep your home protected from damage. Thankfully, our experts at Bruno Painting have put together a list of signs to look for so you know when your deck needs to be repaired.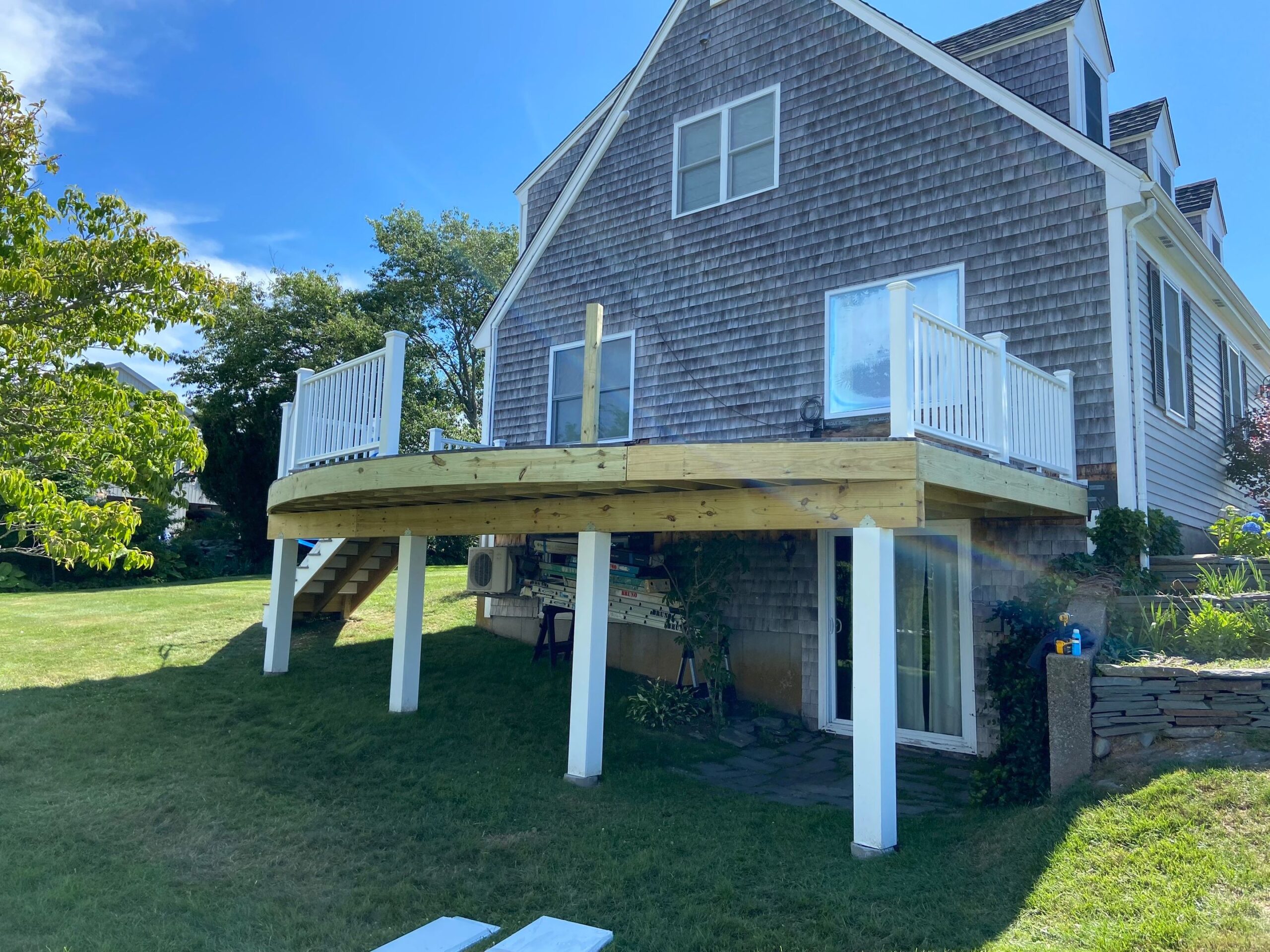 Condition of Your Deck
The most common material for decks in Rhode Island is pressure-treated lumber. For many decades, this sturdy material was the default choice for builders on the classic coast. As with any natural building material, repeated exposure to the elements will cause wood to swell, split, crack, cup, and warp in humid, precipitous climates. Exposed screws or nails from splintering wood, fading or discolored boards, or boards that are soft and spongy to the touch are all clear signs that your deck needs to be repaired.
Deck railing and handrails are other common areas of your deck that require regular attention. Loose handrails can pose a serious hazard to you and your guests if left to weather and wear down over time. Railing is a key component to your deck's aesthetic and to its function, most especially if you have a raised deck and the railing protects against a fall.
If your deck is attached to your home and has wood that is exposed, moisture can seep into joists, ledger boards, and siding of your home that is attached to your deck. This can ultimately expose your foundation to excessive moisture that may lead to larger issues such as mold, mildew, and decay. As long as your deck is cared for properly and regularly maintained over the years, your deck can support your home's health, instead of causing damage to it.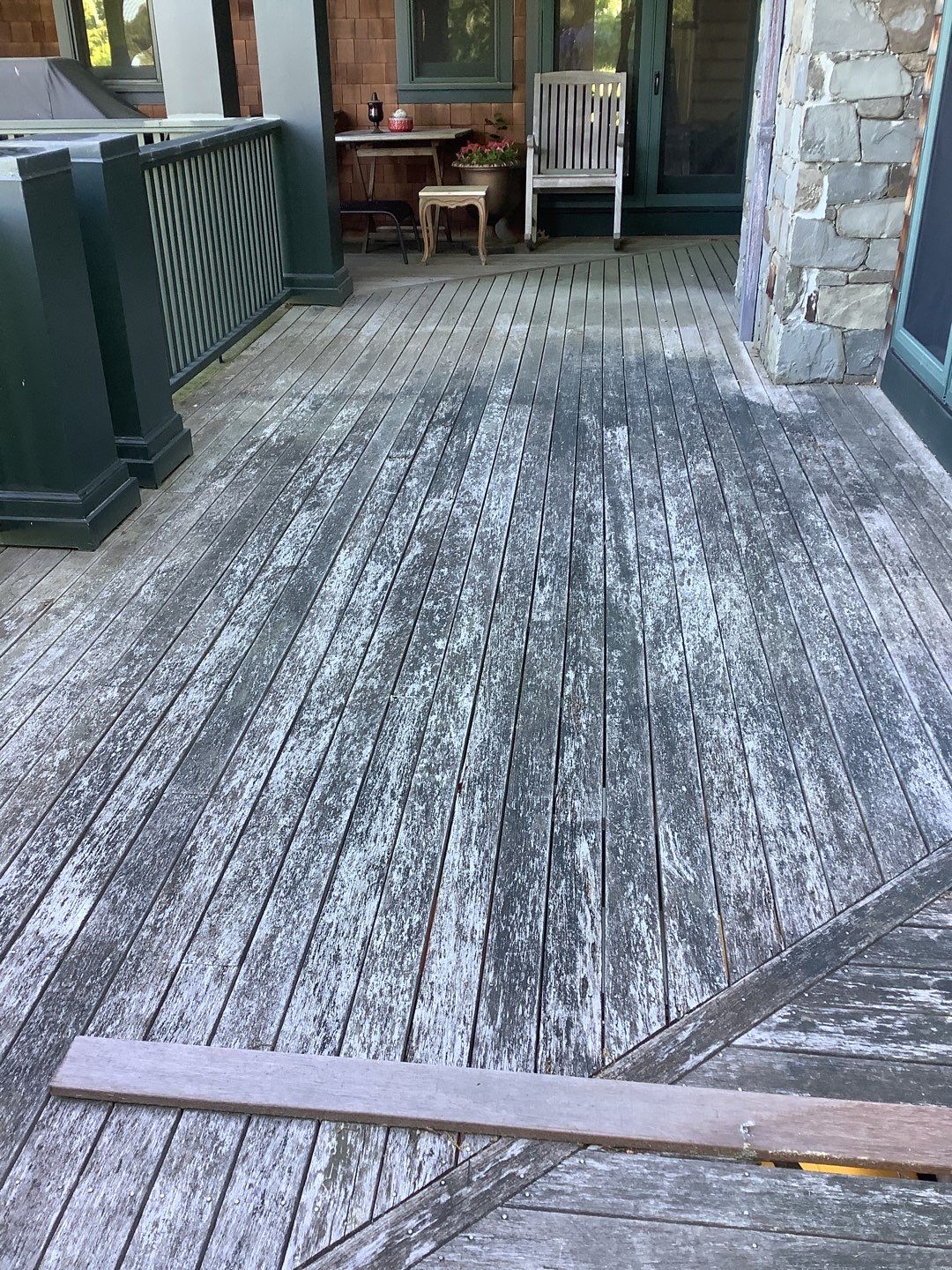 Stain and Finish Peeling
A wooden deck shows obvious signs when it is time for a new coat of paint or stain. Previous coats of sealant will begin to fade and peel revealing exposed wood underneath. This can happen with heavy foot traffic, weather, and everyday life. 
Surfaces needing to be repainted or restained should be completely cleaned and dry before applying a stain. Due to the necessary drying time for stains, the forecast will need to call for clear, sunny days with warm temperatures and low humidity to allow the stain to set properly. Without these conditions, your stain may not bind properly and may need to be reapplied.

Painting versus Staining
There are pros and cons to both painting and staining your deck. Some prefer stain because it allows the natural wood grain of your deck to show through. With stain, an all-in-one protective layer with a wood preservative is already incorporated. On the other hand, paint can provide an added layer of protection, as well as a different look and aesthetic.
Regular cleaning and treatment of your deck is a great way to extend the life of your deck. On average, decks are typically repainted or restained every two to three years. This can vary, though, depending on how much you utilize your deck space.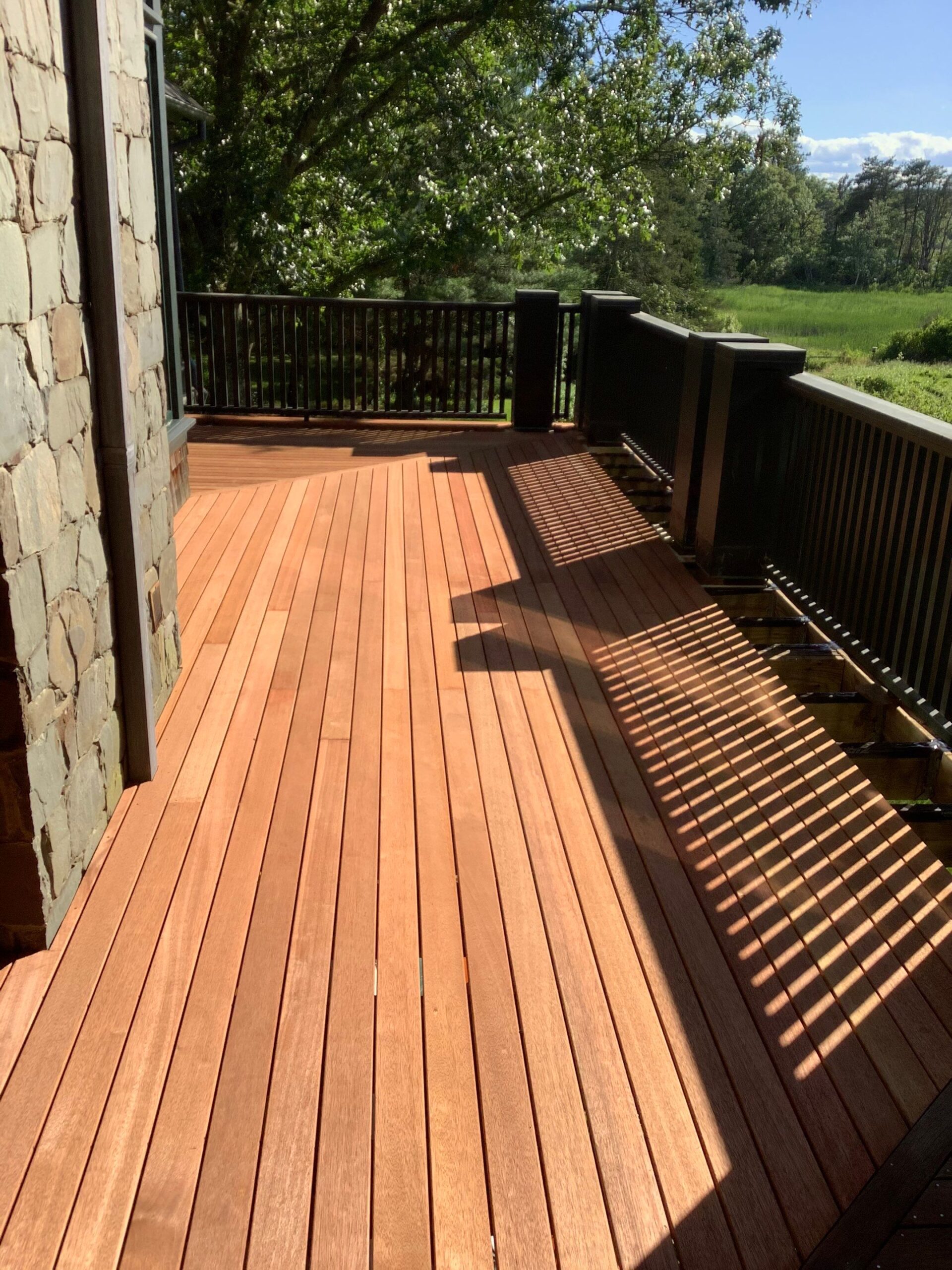 Replace Your Wooden Deck
While pressure-treated wood is one of the more common materials for residential outdoor decking, many homeowners are opting for more durable, upscale alternatives such as exotic woods like ipe and tigerwood. Other homeowners are utilizing composite deck materials (sometimes referred to as 'plastic wood') to reduce deck maintenance needs and enjoy a more splinter-free deck experience.
When you see signs that your deck needs to be repaired, our experienced carpenters can remove your old decking and replace it with any of these newer materials. During our consultation with you, we'll discuss the pros and cons of each type of decking material. This will allow you to choose what fits your design aesthetic and your budget.
Bruno Painting has been built on core values like integrity, humility, attitude, discipline, and excellence. These values are why the mission to uphold and care for surfaces and relationships is so important with every project and interaction our company has. We focus on building long-lasting relationships with our team and clients to provide the best service possible. No matter your home project, we desire to bring great service with trust, honesty, and dedication as if we were working on our own homes. Contact us today to set up a free estimate and let us transform your home this summer.
Spring is upon us. It represents a time of rebirth and fresh starts. As you make your plans for this season, be sure to include a refresh and reset of your home. Take the opportunity to evaluate the interior and exterior and prepare for the warmer days ahead. The experts at Bruno Painting have created a Spring Home Maintenance Checklist that goes beyond basic spring cleaning, detailing a variety of projects for homeowners. If you find you need a hand, Bruno Painting is here for you every step of the way!
Small Indoor Projects
It's a good idea to take care of your interior projects during the cold and wet weather season. As soon as the weather breaks, many of us who've stayed inside because of the cold may find it difficult to spend time indoors working on and finishing up the projects we started. To ensure your interior projects are completed before the Spring weather arrives, check these small indoor projects to be sure your home's interior is refreshed and ready.
Check Screen Doors and Windows
Inspect your screens to make sure there are no holes or gaps, especially since mosquito season is coming.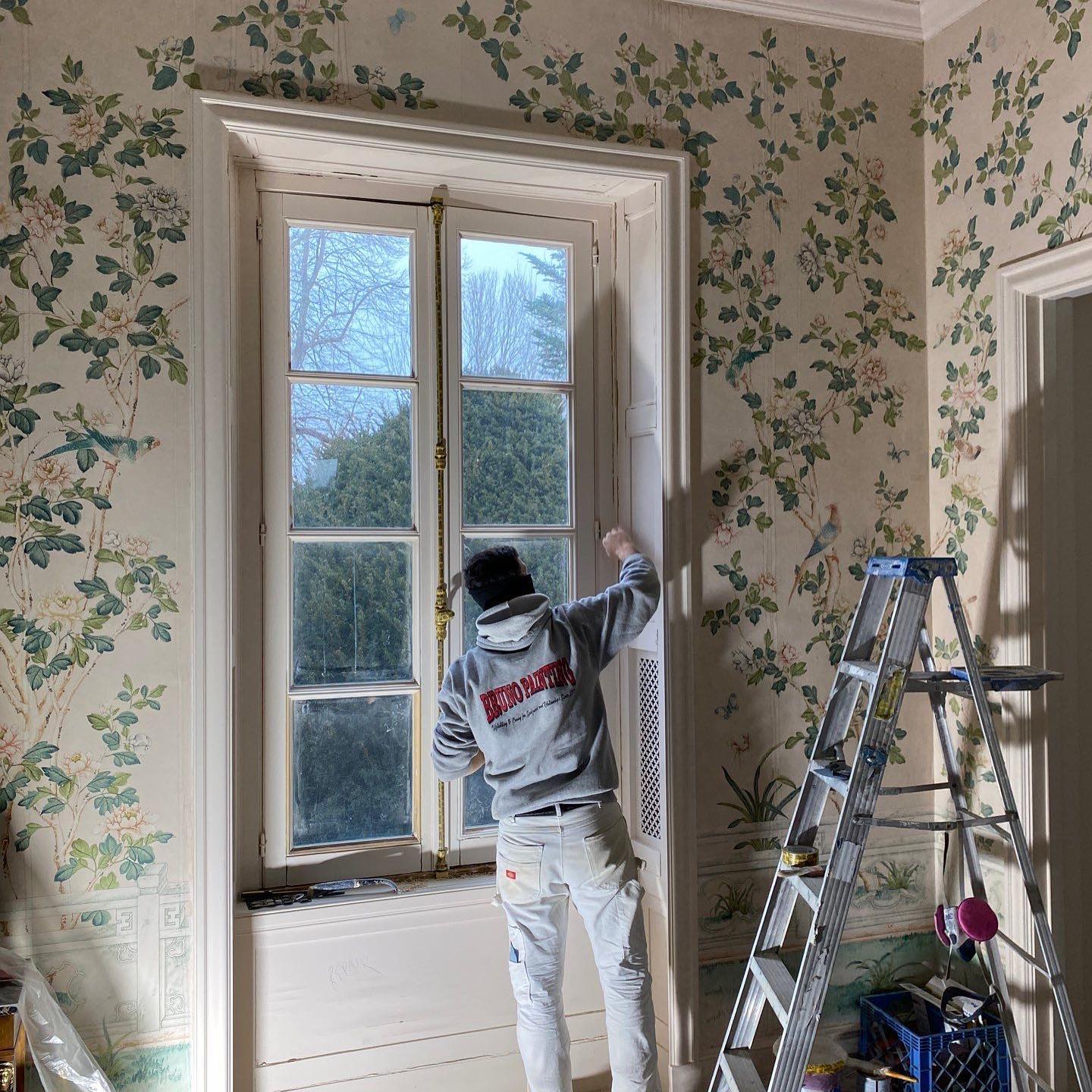 Inspect Caulking Around Windows and Doors
Fluctuations in temperature and exposure to damp, humid air will break caulk down over time. Look for cracks, gaps, or discoloration around all windows and doors. If you're unsure about the condition of the caulk, you can also gently pick at the edge; if it crumbles or easily separates, then the caulk needs to be replaced.
Safety First!
Every season you should test and dust all home safety products, including smoke, gas leak, and carbon monoxide detectors. Be sure you have backup batteries on hand. Nothing is more annoying than a smoke detector whose battery is low and then, not having the ability to change out the old battery right away.
Make sure your fire extinguishers are in good condition and haven't expired. If your extinguisher requires professional inspection or recharge, contact the manufacturer or your local fire department for help.
Medium Indoor Projects
 Check for Leaks
Inspect faucets, under sinks, around dishwashers, and under and around washing machines for standing water or evidence of leaks. Look for discolored pipes, water spots, peeling paint, soft wood, mildew, or mold. Contact a contractor or plumber immediately if you suspect a leak.
Consider Upgrades
Check to make sure lighting, appliances, and other essentials are running effectively. Also, consider conducting an energy audit to evaluate your energy consumption. If replacements are necessary or would cut future utility costs, research the cost-benefit of newer energy-efficient models.
Replace Intake Filters
Plan to replace your central air filters every three months. New, unobstructed filters ensure your system is both running efficiently and pumping in cool, clean air.
Large Indoor Projects
Interior Painting
After spending winter inside, staring at the same walls, you may decide it's time for an update. Check out our blog for some inspiration for your next painting or carpentry update.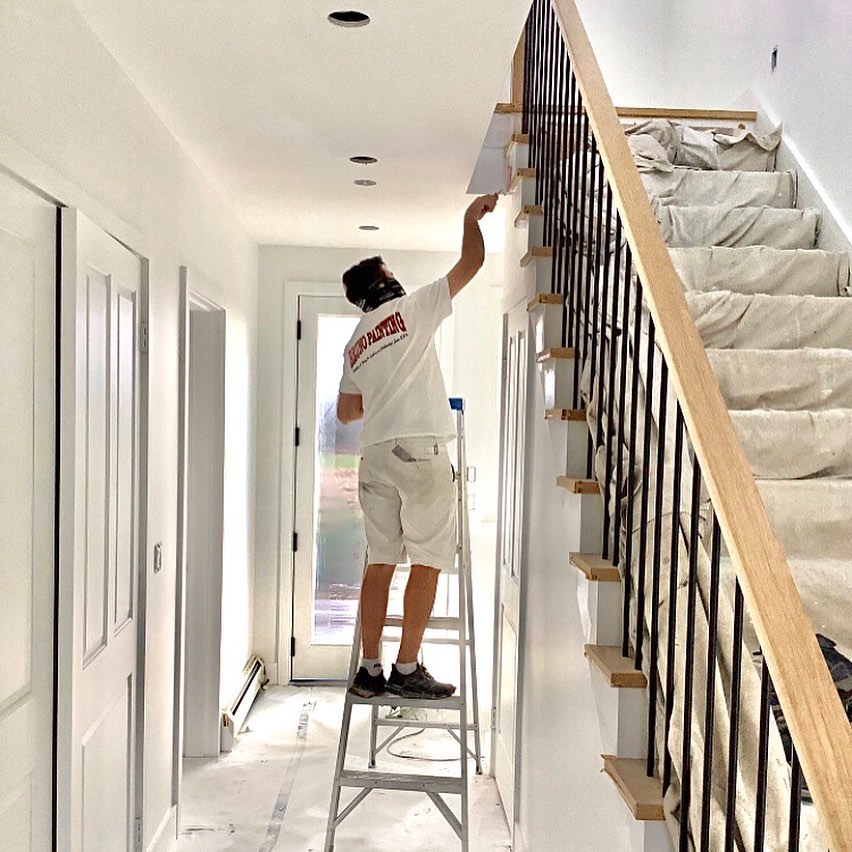 Check for Evidence of Termites
Termites are typically a nuisance between March and June. If you notice a large number of winged insects flying out of one location this spring, it's time to call pest control experts. After the infestation is addressed, look for a contractor to replace the rotten wood and prevent future problems.
Small Outdoor Projects
As the weather breaks, there are several outdoor inspections you'll want to make to ensure your home is in the best condition possible.
Inspect Roof
While inspecting a roof sounds like a task requiring a roofer, an initial roof inspection can be done relatively easily – no ladders required. Simply use binoculars or take a photo on a smartphone and zoom in to inspect your roof. You want to make sure there is no damage to your shingles, chimney, or vents. Take note of any debris or grime left over from the winter and contact us to wash your roof if needed.
Clean Outdoor AC Units 
Winter weather and disuse can lead to a buildup of dirt and debris on and around outdoor AC units. Make sure all sides of your unit are clear and free of debris or landscaping that might inhibit sufficient airflow. Use a broom or brush and a hose to clear accumulated dirt on the grates. 
Medium Outdoor Projects
Clean Gutters and Downspouts
Clogged gutters and downspouts can lead to rot, which can further snowball into multiple problems including bug infestations and rotten wood trim. Check this project off your list as quickly as possible to prevent problems from fall buildup and to prepare for spring rains.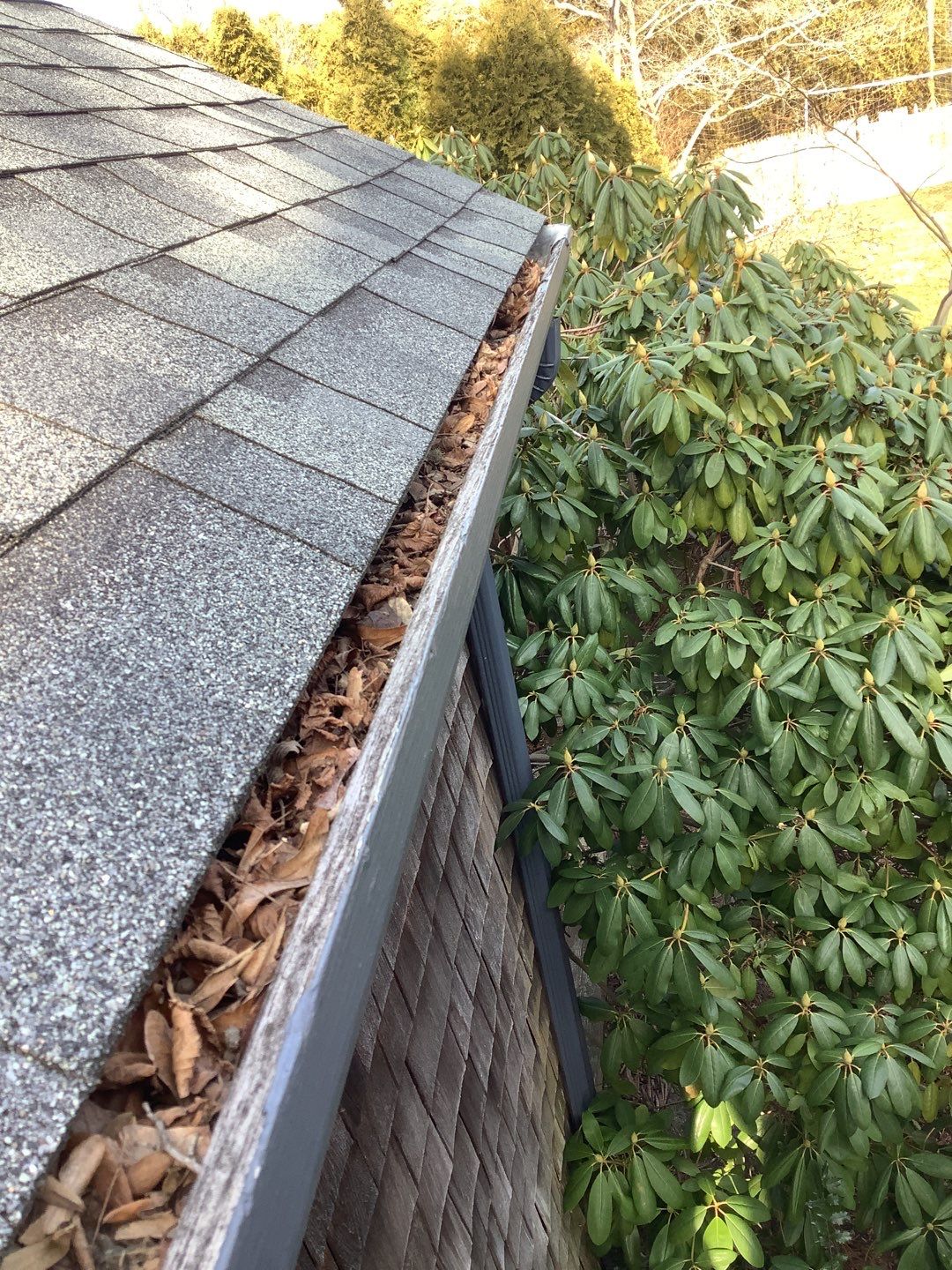 Reseal Exterior Woodwork 
Utilize warmer spring days to reseal exterior wood such as fences, decks, and railing. Resealing every year or two will help your outdoor structures last longer and look better.
Large Outdoor Projects 
Exterior Painting
Winter is a great time to plan and Spring is a great time to schedule exterior painting projects. The fresh colors of Spring offer great inspiration for a new exterior color. Consider scheduling the painting projects for your Spring home maintenance checklist with your local residential painter now to beat the impending warm-weather rush.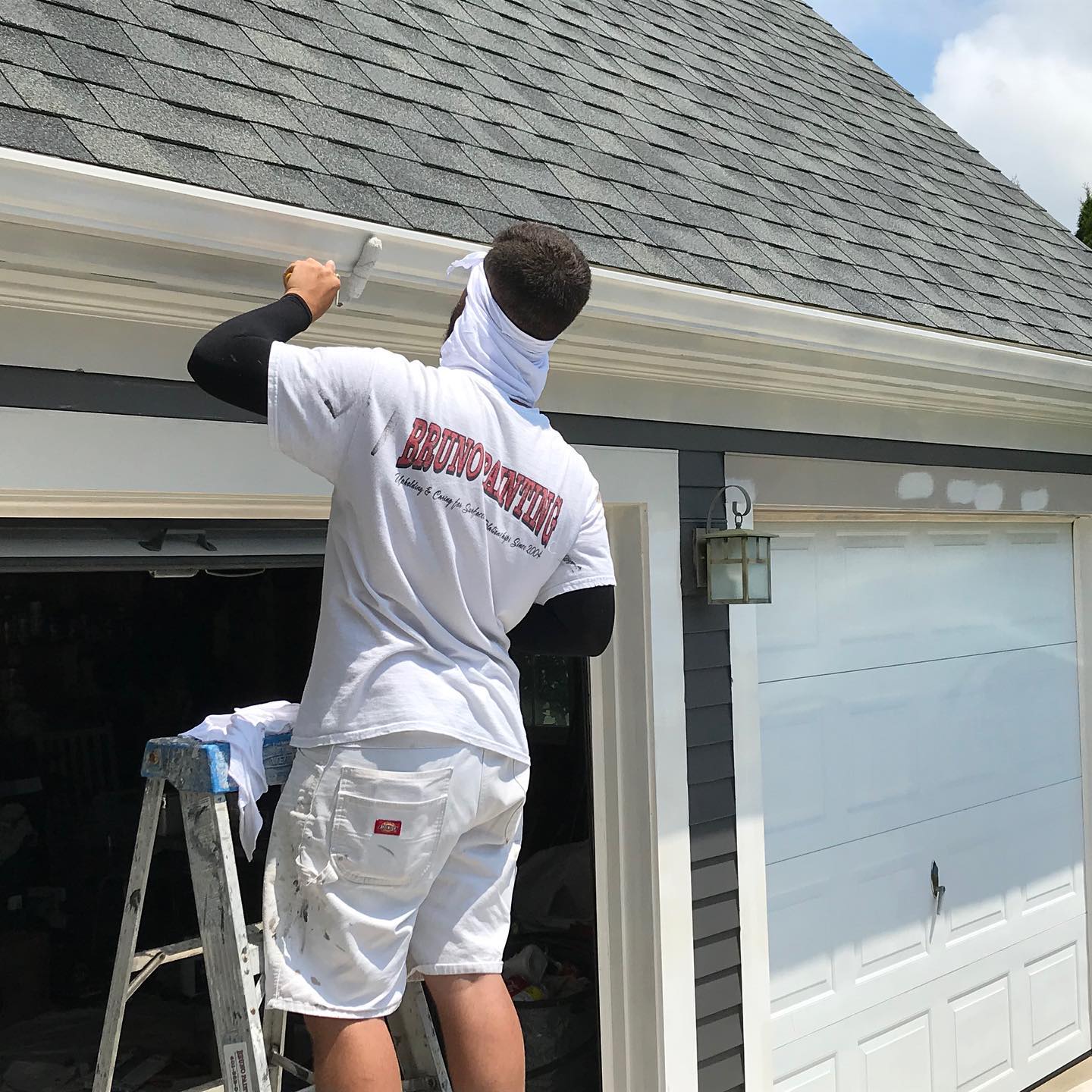 Pressure Wash
After harsh winter weather, your patios, decks, driveways, walkways, outdoor furniture, and siding could all use a thorough cleaning. While your home is getting pressure washed, make note of any irregularities and address problems or damages before they grow.
Inspect Deck
Check decks and wooden walkways for loose nails, rotten boards, discoloration, and buildup of debris between boards. Routine care will extend both the life and beauty of big-ticket items like a deck. Simple care like hammering down loose nails or sweeping in between boards, up to larger tasks, such as replacing individual planks, can significantly increase a deck's longevity.
Finally coming out of our winter hibernation can feel exciting, but that initial enthusiasm may wane when we start going over our spring to-do list. While a homeowner's top priority is providing regular maintenance and care for their home, remember that you don't have to do it alone. If your schedule is already full or you feel a project is beyond your ability, don't hesitate to reach out to us. We have expert designers, carpenters, and painters on staff to help you with all of your needs for your Spring home maintenance checklist.
At Bruno Painting our mission is "Upholding and Caring for Surfaces and Relationships." Whether you need a team of excellent  painters or expert carpenters, we are ready to help you with all your home's maintenance and updating needs!
Our perfect summer weather in Rhode Island has seen many of us spending lots of time entertaining and dining outdoors, soaking in as much of the summer sun and air as possible. No matter where in our great state your home is located, a nice, well-appointed deck is a must for enjoying your yard, whether it backs up to a forest or to the sea.
Each home in Rhode Island is unique and each has specific needs for their deck and outdoor entertainment areas. While many people take advantage of the Spring weather to make exterior updates, it's also very doable to update or even build an entirely new deck during the Summer and Fall months. These are a few examples of options for you to consider for your home's decking needs.
Maintain your Deckspace to Keep Your Deck and Your Home Healthy
Some may think that a worn deck is just a sign of a well-loved home or that there isn't a real need to replace those splintering boards. However, decks left to wither can cause damage to your home and potentially cause you to have to make costly repairs. 
Depending on how your deck is attached to your home, wood rot can set in the joists, ledger boards, and even your siding. If moisture seeps into your foundation, other larger issues such as mold, mildew, and decay will start to take hold. These major areas of repair can be avoided with a deck that is sealed and maintained regularly over the years.
Replace Your Existing Deck with Newer Materials
It is no secret that we see quite a bit of moisture and humidity throughout the year. Most decks in Rhode Island have been built with pressure-treated lumber, as that was the go-to choice for deckbuilding for many decades. Pressure-treated lumber decking is affordable, readily available, durable, and easy to stain so it is no surprise that it is prevalent on the classic coast. Unfortunately, constant exposure to the elements causes pressure-treated wood to swell, crack, split, warp, makes it a relatively high maintenance home amenity in our climate. Annual pressure washing and restaining every one, two, or three years is recommended for this type of decking to keep it looking its best.
An alternative to wood for decking is composite and PVC. This mixture of recycled plastic and wood dust creates composite decking which is a synthetic, yet refined-looking, deck material that many Rhode Island homes are turning to for its many benefits.
These decks are virtually maintenance-free, weather-resistant, and come in a variety of colors and finish looks. If that isn't enough of an advantage, they are also easy to clean and won't splinter, warp, or rot. While this type of decking can cost about three times as pressure-treated wood, it can potentially save homeowners in the long run.
Pressure Treated Decks
If you love the look and feel of real wood, consider the following options some Portsmouth and Newport homeowners have used to satisfy their desire for a 'real wood' deck. Note that some decks are constructed using cedar, exotic woods, and some really amazing, high-end real wood products. Be sure to ask your contractor and their team of carpenters to show you all of the many, many choices of real wood that are available to you if this material is your preference for your next deck.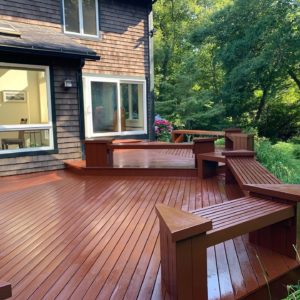 This multi-level low platform deck makes great use of this backyard space. The real wood deck and benches next to the garden create the feeling of a privately enclosed, secret garden. An oasis, a backyard paradise.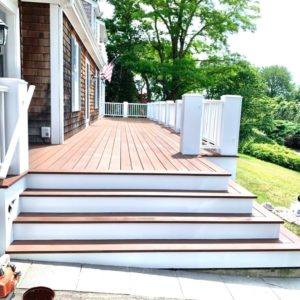 This wooden deck in Newport had new boards installed which were sanded, stained, and reinforced to create this beautiful aesthetic. The railing and stairs were replaced to keep the deck structurally sound.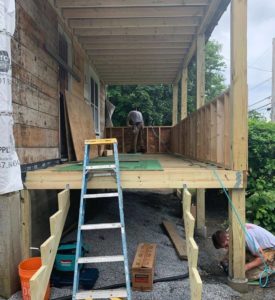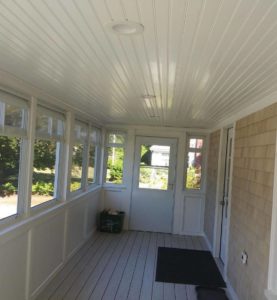 A raised pressure-treated deck in Portsmouth was completely transformed into a closed-in porch. The contractors built the overhang and installed windows to give this homeowner a completely new three-season space to spend their time.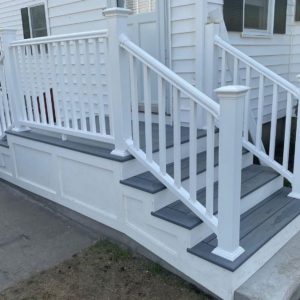 A back door landing repaired and painted to match this beautiful home. Even small spaces deserve a good looking deck and staircase.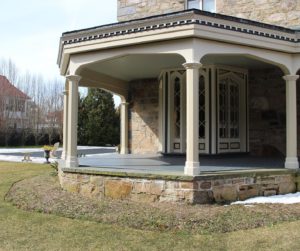 This unique stone home in Portsmouth went under some repairs including the porch area. The original wood was protected from the elements, sanded, and painted a beautiful grey.
Composite and PVC Decks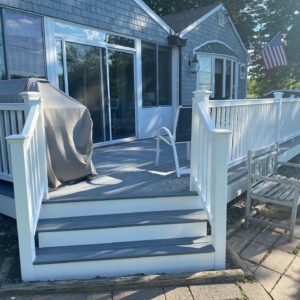 An old wooden deck in Middletown was replaced with composite decking and a new PVC railing. The colors match perfectly to the shingles of this home.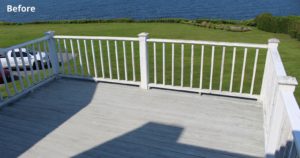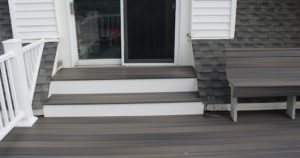 An elevated deck boasting a beautiful view of the water off of a roof is featured here complete with a bench. The railing is constructed from  PVC and composite wood for the deck boards as well as the lovely bench.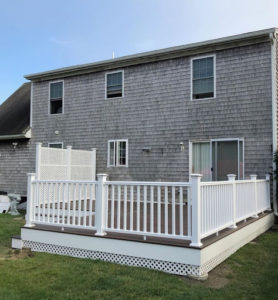 This larger composite deck boasts a privacy fence installed for these homeowners to entertain and enjoy the beautiful weather in a secluded area.
Regardless of the material, your deck and porch can, not only look its best but also be maintained regularly for the rest of your home's protection. If you done your deck maintenance in the spring, take advantage of this time to update your existing deck or create a whole new backyard oasis.
Our mission at Bruno Painting is "to uphold and care for surfaces and relationships." The carpentry and painting divisions that make up our team have some of the most skilled and caring professionals in all of Rhode Island. We look forward to the pleasure of restoring your deck this Summer or Fall for you to enjoy all year long. Call us or email us to discuss your deck, painting, or other home improvement project.